True Stories of Neoxian
Hello all,
I thought you might enjoy these stories of mine, all 100% true.
I CPU mined 150 bitcoin. Yep! That's right, three blocks of the bitcoin blockchain were mined by yours truly. They were mined by an ordinary PC computer, nothing fancy or special about it. They were mined just using the CPU, not a graphics card or asic chip.

One time, someone sent me roughly 36 bitcoin by mistake...I returned them. They were sent by a high profile bitcoin user that nearly everyone here would recognize if I named him. But I won't since I don't want to dox him..or myself. Oh well.

I knew a guy who had 500 bitcoin, but he stored them at MtGox and lost them all when MtGox went down. He would be a millionaire today. Don't be like this guy. Do not store your coins on an exchange.

One time I found a bitcoin wallet of mine that I had forgotten about. It had 200000 usd worth of bitcoin in it. That was nice.

One time I sold one physical bitcoin worth 1 BTC, fully funded, not redeemed (Casascius coin) to my grand father. I sold it to him for 10 usd. He kept the coin in his pocket and it ended up getting washed in the washer. Washing the coin could have possibly damaged the sticker with the secret code inside. Sadly, my grandfather passed away, and I do not know the fate of this coin. Today it would be worth probably at least 100000 usd or more (had it not been damaged), these are extremely rare!
Hell, even the UNFUNDED coins can be sold for 500$.
Don't worry I have plenty more of these coins, so I don't feel too bad.
https://en.bitcoin.it/wiki/Casascius_physical_bitcoins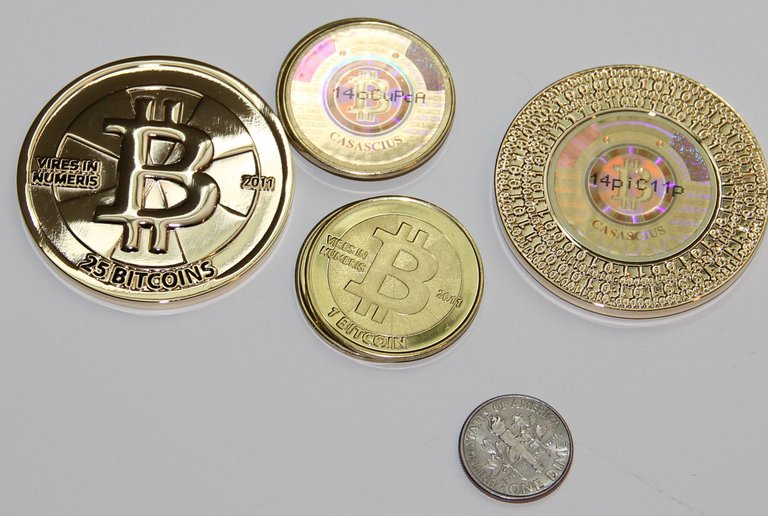 Well that's it. I hope you enjoyed these short stories from a crypto Dragon.
Posted using Neoxian City
---
---