Weekly crypto earnings are back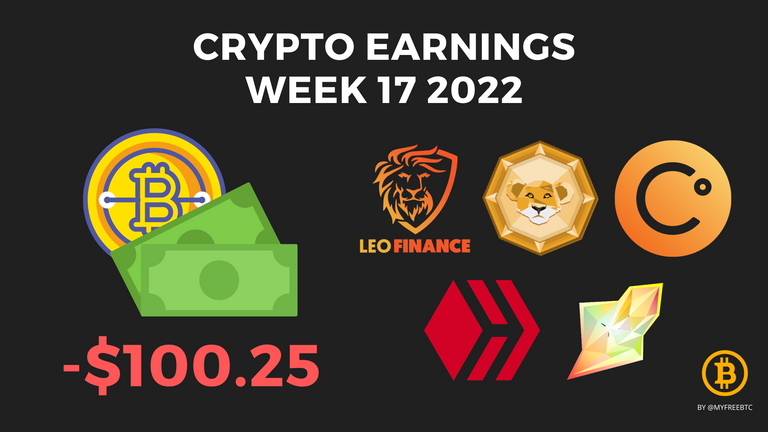 I used to do this series about my weekly results last year but I stopped writing it in November 2021. Things were looking great back then but now my results pale in comparison, it is unmotivating to see my weekly crypto income reducing week after week since then.
Sharing my weekly results every Monday on Hive and seeing the encouraging comments helped me to work harder to keep improving my results. I'm bringing the series back to help keep me accountable and also to hopefully help everyone out there that is trying to earn an extra income with crypto.
Even though I stopped sharing the results on Hive I never stopped tracking them. I also made some changes to the tracking method in order better reflect my real earnings.

Week 17 2022
Faucets: $4.69
Hive: $14.19
Last week I traded some of my HBD for Hive hence why the HBD return is negative and the Hive income is a little above my usual average. $14.19 is a pretty bad result but since I will be investing a lot more time on Hive / Leo, I'm expecting this number to grow a lot over the next few weeks.
Play to Earn: $38.43
Well, my play to earn result is 1/10th of what they used to be late last year. The big decrease in DEC rewards per battle because of the DEC price going back to the peg allied with the SPS price falling off a cliff had a huge impact on the p2e category.
I have high hopes for the future of Splinterlands non the less so I will keep grinding week in and week out.
DEC: $3.25
SPS Airdrop: $26.29
SPS Staking: $5.70
Axie Infinity: $3.19
DeFi & CeFi: -$144.05
Polycub really did a number on my weekly earnings report. The price keeps falling and I'm holding a good amount of Xpoly and a lot of Polycub waiting to be unlocked. I'm confident that polycub will be huge in the long run and I'm willing to keep taking some L's and accumulate more in the meanwhile.

Total: -$100.25
It is pretty tragic that my return to this series starts off with a negative return but that is the reality of the situation in the crypto markets nowadays.
Bear markets are the perfect time to accumulate as much crypto as possible and that is exactly what I will be doing during these difficult times.

Posted Using LeoFinance Beta
---
---