Peter Schiff bites the dust
No, Peter Schiff hasn't died; and I wish him the best.
However, one of Bitcoin's most vociferous critics, gold-trader and broker Peter Schiff, is experiencing the power-grab of the centralized system he advocates. Apparently, regulators in Puerto Rico have closed Schiff's bank account, holding hostage his assets, potentially wreaking havoc to his customers and business.
Isn't that a perfect case to reinforce the importance of Bitcoin's self-banking proposal?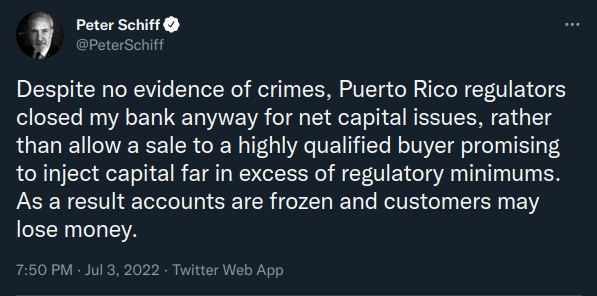 Pete's tweet
Brief context
Peter Schiff is fighting to be able to sell a bank — Euro Pacific International Bank — he established in Puerto Rico, but authorities have suspended its operations as part of an investigation. More.
Despite Peter Schiff's constant speeches against Bitcoin, he's always been questioning anti-money-laundering rules, regulations, and taxes — exactly the temperament the state apparatus hates.
Is it enough to challenge old Pete's stance on Bitcoin?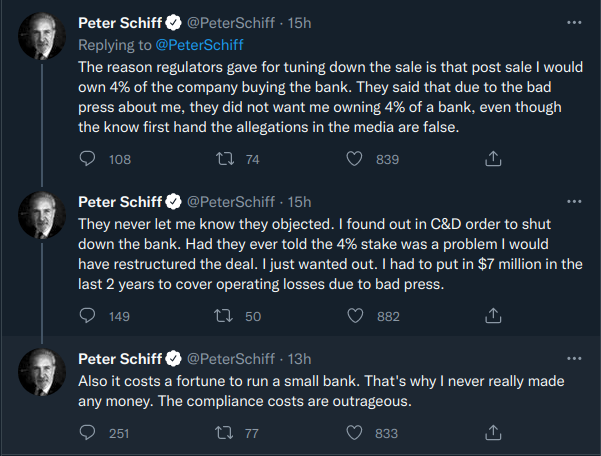 Pete's tweet continuation
---
Bitcoin goes beyond the idea of a peer-to-peer digital cash system; it has the best intrinsic properties desired for money. And there's more: once properly stored, Bitcoin is immutable, decentralized, and impossibble to be seized, thus protecting private property from subjective and dubious investigations — exactly what Schiff would need.
Open your eyes, Pete.
For those who understand Bitcoin's properties, be patient and hodl.
Until next time.
Posted Using LeoFinance Beta
---
---