Explosion in Motion: A Sparkling battle with Speedy Pyre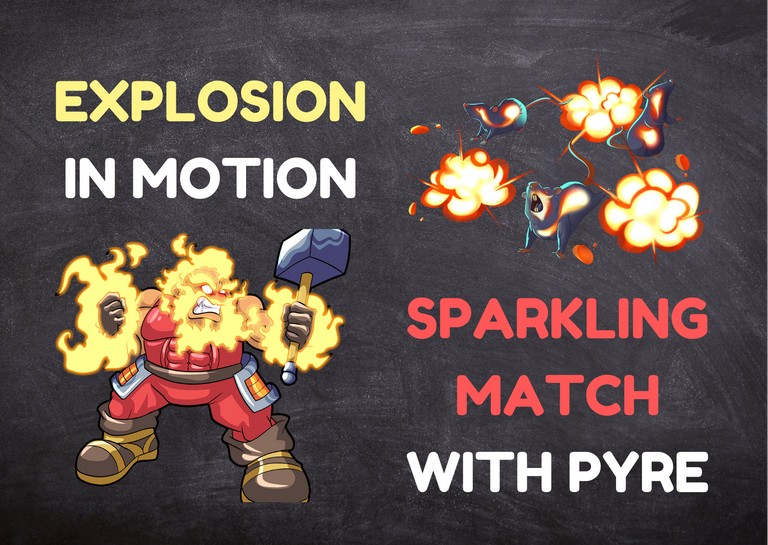 Hey hey hey! Welcome to another episode of Share My Battle series, where I will share with you some of my notable matches across Splinterlands. For this episode, we will be featuring a lineup that used three monsters with the Blast ability. Sit back and enjoy the fireworks!

Match details
This match was fought with two rulesets: Spreading Fury and Melee Mayhem. It has a decent mana cap of 29, and four active Splinters: Fire, Earth, Life, and Dragon.

---
Preparation phase
Maximizing Spreading Fury rule:
While others usually prefer placing high damage characters a tank to maximize enraged, I prefer putting high speed characters to abuse that speed boost. This made me decide to put Serpent of the Flame up front as it already has 7 speed even before the Enraged boost.
Choosing monsters for Melee Mayhem:
This is the setup that I have been waiting for to play with my double explosion melee fire lineup. I have always been a fan of Exploding Rats ever since it was released, but I rarely got the chance to use it properly until now. Since we have the Melee Mayhem rule in place, we can put Exploding Dwarf and Exploding Rats in the backline! What a way to get the party going. Both monsters deal quite a punch, especially with its Blast ability.
Summoner: Why Pyre?
Aside from the fact that my rented Malric Inferno is only level 1 (just rented it to flex the skin), Speedy Pyre fits well with my strategy of dealing as much damage as I can to my enemy first, and making them miss whenever they try to land a hit to my Serpent of the Flame. See that 7 pre-enraged speed in Serpent of the Flame?

Battle time!
Match replay link
Round 1: Fireworks everywhere
We have three monsters with Blast ability: Exploding Dwarf, Exploding Rats, and Pyromancer. That strategy might seem questionable at first because of only 1 health for both Exploders, but it seemed to work out great.
At the end of Round 1, Living Lava is down to 2 health, while Fineas Rage (a tanky tanky reach monster) is now down to 3 health.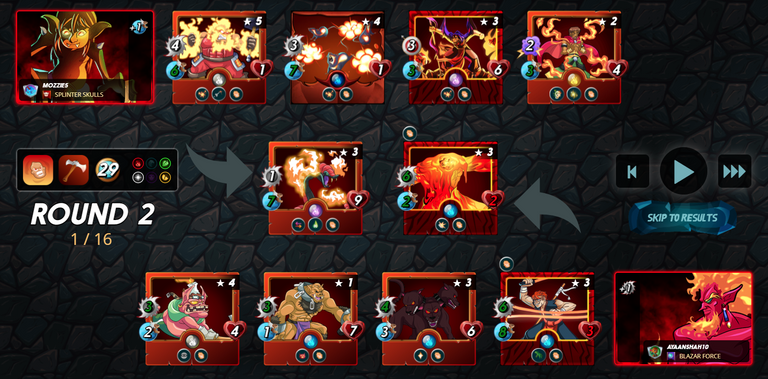 Start of Round 2, look at that Speed difference!
Round 2 & 3: That is a nasty 11 speed
By the end of Round 2, the match is already in the bag. Cerberus is down to 1 health, and Malric's monsters can barely land a hit against Serpent of the Flame. Even with Cerberus' 5 speed, the miss chance against Serpent of the Flame is still a whopping 60%!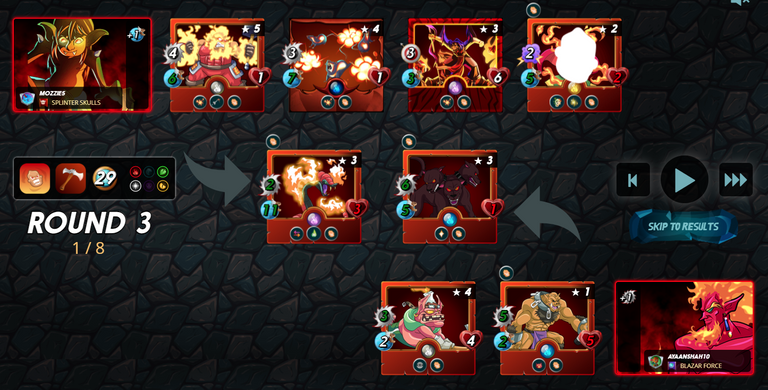 Start of Round 3, double-digit speed you say?
The match ended at Round 3, with Exploding Dwarf getting a double kill against Pit Ogre and Kobold Miner.

What is the worst team to face against with in this lineup?
There are two factors that I can think of which will make a match turn sour for my lineup:
Mylor Crowling or any monster with thorns

The main downside of this aggressive lineup is my high damage dealing monsters have very low health. If I hit a monster with the thorns ability, my Dwarf and Rats will vanish instantly.
Opportunity ability

While there is still a high chance for them to miss because of speed difference, facing monsters with opportunity ability is still a no-go for this lineup. A single attack that lands against my two stars, will easily kill them like a mouse in the trap.

Conclusion
Despite not being a part of the current meta, there are still a lot of combinations that we can make with the wide array of monsters in Splinterlands. We just have to make their shine in their own time, and in the right environment. Who knows, maybe the cards that are currently selling at less than $0.10 will eventually be a staple in high-level tournaments strategies.
There you have it! Thank you for reading this far, and I hope you all enjoyed this Sparkling Battle with Speedy Pyre!

Splinterlands for all the game-related images used
All the cool-looking dividers are made by @flauwy
Cover photo made in Canva

---
---