I knew it! The soil wasn't right!
In my last post of starting off seeds, I had guessed that hardly now of them would work because I had been sold a bag off dust. If your new to growing stuff then the first most important thing is to have fluffy soil, and not clay haha..
I went around the plant pots that were here already and had to skim enough of off each to try save the seeds that were not doing anything as the soil was just terrible. In this post I correct the pots so the seeds can start.. also I found a great place to start off seeds!
---
When was it, 5 days ago I think or even more, and look, there is nothing!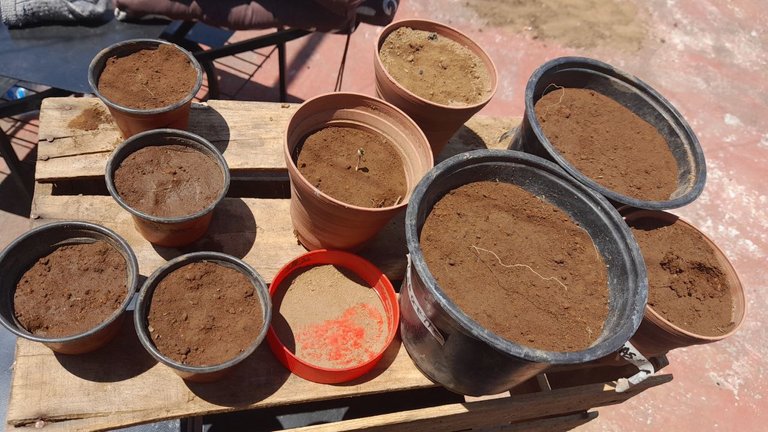 ... Ok actually a weed seed germinated, resilient plants they are! The others sprouted but then the soil dried and contracted which killed the stem.
---
A quick whip around and I had 5 liters of soil that actually has dead plant material in it. This is needed to retain water and also to keep it aerated.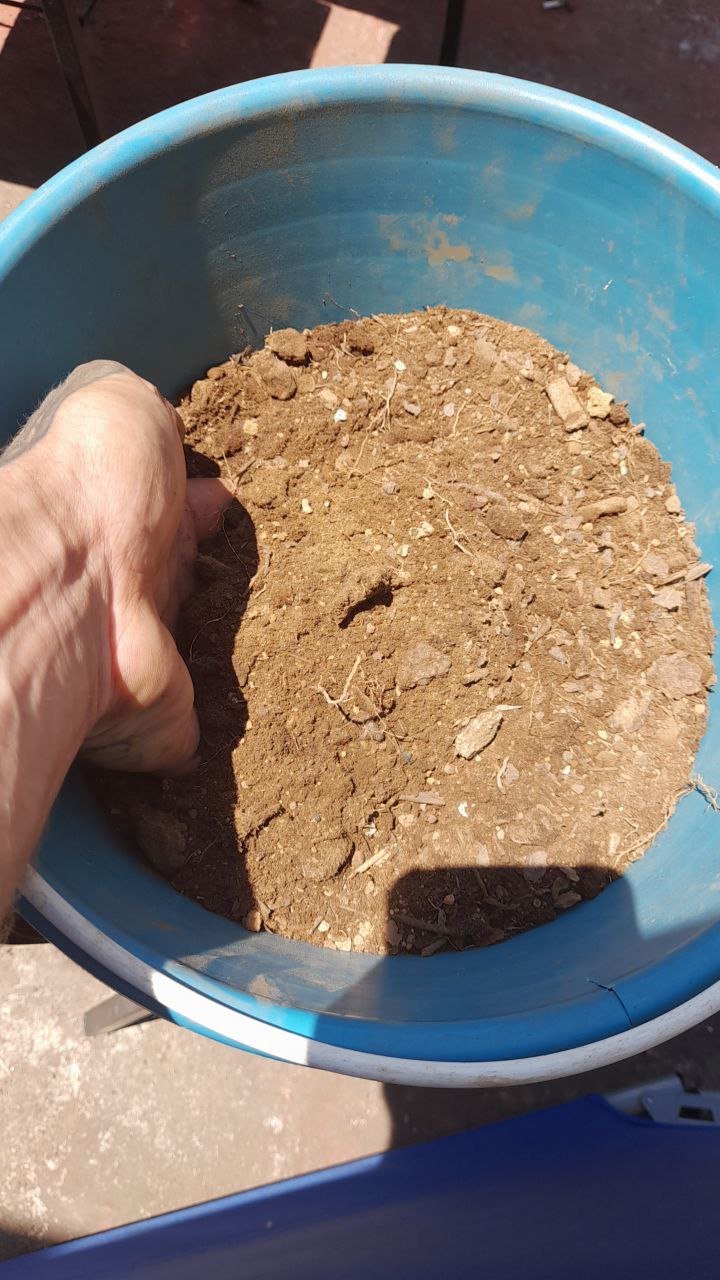 I did though mix soil of the dusty red stuff into this to bulk it out a bit. I presume the red dusty stuff has nutrients in it.
---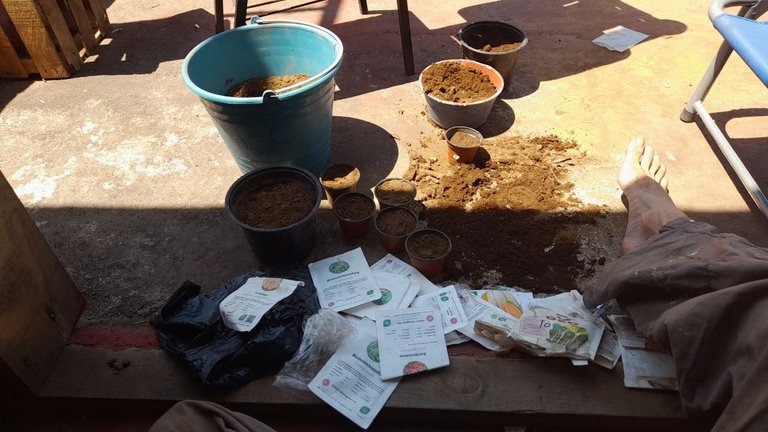 Replacing the pots was fun. I had to sift through and try find the old seeds because I dont have many of some types, and need to grow them for more seeds!
With the Tomatoes I just took off the top layer of red soil and replaced it with the better stuff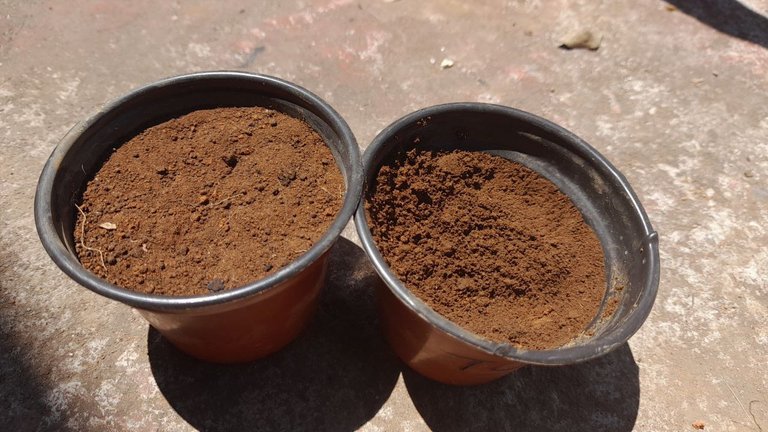 Then I placed more seeds in there.
At least now they have a chance! Another BIG THING when wanting to start seeds off, is to have something which I don't have yet, and that is a spray bottle. The soil must be kept warm and moist but if you use water to wet the soil, you will disturb the seeds and bury them too deep to germinate.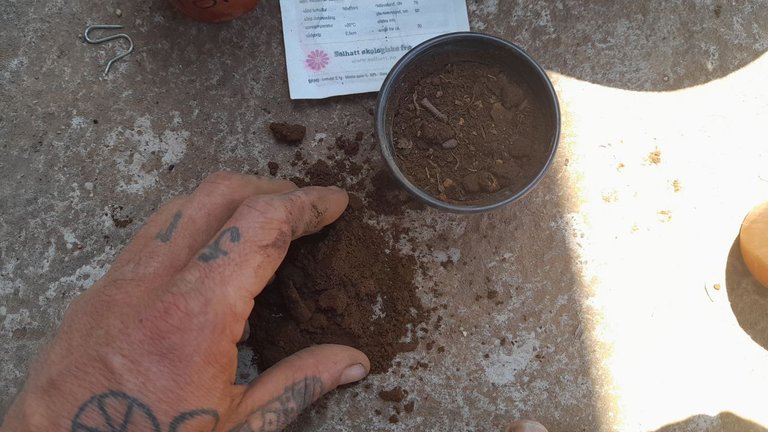 ---
The Zuckini or Courgette as we say, had done nothing, the seed hadn't even swelled up from moisture. That's why I needed to chance the soil for them.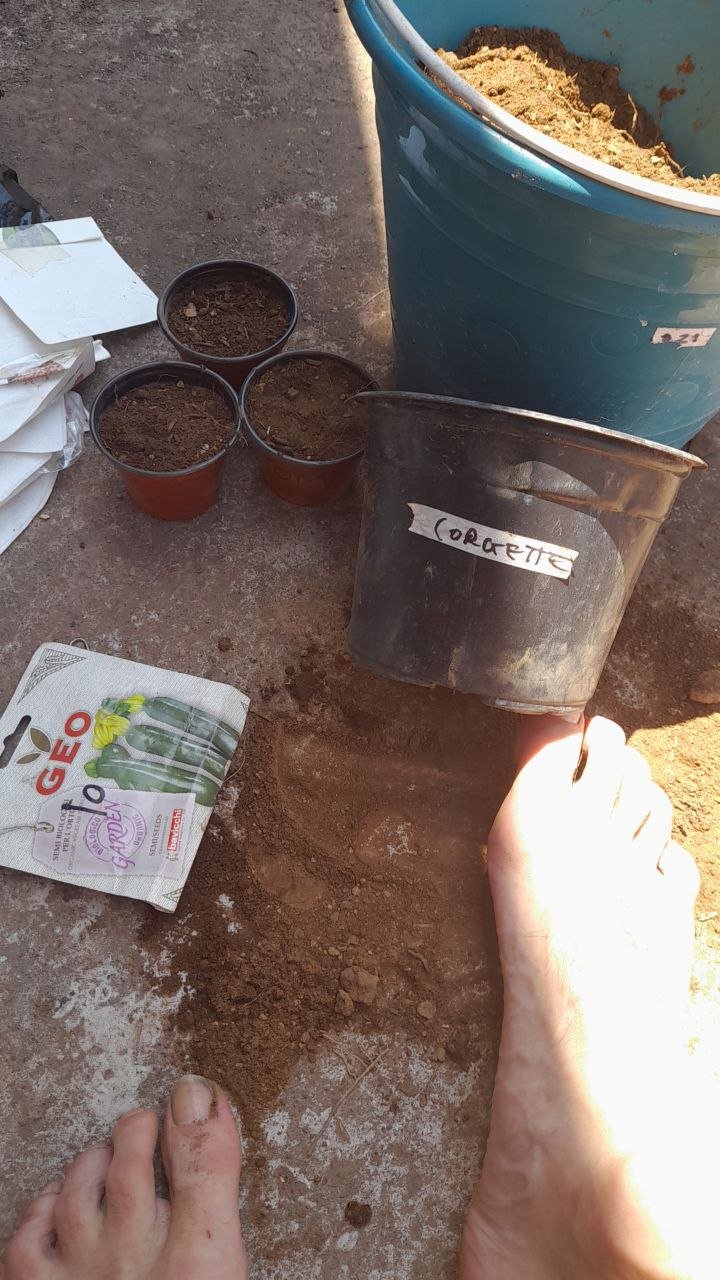 ---
A few things seemed to not mind being strangled in horrible dusty soil.. Was this butternut squash!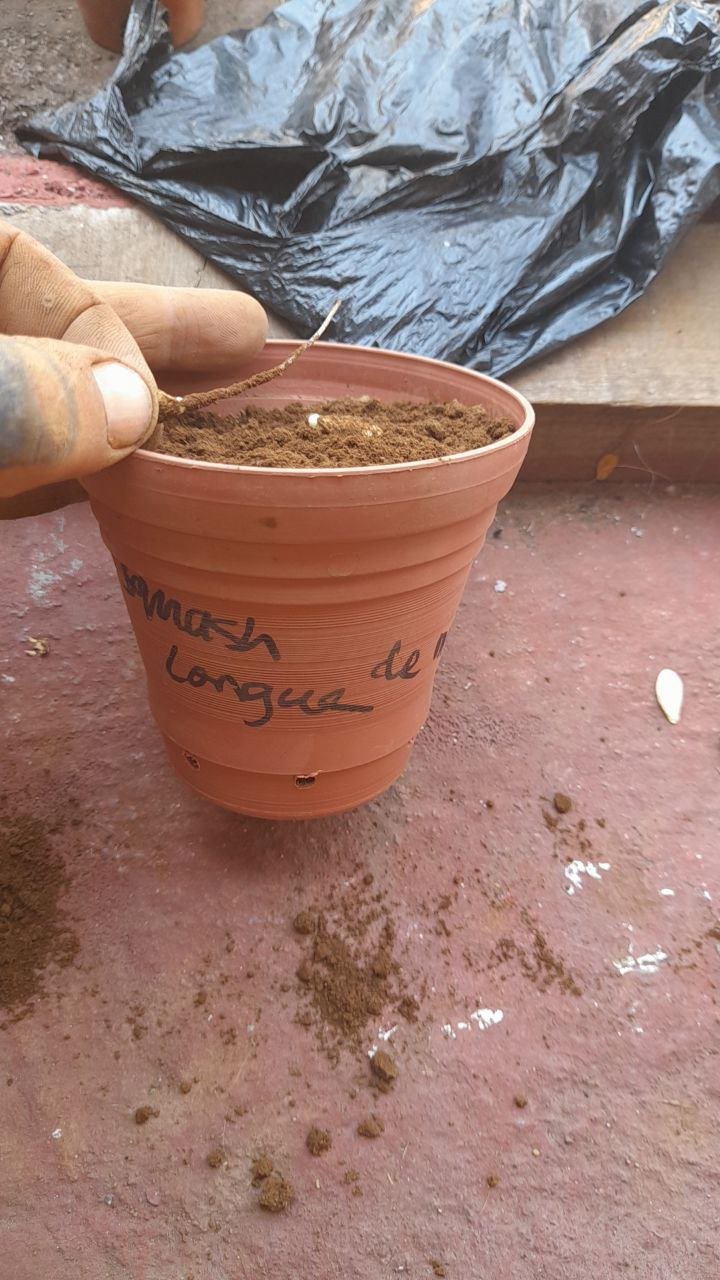 And also this years cash crop which I should have enough to sell.. Melons (Ananas)
Yeh, they should have green leaves there by now!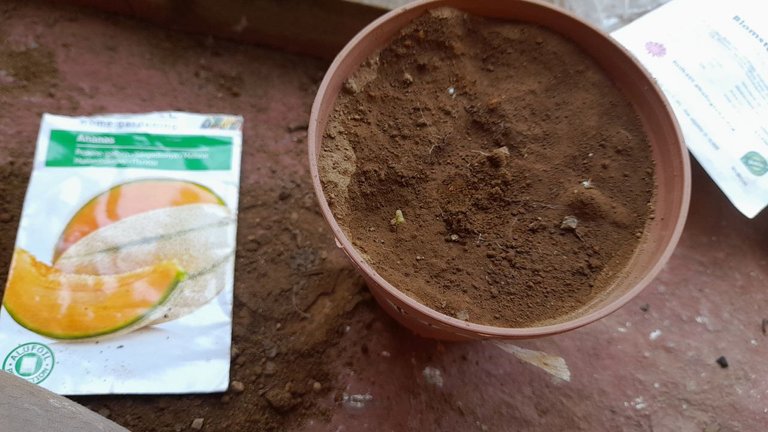 They also got better soil and already today they look much better! I saved them just in time, they were under the soil but bursting to bloom!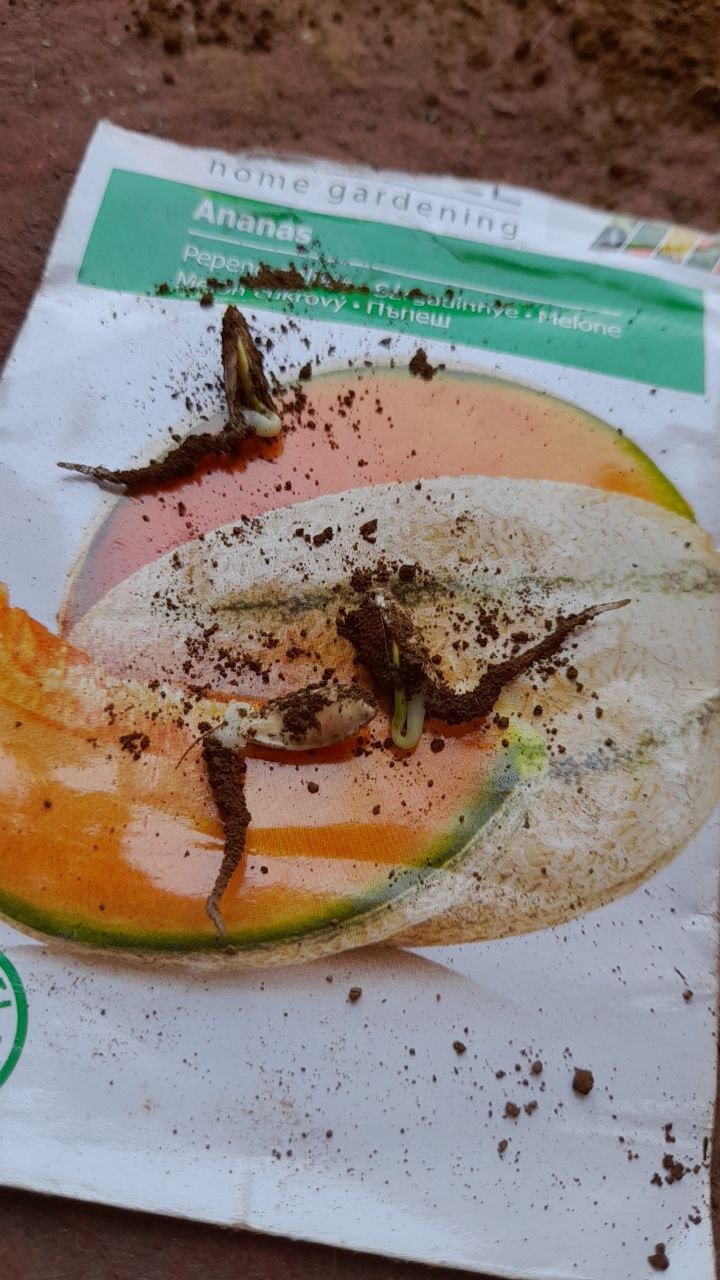 ---
---
And Today, They are very happy!

I was so stupid, that I didn't realized that I have a perfect place to germinate and start plants of that has a green house effect.

Its just a room on the roof with a tin roof but one panel is transparent for light. The seeds have been in there since 24 hours or so and already loving it.

---

A couple of weeks ago or more, I had an avocado what had started to root.

---

Gold! I ate the Avo and on the stone I saw an inch of rootage. actually there were two with it but I thought it was maybe a trick so I just tried one. Not much had happened until a few days ago, I had been keeping it moist as it sat by the kitchen sink.

The other day out of curiosity I decided to give it a very very gentle tug, and sure enough, it was attached to the soil!

I just now decided to take it out of the pot it was in and repot it into something bigger. Sure enough it had roots!




The pot it was in was just a bit bigger in with as the stone!

ROOTS!

and below in its new home next to my for try of a Mango seed!!!

---

My first try at A Mango seed!! Another time when I do it again, I will document it for sure.. But anyways this is a mango seed in a sandwich bag that I'm trying to germinate since only a couple of days.


And I am trying one in a pot too. it dont look like a mango stone though! Thats because the seed is inside the white stone!

Well! Busy boy, its great to have time off from the project and touch soil again
---
---