Hiveminds - Return of the Underground (review)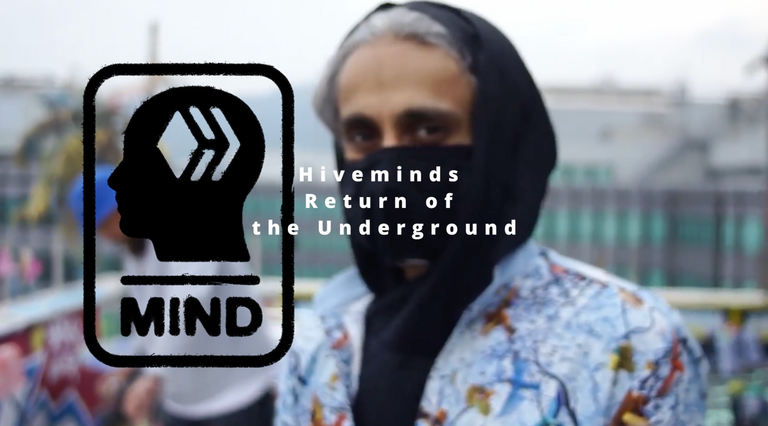 ---
| | |
| --- | --- |
| Name: | Hiveminds Return of the Underground Review |
| Event Type | Party, Jam |
| What? | Live Graffiti, Live Music/Turntablism, Breaking, Open Mic |
| Date | Friday 23rd April 2022 |
| Time | 15.00/03.00pm - 03.00am |
| Location | Neue Hard 12, 8005 Zürich |
| Coordinates | Latitude: 47.387375, Longitude: 8.5183246 |
| Organisers | @sandymeyer, @yangyanje, @mpcdude, @baqabond, @romanescoart |
| Video editing | @yangyanje |
| Music by by | @mpcdude |
| Graffiti by | @senzone |
| Rapper | @baqabond |
| Support by | @beatblocks, @bacro44, @bamiadeleke |
Introduction
Welcome to our second round of April of curation featuring creative individuals on the hive blockchain.
On our last post Hiveminds - Return of da Underground , we dropped a trailer and a flyer featuring art by @needapencil.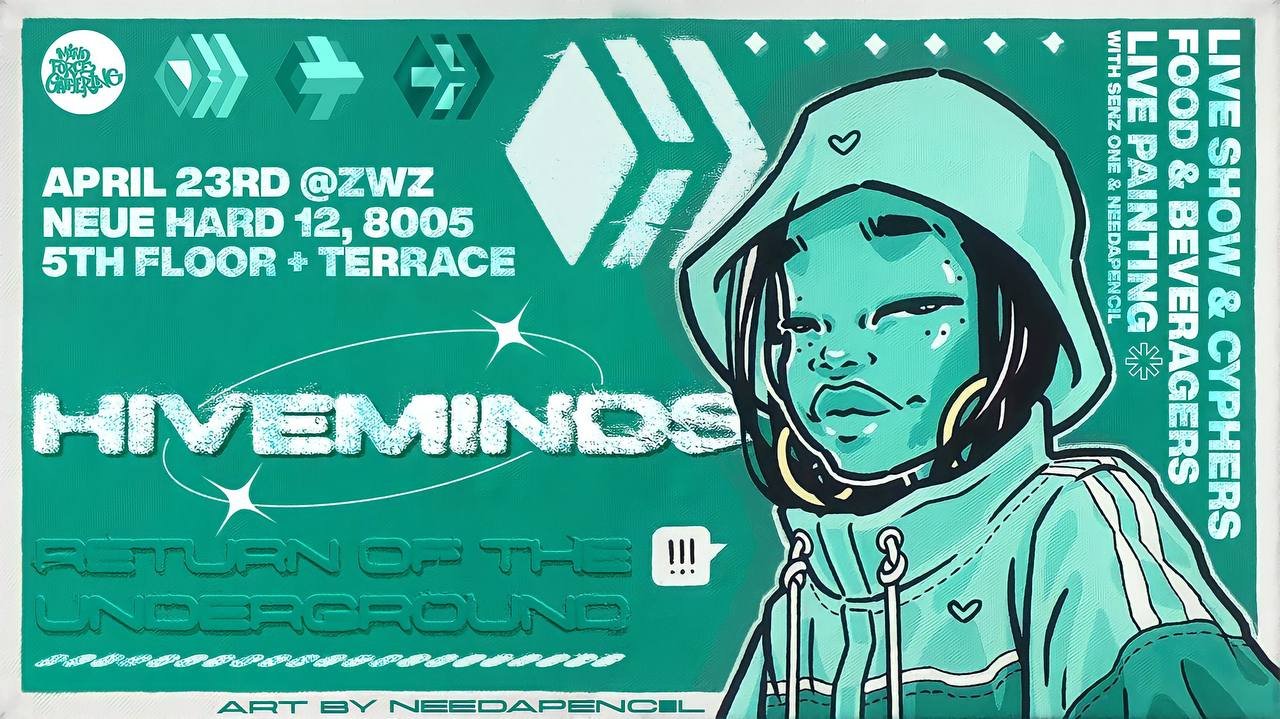 The flyer was designed by @baqabond
Our previous event Hiveminds, the revolution was about using seven senses .
It was the second of a series of events trying to apply the hive keychain to the physical world.


Check out this informative tribute to NFT's and the future of Music that @djlethalskillz shared with us a few days ago:
This gets me specially excited about this new paradigm.
Announcements
Our next event Hiveminds STARLINE will take place on the 18th of June at a Camp site close to 8492 Wila, Switzerland. Tickets are available as editions on NFTTUNZ
Graffiti Lettering Challenge
Do tune in to the Graffiti Lettering Contest #18 (IQ) by @trippymane.
Join in for an evaluation of the entries or stay tuned for another exciting round of painting or sketching and sharing art. Much appreciation @trippymane for these efforts: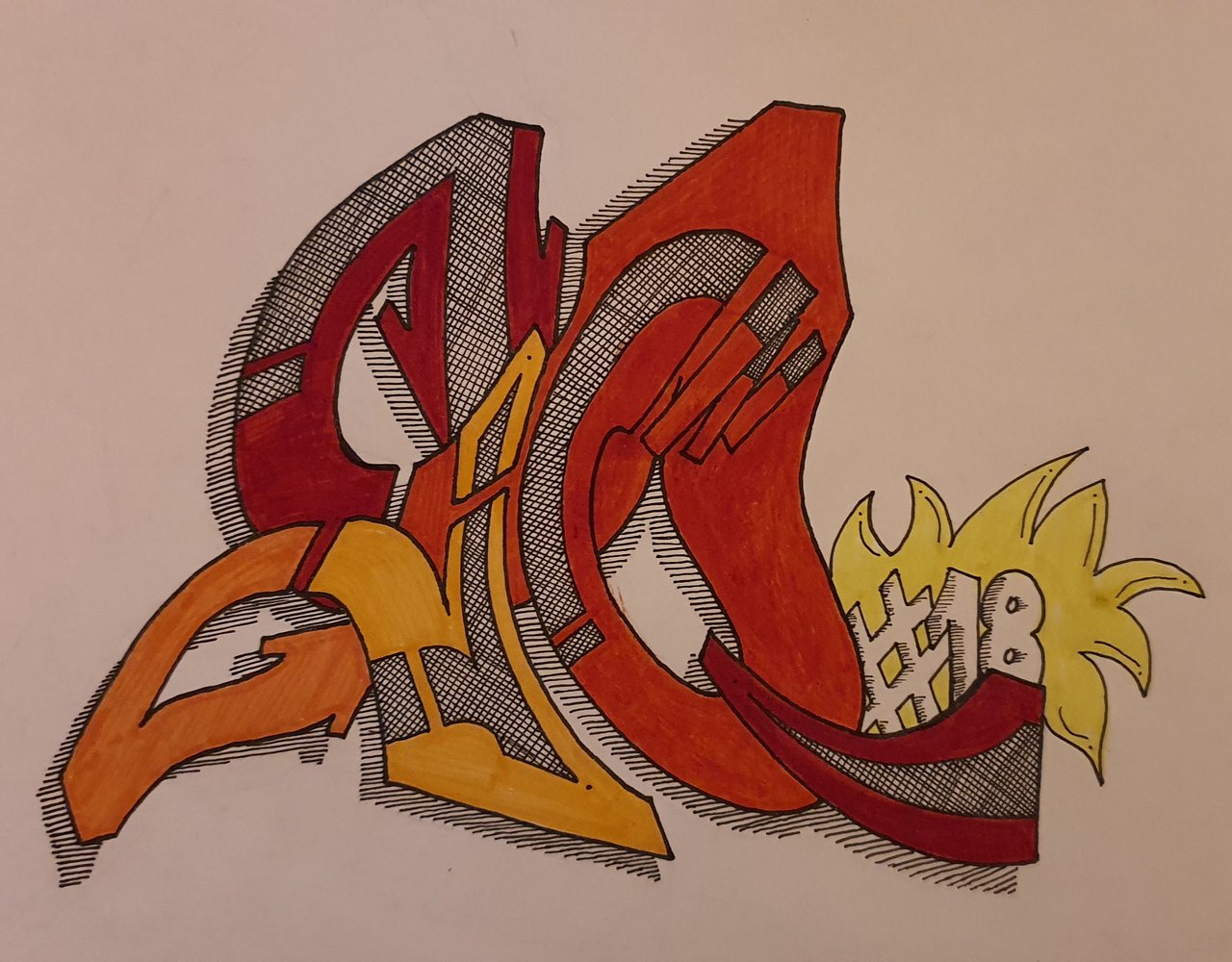 Recently we had a few who got around posting some interesting content that we'd like to share:
Showing up at the hiveminds with his drone and his 360 camera, @sandymeyer filmed and edited a stunning video :

This was a recent event in Arunachal Pradesh by the Basketball association that the Quest-Skool, Shorez and Sumku attended.

Make sure you visit @termitemusic and give him an upvote for another really jazzy instrumental. Big ups to his super dope lo fi boombap style of Hip-Hop.

Unbelievable! I still have to get used to all this meta verse type AR and these avatars. Is this really the future? Nevertheless I always enjoy anything my main man @djlethalskillz is up 2! Give his recent post an upvote.

@arcoamanic posted another awesome piece Kore graffiti 2722 .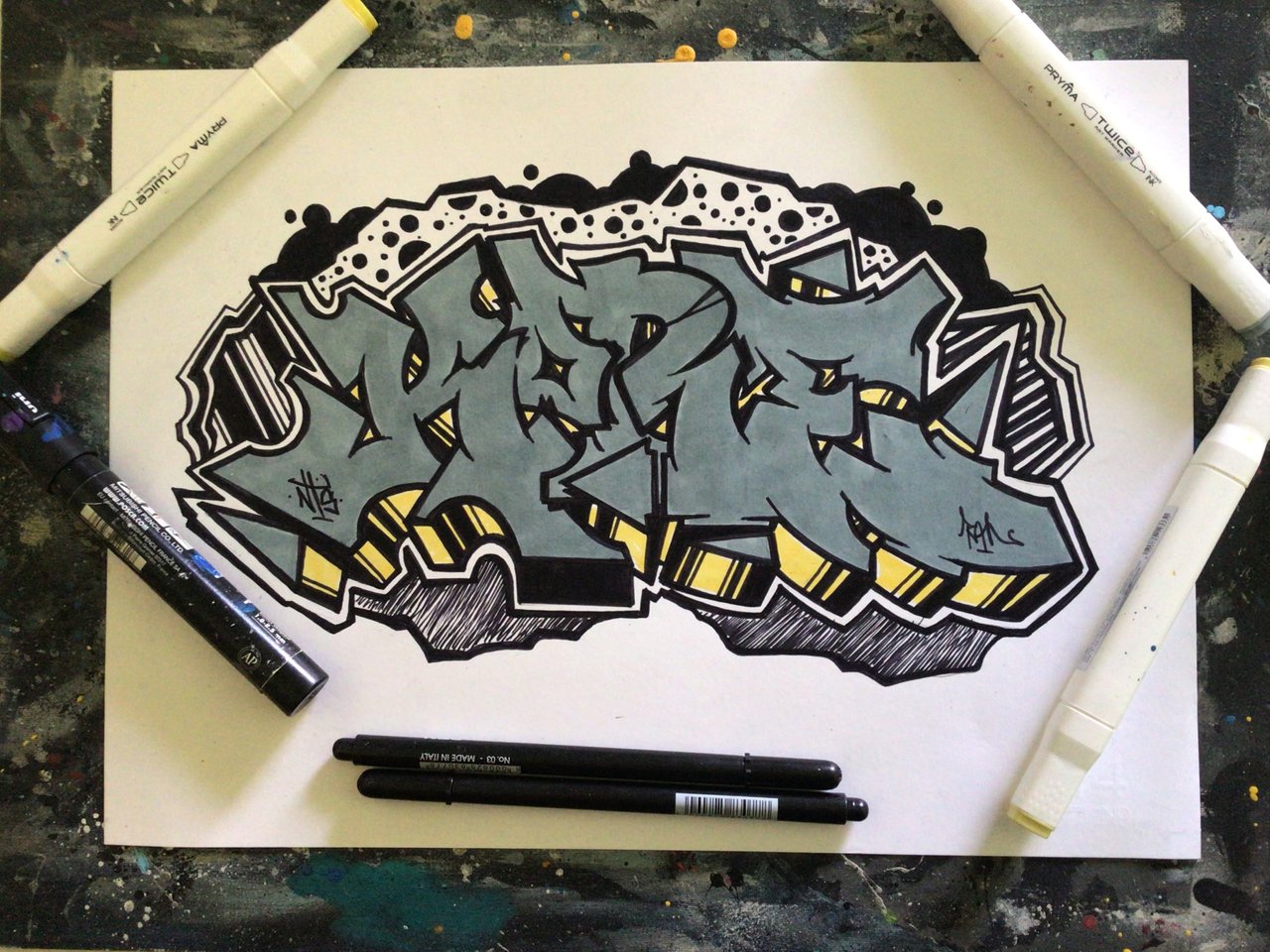 We're also excited to announce the Swiss Hive Meeting, which will feature a live event on Discord, where we will interview
@coinlogic.online
.
The Swiss Hive Meeting #8
We will talk about hivelist, blocktunes and other projects on hive apart from Tokenising art through NFT's on the 19
th
of May 2022, live @ the ZWZ, 5th Floor, Neue Hard 12, 8005 Zürich or on Discord in the
Swiss Hive Discord Server
@ 20.00 CET.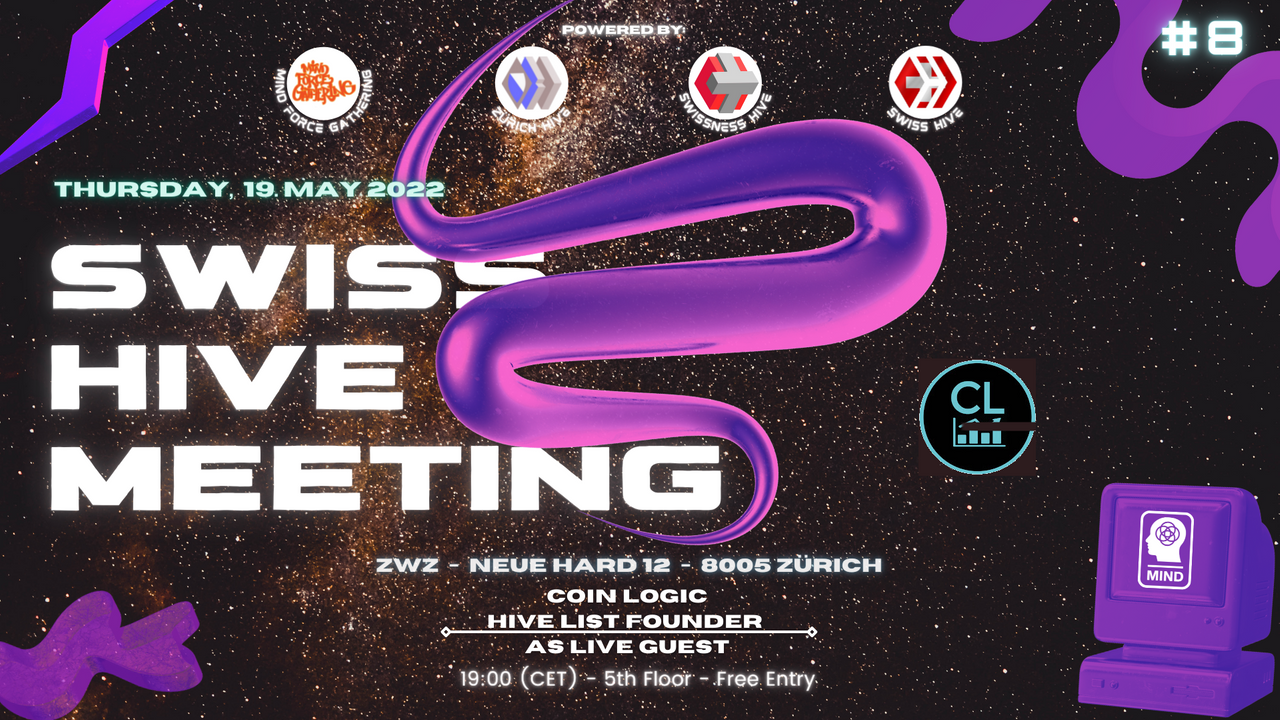 Do check out
Stars Align
Another really nice and very atmospheric tune by
@nickyhavey
.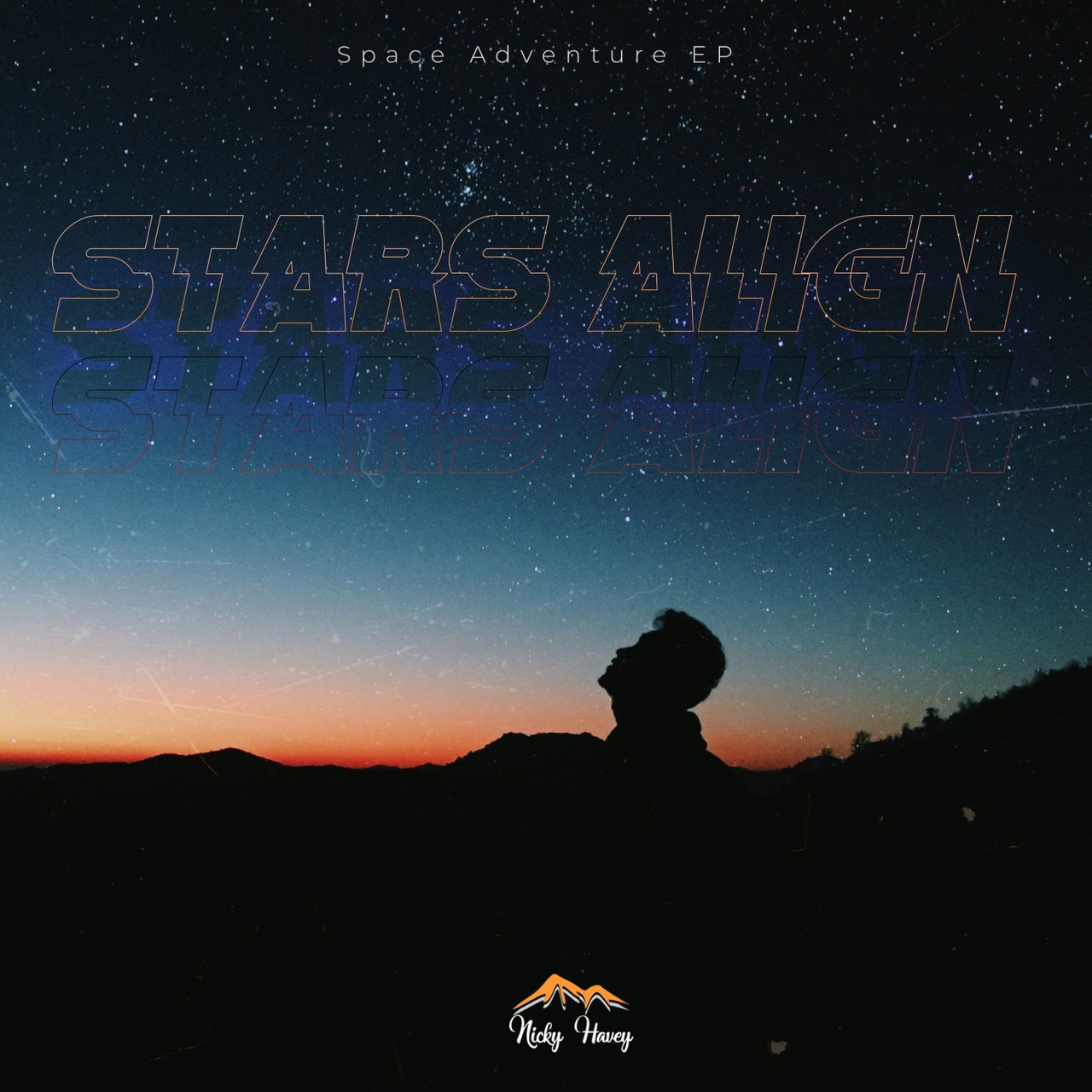 @acroamanic made a little rap about the shiba inu coin. Hilarious. Check it out:

Check out @tdctunes in one of his epic sessions [Live] Modular music - getting generative
https://www./videos/1466816548?t=0h0m8s

The Mind Force Gathering
Support our curation project with delegations below and join our movement. Feel free to sport the banner below in your posts if you are into anything related to these seven senses:
kinaesthetic
auditory
visual
vocal
gustatory/olfactory
mind
consciousness
Thank you for reading
authored by @yangyanje
Here is our introduction video:
(Unsupported https://3speak.tv/embed?v=mind.force/xkvksoep)

"He who is unfit to serve his fellow citizens wants to rule them." - Ludwig von Mises

Any delegations to @mind.force are welcome.
---
---
▶️ 3Speak
---
---