MY INTRODUCTION POST ON HIVE: Hello, Hallo, Gutentag [ENG-DUTCH]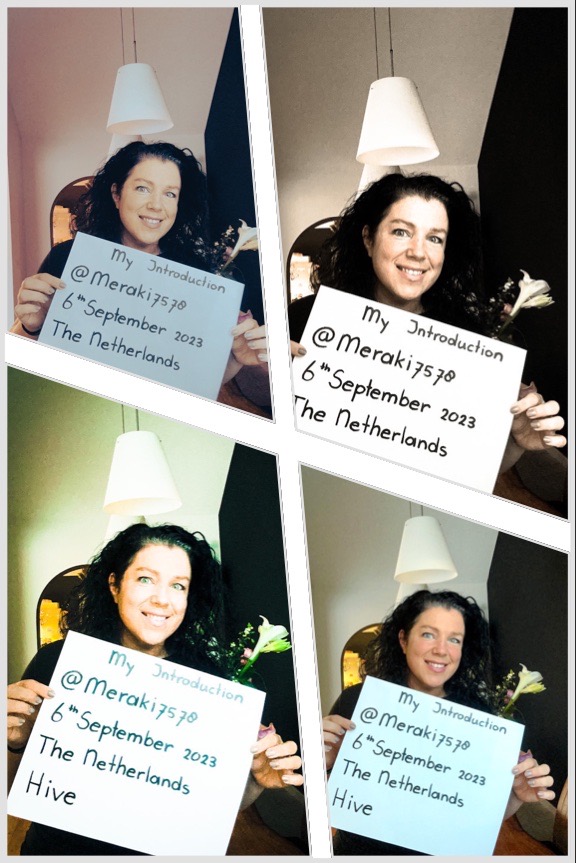 Hi everyone here in the HIVE community,




Well the worst is over, taking a selfie of myself.
I'd rather be standing behind the camera than smiling forced in front of it.
But that's thankfully over with.
It only remains for me to present myself to you.


Hallo iedereen hier in de HIVE gemeenschap,

Het ergste is achter de rug, een selfie van mezelf nemen.
Ik sta liever achter de camera dan dat ik er geforceerd voor lach.
Maar dat is gelukkig voorbij.

Rest mij alleen nog mezelf aan jullie voor te stellen.


Hi, I'm Paula (meraki7578), 45 years old and living in the south of the Netherlands.
In the beautiful province of Limburg.
Therefore, the dialect Limburgish is my mother tongue alongside the Dutch spoken here.
Besides these two mother tongues, I also speak two foreign languages namely English and German.
Hoi, ik ben Paula (meraki7578), 45 jaar oud en woonachtig in het zuiden van Nederland.
In de prachtige provincie Limburg.

Het dialect Limburgs is dan ook mijn moedertaal naast het Nederlands dat hier gesproken wordt.
Naast deze twee moedertalen spreek ik ook twee vreemde talen, namelijk Engels en Duits.


Unfortunately, I am currently not at work but at home recovering from a pulmonary embolism and a thrombosis leg.
(Was in a French hospital for 2 ½ weeks during my holiday there.
But I'll tell about that nightmare another time..)
But I hardly can´t wait to get back to work.
After completing my education to become a primary school teacher,
I have worked in many schools but have been very happy for years now in two schools where I alternate work with children aged 2 to 12.
Plus, for sure, you can imagine that when you work with young kids, there is never a dull day.
Besides my work, I have several other hobbies.
Can't immediately point out my favourite but photography does stand out a bit above the others.
Over the years I took several training courses to improve myself.
But a professional, no that´s still a long way for me.
There are still so many things I want to master.
Helaas ben ik momenteel niet aan het werk maar thuis aan het herstellen van een longembolie en een trombosebeen.
Lag 2 ½ week in een Frans ziekenhuis tijdens mijn vakantie daar.
Maar over die nachtmerrie vertel ik een andere keer.
Maar ik kan bijna niet wachten om weer aan het werk te gaan.
Na het afronden van mijn opleiding tot leerkracht basisonderwijs,
heb ik op veel scholen gewerkt, maar ben nu al jaren heel gelukkig op twee scholen waar ik afwisselend werk met kinderen van 2 tot 12 jaar.
Bovendien kun je je zeker voorstellen dat als je met jonge kinderen werkt, er nooit een saaie dag is.
Naast mijn werk heb ik nog verschillende andere hobby's.
Kan niet direct mijn favoriet aanwijzen, maar fotografie steekt er toch wel een beetje bovenuit.
Door de jaren heen heb ik verschillende opleidingen gevolgd om mezelf te verbeteren.
Maar een professional, nee dat is nog ver weg voor mij.
Er zijn nog zoveel dingen die ik onder de knie wil krijgen.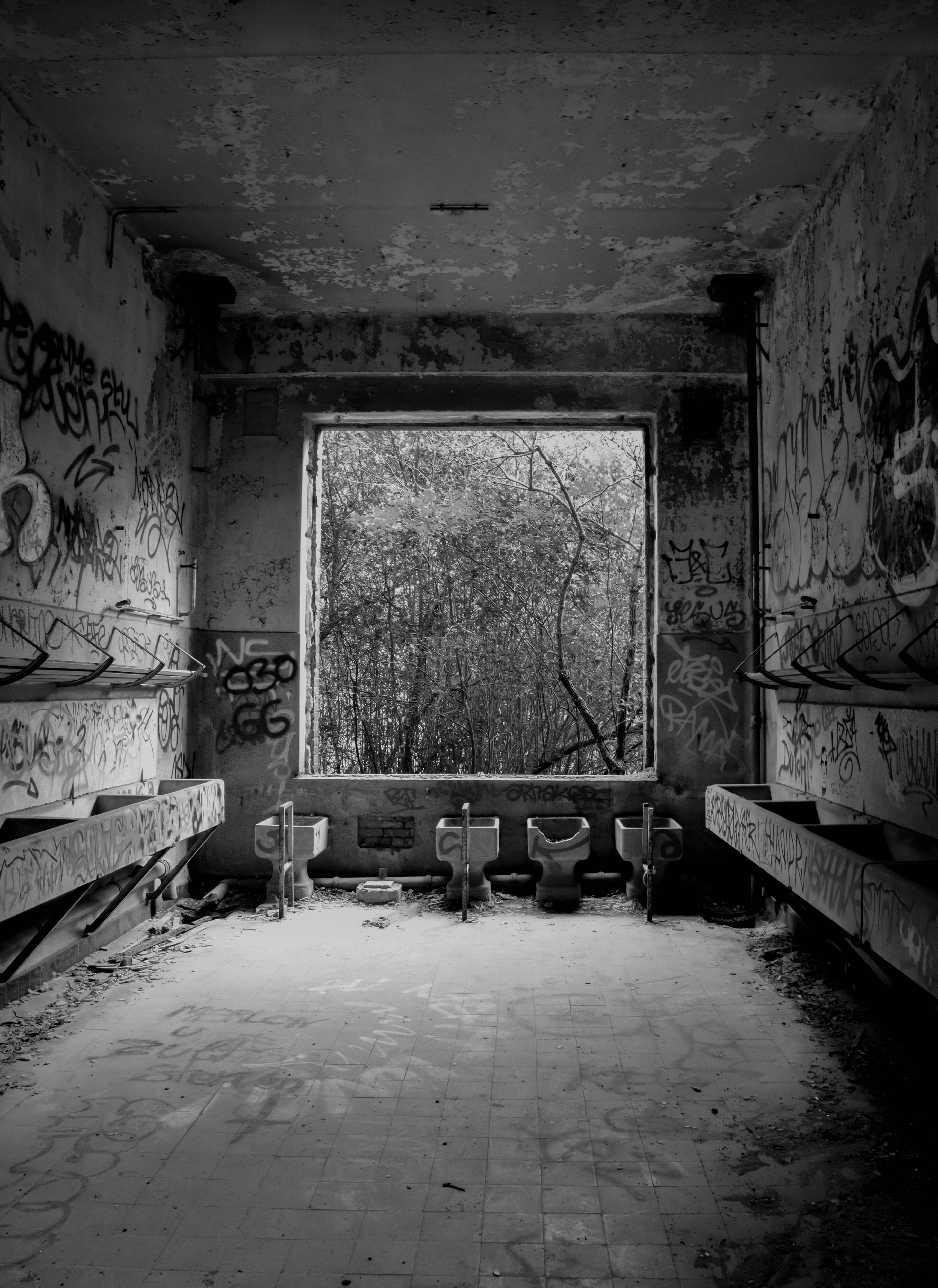 (Black and white photography is my all time favourite)


And that is also the main reason I registered here.
I was looking on the blockchain for a place where photography stood out above all else.
And where I could share my photos with the world and enjoy all the beautiful pictures other people share on there.
Liketu therefore seemed the ideal place.
But that is not all. I also like doing sports.
I form a kickboxing group with some other women.
Unfortunately, I am not allowed to start this for the time being.
But when I am fully recovered those boxing gloves will fly back on hopefully.
Or maybe it's better to search for a sport that is less intense after all.
Don't want to repeat these health problems.
En dat is ook de belangrijkste reden waarom ik me hier heb geregistreerd.
Ik was op zoek naar een plek waar fotografie boven alles uitstak.
En waar ik mijn foto's kon delen met de wereld en kon genieten van alle mooie foto's die andere mensen daar delen.
Liketu leek me daarom de ideale plek.
Maar dat is niet alles. Ik sport ook graag.
Ik vorm een kickboksgroep met een aantal andere vrouwen.
Helaas mag ik daar voorlopig nog niet aan beginnen.
Maar als ik volledig hersteld ben vliegen die bokshandschoenen hopelijk weer aan.
Of misschien is het toch beter om een sport te zoeken die minder intensief is.
Wil deze gezondheidsproblemen niet herhalen.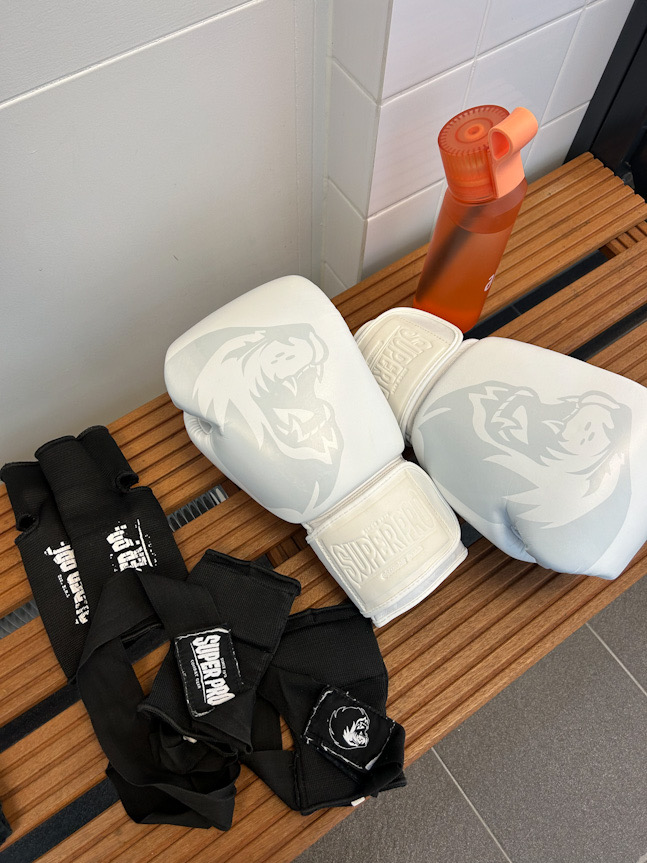 (My boxing gear)


And the shooting sport I practise is also on hold for the time being.
Rest assured I do not shoot animals. I practice on inanimate targets, little black cubes.


En de schietsport die ik beoefen staat voorlopig ook in de ijskast.
Wees gerust, ik schiet niet op dieren. Ik oefen op levenloze doelen, kleine zwarte blokjes.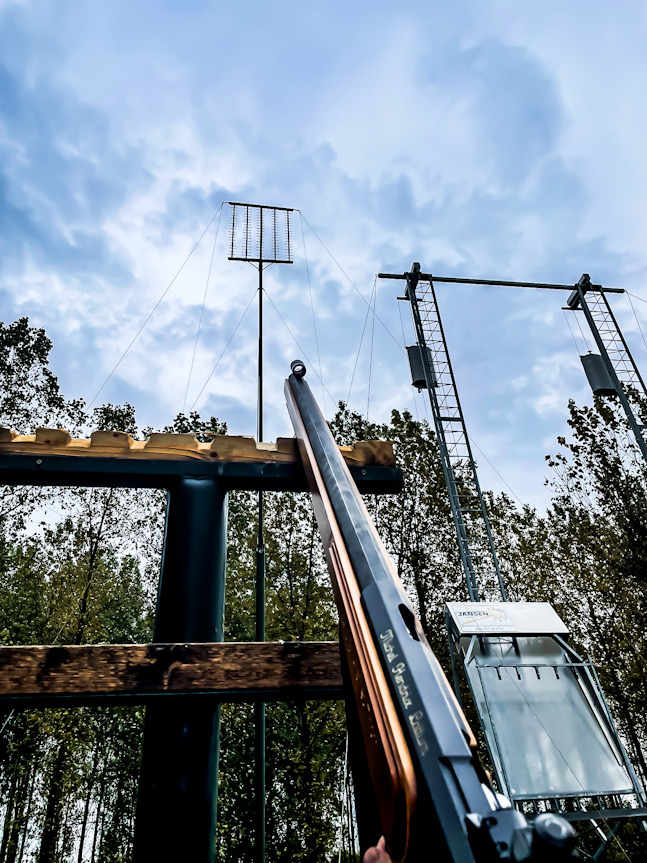 (My 'little' shooting rifle)


But I am not bored.
A lot of other things help me pass the time.
Reading, watching movies/series, baking/cooking and writing also bring me a lot of peace and relaxation.
Maar ik verveel me niet.
Veel andere dingen helpen me de tijd te doden.
Lezen, films/series kijken, bakken/koken en schrijven brengen me ook veel rust en ontspanning.
(I adore making and eating sushi)


And finally, I want to talk about a combined hobby.
That is travelling and my two beauties.
My motorbike (Yamaha Dragstar 650) and Volkswagen beetle.
Always looking for beautiful places (which I can then capture with my photo camera)
Win-win situation.
En tot slot wil ik het hebben over een gecombineerde hobby.
Dat is reizen en mijn twee schoonheden.
Mijn motor (Yamaha Dragstar 650) en Volkswagen kever.
Altijd op zoek naar mooie plekjes (die ik dan kan vastleggen met mijn fotocamera)
Win-win situatie.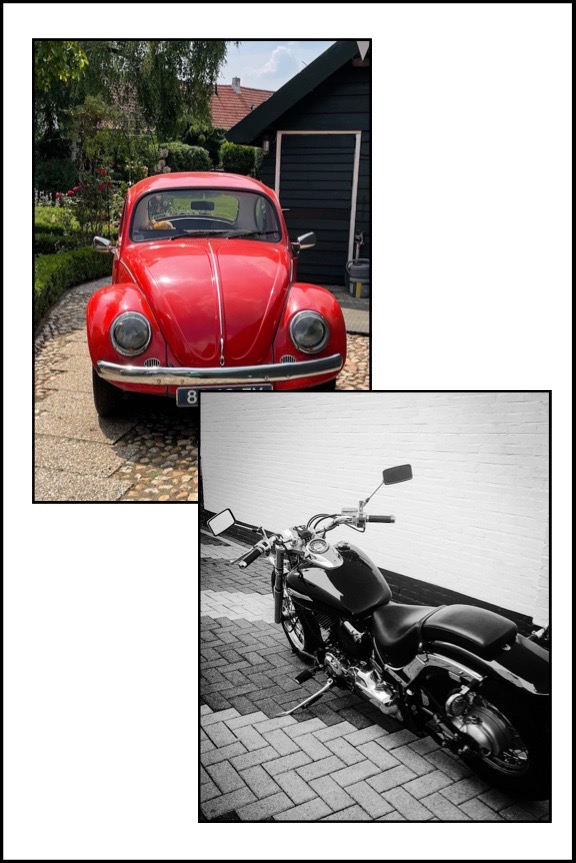 (My two beauties)


I could go on and on but would rather share my story through my photos.
Getting to know people worldwide in this beautiful community.
And besides, savoring all their amazing photos and tales is something I would love to do.
Thank you for taking the trouble to read my introduction.
I hope to make a valuable contribution.
A comment or question is always appreciated and I will definitely contact you.
Ik kan nog wel even doorgaan, maar ik deel liever mijn verhaal via mijn foto's.
Wereldwijd mensen leren kennen in deze prachtige gemeenschap.
En bovendien, genieten van al hun geweldige foto's en verhalen is iets wat ik graag doe.
Bedankt dat je de moeite hebt genomen om mijn introductie te lezen.
Ik hoop een waardevolle bijdrage te kunnen leveren.
Een opmerking of vraag wordt altijd gewaardeerd en ik zal zeker contact met je opnemen.




Greetings and wishing you all the best.
Bye - Dag - Tschüss
Paula (Meraki 7578)💚


(All photos are shot and owned by me)
You can also hit me on:
Instagram: https://instagram.com/paulathoear?igshid=MzMyNGUyNmU2YQ==
Twitter: https://twitter.com/Thoear_Paula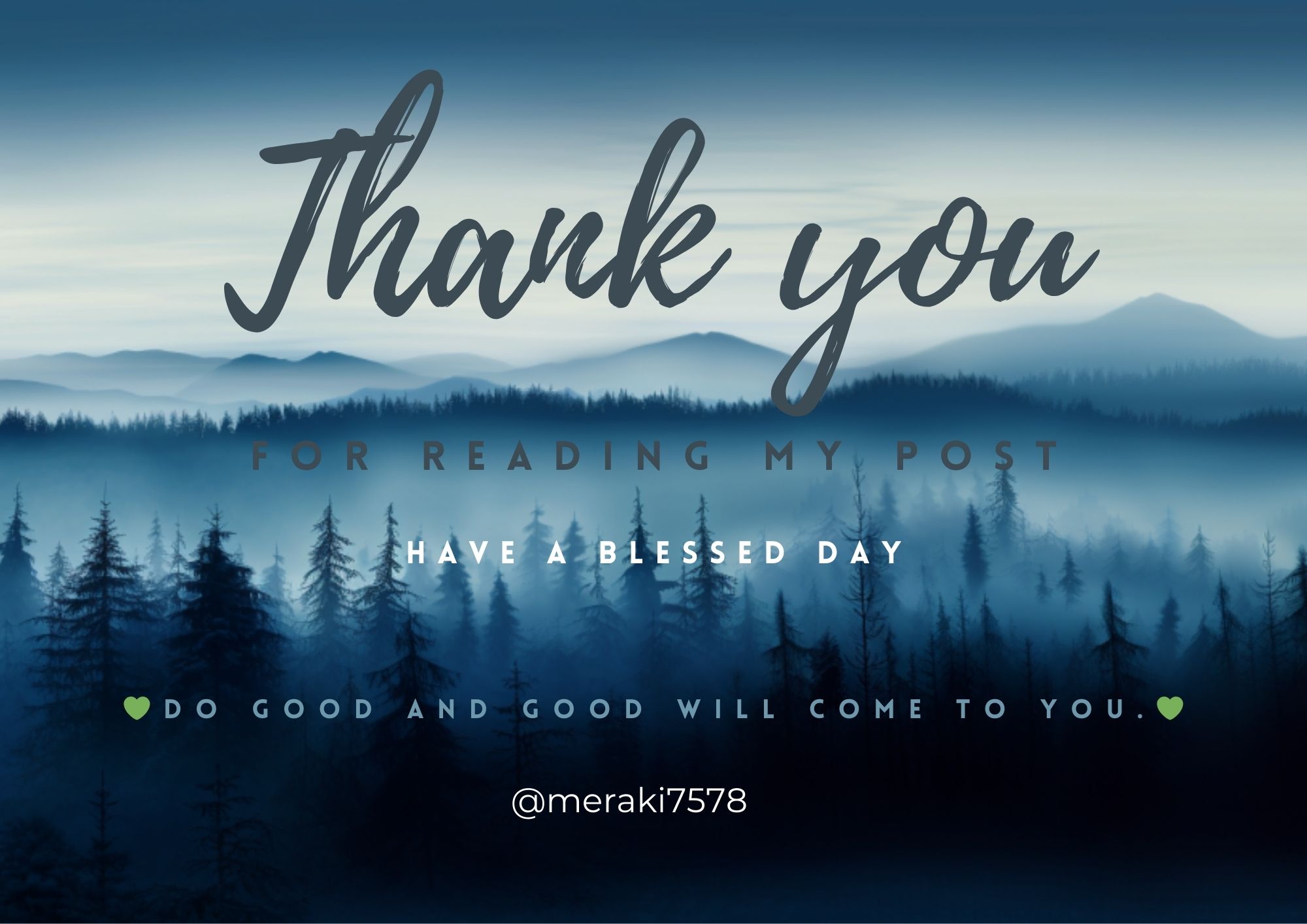 created by Canva
---
---