[ESP|ENG] Heart charm, a Valentine's Day gift. || Dije de corazón, un regalo de San Valentín.💘
¡Hola amigos!
Hello friends!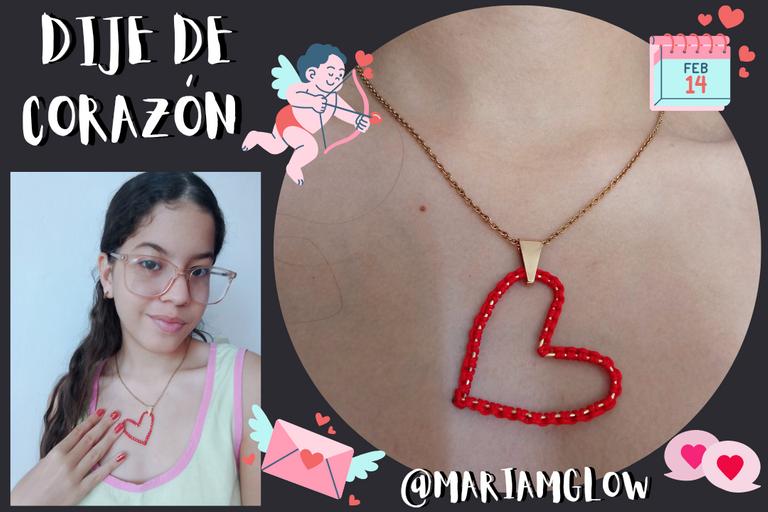 Holaaa chicosss!! Espero que estén pasando un lindo martes!! Desde que vi que estaba vigente un concurso en esta comunidad me emocioné mucho, consiste en realizar un accesorio para regalar en San Valentín, se me vinieron un montón de ideas a la cabeza y esta fue una de ellas. Al principio estaba muy confundida porque sabía que quería hacer un dije pero no sabía con que materiales hacerlo, necesitaba alambre de bisutería y no tenía en casa, mi mamá antes realizaba pulseras, collares y aretes, busqué y en uno de sus organizadores encontré un trozo de alambre de un accesorio que ya no estaba tan bonito y decidí darle más tiempo de uso tejiendo con hilo chino o macramé color rojo. Ya verán el paso a paso. Este regalo es para mí, porque estoy aprendiendo a ser mi propia amiga y a apoyarme en los momentos difíciles de mi vida, al final quien estará contigo siempre eres tú mismo. Bueno chicos, ya les contaré todo el proceso haciendo este bonito dije. 💘✨
Hellooo guysssss!!! I hope you are having a nice Tuesday!!! Since I saw that there was a contest going on in this community I got really excited, this one is about making an accessory to give as a Valentine's Day gift, a lot of ideas came to my head and this was one of them. At first I was very confused because I knew I wanted to make a pendant but I didn't know what materials to use, I needed costume jewelry wire and I didn't have it at home, my mom used to make bracelets, necklaces and earrings, I searched and in one of her organizers I found a piece of wire from an accessory that was not so nice anymore and I decided to give it more time of use weaving with Chinese thread or red macramé. You will see the step by step. This gift is for me, because I am learning to be my own friend and to support me in the difficult moments of my life, in the end who will always be with you is yourself. Well guys, I'll tell you all about the whole process by making this nice charm.💘✨
---
---
📌 Materiales:
Alambre de bisutería.
Hilo chino o macramé, color rojo.
Tijera.
Pinza.
Encendedor.
Cadena.
Ganchito para dije.
📌 Materials:
Costume jewelry wire.
Chinese or macramé thread, red color.
Scissors.
Tweezers.
Lighter.
Chain.
Charm clasp.
En la foto aparece el hilo de nylon y algunas mostacillas porque al principio pensé hacer un collar para el dije. Pero luego cambié de opinión. 🙃🙃
The photo shows the nylon thread and some beads because at first I thought of making a necklace for the pendant. But then I changed my mind. 🙃🙃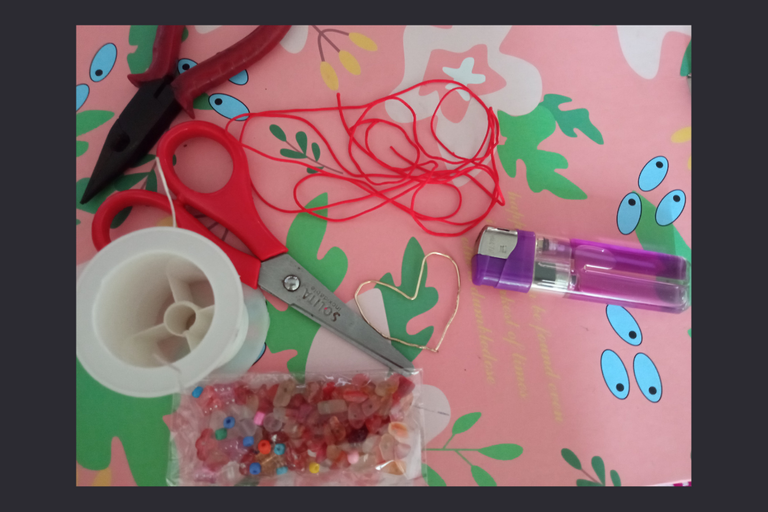 ---
Lo primero que hice fue darle forma al alambre, no soy experta en esto chicos, pero puse mi mayor esfuerzo para que se pareciera a un corazón, estaba complicado porque el alambre ya tenía una forma. Tengo que practicar mucho más para realizar accesorios con la técnica de alambrismo.
The first thing I did was to shape the wire, I'm not an expert at this guys, but I put my best effort to make it look like a heart, it was complicated because the wire already had a shape. I have to practice a lot more to make accessories with the wire wrap technique.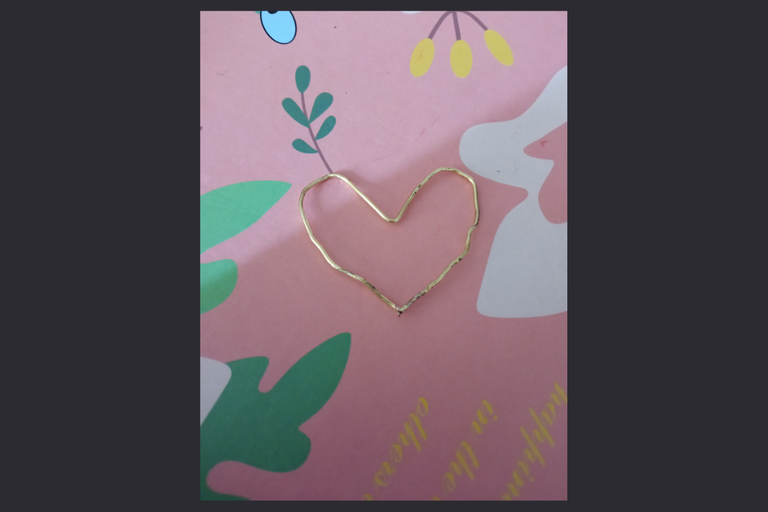 ---
El trozo de hilo medía 110 centímetros. Lo doblamos a la mitad y lo introducimos por el centro del corazón como se ve en la imagen, luego con ayuda de los dedos sacamos los dos hilos por el centro del ojal que se formó. (Espero que me hayan entendido 🥲)
The piece of wire was 110 centimeters long. We folded it in half and introduced it through the center of the heart as seen in the picture, then with the help of our fingers we pulled the two threads through the center of the eyelet that was formed. (I hope you understood me 🥲)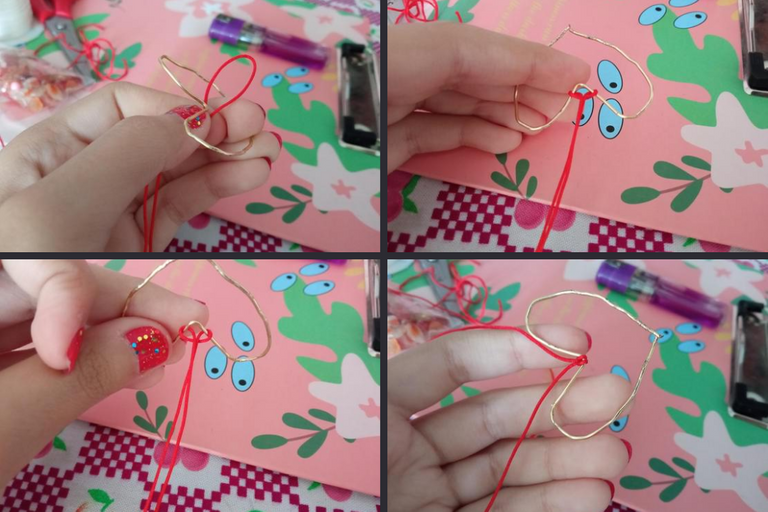 ---
Empezamos a tejer en la parte izquierda del corazón. Tomamos el hilo y lo pasamos por el centro del corazón e inmediatamente le damos la vuelta y ajustamos.
We start knitting on the left side of the heart. We take the yarn and pass it through the center of the heart and immediately turn it over and tighten.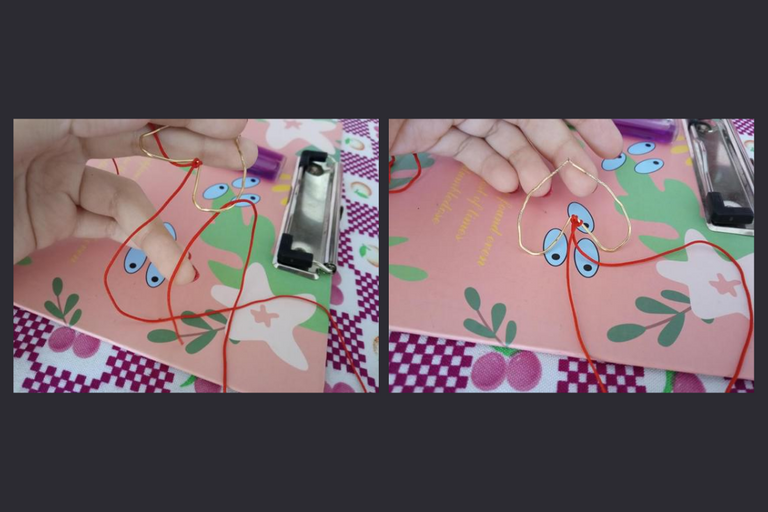 ---
Para el otro nudo, pasamos el hilo por debajo del corazón y lo pasamos también por debajo del propio hilo, lo podemos observar en la segunda foto. Y ajustamos.
For the other knot, we pass the yarn under the heart and pass it also under the yarn itself, we can see it in the second photo. And tighten.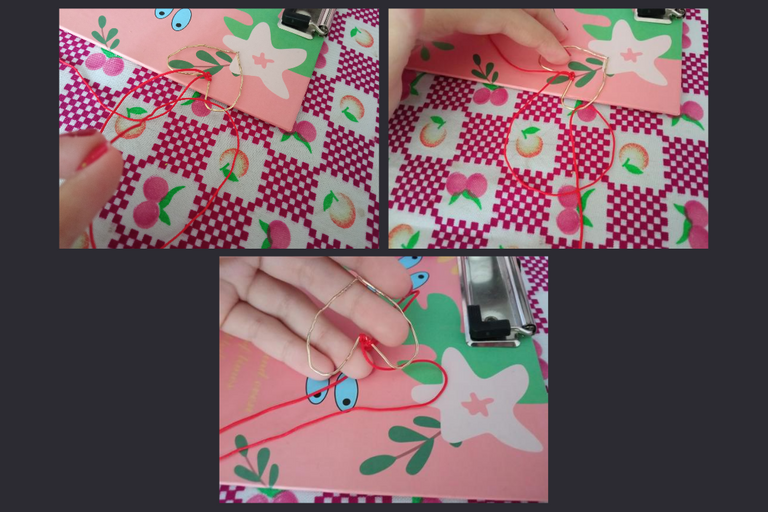 ---
Pasamos el hilo por encima del corazón le damos vuelta y lo sacamos inmediatamente, como se observa en la primera foto. Luego pasamos el hilo por debajo del corazón y lo sacamos también por debajo de la forma del hilo, lo podemos ver en la segunda foto.
We pass the thread over the heart, turn it over and pull it out immediately, as shown in the first photo. Then we pass the yarn under the heart and we pull them out also under the yarn form, we can see it in the second photo.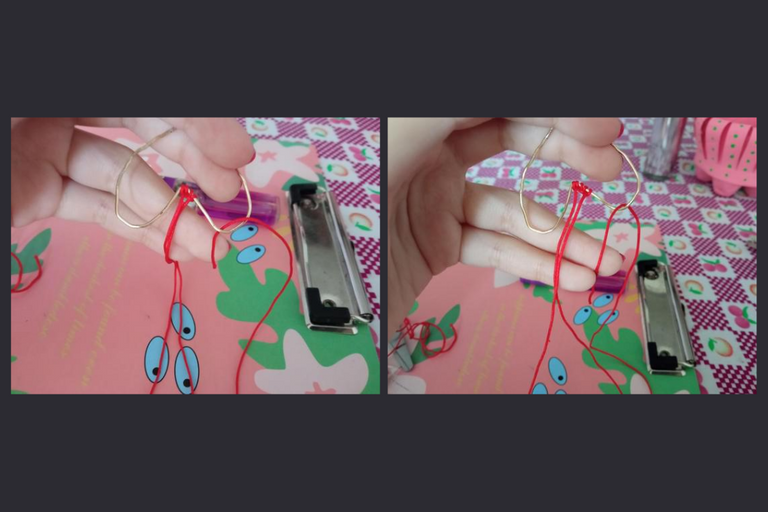 ---
Y seguimos tejiendo, no importa que se vea el color dorado del alambre la idea es que el hilo rojo no cubra todo el dije.
And we continue weaving, it doesn't matter if you can see the golden color of the wire, that's the idea, that the red thread doesn't cover the whole pendant.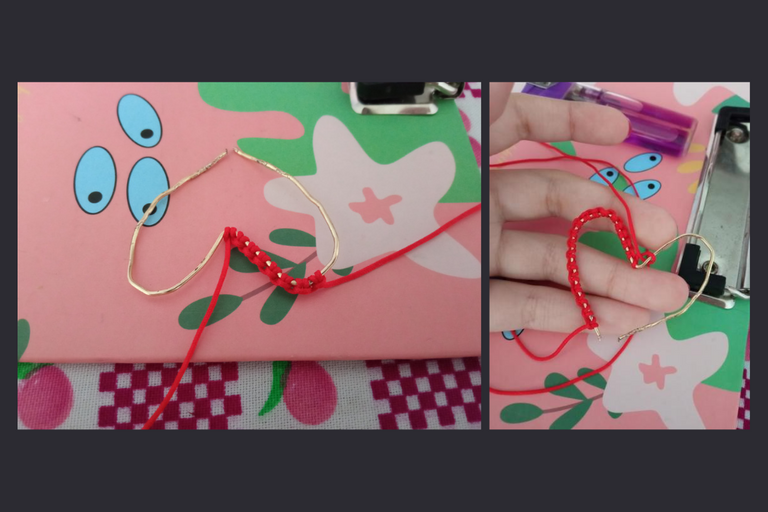 ---
Pasamos a tejer en el otro lado del corazón.
We weave on the other side of the heart.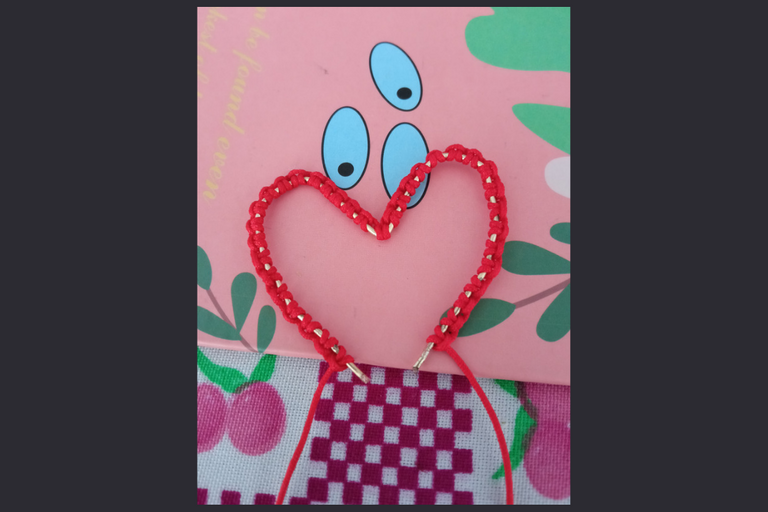 ---
Para cerrar el corazón tomamos los dos trozos de hilo que sobraron y hacemos un nudo simple, luego le damos la vuelta al corazón y hacemos dos nudos más, cortamos el exceso y quemamos para sellar.
To close the heart we take the two pieces of yarn left over and make a simple knot, then we turn the heart over and make two more knots, cut the excess and burn to seal.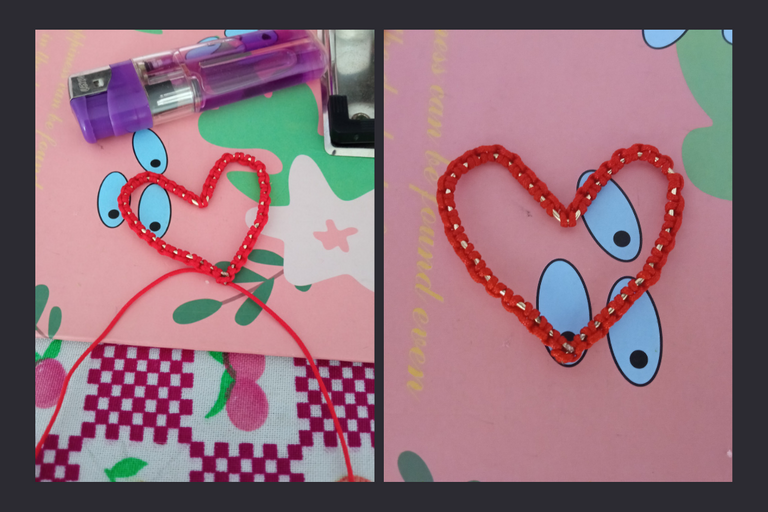 ---
Con ayuda de la pinza abrimos el ganchito para dijes e insertamos el corazón, después pasamos la cadena por el orificio del ganchito, y listo!!❤️
With the help of the pliers we open the hook for charms and insert the heart, then we pass the chain through the hole of the hook, and that's it!!!❤️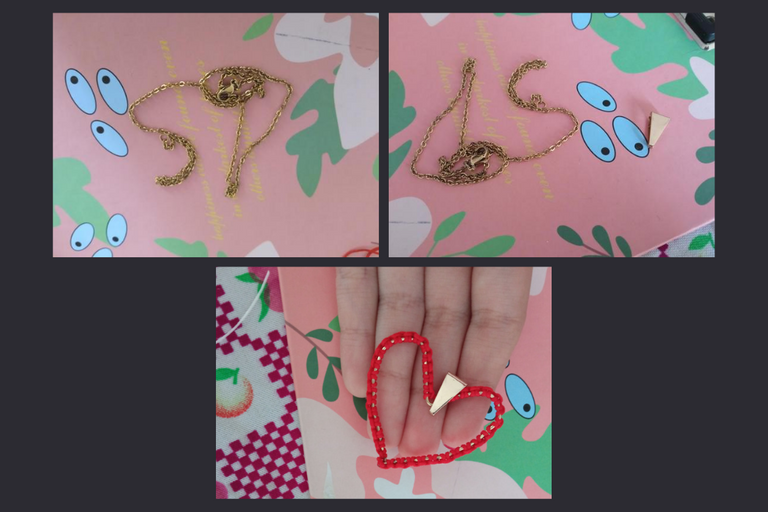 ---
Este fue el resultado!!🏹 Espero que les haya gustado mucho este post, a mí me gustó hacer este dije y como quedó. Al principio me asusté porque pensé que se iba a ver mal la forma del corazón, pero con el tejido se ve súper bonito y delicado😍. Quiero invitar a participar a @eveyese1312, @sylregne y @janettbrito76, sé que harán un excelente trabajo y unas súper presentaciones. Deseo que pasen un excelente San Valentín, junto a las personas que quieren 💘. Después de esto pasaré a adquirir alambre de bisutería para practicar y hacer distintos accesorios. Bueno chicosss, gracias por leer mi post, hasta una próxima oportunidad!!🏹💘🏹
This was the result!!!🏹 I hope you liked this post a lot, I liked making this charm and how it turned out. At first I was scared because I thought it was going to look bad the heart shape, but with the weaving it looks super pretty and delicate😍. I want to invite @eveyese1312, @sylregne and @janettbrito76 to participate, I know they will do an excellent job and super presentations. I wish them to have an excellent Valentine's Day, together with the people they love 💘. After this I will move on to purchase costume jewelry wire to practice and make different accessories. Well guysss, thanks for reading my post, until next time!!🏹💘🏹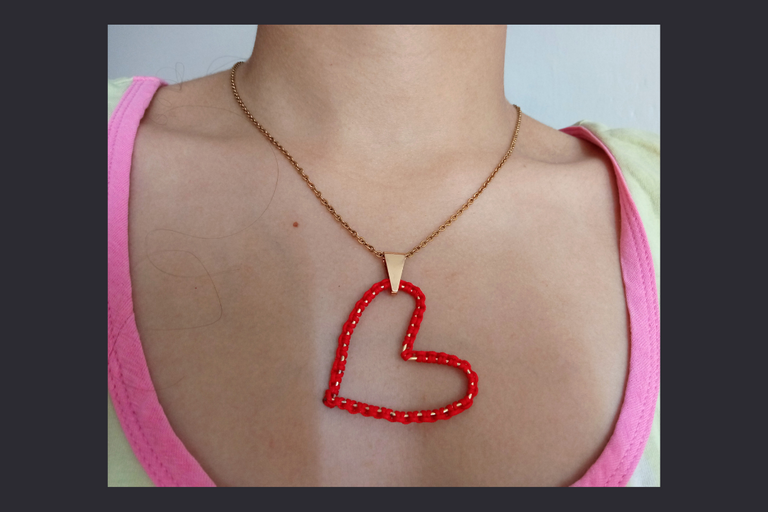 ---
Todas las imágenes son de mi autoría @mariamglow, tomadas con mi teléfono Redmi 9, editadas en Canva, texto traducido en DeepL.
All images authored by me @mariamglow, taken with my Redmi 9 phone, edited in Canva, text translated at DeepL.

---
---