[ENG]|[ESP] Visiting the beach of Cata in Aragua state.

Hello dear hive community, on my trip to visit my grandmother in Aragua state I wanted to go to the beach because I had not felt the sea water for years, after having traveled more than 12 hours I could not miss the opportunity to go to the beach having it so close and it is that in the Aragua state there are one of the most beautiful beaches in Venezuela, and today I am going to show you the beautiful beach of Cata, located in the Aragua state, Venezuela.
Hola querida comunidad de hive, en mi viaje a visitar a mi abuela en el estado Aragua quise ir a la playa ya que tenia años sin sentir el agua de mar, después de haber viajado mas de 12 horas no podía desaprovechar la oportunidad de ir a la playa teniéndolo tan cerca y es que en el estado Aragua están una de las playas mas hermosas de Venezuela, y hoy les voy a mostrar la hermosa playa de Cata, ubicada en el estado Aragua, Venezuela.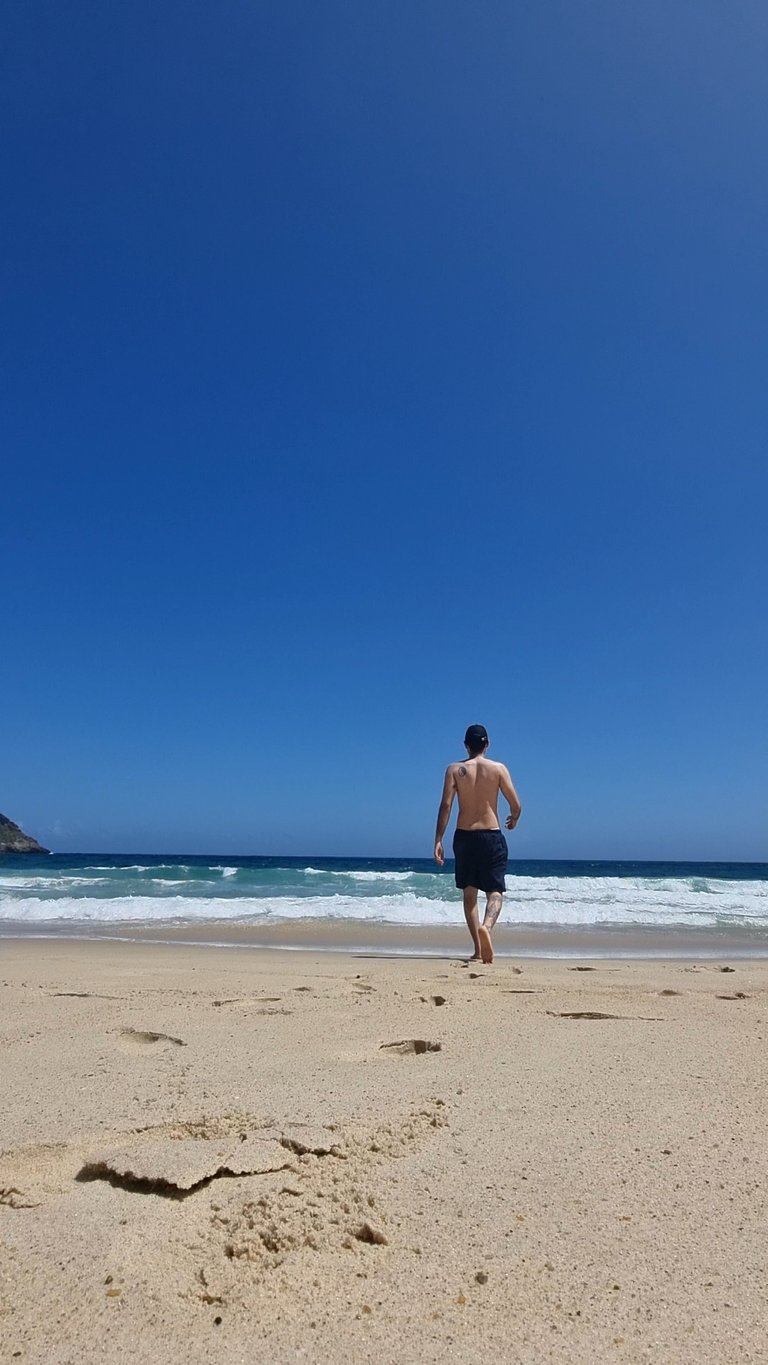 I went to the beach with my dear girlfriend and my younger brother who also lives in Maracay. He knows the route and guided us along the way so that we could arrive safely.
On the way to the beach we find several viewpoints where there is a spectacular view, in the first viewpoint you can see the entire city of Maracay in the background and the Lake of Valencia too.
A la playa fui con mi querida novia y mi hermano menor que también vive en Maracay, el se conoce la ruta y nos guio durante el trayecto para que llegáramos a salvo.
En el camino hacia la playa encontramos varios miradores donde hay una vista espectacular, en el primer mirador se ve de fondo toda la ciudad de Maracay y el lago de Valencia de fondo.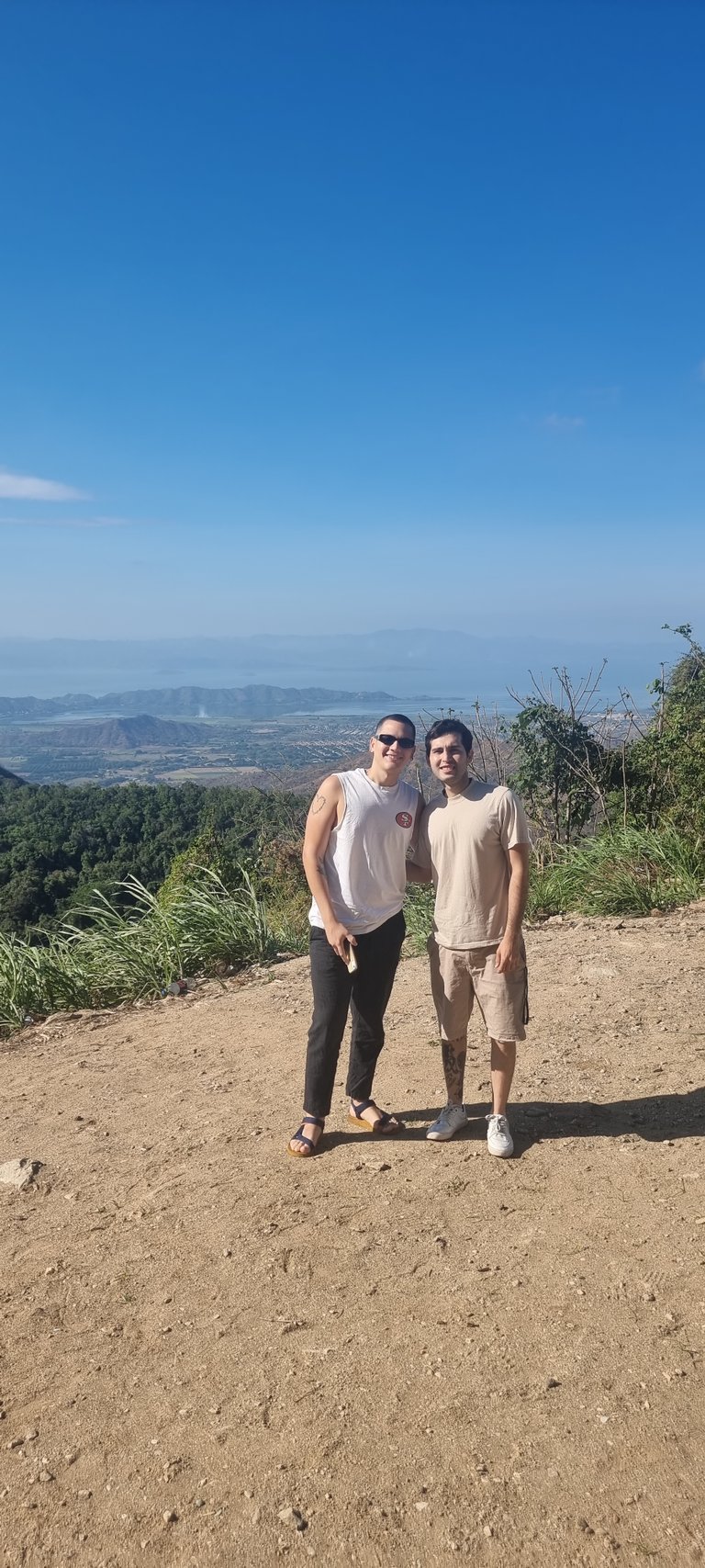 At the next viewpoint you can already see the Cata beach in the background.
En el siguiente mirador ya se puede ver la playa de Cata de fondo.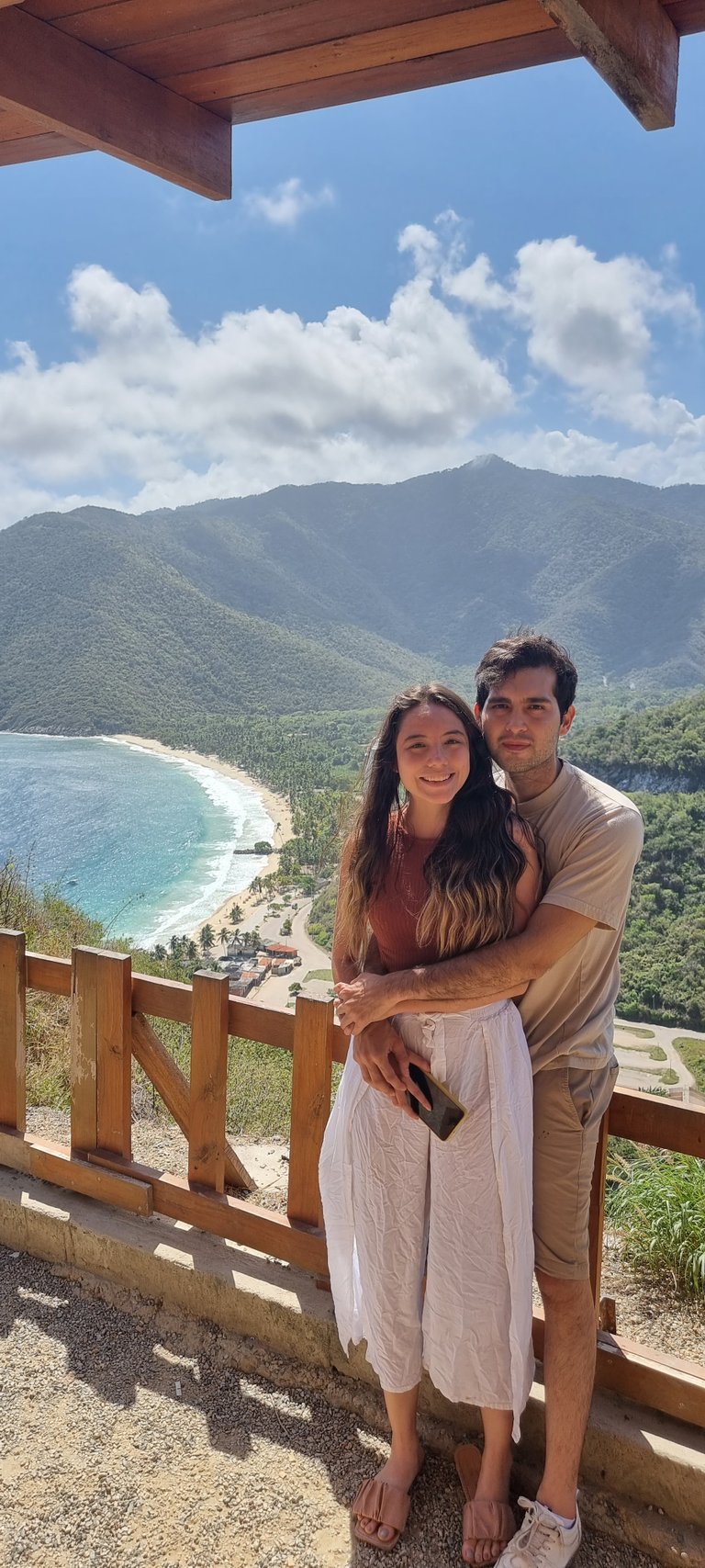 This was already when we arrived the beach, I took a picture of my brother in this beautiful landscape, everything looked very nice.
Esto fue ya al llegar a la playa, le tome una foto a mi hermano en este hermoso paisaje, todo se veía muy bonito.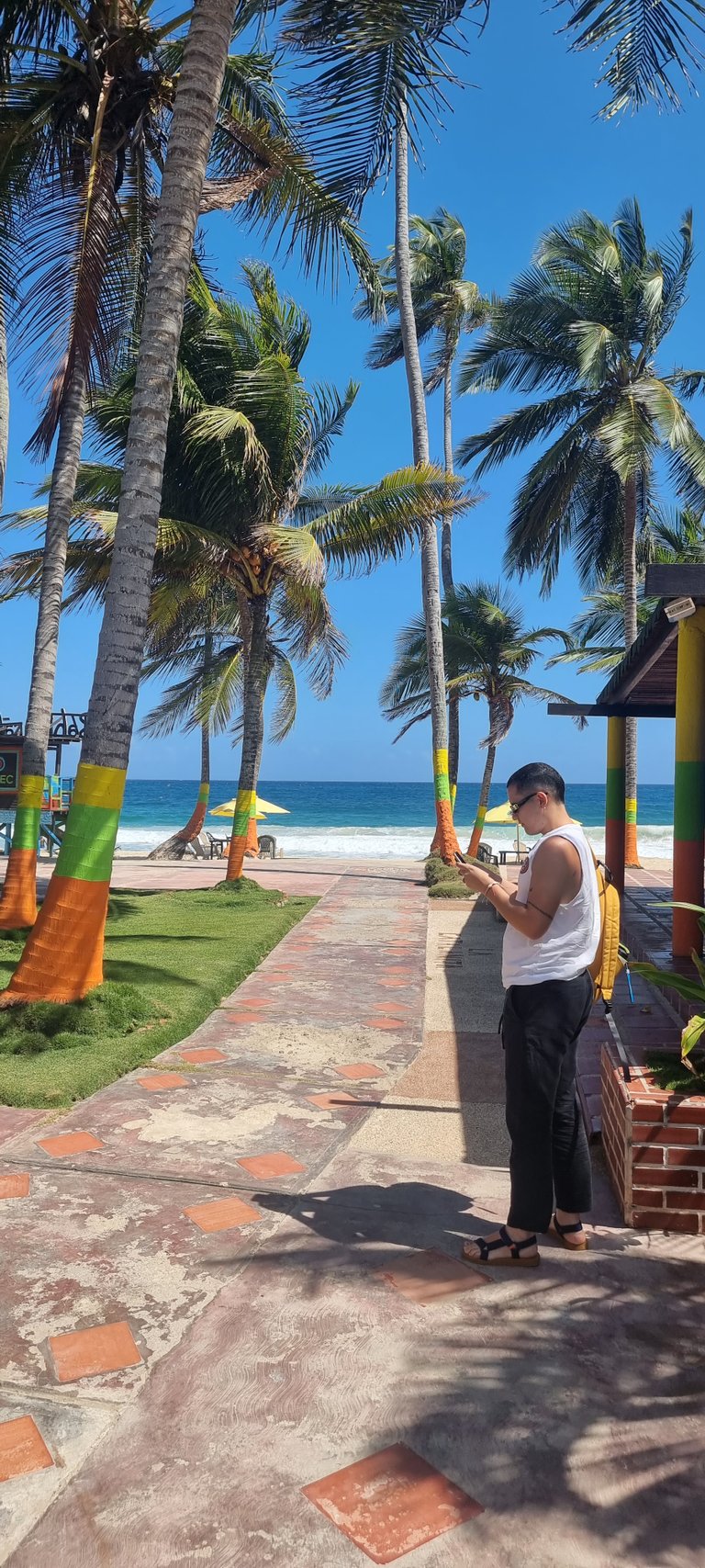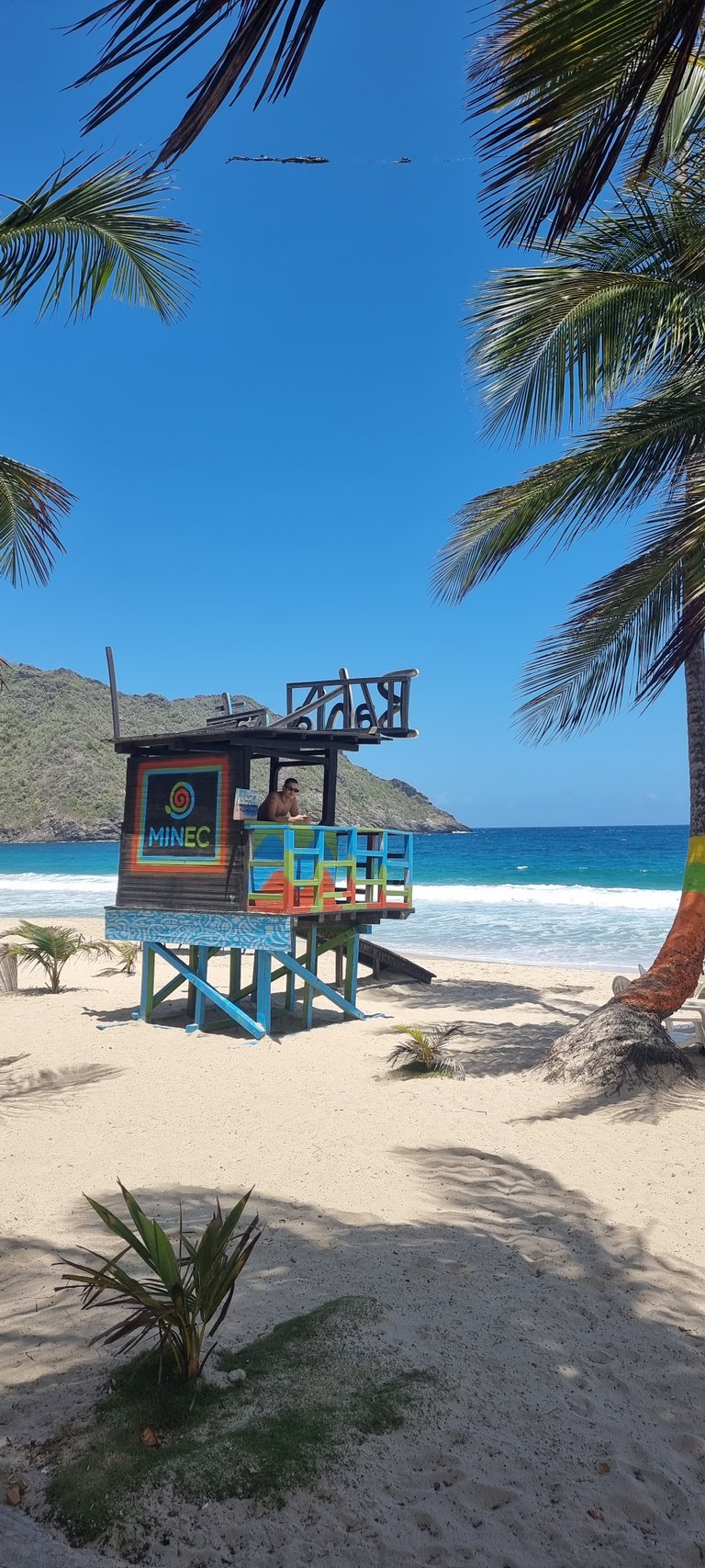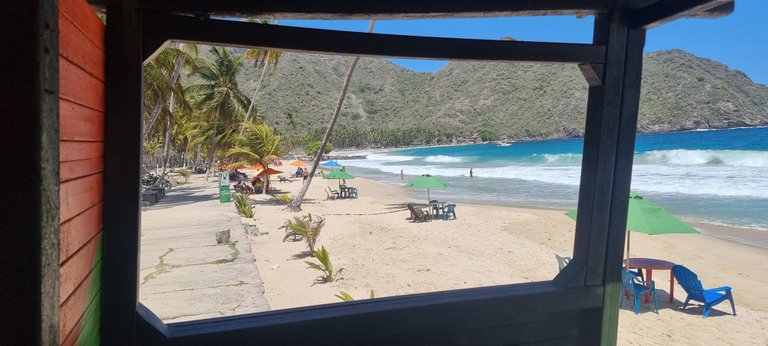 Something very special and very delicious that Venezuelan beaches have is that their waters are warm or at least compared to the beaches of other Latin American or European countries, which makes them very pleasant to swim at any time of the year.
Algo muy especial y muy delicioso que tienen las playas Venezolanas es que sus aguas son caliente o al menos comparándolas con las playas de otros paises de Latinoamérica o Europa, lo que las hace muy agradables para nadar en cualquier época del año.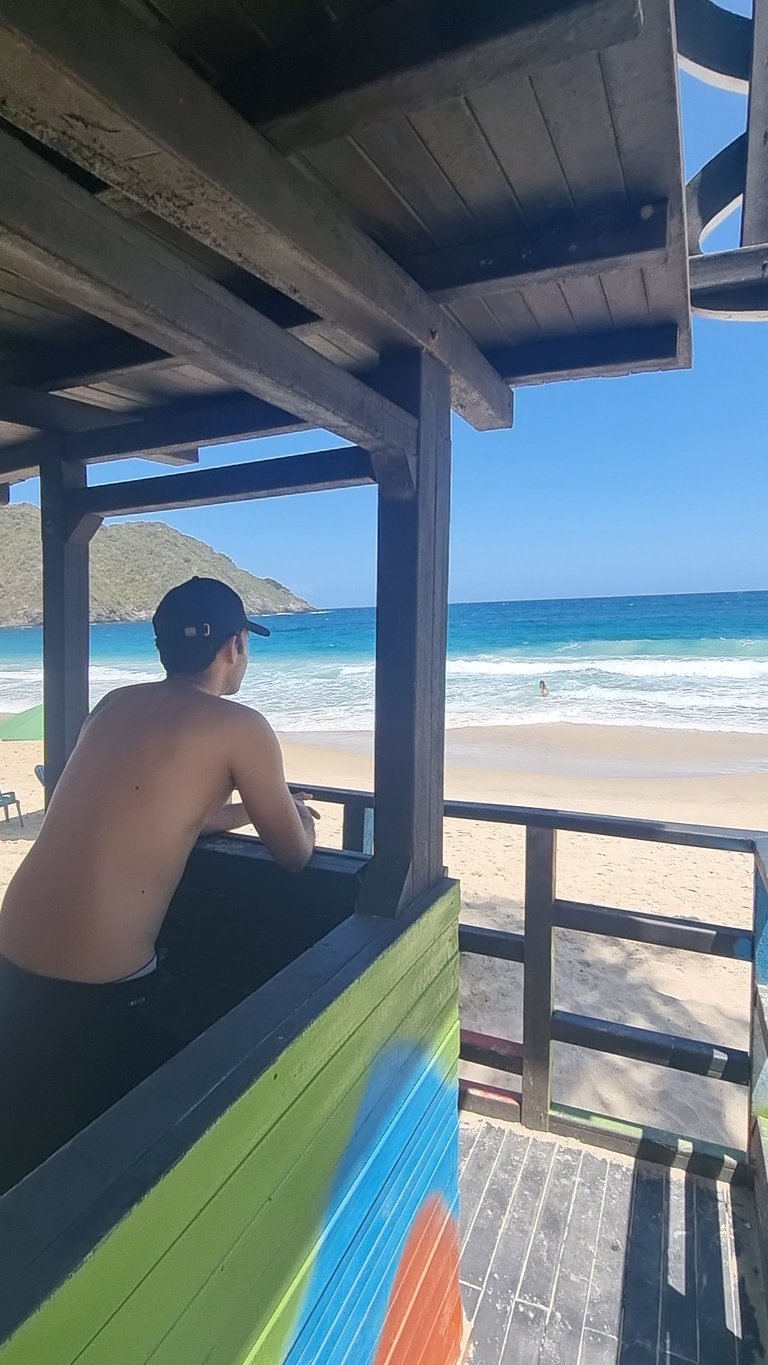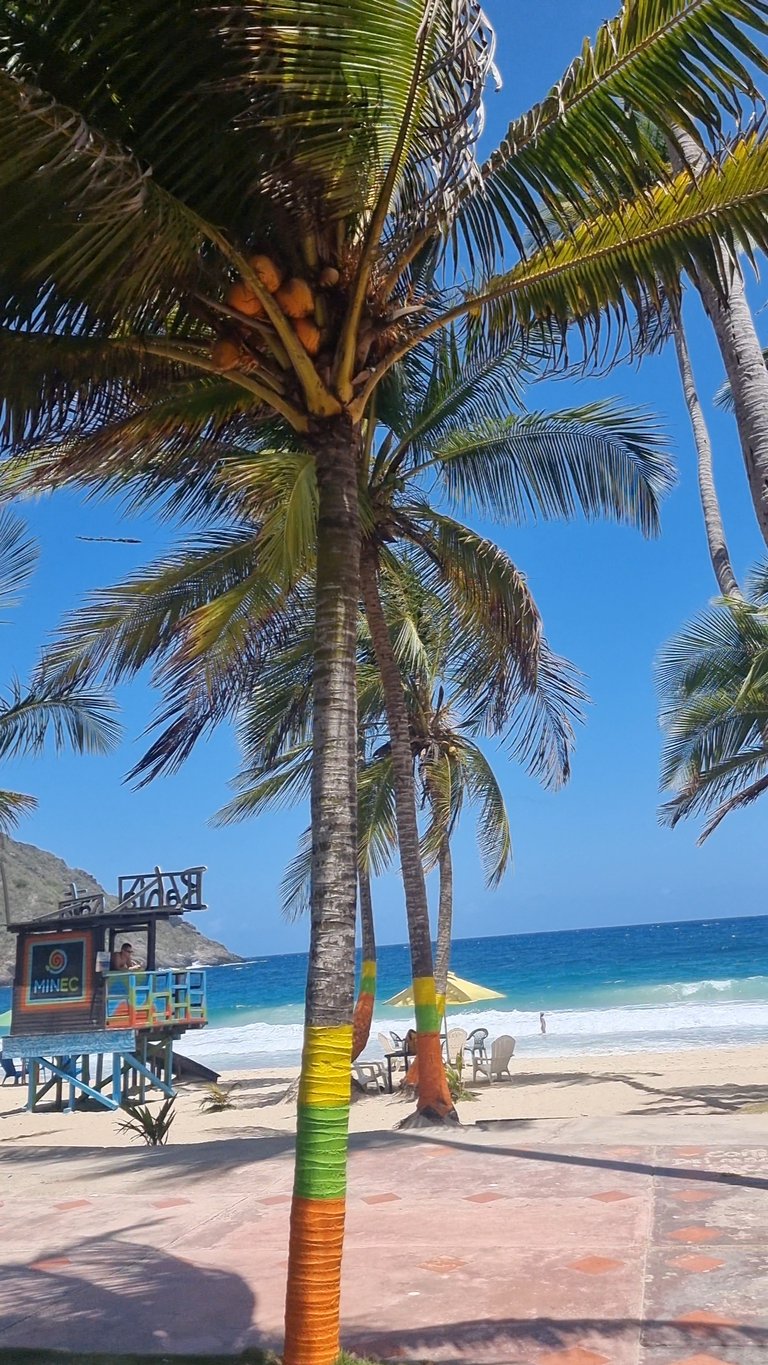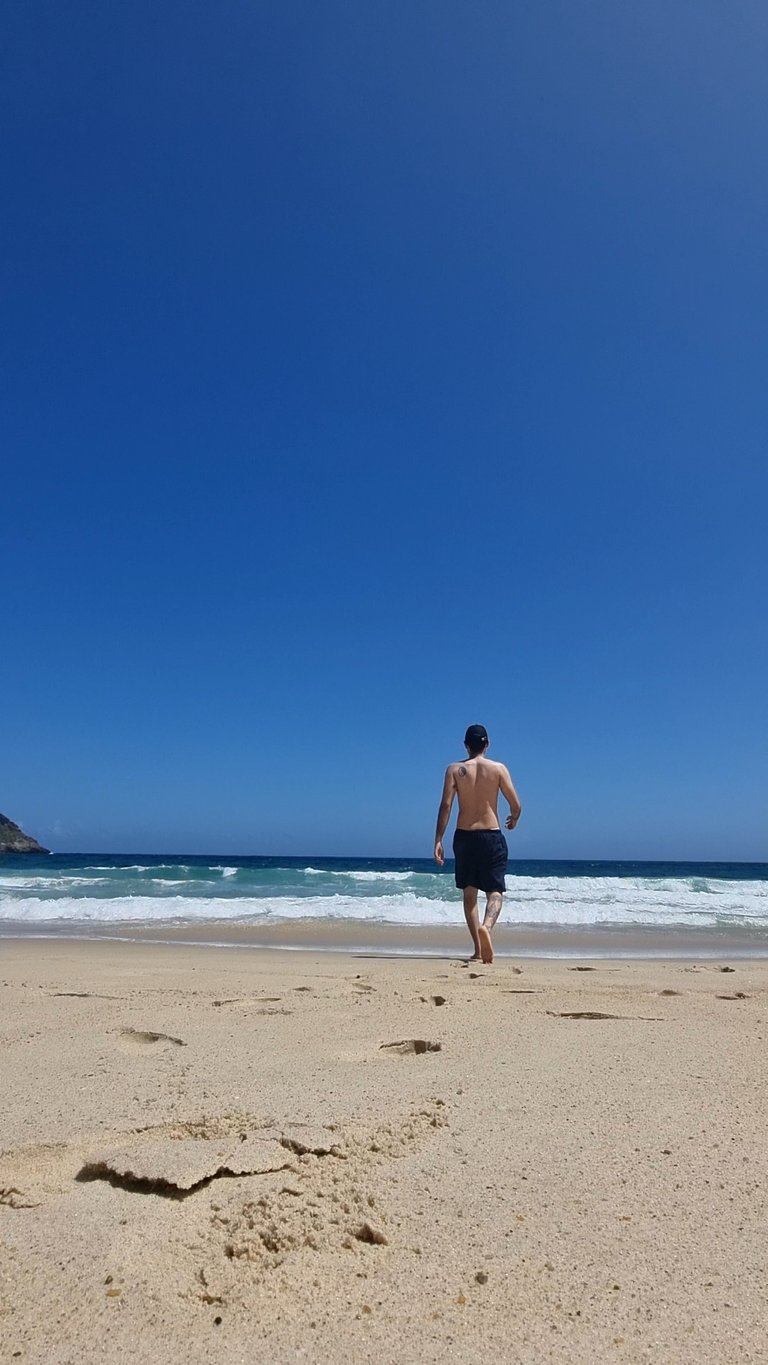 Here we were entering the beach for the first time in the day, at first the water feels cold but you get used to it very quickly and with the heat it is very tasty and refreshing.
Aquí estábamos entrando a la playa por primera vez en el día, al principio el agua se siente fría pero te acostumbras muy rápido y con el calor que hace se hace muy rico y refrescante.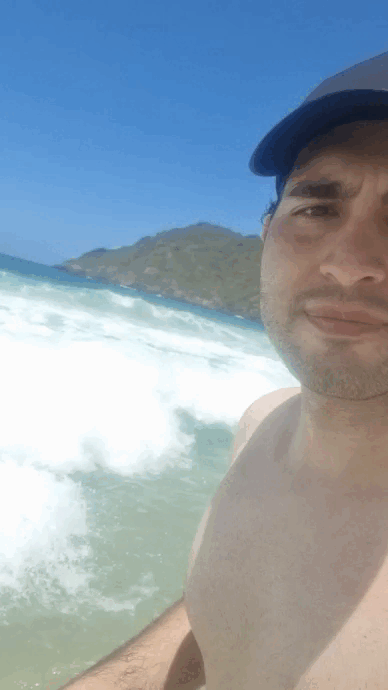 That day it was very windy and because of that the sea was quite agitated, the waves were big and we had to bathe on the shore with the foam of the sea, but actually it was quite nice.
After enjoying a pleasant morning on the beach, we ordered in a near restaurant for 12$ each one a fried fish for lunch accompanied by plantains and salad facing in front of the sea, at the best Caribbean style.
Ese dia estaba haciendo mucho viento y debido a esos el mar estaba bastante agitado, las olas estaban grandes y tuvimos que bañarnos en la orilla con la espuma del mar, pero fue bastante agradable la verdad.
Luego disfrutar una agradable mañana en la playa pedimos pescado frito para almorzar acompañado de plátano y ensalada frente al mar, al mejor estilo caribeño.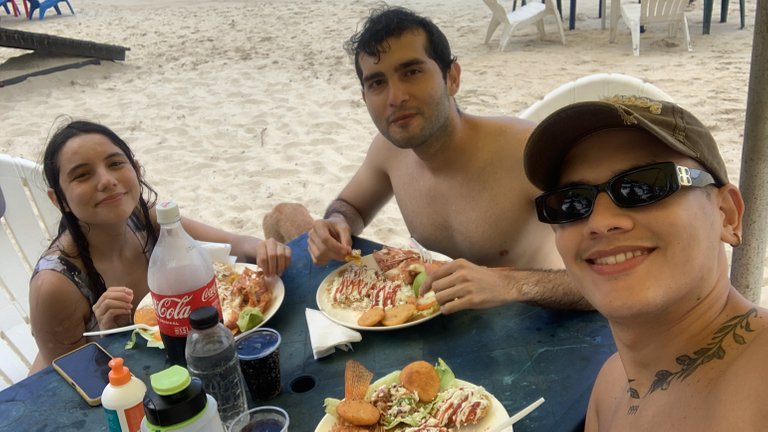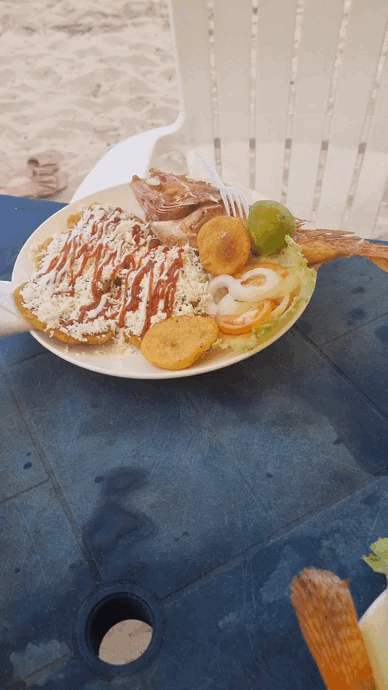 And then we rested our lunch and relaxed in the sun, I was falling asleep for how relaxed and happy I was hahaha.
Y después reposamos el almuerzo y nos relajamos bajo el sol, yo me estaba quedando de lo relajado y feliz que estaba jajaja.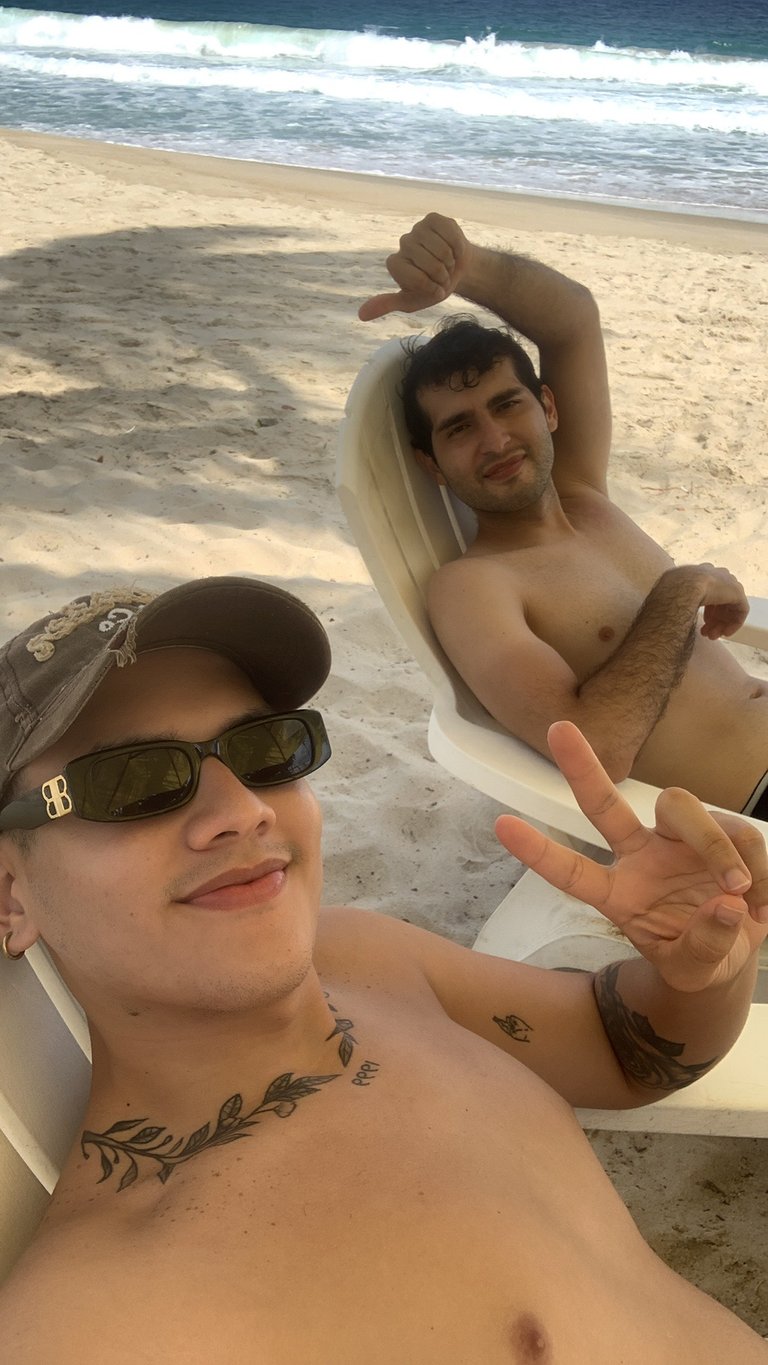 And a good trip to the beach in Maracay is not complete without passing through the river on your way back home.
Y una buena ida a la playa de Maracay no esta completa sin antes pasar por el rio cuando vas en el camino de regreso a la casa.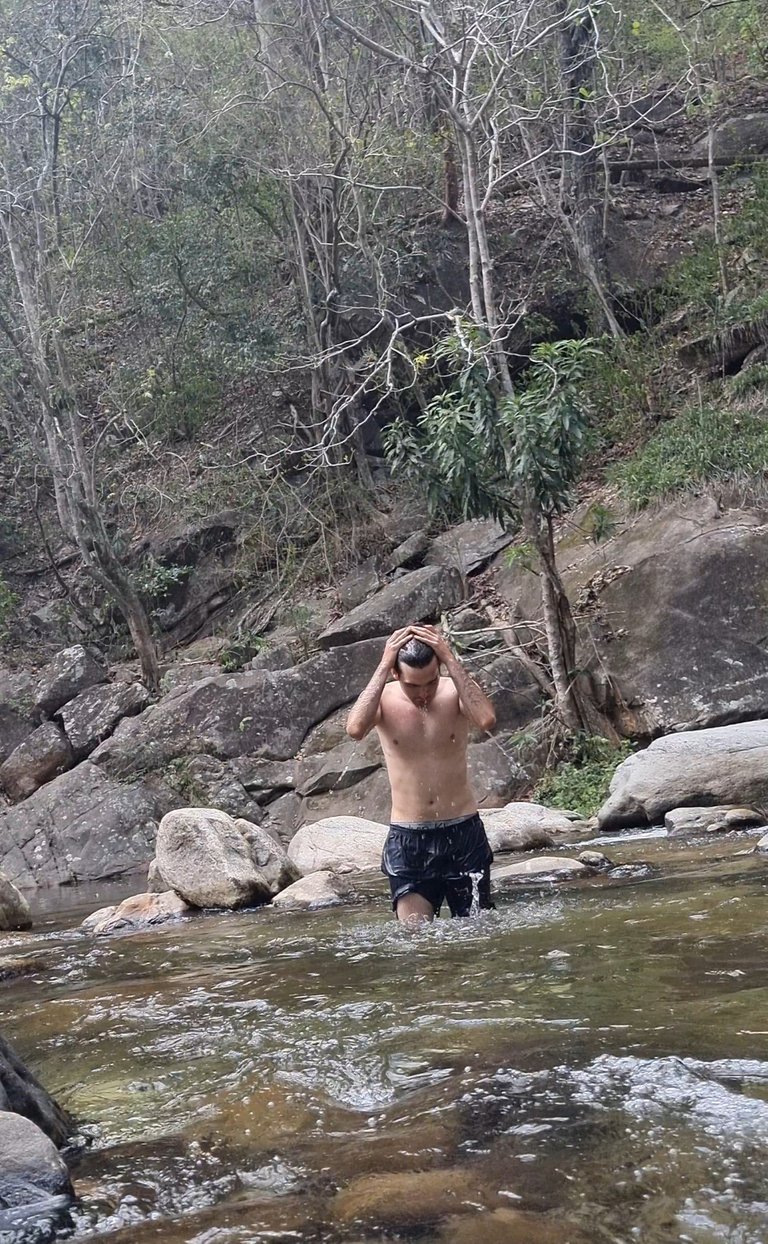 In the river we got rid of the salty sea water and we cooled off a lot, we were there for about an hour and then we continued on our way back home.
I am very happy to have experienced this, I feel that it recharged my soul.
En el rio nos quitamos el agua salada del mar y nos refrescamos muchísimo, estuvimos allí como una hora y luego seguimos nuestro camino de regreso a casa.
Estoy muy feliz de haber vivido esto, siento que me recargó el alma.
---
FIND ME ON:
https://www.facebook.com/reny.alejandro.7/
https://www.instagram.com/reny8a.ph/
https://twitter.com/RenyTraceur
---
---
---