Hyundai i20 - How to enter radio code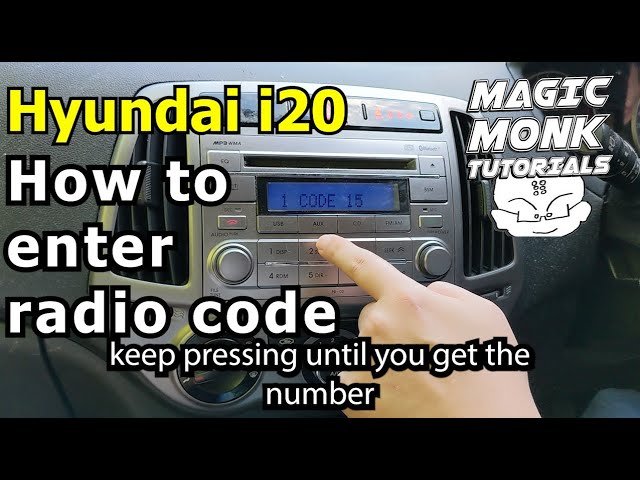 ---
Recently I left my headlights on at night time by accident, so my car battery was completely drained. It was very silly - I'm not sure how I managed to leave my car with lights on in the dark - I must have thought it would turn itself off magically somehow. The next day I tried to go somewhere to meet a friend and discovered I can't start my car. I had to call roadside assistance to come to my house to recharge the battery - luckily I had insurance!
After the battery was recharged, of course the radio stopped working, and wants me to enter a radio code before it will work again. The funny thing is I have never had to enter the radio code, as the last time this happened, I drove to the Hyundai service centre to get a new battery and they fixed the radio for me when they gave me the car back. This time I did not go to Hyundai so I had to enter the radio code myself.
Fortunately last time they did it, I did ask them what the radio code was, so the code was saved in my emails. So this time I just had to google how to enter radio code for Hyundai i20. Guess what - I cannot find it! It was not mentioned in the user manual either. I did find some general instructions for Hyundai cars for radio code, so I used that and it worked!
Here is the video with the correct title so it will help someone else do a lot less guessing/googling.
---
▶️ 3Speak
---
---