Reviewing this week's k-pop music releases [ENG/ESP]
Hello Hive and Music Community !
Junio ha comenzado con lanzamientos que le dan la bienvenida al verano y a un nuevo mes con mucho energía! Probablemente, de mis épocas favoritas en el kpop, hablemos de los lanzamientos más curioso de esta semana, comencemos!
June has started with releases that welcome the summer and a new month with a lot of energy! Probably one of my favorite times in kpop, let's talk about this week's most curious releases, let's get started!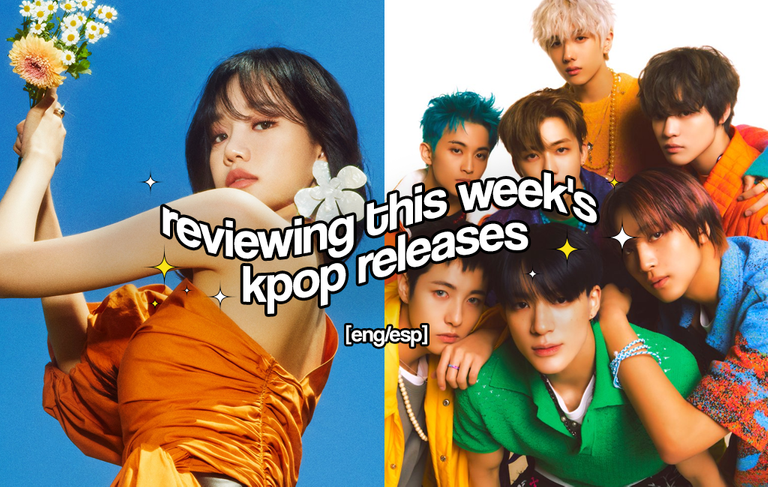 Source
/ Source
---

---
1) JO YURI –Love Shhh!
El tiempo ha pasado sumamente rápido, parece como si fuera ayer cuando estaba compartiendo mi opinión sobre el debut de la ex vocalista principal del reconocido grupo proyecto, IZ*ONE, Jo Yuri. Mientras que con Glassy, por fin Yuri nos daba un vistazo de su reciente faceta como solista, sabiendo cumplir con las expectativas en tanto imagen y desempeño vocal que se esperaba de ella, con la reciente temporada de verano que ya ha llegado a muchas partes del mundo incluyendo corea, Love Shhh! (pista principal de su segundo mini álbum Op.22 Y-Waltz : in Major) es una canción que desborda encanto veraniego clásico desde su comienzo hasta su final
El verano es mi época favorita para el kpop por que tienden a optar por este estilo brillante y lleno de energía el cual es realmente divertido tanto de escuchar como de ver en presentaciones, siguiendo a una vibra similar a la fórmula clásica de los hits veraniegos coreanos como "Touch My Body" y "SHAKE IT" de SISTAR y jugando con algunos elementos de esta fusión rock/pop que se ha escuchado mucho en el K-pop últimamente (Como Yena con "SMILEY") "Love Shhh!" ciertamente parece ser una elección perfecta para comenzar esta temporada de verano; Yuri sabe añadirle su encanto a la canción y nos demuestra una vez que en una vocalista más que capaz y con mucho potencial, ya que incluso a pesar de ser una pista que requiere bastante energía y fuerza, supo cómo manejar una canción que usualmente seria para un grupo en lugar de un solista y entregarnos un comeback que solo me hace desear escuchar más de ella en el futuro.
Time has gone by so fast, it seems like it was just yesterday that I was sharing my thoughts on the debut of former lead vocalist of the renowned project group, IZ*ONE, Jo Yuri. While with Glassy, Yuri finally gave us a glimpse of her recent solo career, living up to the expectations in both image and vocal performance that were expected of her, with the recent summer season that has already reached many parts of the world including Korea, Love Shhh! (title track of her second mini album Op.22 Y-Waltz : in Major) is a song that exudes classic summer charm from its beginning to its end.
Summer is my favorite time of year for kpop because they tend to go for this bright and energetic style which is really fun to both listen to and watch in performances, following a similar vibe to the classic formula of Korean summer hits like "Touch My Body" and SISTAR's "SHAKE IT" and playing with some elements of this rock/pop fusion that has been heard a lot in K-pop lately (Like Yena with "SMILEY") "Love Shhh! " certainly seems to be a perfect choice to start this summer season; Yuri knows how to add her charm to the song and shows us once again that she is a more than capable vocalist with a lot of potential, as even though it is a track that requires a lot of energy and strength, she knew how to handle a song that would usually be for a group instead of a soloist and deliver us a comeback that only makes me want to hear more from her in the future.
Calificación / Rating
8.9/10
---

---
2) aespa –Illusion
Aespa a veces se siente como un sueño hecho realidad, un grupo que trabaja su música a través de su concepto artístico, es en sí, una propuesta que me resulta sumamente atractiva, y con el éxito que han recibido parece que no soy la única que piensa así. Si había algo que no me esperaba, era un pre-lanzamiento por parte de las chicas, pero a raíz del comeback de las chicas con su próximo mini álbum
"Girls"
han decidió estrenar el single
"Illusion"
que ciertamente dejo sorprendido a más de uno
Con su primer mini álbum "Savage" aespa dejaba en claro cuál era la propuesta musical que el grupo seguiría a partir de ese lanzamiento, y su reciente pre-lanzamiento sirve como una manera de confirmar dicha decisión, con un estilo musical más experimental y alternativo acompañado por voces carismáticas y poderosas, Illusion mantiene esta sensación de ser toda una experiencia a lo que aespa y su empresa quieren apostar (un propio universo cinematográfico y musical.) Illusion es el primer vistazo del nuevo lanzamiento del grupo tras sus éxitos "Next Level" y "Savage", y es una canción que parece muy cohesiva con lo que ya hemos escuchado por parte de las chicas, pero que ciertamente, mantiene su propio encanto a pesar de asemejarse en ciertos aspectos a algunos de sus otros singles. Personalmente si bien disfrute de la canción no me parece que haya llegado al nivel de los b-sides del álbum Savage (quizás por que estos dejaron una gran impresión en mi), pero eso sí, me ha dejado totalmente curiosa por lo que escuchare próximamente.
aespa sometimes feels like a dream come true, a group that works their music through their artistic concept is in itself, a proposition that I find extremely appealing, and with the success they have received it seems I'm not the only one who thinks so. If there was something I wasn't expecting, it was a pre-release from the group, but following the girls' comeback with their upcoming mini album "Girls" they have decided to premiere the single "Illusion" which certainly left more than one surprised.
With their first mini album "Savage" aespa made it clear what was the musical proposal that the group would follow from that release, and their recent pre-release serves as a way to confirm that decision, with a more experimental and alternative musical style accompanied by charismatic and powerful vocals, Illusion keeps this feeling of being a whole experience that aespa and their company want to bet on (an own cinematic and musical universe.) Illusion is the first glimpse of the group's new release after their hits "Next Level" and "Savage", and it's a song that seems very cohesive with what we've already heard from the girls, but certainly maintains its own charm despite resembling some of their other singles. Personally, while I enjoyed the song, it doesn't seem to have reached the level of the b-sides from the Savage album (maybe because they left a great impression on me), but it has left me totally curious about what I'll be listening to next.
Calificación / Rating
8.4/10
---

---
3) NCT DREAM –Beatbox
NCT y sus sub unidades, son en general, un experimento muy curioso, a veces simplemente no se que pensar de este gran grupo (gran grupo en talento y también en cantidad de miembros.)
NCT DREAM
fueron quienes me introdujeron brevemente a toda esta experiencia (Chewing Gum, siempre serás icónico) y desde entonces he tenido breve escuchadas a una que otra canción de su parte y de sus grupos hermanos aunque nunca me he detenido a analizarlos.
Beatbox cuenta con un concepto llamativo y colorido sacado de los 90's (nuevamente, lo retro hace presencia en una de mis reseñas) con una influencia hip-hop bastante presente y con una producción menos experimental a lo que ya nos ha acostumbrado NCT y sus sub unidades en lanzamientos pasados, esta canción se va a lo seguro, pero de una manera agradable, el coro es divertido y casi que me hace sentir de buen humor, el puente de la canción realmente me gusto, aunque luego tenemos esta sección de, bueno, como el nombre de la canción lo indica, "beatbox", a lo largo de la pista, que si bien es un detalle que supone ser el punto característico de la canción, se siente… ¿raro? Algo así como "Me gusta la idea, pero no la ejecución… del todo." En general fue un lanzamiento que disfrute, no lo veo siendo de mis favoritos del año en mi playlist, pero definitivamente me recuerda a ese estilo brillante con el que este grupo debuto y que me pone de ánimo con escucharlo.
NCT and their sub units, are in general, a very curious experiment, sometimes I just don't know what to think of this big group (big group in talent and also in number of members.) NCT DREAM were the ones who briefly introduced me to this whole experience (Chewing Gum, you will always be iconic) and since then I have had brief listens to the odd song from them and their sister groups although I have never stopped to analyze them.
Beatbox features a flashy and colorful concept taken from the 90's (again, retro makes its presence felt in one of my reviews) with a hip-hop influence quite present and with a less experimental production than what NCT and its sub units have already accustomed us to in past releases, this song plays it safe, but in a nice way, the chorus is fun and almost makes me feel in a good mood, the bridge of the song I really liked, although then we have this section of, well, as the name of the song indicates, "beatbox", throughout the track, which while it is a detail that is supposed to be the characteristic point of the song, it feels.... weird? Kind of like "I like the idea, but not the execution... at all." Overall it was a release I enjoyed, I don't see it being one of my top favorites of the year on my playlist, but it definitely reminds me of that brilliant style that this group debuted with and gets me in the mood just listening to it.
Calificación / Rating
8.2/10
---

---
El mes solo comienza, y con las nuevas noticias de lanzamientos que vienen por delante, este verano en el k-pop promete bastante, y me tiene casi que saltando de la emoción. Muchas gracias por leer! Cualquier consejo es más que bienvenido.
The month has just begun, and with news of new releases on the horizon, this summer in k-pop promises to be quite bright, and has me almost jumping with excitement. Thanks so much for reading!
---

---
---