Risultati della Missione Quotidiana Splinterlands - Neutral Quest - (ITA/ENG) - Splinterlands Daily Quest results - Neutral Quest
Buonasera a tutti.
Con la ripresa delle giornate lavorative, complicate non poco dalla enorme menata dedicata ai vari tamponi per ricevere l'infame Green pass, eccomi ritornato a postare i risultati delle Quest quotidiane durante la serata.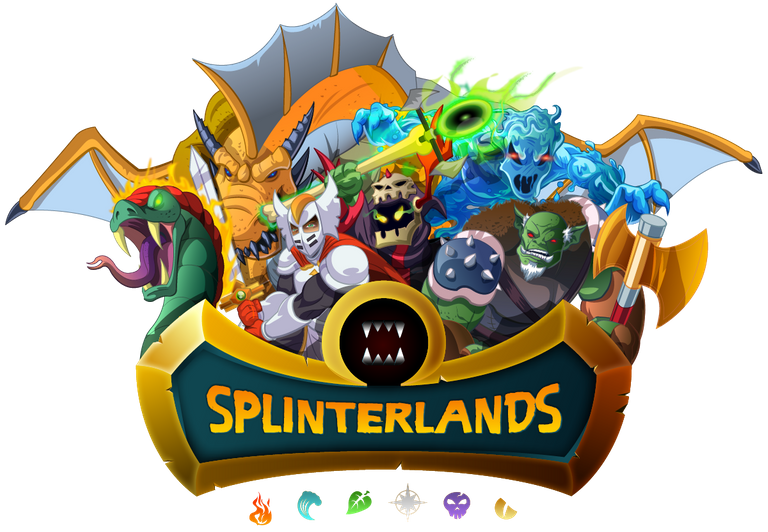 Anche in questo caso, però, i risultati che vi andrò a presentare riguardano, in realtà, la Quest del giorno precedente, visto che sono rimasto un po' indietro, non riuscendo, come speravo, durante il weekend, a mettermi in pari postando due volte durante la giornata, e dubito, sinceramente, che riuscirò a farlo in settimana.
La Quest dei quali risultati vi andrò a parlare, è stata, nuovamente, una Neutral Quest ovvero una di quelle missioni, per concludere vittoriosamente la quale, si devono sconfiggere gli avversari ai quali ci troviamo davanti, per tre volte, senza utilizzare nemmeno una delle carte neutrali.

Per la seconda volta consecutiva, quindi, mi trovavo ad affrontare lo stesso tipo di Quest che, il giorno prima, mi aveva portato risultati più che interessanti facendomi trovare una Venari Seedsmith, carta Gold dell'elemento terra.
Questa volta, però, i risultati sono stati molto, ma molto, più deludenti e, quindi, mi è di nuovo concesso tornare a lamentarmi, sperando che possa portarmi nuovamente fortuna come negli ultimi giorni.
Dopo aver trovato, una dopo l'altra, dapprima una carta leggendaria dell'elemento acqua ovvero una "Djinn Oshannus e successivamente la carta Gold di cui vi ho appena parlato quì sopra, quest'oggi, purtroppo, i risultati sono stati molto più magri.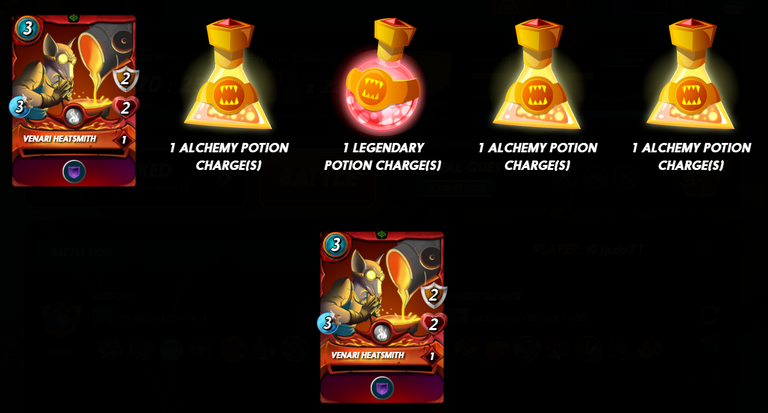 All'interno degli scrigni ricevuti in compenso per il completamento della missione, infatti, ho trovato semplicemente tre Alchemy Potion, una Legendary Potion e due Venari Heatsmith. carte comuni dell'elemento fuoco.
Come se ciò non bastasse, anche questa volta non sono neanche riuscito a superare il livello Gold III, dal quale sono ripartito a seguito della fine della season precedente, cosa che mi sta facendo abbastanza innervosire.
Spero che mi perdonerete, quindi, se torno a lamentarmi un po' dell'eccessiva difficoltà nel superare i vari combattimenti e, di conseguenza, salire di livello, ma questo, ormai, è una cosa che ben sapete.
In realtà spero anche che queste mie lamentele, un po' di sano "mugugno genovese", possano servirmi ad avere di nuovo un paio di colpi di fortuna come è successo in questi giorni.
Va da sé che, comunque, certamente non mi arrenderò e continuerò a combattere strenuamente per salire, al più presto possibile, di livello, nella speranza di giungere, prima della fine di questa attuale season, almeno a livello diamond III, come nelle precedenti, così da potermi mantenere su un livello di quaranta scrigni da aprire a fine stagione.
Ma, come sempr,e questo è solo un'ipotesi e sara materiale per i prossimi post sempre che abbiate ancora voglia di leggermi e continuare a seguirmi.
P.S. Se non siete ancora iscritti a Splinterlands e volete iniziare anche voi a giocare a questo splendido gioco potete iscrivervi da quì : Splinterlands
---
Good evening everyone.
With the resumption of working days, complicated not a little by the huge beating dedicated to the various pads to receive the infamous Green pass, here I am back to post the results of the daily Quests during the evening.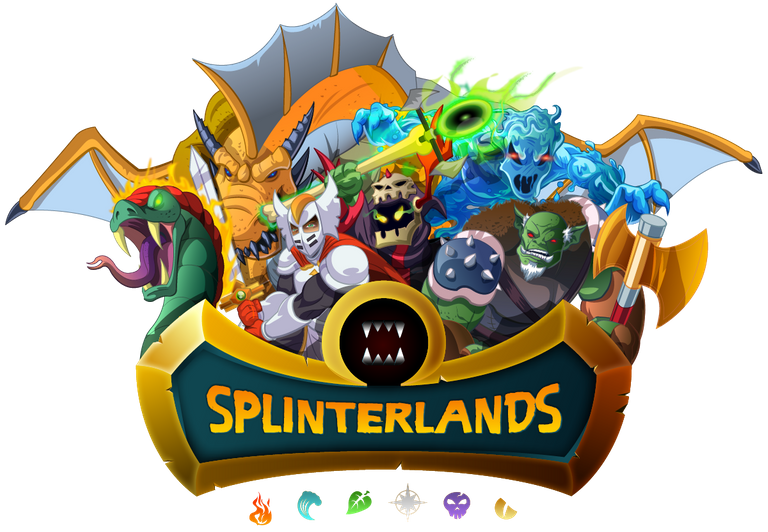 Even in this case, however, the results that I will present to you concern, in reality, the Quest of the previous day, since I was a bit behind, not being able, as I hoped, during the weekend, to catch up by posting two times during the day, and I sincerely doubt I'll be able to do it in the week.
The Quest of which results I will go to talk about, was, again, a Neutral Quest or one of those missions, to conclude it victoriously, we must defeat the opponents we are in front of, three times, without using even one of the neutral cards.

For the second time in a row, therefore, I was facing the same type of Quest that, the day before, had brought me more than interesting results by making me find a Venari Seedsmith, Gold card of the earth element.
This time, however, the results have been much, much more disappointing and, therefore, I am once again allowed to complain again, hoping that it will bring me luck again as in the last few days.
After having found, one after the other, first a legendary card of the water element or a "Djinn Oshannus and then the Gold card I just talked about above, today, unfortunately, the results have been much more meager.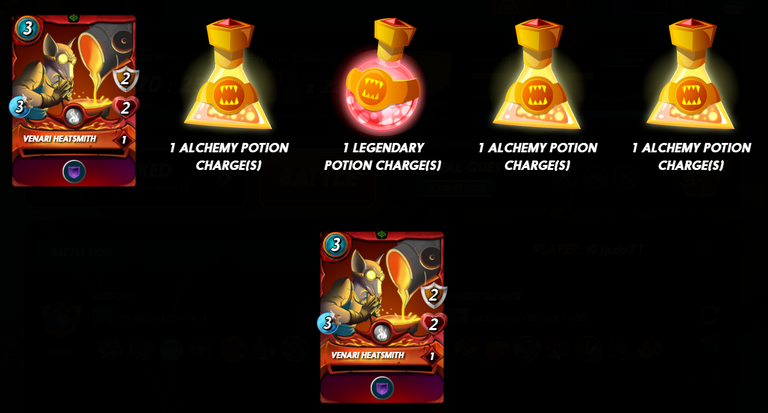 In fact, inside the chests received in compensation for completing the mission, I simply found three Alchemy Potions, a Legendary Potion and two Venari Heatsmiths. common cards of the fire element.
As if that weren't enough, even this time I didn't even manage to pass the Gold III level, from which I restarted following the end of the previous season, which is making me quite nervous.
I hope you will forgive me, therefore, if I go back to complain a little about the excessive difficulty in overcoming the various fights and, consequently, leveling up, but this, by now, is something you know well.
In fact, I also hope that these complaints of mine, a little healthy "Genoese grumbling", can help me to have a couple of lucky breaks again as has happened in recent days.
It goes without saying that, however, I will certainly not give up and I will continue to fight hard to level up, as soon as possible, in the hope of reaching, before the end of this current season, at least at diamond level III, as in the previous ones, so that I can keep myself on a level of forty chests to open at the end of the season.
But, as always, and this is only a hypothesis and will be material for the next post as long as you still want to read me and continue to follow me.
P.S. If you are not yet registered with Splinterlands and you too want to start playing this wonderful game, you can register from here: Splinterlands
---
---