a beautiful parasite
Today I present this beautiful specimen, it is a Trichrysis cyanea or commonly called golden wasp, and as its name indicates, they are wasps of very bright and metallic colors, there are red, green and blue ones like the following photographs.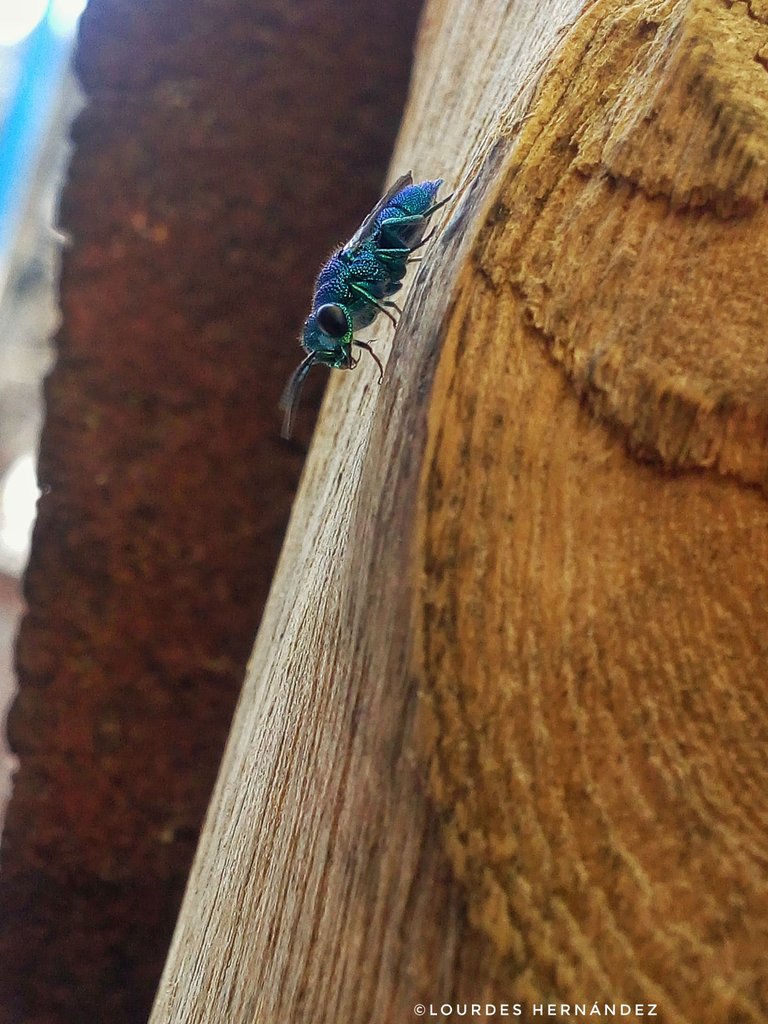 Hoy presento este bello ejemplar, se trata de una Trichrysis cyanea o vulgarmente llamada avispa dorada, y como su nombre lo indica son avispas de colores muy brillantes y metálicos, las hay rojas, verdes y azules como la de las siguientes fotografías.

They are parasitic wasps and the sting of the females has been modified to be able to deposit the egg that they usually leave in the nest of some host, thereby ensuring the preservation of their species.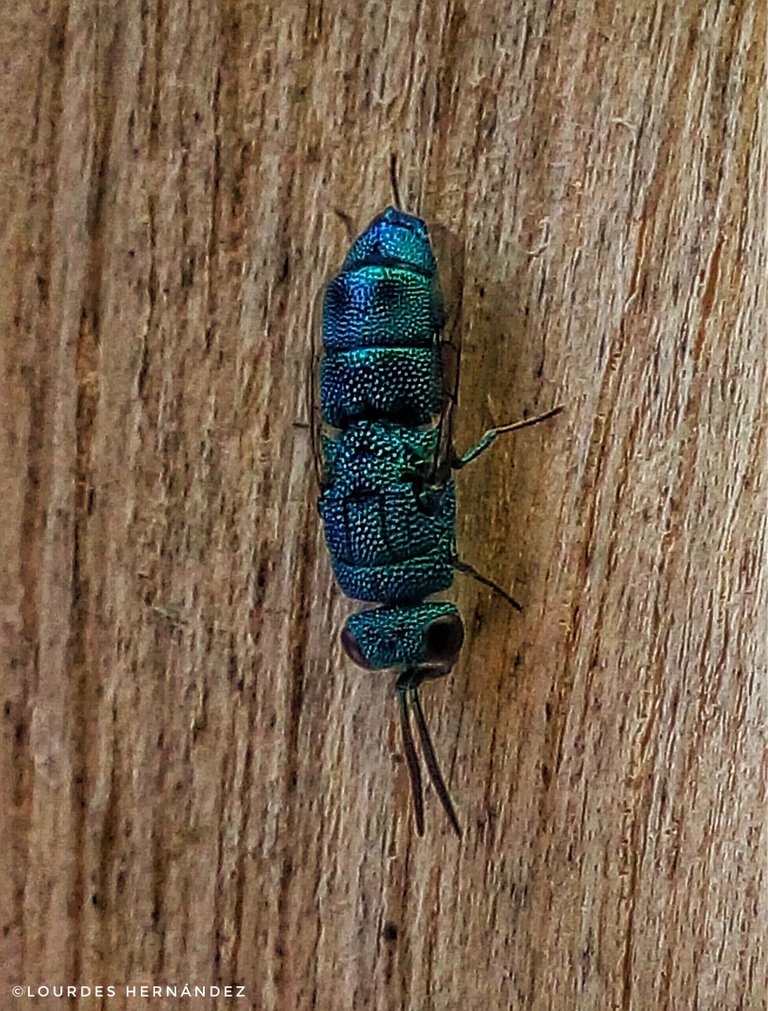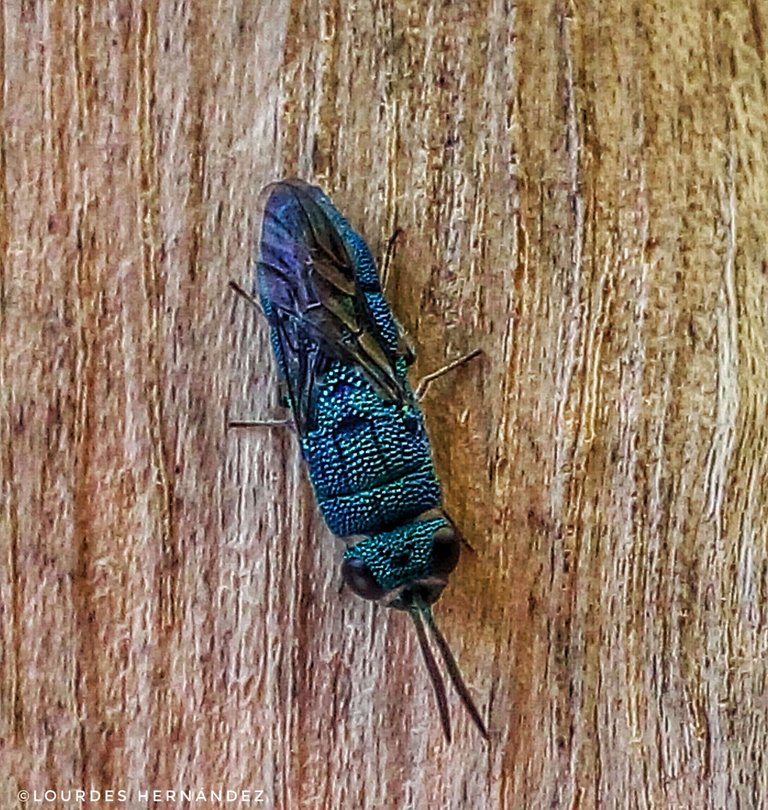 Son unas avispas parasitarias y el aguijón de las hembras fue modificado para poder depositar el huevo que usualmente dejan en el nido de algún huésped, asegurándose con ello la preservación de su especie.

It has a beautiful metallic blue color and a very interesting and striking texture can be observed, with its long antennae it searches for a trace of some prey, a partner to mate with or a nest to parasitize.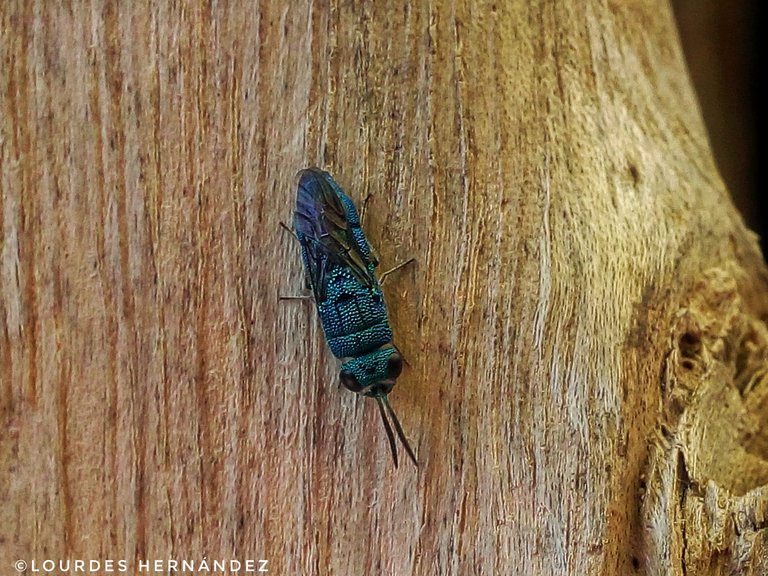 Tiene un hermoso color azul metálico y se puede observar una textura muy interesante y llamativa, con sus largas antenas busca rastro de alguna presa, pareja para aparearse o bien algun nido para parasitar.

They deposit the egg in the host's nest and when it hatches it feeds on the eggs of the species it has parasitized, as well as the resources that the working parents have stored for the hatching of their young.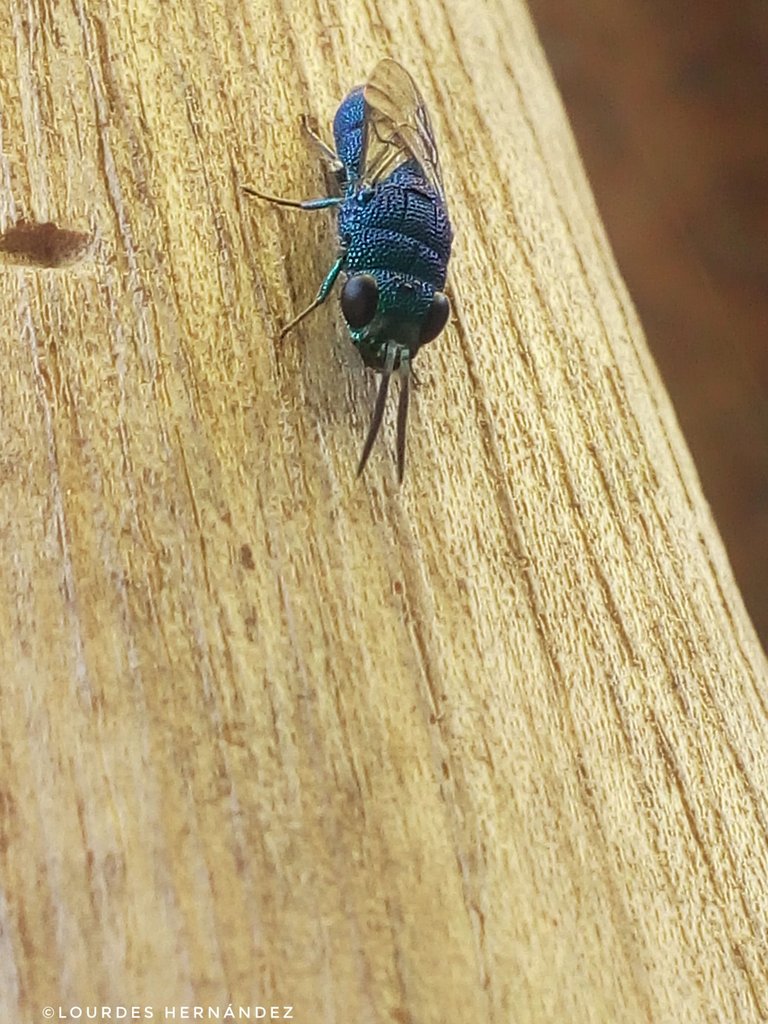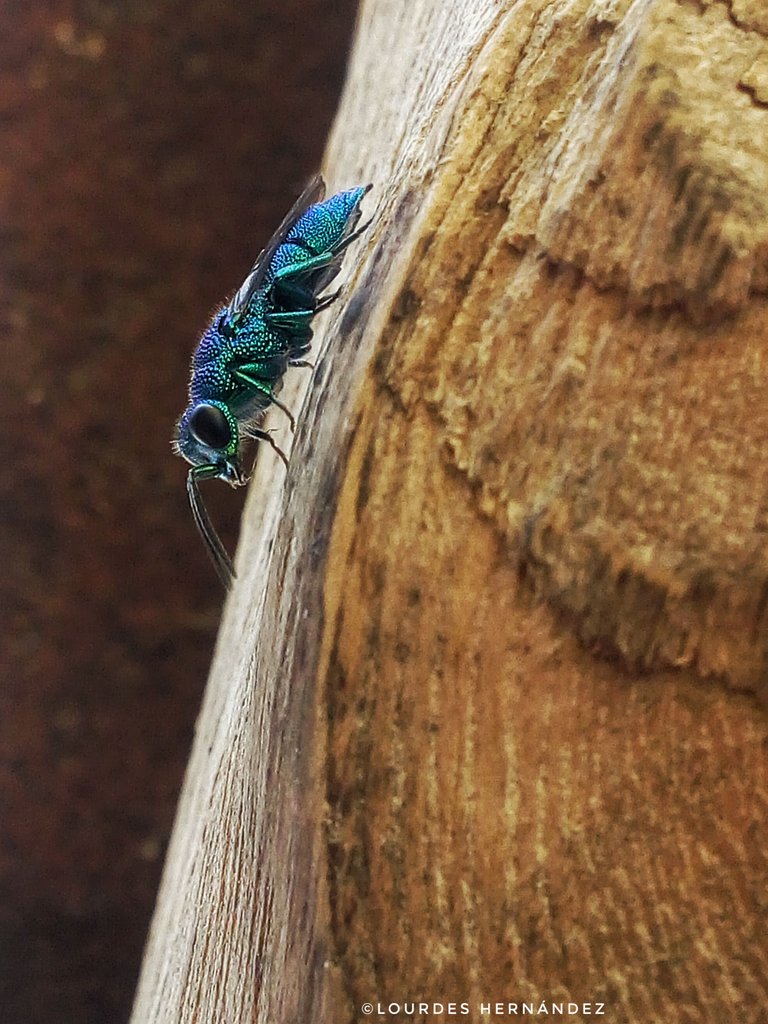 Depositan el huevo en el nido del huésped y cuando este eclosiona se alimenta de los huevos de la especie que ha parasitado, como también los recursos que los padres trabajadores han almacenado para la eclosión de sus crías.

It is family of the emerald wasp, but the difference is that the emerald wasp is emerald green, as its name indicates, in addition to being more stylized, and that the emerald wasp does not parasitize nests, but instead parasitizes living animals such as cockroaches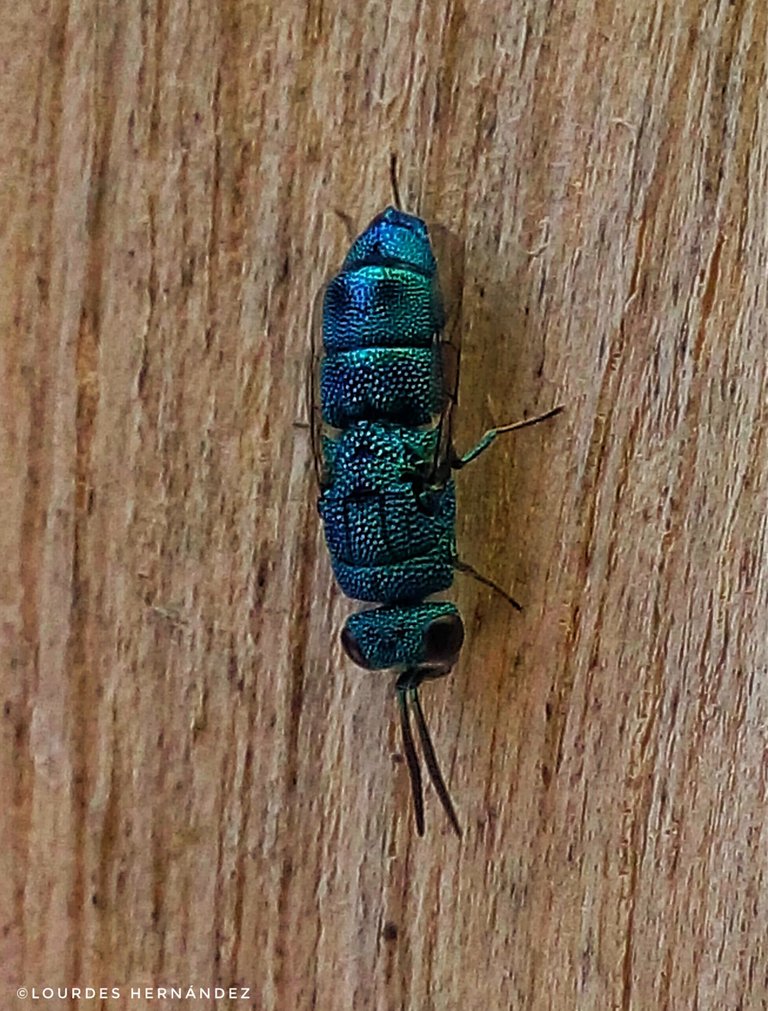 Es familia de la avispa esmeralda pero la diferencia radica en que la avispa Esmeralda es verde esmeralda como lo dice su nombre además de ser mas estilizada y que la avispa esmeralda no parasita nidos si no que parasita animales vivos como cucarachas.

---
PHOTOGRAPHS TAKEN BY ME, WITH MY LG Q60
---

---
A PROUD MEMBER OF

join this great community

Densifying Nature Appreciation (DNA)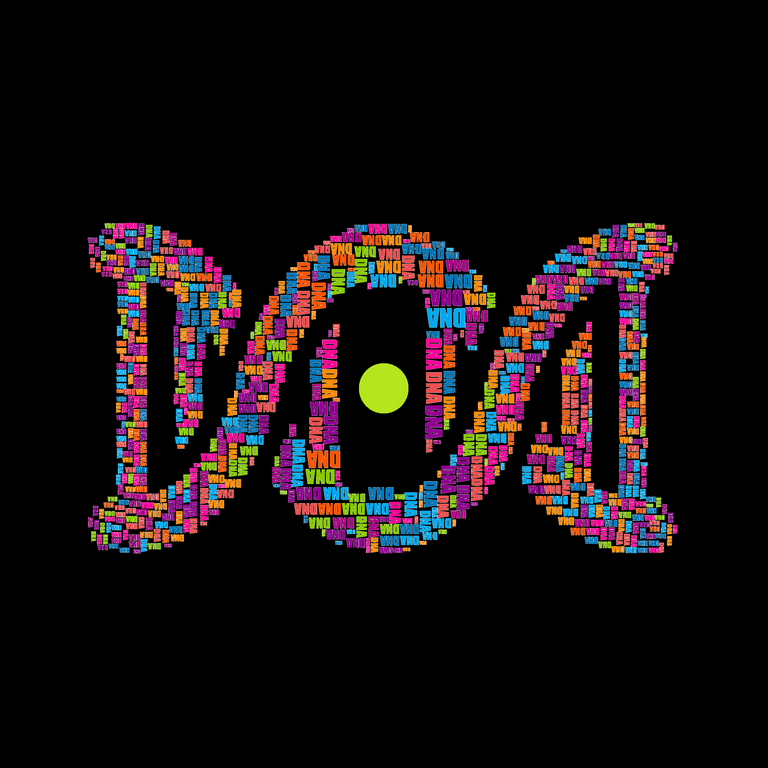 ---
---