Antoid Platoon: Should you level him up? (Level 4 to Level 6)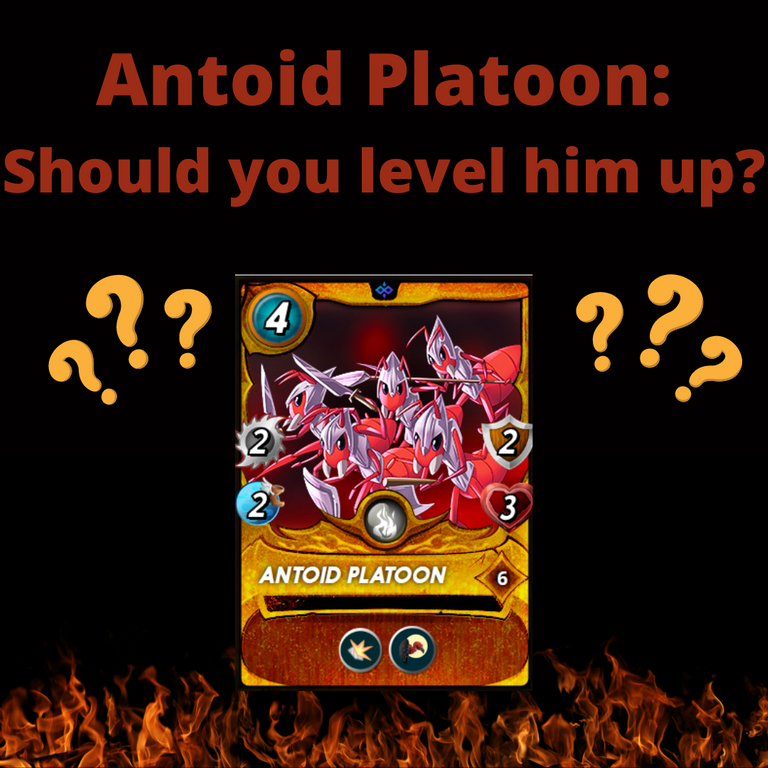 Recently I have found Antoid Platoon.
OK, I always knew he was there, but what I didn't know what just how good he was. In this blog today, I wanted to take some time to dig into this card a little deeper to show you just how much I've come to rate him.
In order to do that, let's start with the backstory. I have never really rated the FIRE SPLINTER, I always felt it was a bit underpowered and for that reason, I didn't actually invest into it and my TARSA stayed at Level 3, in turn capping my monsters level. This suited me, as it meant I didn't have to level them up!
And, as you can see, there is a wide gap from Level 3 to Level 5 in the abilities that it lets you unlock. I can jump my commons from Level 4 to Level 6, move my rares up to Level 5 and play a Level 3 Legendary. And, let me tell you, there are a lot of abilities and extra stats unlocked in that seemingly small jump. I currently play a lot of gold foils, and at present, you can buy a GF Tarsa for around $16. That means to level her to Level 5, you need 7 x $16 - or around $112 bucks! Luckily, I purchased my TARSAs for around $13 - which has already meant a nice profit on paper!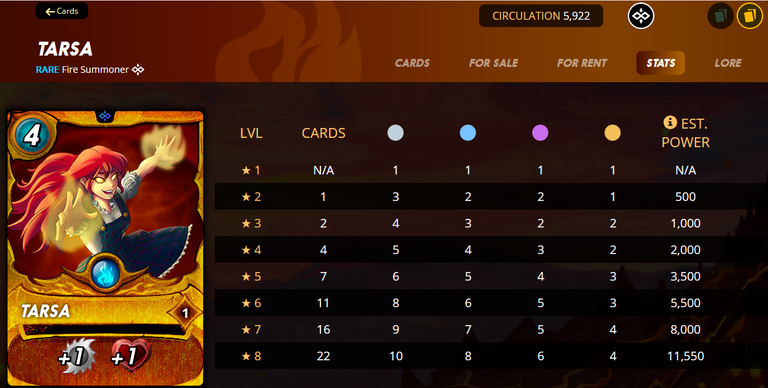 And, with TARSA unlocked - it let's my focus go to ANTOID PLATOON. Now, this is a card who really is an unexpected hero. You see, I used to be able to play this card at Level 4. The difference between Level 4 and Level 6 is minimal. Level 6 has +1 armour, but it has -1 health. The only other difference then is the SCAVENGER ability. But, is it worth it, was the question that I consistently had running through my mind.
In a nutshell, the SCAVENGER ability works like this: every time a monster from either team dies, ANTOID PLATOON picks up one health. Now - the impact of that is actually magnified, as his SHIELD ability means he takes reduced damage when hit. You just need to be mindful of MAGIC attacks, but otherwise, this guy is solid! Especially since TARSA will increase his melee to +3, and give him an extra bit of a health straight away. He's a winner, baby!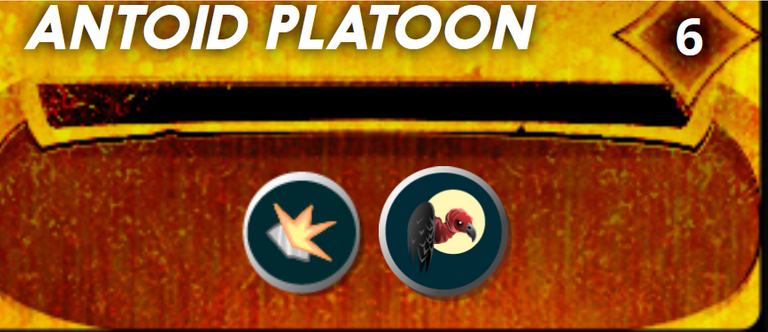 And - an absolute bargain!
You can pick this guy up for about a buck. That means for $9 you can buy yourself an absolute BEAST of a card! There are 15,000+ of this card in circulation, which means that might blow out to 25,000 once all the Chaos Packs are open. If all these cards were combined to max level, that would leave less than 700 on the market. I'd say that would make this card more 'rare' than 'common' especially consider his ability to win a battle.

But - to see how he can impact a battle, I needed to find the right ruleset. This is what I had come up with: It is a poison battle which is helpful, as it means cards will be dying everywhere - and, as a consequence, my ANTOID PLATOON would keep growing in health! (EVIL LAUGH). And, I played a deliberate strategy, whereby I would play a lot of 1 mana cards, who would become a sacrifice to build my ANTOID PLATOON'S health.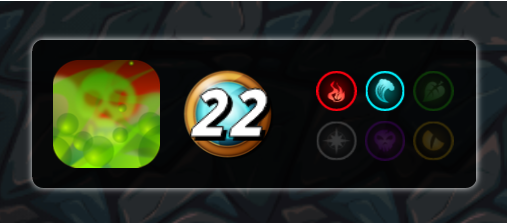 Speaking of which, let's take a look at the line ups.
Summoner: With TARSA out front, all my cards would gain additional health and melee attack. The health is great for a poison ruleset.
Tank: Radiated Scorcher - this card is here hopefully to get a hit off and to rob my opponent of their armour with his SHIELD CRACKING ability, but, he's also there to die quickly. If he dies, my ANTOID PLATOON gains health.
Off-tank: Creeping Ooze - again, a card that is made to die quickly, but, with his ability to lower my opponent's speed, it was hoped that my SCORCHER would get off a first hit.
Next: Antoid Platoon takes position 3. The first two cards would die quickly, and that would promote this guy to the tank position. The SCAVO CHEMIST behind him would then CLEANSE him from poison.
Next: The Forgotten One - this guy is anti-poison, so he'll stay alive until he is hit. He also has the retaliate skill - this one is key, as it means that when he is hit, he'll have a chance of hitting back. BOOM!
Then I play the SCAVO CHEMIST, to CLEANSE my ANTOID PLATOON of poison, and finish off with the CHAOS AGENT. Both of these guys are low health and will die early in the battle, to again increase my ANTOID PLATOON's health.
Looking at my opponent's line-up, his strategy seems to be all about his DIEMONSHARK. He'll cleanse the shark, and use the heal to keep him alive for a number of rounds. It's a good strategy, and the DIEMONSHARK is capable of winning lots of battles; but - given my strategy, I do feel pretty confident.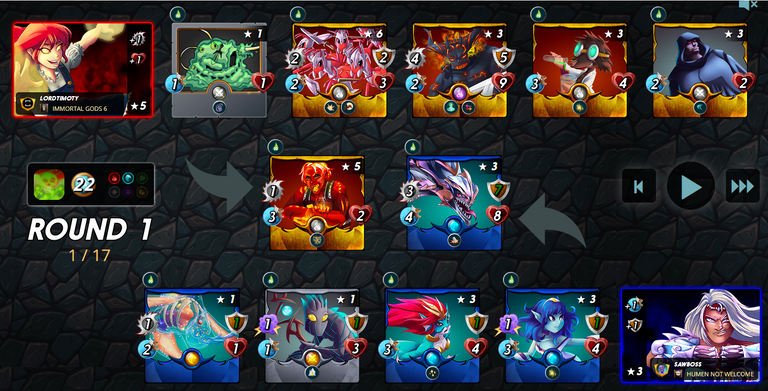 Round 1 went largely to script, with my first two monsters losing their life to DIEMONSHARK's speedy TRAMPLE. This promoted by ANTOID PLATOON to the TANK position, BUT - it promoted him with MORE HEALTH than when he started thanks to the SCAVENGER ability. When the POISONs had finished kicking in at the end of ROUND 1, my ANTOID was looking solid out front, BUT I also knew, that at the end of ROUND 2, four further monsters would die with poisoning, so if he would only hang on, he would benefit quite significantly!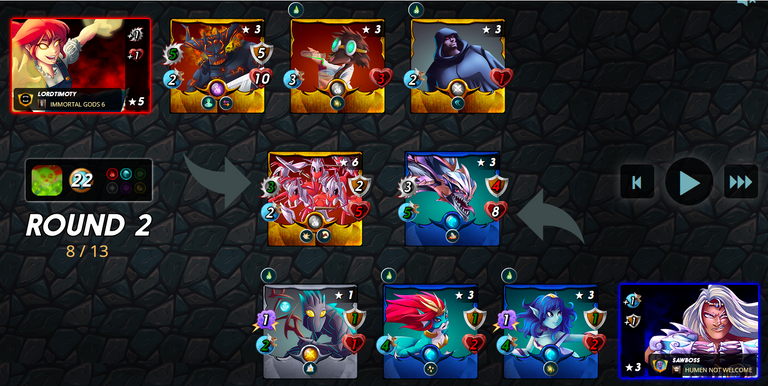 And then by the end of Round 3 you will notice that both my and my opponent's strategy is becoming clearer. My opponent wanted his DIEMONSHARK to do all the work, and it's still around positioning itself for kills, similarly, my ANTOID PLATOON strategy is also showing results, as he is still out front, and has twice as much health as he started with. This is protecting my FORGOTTEN ONE, who is the silent threat waiting to strike deep in the battle.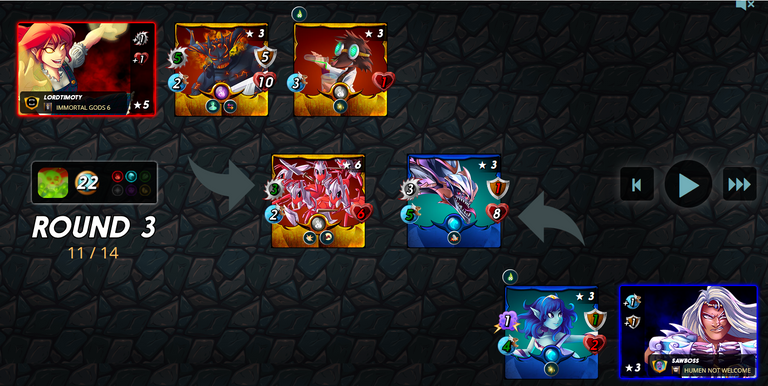 And then by the end of the following round of poisoning, it has become clear that my strategy is about to come to its fullness. My ANTOID PLATOON has successfully robbed my opponent's DIEMONSHARK of all his ARMOUR, and will now begin working on the health.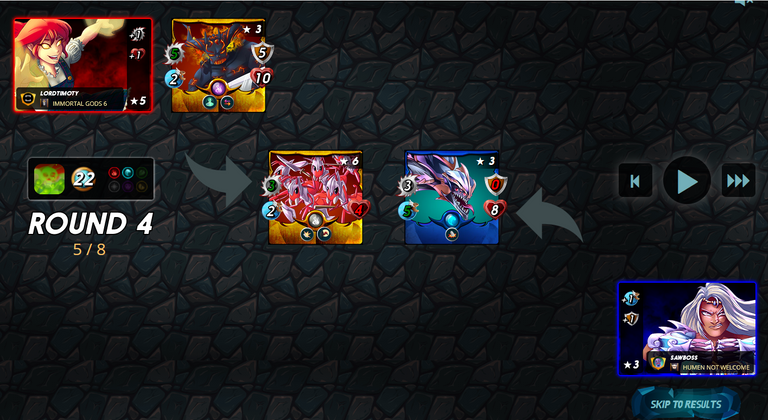 In the next couple of rounds, the DIEMONSHARK and ANTOID PLATOON exchange blows - with the ANTOID PLATOON getting the DIEMONSHARK down to 2 health only. It was a shame my ANTOID PLATOON didn't quite get the kill, but he did more than his fair share of the work in this battle which then allowed my FORGOTTEN ONE to be promoted to the tank position, where his RETALIATE skill finished the battle off for a strong victory!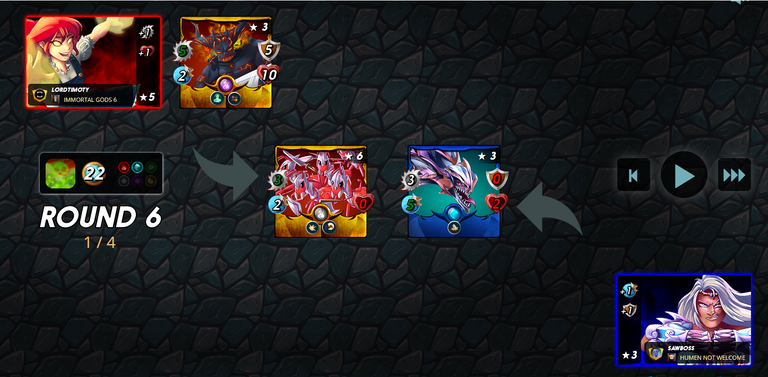 You can re-live the battle in full here:
https://splinterlands.com/?p=battle&id=sl_6f06d7941b6ca79767316627d5a2e8be
Or, have a look at the video:
Evaluation:
In the end, this battle was a significant victory for the ANTOID PLATOON, and it justified the need to level him up from Level 4 to Level 6. In reality, it was a small dollar term investment, but the end result was a card who nearly single-handedly took on the entire opponent's team (OK, the SCAVO CHEMIST played a role too!) But, from a relative comparison point of view, this COMMON card nearly demolished a really overpowered RARE tank in the DIEMONSHARK.
I have used this card now in a number of battles - and, he works particularly well in the SUPERSNEAK ruleset, because you can hide this card in the middle of your line-up to protect him and to raise his health right up.
To answer my original question: Should you level up ANTOID PLATOON to Level 6 to access the SCAVENGER skill? On the surface, for a very long time I thought the answer was 'Nope', but, having had him in my deck for a week, I can't believe how much more versatile this card has become and it then only leaves one question: Should I keep leveling him up? (Join me for that discussion in a couple of months when my TARSA is maxed!)

Don't forget, you can click here and sign up with my affiliate link.
#splinterlands #spt #play2earn
#oneup #hivegaming #battle #leofinance
#pimp #neoxian #archon #palnet
#proofofbrain #thgaming
#leofinance #battle
---
---