Moedas Comemorativas Olimpiadas 2016/ 2016 Olympic Commemorative Coins [PT/EN]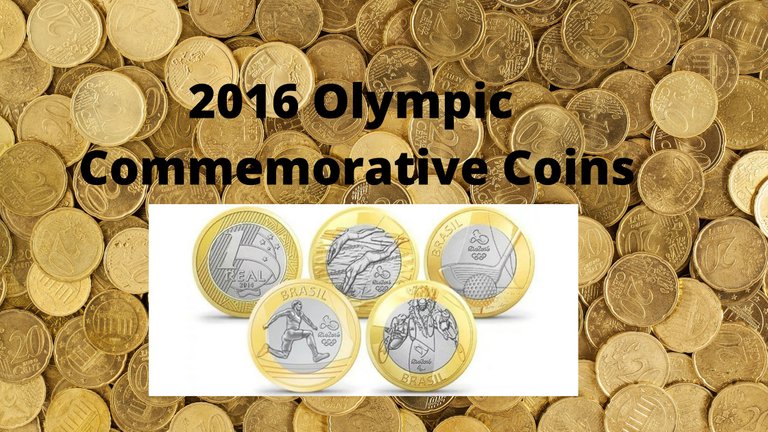 Olá amigos, hoje venho mostrar a minha coleção de moedas de 1 Real Comemorativas das Olimpiadas 2016 realizadas no Rio de Janeiro.
---
Hello friends, today I come to show you my collection of coins of 1 Real Commemorative of the 2016 Olympics held in Rio de Janeiro.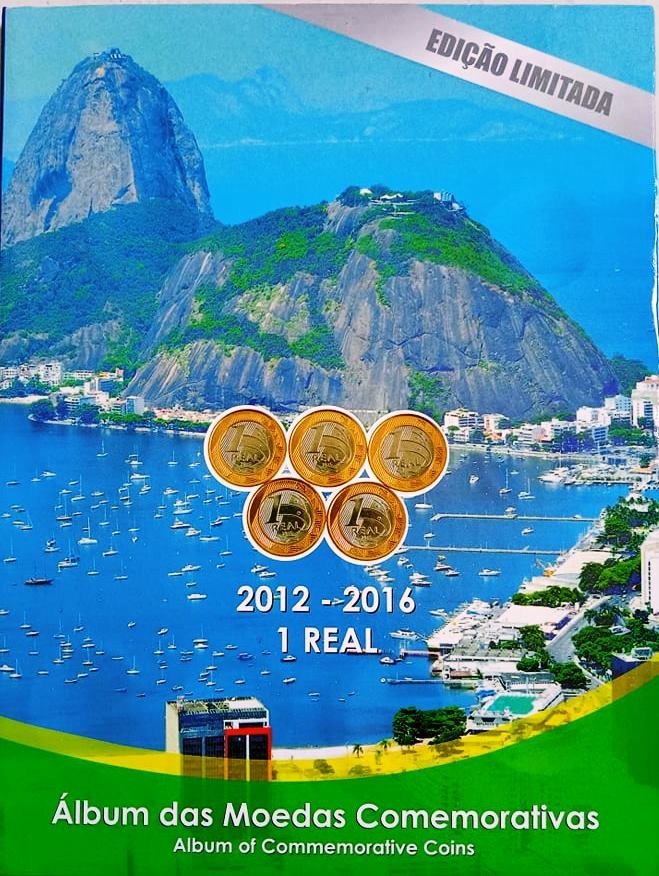 Em 2016, quando o Rio de Janeiro sediou os Jogos Olímpicos e Paralímpicos , o Banco Central emitiu uma série de moedas personalizadas em homenagem à cidade e aos esportes . Quatro anos se passaram e os itens se tornaram raros e colecionáveis. Das mais de 320 milhões enviadas para o mercado, apenas 164.500 seguem em circulação até hoje.
As moedas das Olimpíadas são uma coleção de 16 moedas comemorativas criadas entre 2014 e 2016 para celebrar os Jogos Olímpicos Rio 2016. Todas são moedas de circulação comum e têm o valor de face de 1 real. Cada uma simboliza uma modalidade olímpica ou paralímpica.
Além dessa coleção, há outra moeda associada às Olimpíadas 2016: a "moeda da entrega da bandeira", que homenageia a entrega da bandeira olímpica para o Rio de Janeiro durante o encerramento dos Jogos de Londres, em 2012. Por ser mais antiga e mais rara, essa moeda é a mais valiosa.
---
In 2016, when Rio de Janeiro hosted the Olympic and Paralympic Games, the Central Bank issued a series of custom coins in honor of the city and sports. Four years have passed and the items have become rare and collectible. Of the more than 320 million sent to the market, only 164,500 are still in circulation today.
The Olympic coins are a collection of 16 commemorative coins created between 2014 and 2016 to celebrate the Rio 2016 Olympic Games. All coins are in common circulation and have a face value of 1 real. Each one symbolizes an Olympic or Paralympic sport.
In addition to this collection, there is another coin associated with the 2016 Olympics: the "flag delivery coin", which honors the delivery of the Olympic flag to Rio de Janeiro during the closing of the London Games in 2012. rare, this coin is the most valuable.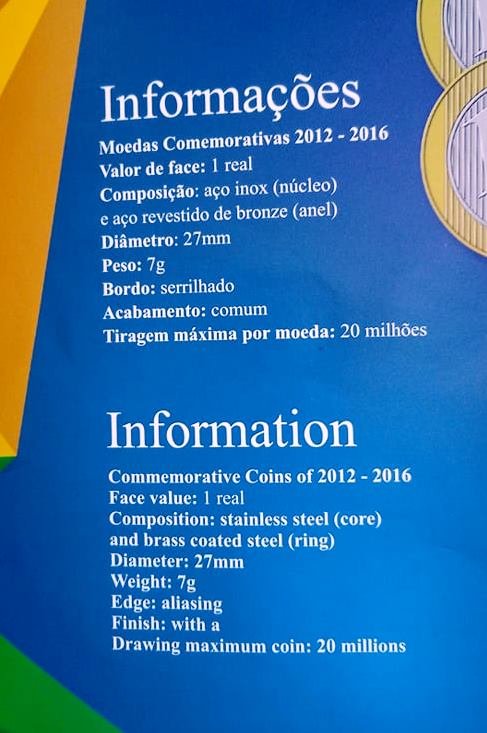 Minha coleção possui todas as moedas, as 16 dos esportes que tem uma tiragem de 20 Milhoes variando o valor de R$ 8,00 a R$ 30,00 e a da Entrega da Bandeira com tiragem de 2 Milhoes variando de R$ 175,00 a R$ 300,00, e todas circulam normalmente no mercado com valor nominal de R$ 1,00.
---
My collection has all the coins, the 16 of the sports that have a circulation of 20 million, ranging in value from R$ 8.00 to R$ 30.00, and the one for the Delivery of the Flag with a circulation of 2 million, ranging from R$ 175, 00 to R$ 300.00, and all of them circulate normally in the market with a nominal value of R$ 1.00.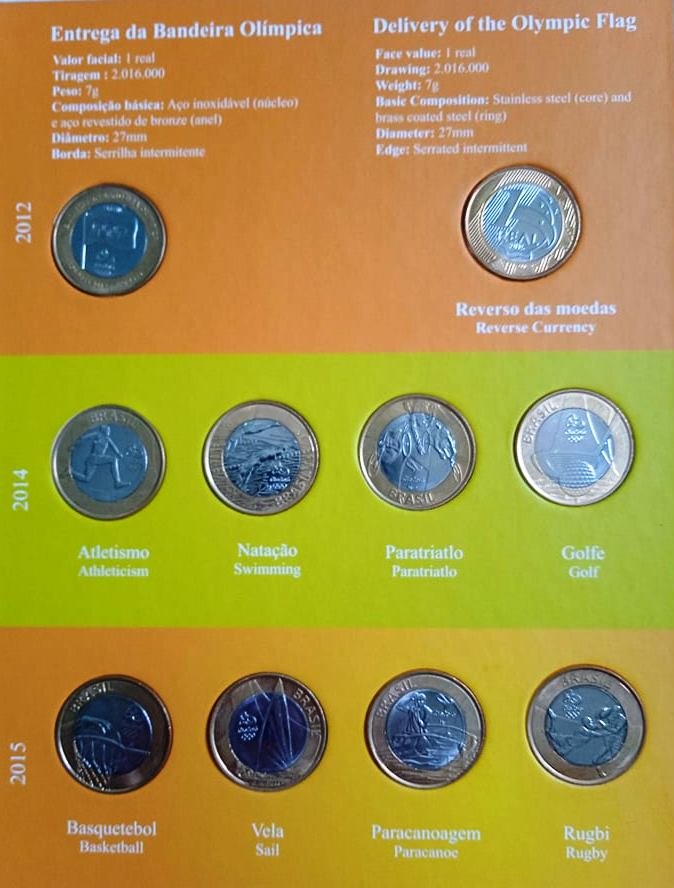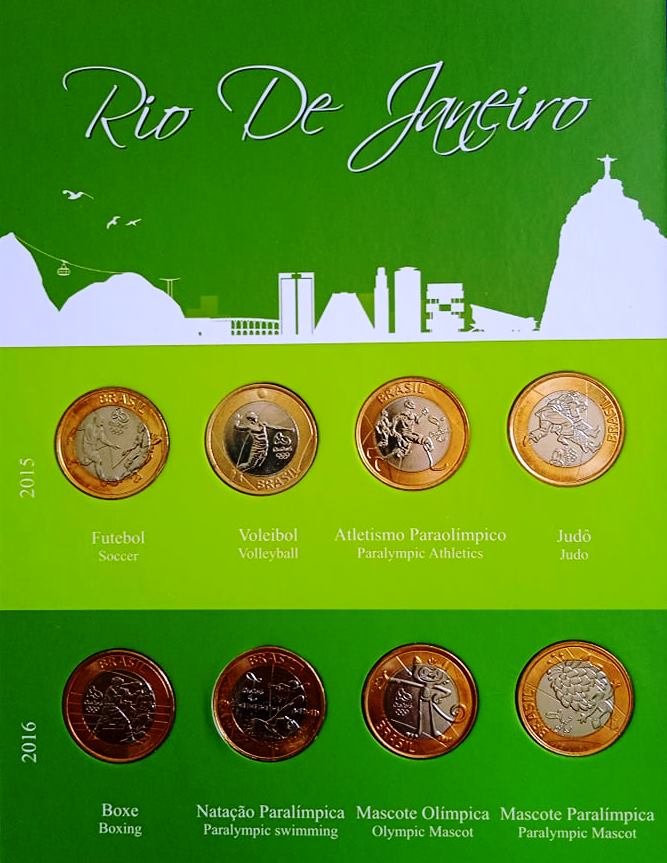 Além da minha coleção principal possuo mais 2 reservas de cada modalidade exceto a Entrega da Bandeira que é a mais rara.
---
In addition to my main collection, I have 2 more reserves of each modality except for the Delivery of the Flag, which is the rarest.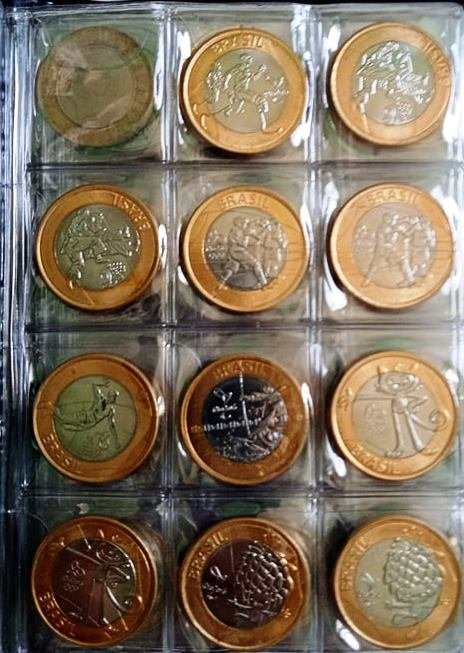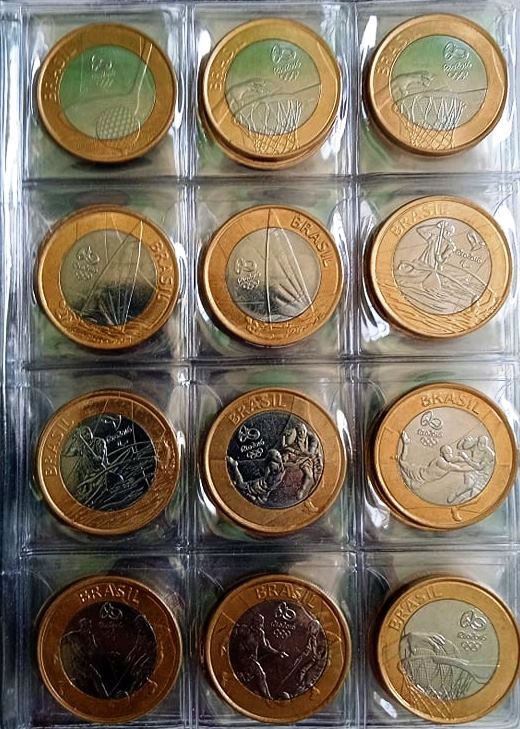 Essa é uma parte da minha coleçao, irei dividir em posts e estarei trazendo a cada semana, valeu amigos !
---
This is a part of my collection, I will share it in posts and I will be bringing it every week, thanks friends!

---
---