[PT/EN] "Diablo Immortal" Realease - A overview on the game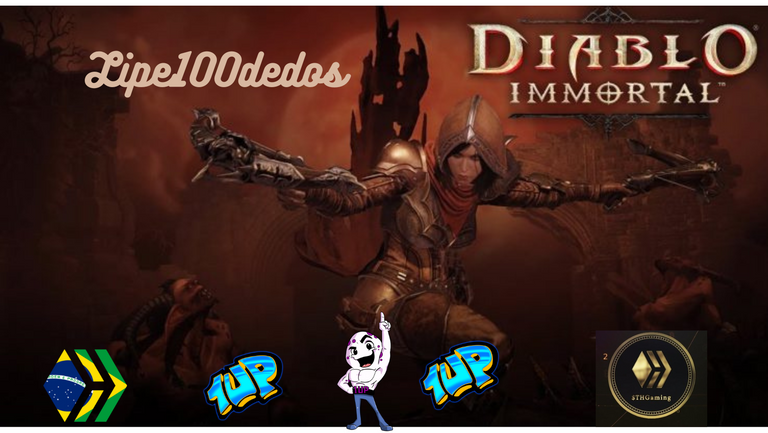 A espera acabou! || The wait is over!
Em 2018 foi anunciado um novo Diablo e os fãs foram a loucura. A promessa era um novo game dessa vez para mobile que teria um estilo próximo ao saudoso "Diablo II" acrescentando mecânicas modernas e realizando o sonho de todos que viveram o inicio da era de ouro dos MMOS com toda a nostalgia que o melhor jogo da Blizzard de todos os tempos(na minha opinião) pode trazer.
Depois de longo 4 anos o jogo foi oficialmente lançado e como descobrimos a poucos meses não só saiu para mobile mas também para pc como muitos fãs estavam implorando para que acontecesse.
Será que com todo o hype dos fãs o game vai entregar o que todos esperam ou a expectativa vai ser frustrada depois de 4 anos? Vamos falar um pouco sobre o jogo e tentar descobrir.
In 2018 a new Diablo was announced and fans went wild. The promise was a new game this time for mobile that would have a style close to the late "Diablo II" adding modern mechanics and fulfilling the dream of everyone who lived the beginning of the golden age of MMOS with all the nostalgia that the best game from Blizzard of all time(in my opinion) can bring.
After a long 4 years the game was officially released and as we discovered a few months ago not only came out for mobile but also for pc as many fans were begging for it to happen.
Will it be that with all the hype of the fans the game will deliver what everyone expects or will the expectation be frustrated after 4 years? Let's talk a little about the game and try to find out.

O Jogo || The Game
O jogo no estilo MMO de mundo aberto tem graficos excelentes com uma qualidade de imagem, som e efeitos de luz incriveis, o que já tem causado problema para alguns usuários de celulares menos potentes, mas adiante falaremos dos requisitos para o game.
Inicialmente foram anunciados que o jogo teria 4 classes ,Bárbaro, Caçador de Demônios, Monge e Arcanista, porem hoje na data de lançamento é possível jogar com 6 classes, sendo as classes extras os Cruzados e os famosos Necromantes. As combinação de itens podem ser quase infinitas graças a mecânica de qualidade, grau, sockets e itens lendários, além das mecânicas de gemas e runas. O que torna cada personagem único dando um diferencial a build dos equipamentos do jogador. Para que o jogador tenha mais liberdade para criar sua própria combinação de equipamentos, os itens de set fechado ficaram de fora dessa versão do jogo.
O jogo também conta com itens cosméticos, que não afetam jogabilidade mas mudam a aparência do seu personagem, sendo em sua maioria comprados mas tendo algumas opções de dropar alguns e ganhar outros. Existem compras no jogo, mas os desenvolvedores prometem que o principal para a evolução é jogar e não comprar e a principio parece que estão cumprindo com essa promessa. Uma das novas possibilidades é a troca de classe durante o jogo, eu pessoalmente odiei a ideia, você pode após evoluir seu personagem usar um recurso de troca de classe sem perder sua evolução e todas as habilidades e itens são transformados na da classe escolhida com exceção dos itens lendários que são únicos e não podem ser modificados para de outras classes. Na minha opinião esse recurso tira toda a graça de criar novos personagens para jogar com varias classes, mas agora é uma possibilidade.
The open world MMO style game has excellent graphics with incredible image quality, sound and lighting effects, which has already caused problems for some users of less powerful cell phones, but later we will talk about the requirements for the game.
Initially it was announced that the game would have 4 classes, Barbarian, Demon Hunter, Monk and Arcanist, but today on the release date it is possible to play with 6 classes, the extra classes being the Crusaders and the famous Necromancers. Item combinations can be almost infinite thanks to quality mechanics, rank, sockets and legendary items, in addition to gem and rune mechanics. What makes each character unique giving a differential to the player's equipment build. In order for the player to have more freedom to create their own combination of equipment, closed set items were left out of this version of the game.
The game also has cosmetic items, which do not affect gameplay but change the appearance of your character, being mostly purchased but having some options to drop some and earn others. There are in-game purchases, but the developers promise that the main thing for evolution is to play and not buy and at first it seems they are fulfilling that promise. One of the new possibilities is the class change during the game, I personally hated the idea, you can after evolving your character use a class change feature without losing your evolution and all skills and items are transformed into the chosen class with exception of legendary items that are unique and cannot be modified for other classes. In my opinion, this feature takes all the fun out of creating new characters to play with various classes, but now it's a possibility.

Requisitos Mínimos ||Minimum requirements
Mobile || PC
Windows® 7/Windows® 8/Windows® 10/ Windows® 11 (64 bits) Windows® 10/Windows® 11 (64 bits)
Intel® Core™ i3 ou AMD™ FX-8100 Intel® Core™ i5 ou AMD Ryzen™ 5
NVIDIA® GeForce® GTX 460, ATI Radeon™ HD 6850 ou Intel® HD Graphics 530 NVIDIA® GeForce® GTX 770 ou AMD Radeon™ RX 470
4 GB de RAM 8 GB de RAM
CPU – Snapdragon 710 / Hisilicon Kirin 810
GPU – Adreno 616 / ARM Mali-G52
RAM – 2 GB of RAM
Versão: Android OS 5.0 (Lollipop) || iOS11

Classes
Todas as classes tem a opção de personagem masculino ou feminino. A descrição abaixo foi tirada do site da blizzard e as fotos são prints da versão mobile do jogo.
All classes have the option of male or female character. The description below was taken from the blizzard website and the photos are screenshots of the mobile version of the game.
Bárbaro || Barbarian
"Um andarilho selvagem. Sobreviventes do desastre que atingiu o Monte Arreat, os Bárbaros desferem ataques brutais para esmagar qualquer adversário."
A "wild wanderer. Survivors of the disaster that struck Mount Arreat, the Barbarians unleash brutal attacks to crush any foe."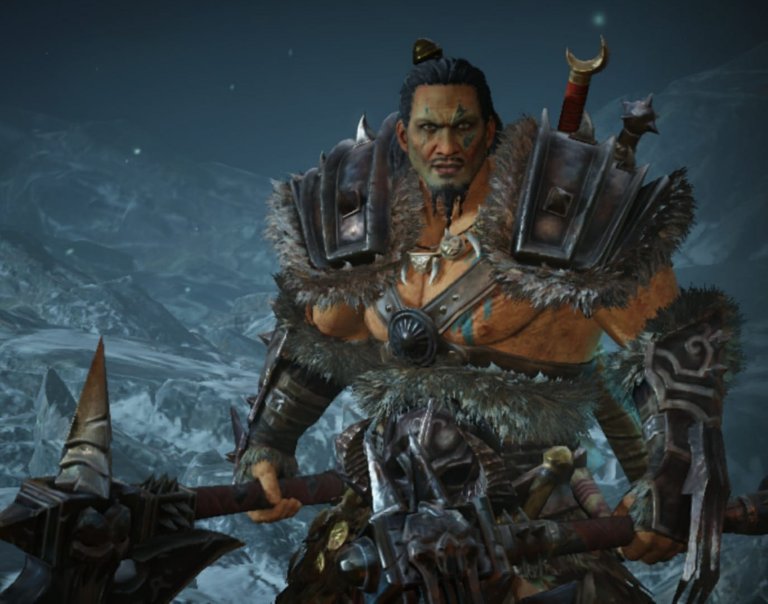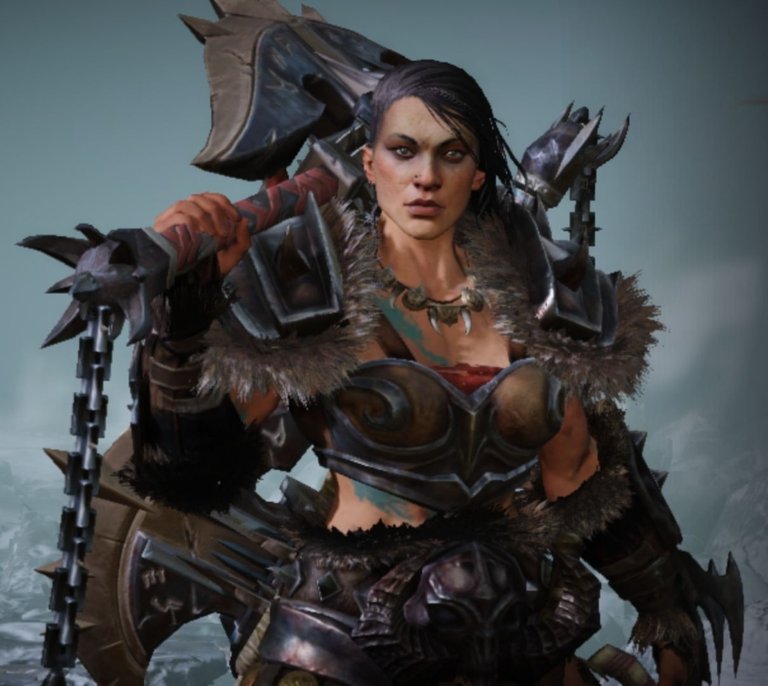 Cruzado || Crusader
"Um zelote enfurecido. Armados com sua fé, os Cruzados derrotam o mal por onde passam, dominando o campo de batalha com determinação absoluta."
"An enraged zealot. Armed with their faith, the Crusaders defeat evil wherever they go, dominating the battlefield with sheer determination."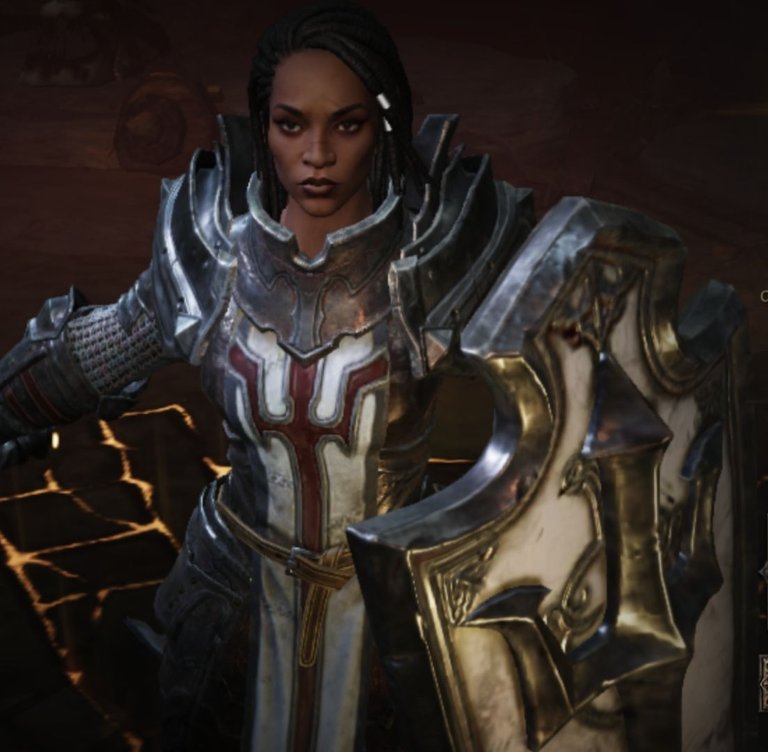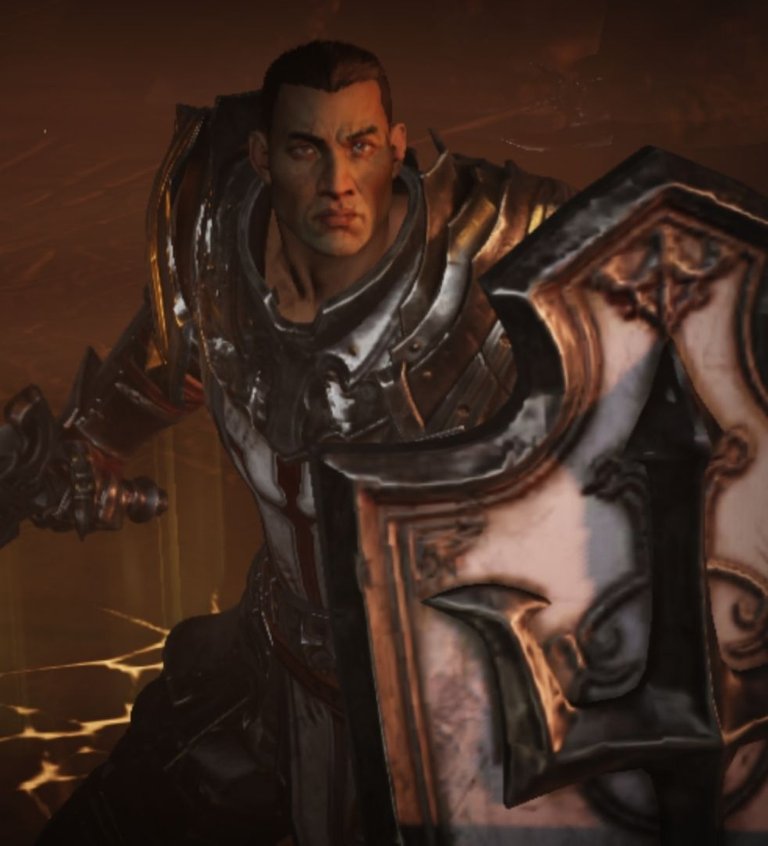 Caçador de demônios || Demon Hunter
"Um predador vingativo. Justiceiros implacáveis que atacam de longe, os Caçadores de Demônios atacam incansavelmente até que a presa esteja à sua mercê."
"A vengeful predator. Relentless justices who attack from afar, Demon Hunters attack relentlessly until their prey is at their mercy."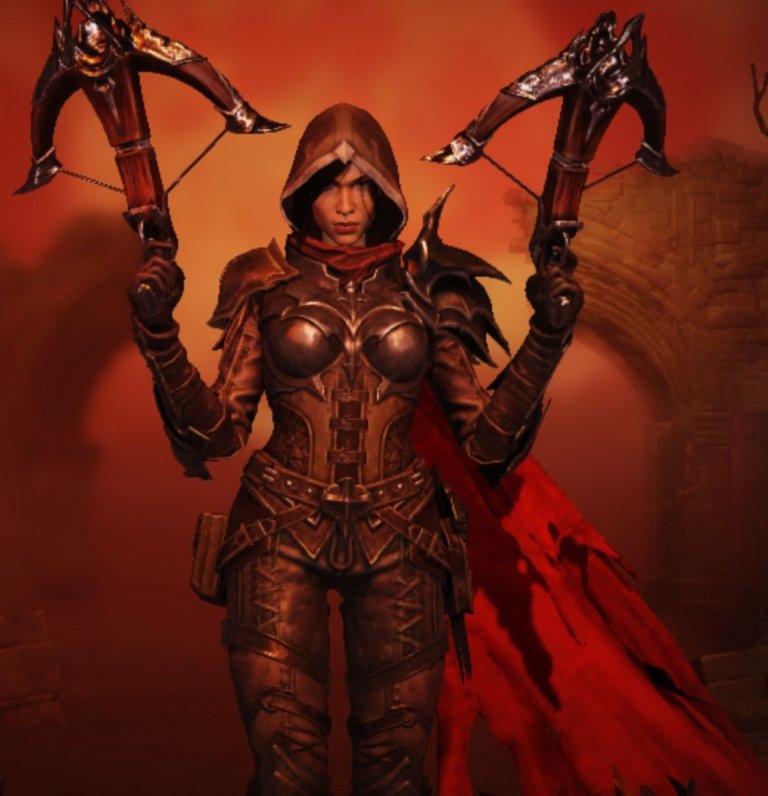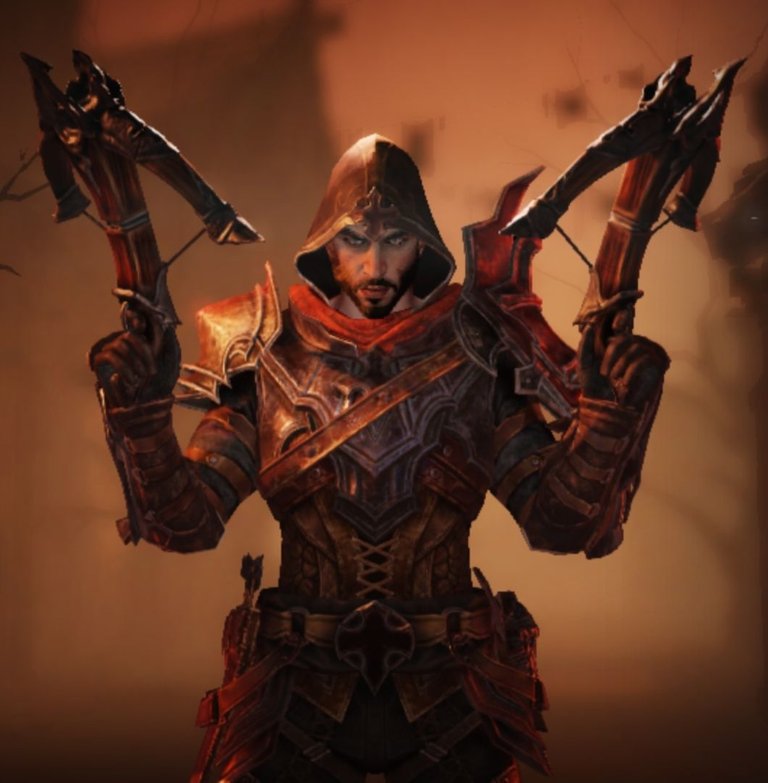 Monge || Monk
"Um mestre das artes marciais. Ataques-relâmpago e mobilidade são as especialidades dos Monges, que atacam seus inimigos com uma variedade atordoante de golpes."
"A master of the martial arts. Lightning attacks and mobility are the Monks' specialties, who attack their enemies with a dizzying array of blows."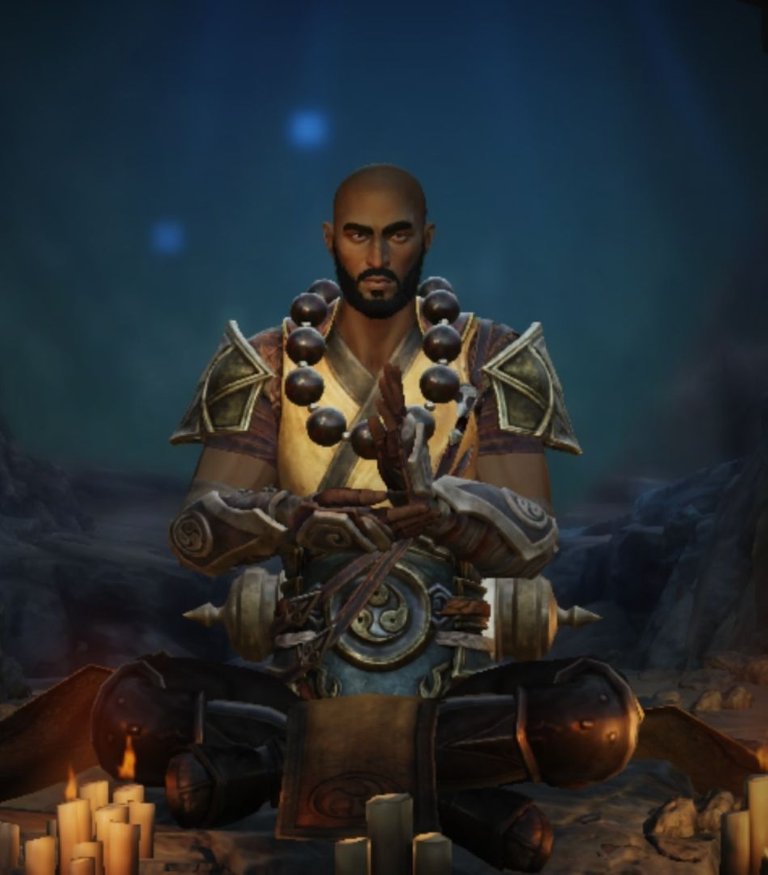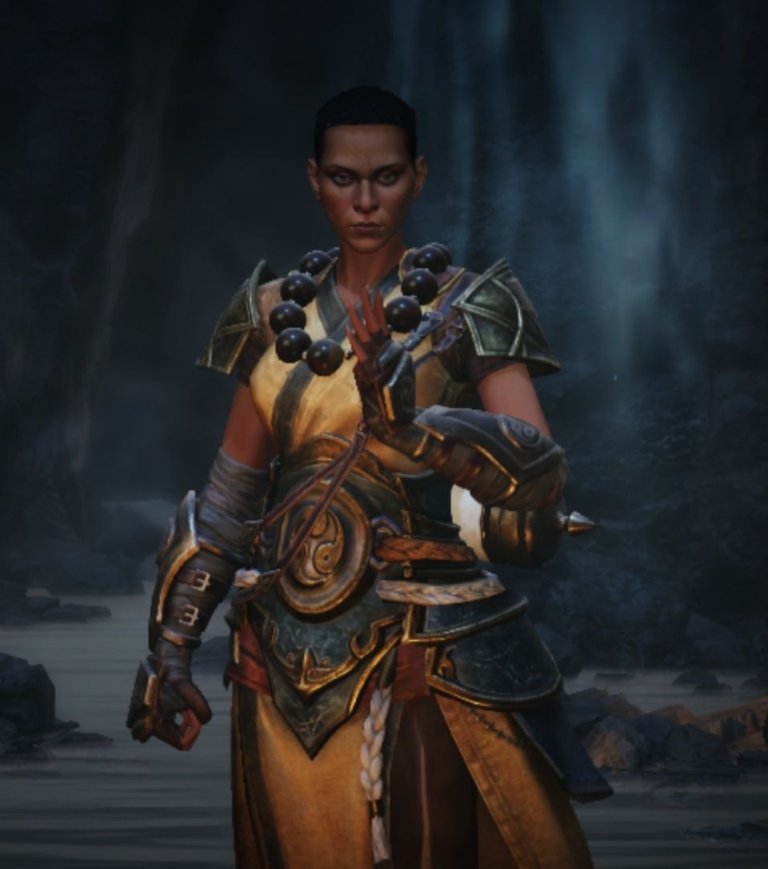 Necromante || Necromancer
"Um manipulador da vida e da morte. Os sacerdotes de Rathma usam seus poderes sobre a vida e a morte para preservar o equilíbrio em Santuário."
"A manipulator of life and death. The priests of Rathma use their powers over life and death to preserve the balance in Sanctuary."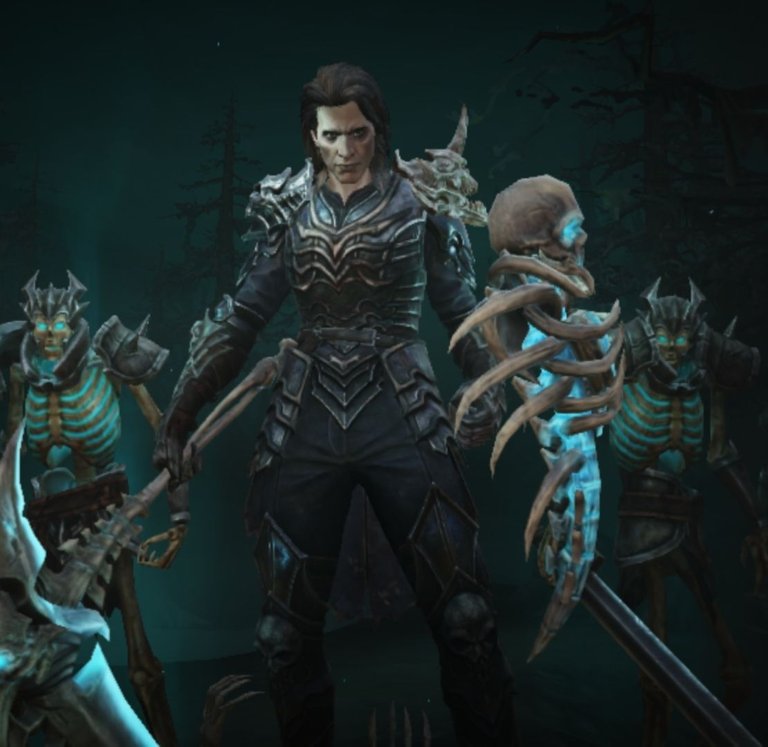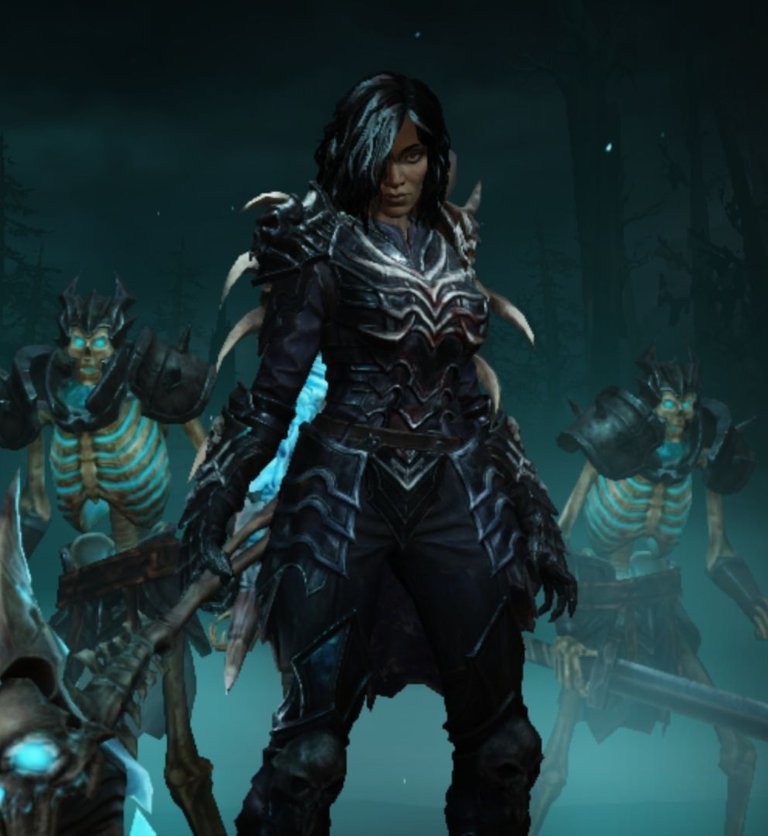 Arcanista || Arcanist
"Um condutor vivo de poder arcano. Os Arcanistas manipulam forças arcanas para atacar à distância, desintegrando os inimigos."
"A living conduit of arcane power. Arcanists manipulate arcane forces to attack from a distance, disintegrating enemies."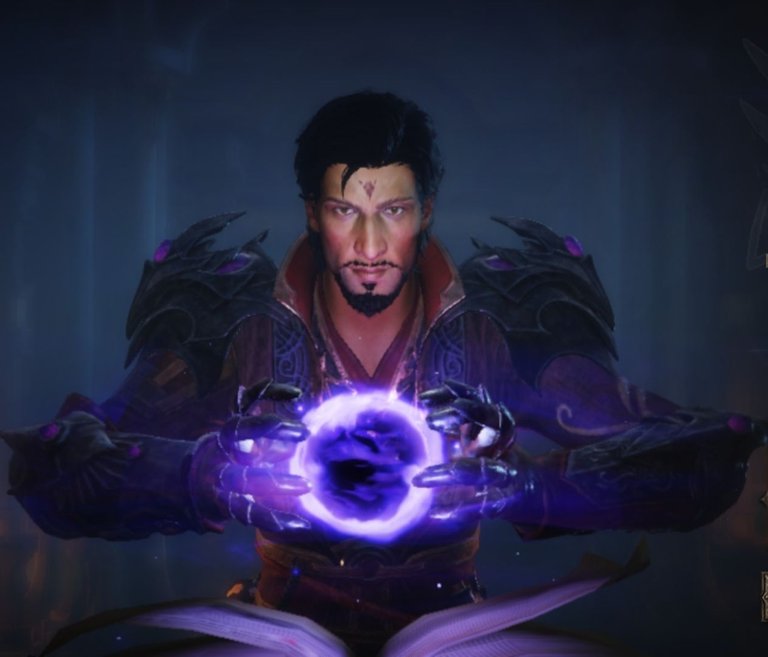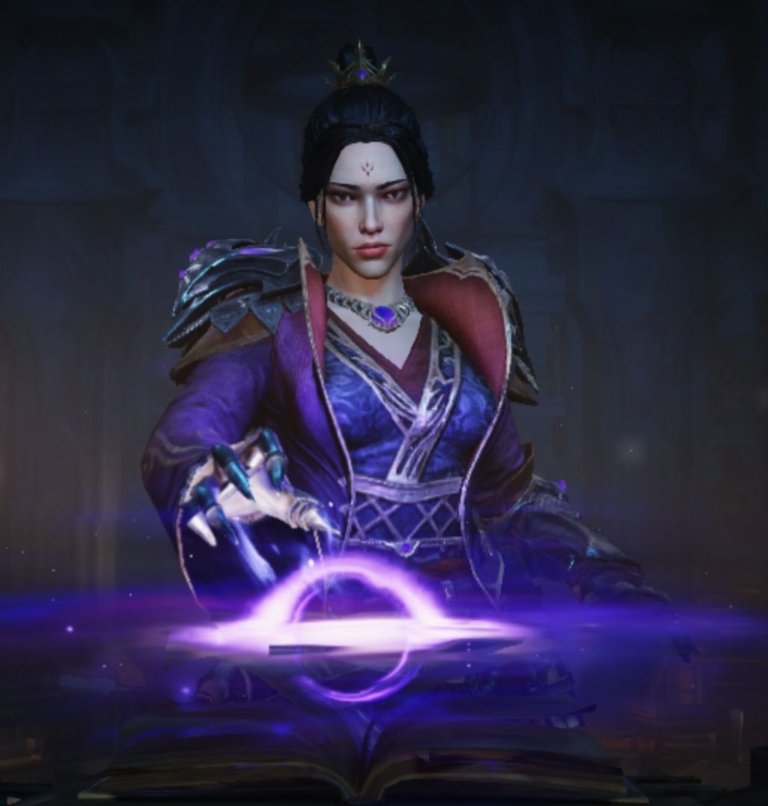 Minhas primeiras impressões || My first impressions
Comecei a jogar de "Caçador de Demônios" no servidor da américa do sul chamado "Rathma", completei o tutorial e fiz algumas missões da historia principal, algumas dungeons em grupo e algumas side quests. Também explorei o mundo para direções diferentes da missão apenas pra testar.
Até o nível de dificuldade do jogo parece bem baixo, sei que ainda estou no inicio do jogo, mas ao que tudo indica ele tem a dificuldade parecida com os action rpgs atuais.
O mapa tem respawn de monstros e pelo que entendi masmorras escondidas podem aparecer aleatoriamente no mapa e se você encontrar pode fazer essa masmorra com um grupo ou sozinho. E assim como os jogos modernos as missões tem seu caminho indicado no mapa o que estraga boa parte da diversão de explorar o mapa.
Me encanta o sistema de itens e a possibilidade de poder combinar da forma que eu achar melhor meus atributos de equipamentos, mas a automação do jogo tira parte da emoção. Se vai ser um grande sucesso ou vai se tornar só mais um action rpg automatizado moderno ainda não sei, mas gostei de relembrar os bons tempos e espero que o jogo evolua muito, mesmo sabendo que dificilmente verei um servidor pvp hardcore como eu gostaria :)
Abaixo segue mais algumas fotos do jogo e do mapa que eu tirei com minha caçadora de demônios Nymeria.
I started playing "Demon Hunter" on the south american server called "Rathma", completed the tutorial and did some main story quests, some group dungeons and some side quests. I also explored the world for different mission directions just to test.
Even the game's difficulty level seems pretty low, I know I'm still at the beginning of the game, but apparently it has a difficulty similar to current action rpgs.
The map has monster respawn and from what I understand hidden dungeons can appear randomly on the map and if you find you can do this dungeon with a group or alone. And just like modern games, missions have their path indicated on the map, which spoils much of the fun of exploring the map.
I love the item system and the possibility of being able to combine my equipment attributes in the way I think is best, but the automation of the game takes away some of the emotion. Whether it will be a great success or will it become just another modern automated action rpg I still don't know, but I enjoyed remembering the good times and I hope the game evolves a lot, even though I know that I will hardly see a hardcore pvp server as I would like :)
Below are some more pictures from the game and the map I took with my demon hunter Nymeria.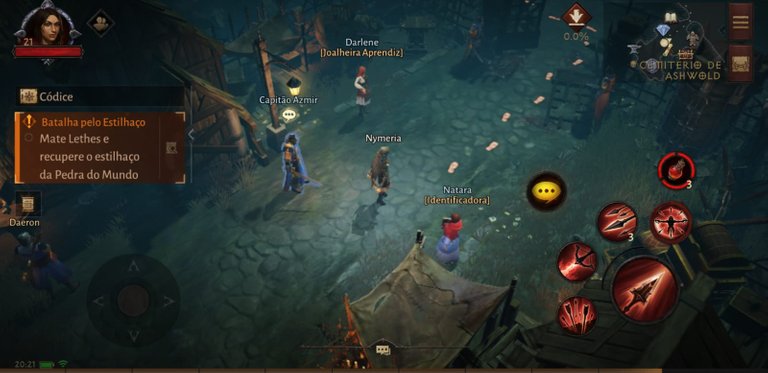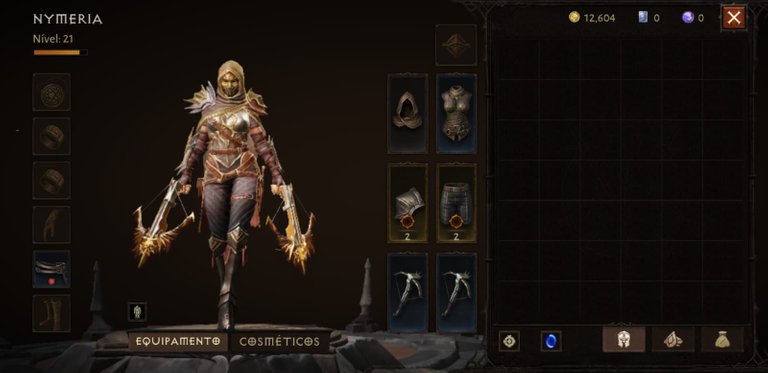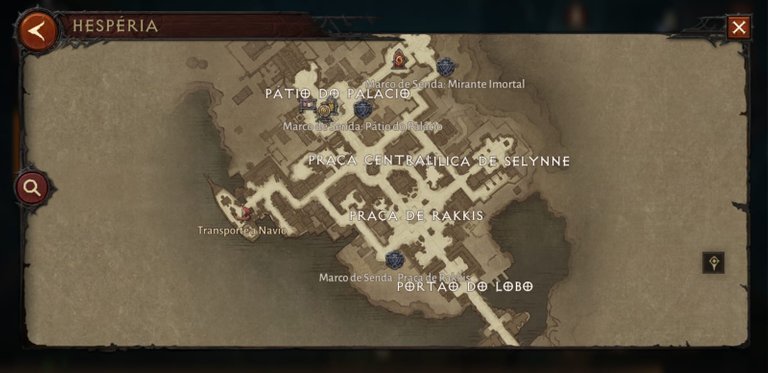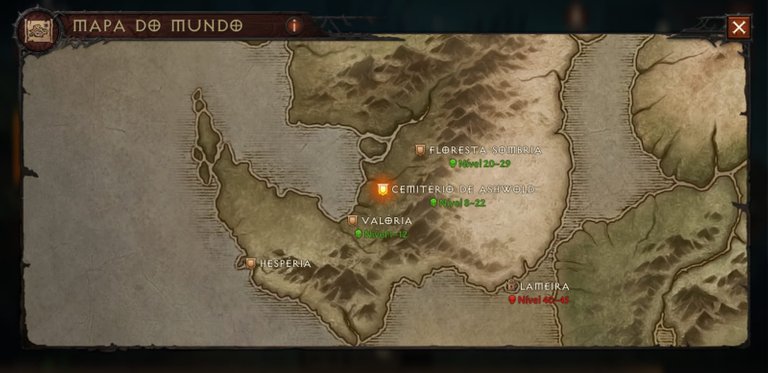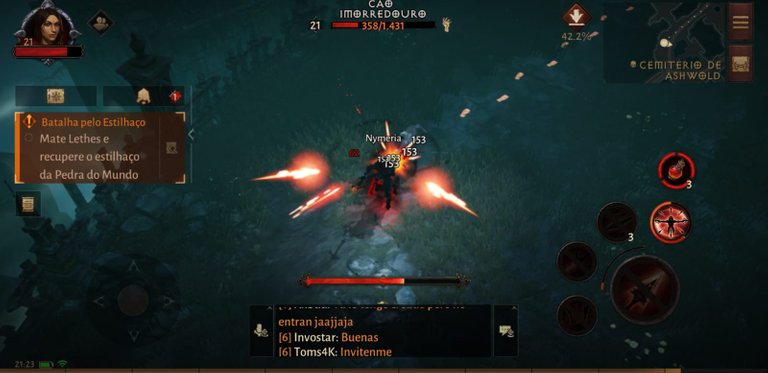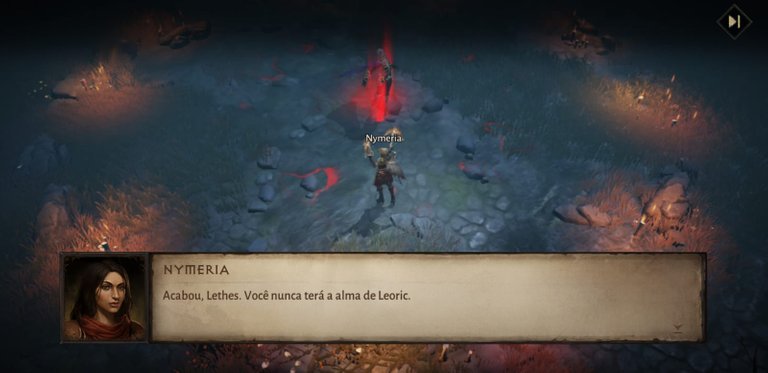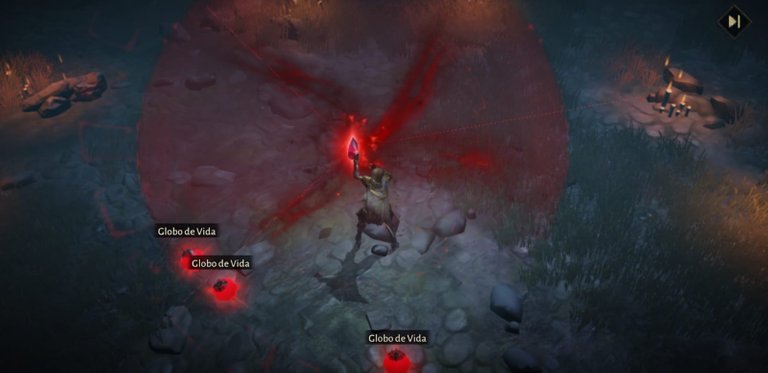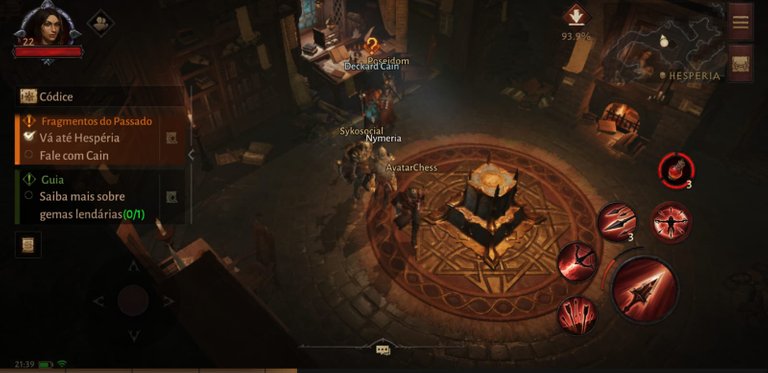 Conclusão || Conclusion
Já temos bastante informação pra um primeiro dia, mas ainda tem muito a explorar.
Espero que tenham gostado do conteúdo. Esse post é minha entrada para a competição da #thgaming.
Se puder deixe seu upvote e se quiser ver mais dos meus conteúdos é só me seguir :) .
We already have enough information for a first day, but there is still a lot to explore.
I hope you enjoyed the content. This post is my entry to the #thgaming competition.
If you can upvote and if you want to see more of my content, just follow me :) .


---
---