Wednesday Walk - What I noticed while going to work during my usual daily routine.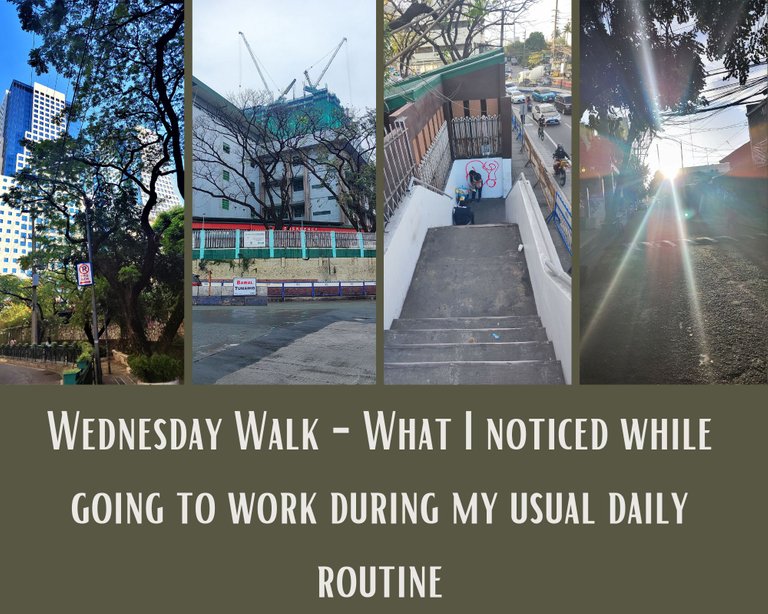 What a bright afternoon, as I left work sometime last week!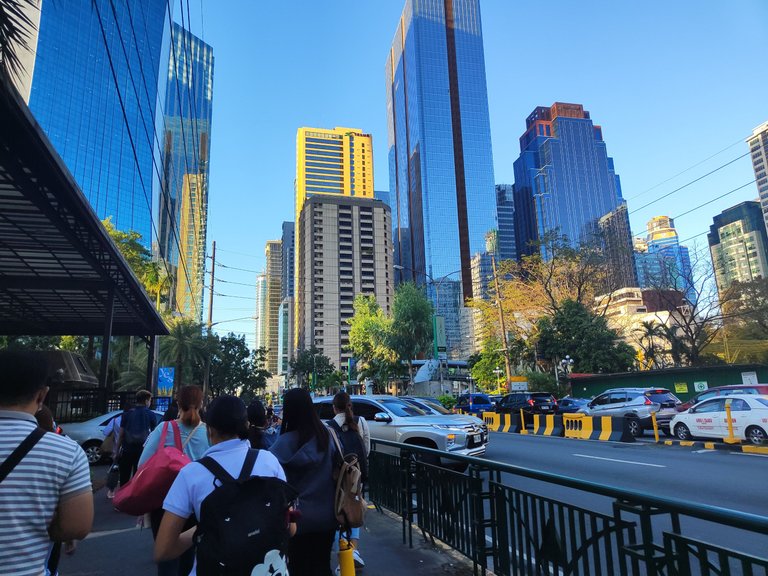 Picture was taken while I was walking going to the bus terminal. Most of the time, business hours ended the same, so I had several people walking with me. The clear blue sky that looks reflects the building colors or the golden tree because of the rays of the sun. Either the two, I recall having a good mood at this time.
That was almost the end of the day, but how it started? Ahh, perhaps getting up from bed, almost eyes half closed when the alarms ring? 🤣. Then followed by the usual routine of going to work.
I was sleepy and tired due to the previous day's activities, so I left home late. It was almost seven in the morning. The sun's rays greeted me, and that felt like I was about to cross into the next dimension of life! Ehhh, just like I saw in the movies! Why? See this.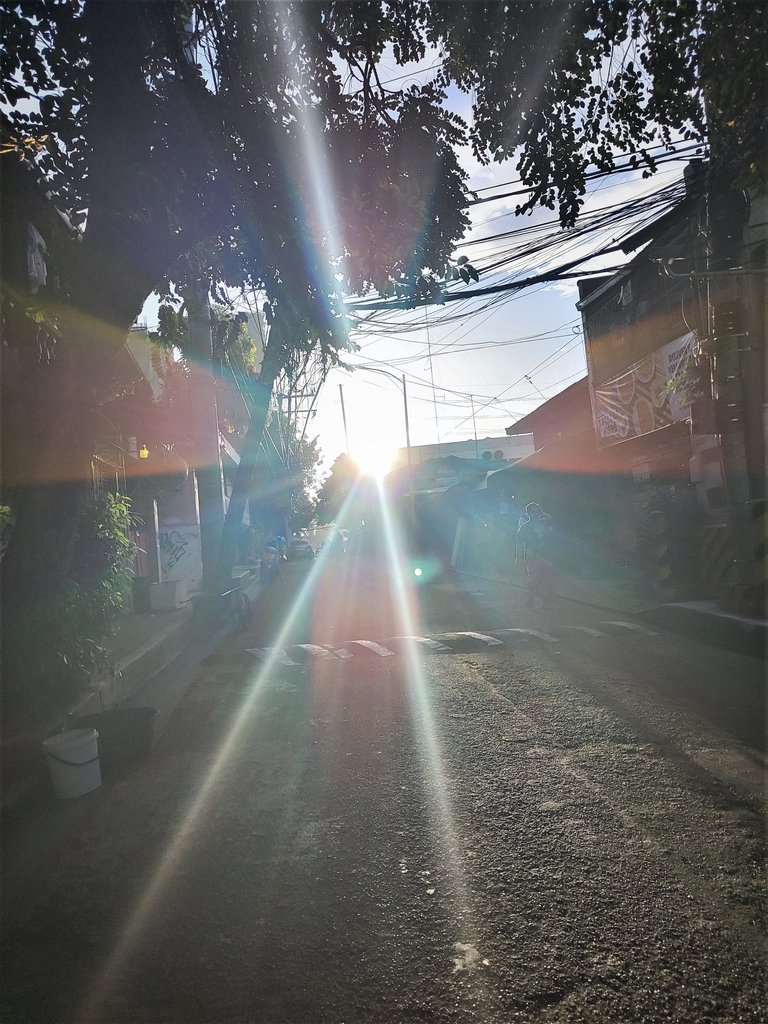 The bright light dazzled me while walking to the coastal road to catch a ride to work. And so, I am taking steps while my head is down, vampire feeling?🤣.
I was even in a hurry as I might get late, yet I saw that the MMDA (Metro Manila Development Authority) closed the road. I was left with no choice but to use the overpass.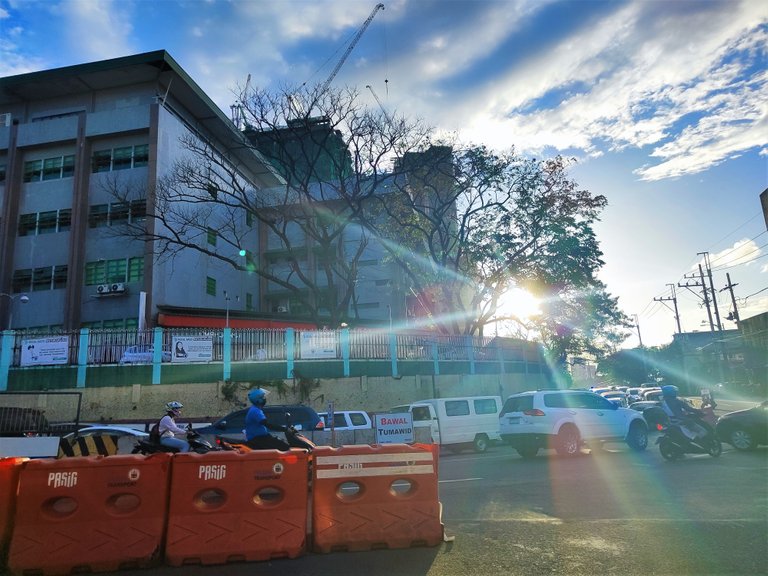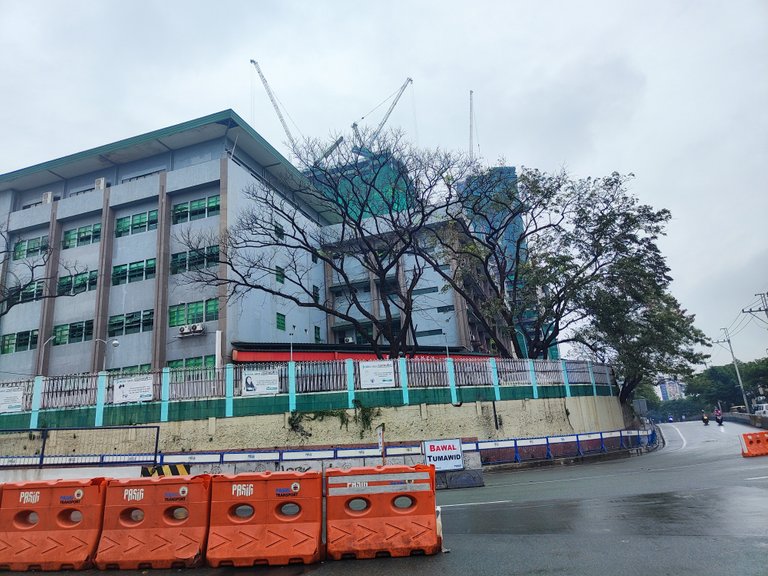 See the sun's rays? It reminds me that summer is approaching, and for someone like me who live in a tropical country? This means sweats, sweats!
The second picture was taken on a different day, a weekend to be exact, that is why the road was clear! The signage says bawal tumawid (Crossing is not allowed). The building across was a public hospital I didn't want to enter again! My last memory of that place was watching a workmate being revived until she lost her last breath. The hysterical cries of her family with pain and agony kept lingering in my mind for days. That gives me a week of the sleepless night!
And here it is, the overpass I need to climb to cross the other side of the road.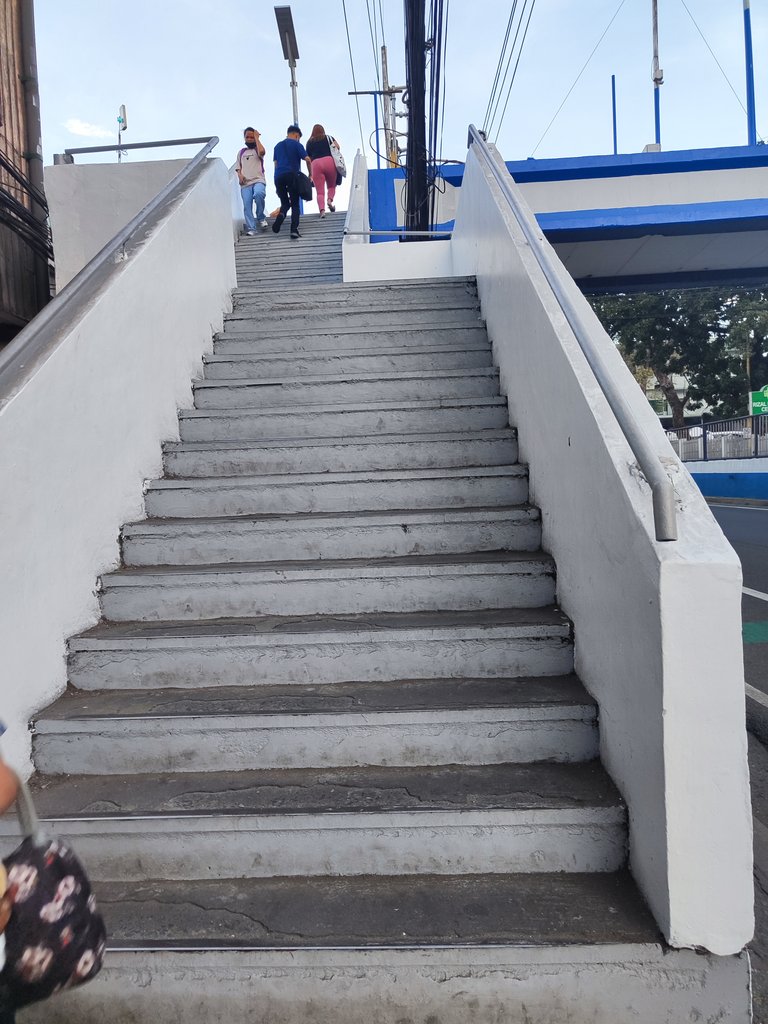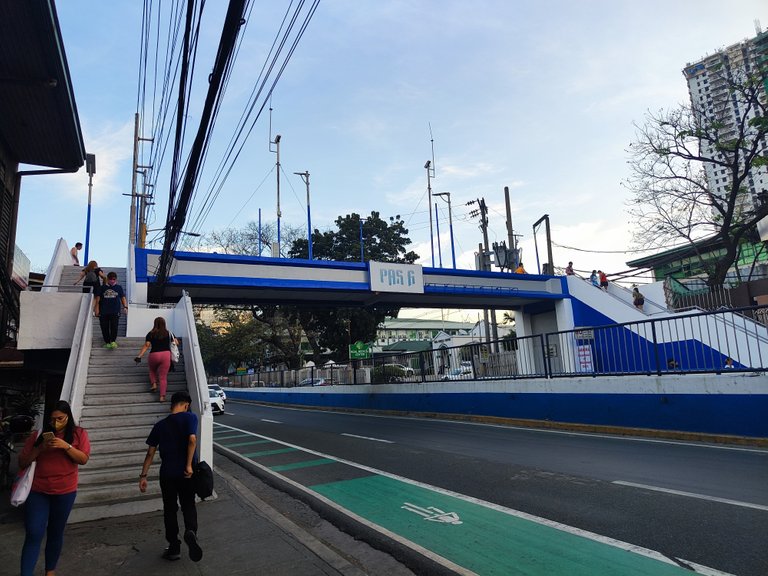 Thinking, how many steps was it? Is passing by here daily will make me lose weight? Yet have you noticed? It was newly painted! Thanks to our handsome and ever-best Mayor and his team. They did a great job. Kudos!
Looking down, and could see a couple of vehicles in the road already—more on incoming the town rather than outgoing.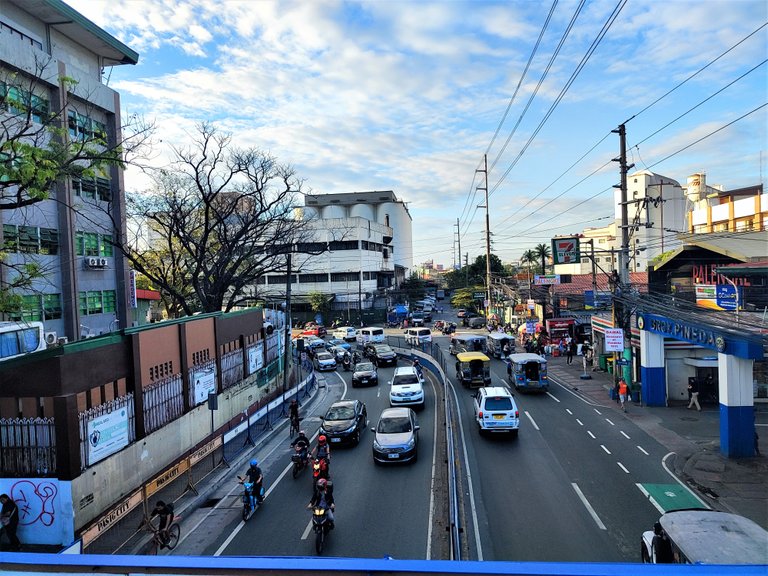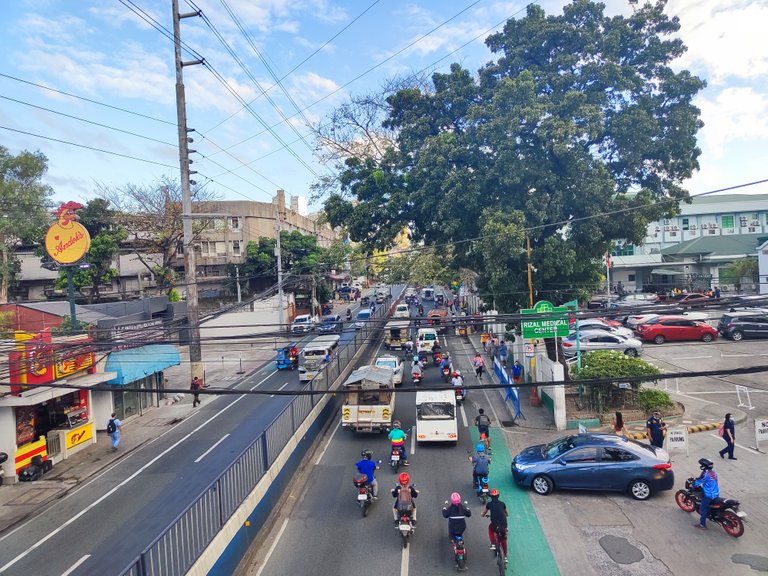 Thus, seeing this as I was going down was not pleasant to my eyes.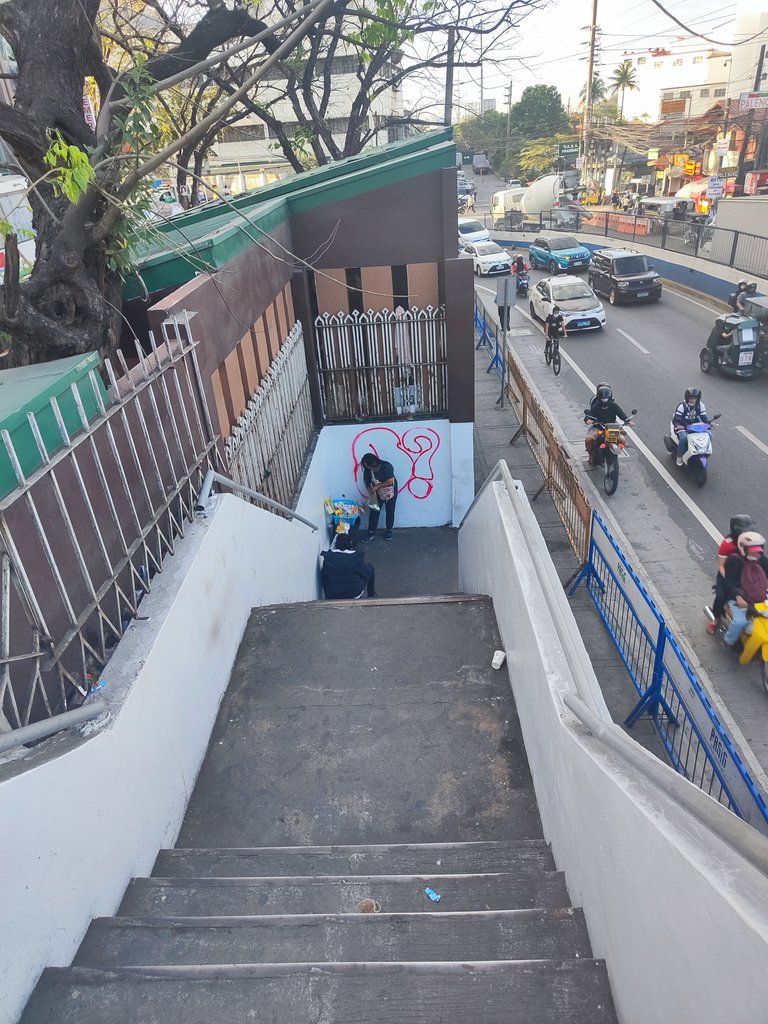 What a shame to whoever did this! When the government was making efforts, these people did nothing but vandal the newly painted wall and even left their trash!
When I was thankful I didn't have a hard time commuting, I realized my fault the moment I gave my fare. I got into a vehicle with a different route! This is what I got for being too in a hurry!
Not that out of route just not the usual, as taking this means walking for a minimum of ten minutes. I wouldn't say I like walking when going to work for health reasons. Imagine being sweaty and then you entered a building with full-blast air-conditioned. I always get an upset nose after.
Walk, walk, and finally, I can see the building where I am working. As I looked at the time, I felt relieved that I won't be late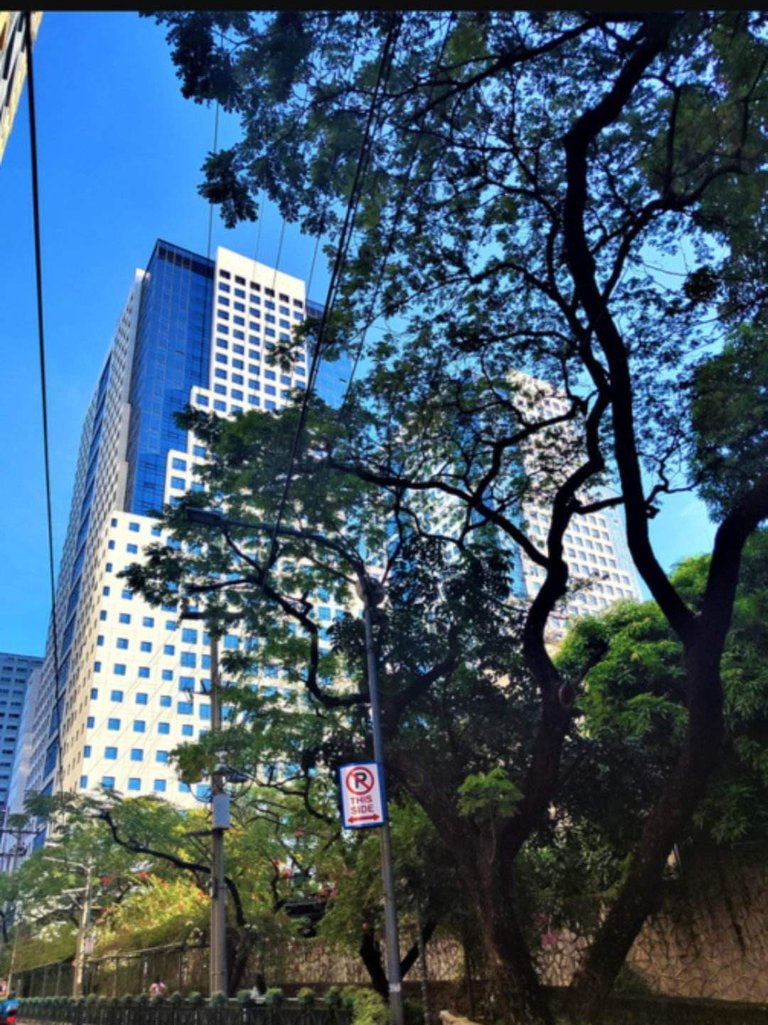 And that ended my walk for this week entry in Sir @tattoodjay Wednesday walk in collaboration with @elizacheng in make me smile. Hope I made you 😊.
Lead Image was edited using Canva

Be part of the hiveph Community | Stay Update through our discord channel Let's help build each other!
---
---