May Key Performance Indicators | 211,000+ Threads Created Last Month!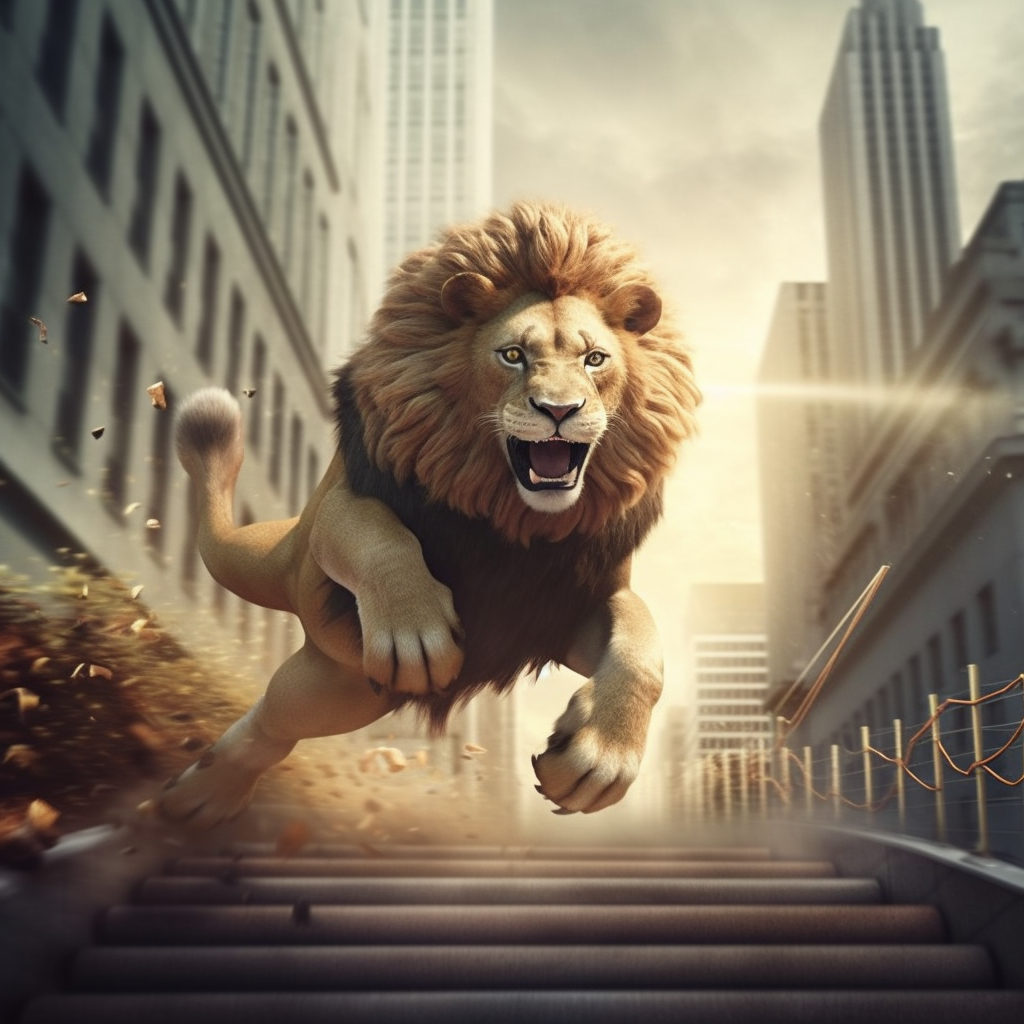 We're back to reporting on key metrics in the LeoVerse. We've got a number of reports lined up and we'll run them each month at different intervals. Reports on Tokenomics, Ad Revenue, @leo.voter curation transparency and Monthly KPIs (Key Performance Indicators) will become a regular staple in our reporting here on @leofinance.
Today's report will show our KPIs at the end of May, 2023. We had an incredible month for the LeoVerse. On May 1st, we launched the new Project Blank UI.
Yes, it's only been 1 single month since the UI went live. There have been so many changes to the UI and things are just getting started. The past month has felt like an entire year for us as we've been grinding away on bug fixes and deploying a wide range of feature updates.
We've been launching updates on a literal daily basis since the UI went live. Some are noticeable visual changes while others are backend scaling and others still are bug fixes that you may not even notice at all outside of no longer encountering those random issues.
May KPIs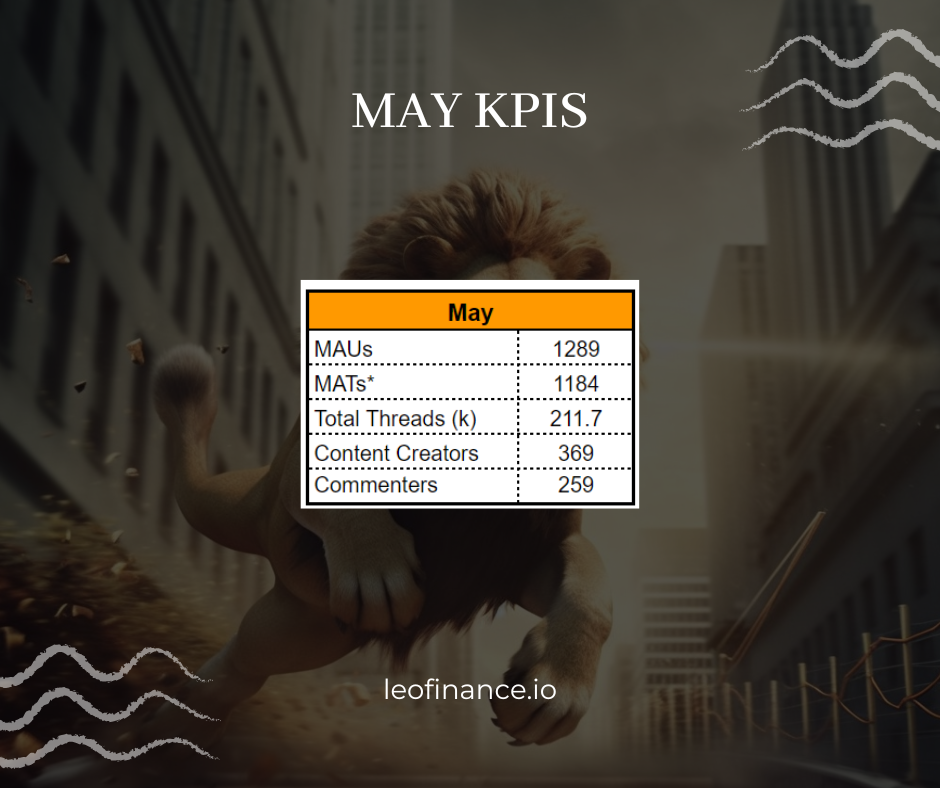 In the month of May, we saw a bunch of records get crushed. In the above chart, you'll see the final breakdown:
Monthly Active Users (MAUs) hit a new high of 1,289
Monthly Active Threaders (MATs) hit a new high of 1,184
211,700 Threads were created in May
369 Content Creators made at least 1 long-form article
259 Unique accounts commented on long-form content throughout the month
Across the board, we're seeing a lot of growth. The one aspect that has been lagging a bit is the long-form content creators / commenters. We think this can be a lot better.
The reason why we're slacking in this area is the UI. The UI for long-form is not up to par with where we want it to be. This is going to take some work.
We've got an amazing update coming for the new Articles page later this week.
Last week, we pushed a major update to the Publishing UI.
These two things combined should have a signficant impact on long-form users from month to month.
The KPIs to watch as we progress through June and you get the next report will be Content Creators and Commenters.
In May, we had 369 long-form creators and 259 commenters on long-form content. I believe these numbers will be significantly higher in the month of June once we roll out the massive overhaul to the long-form aspects of leofinance.io.
211,700 Threads!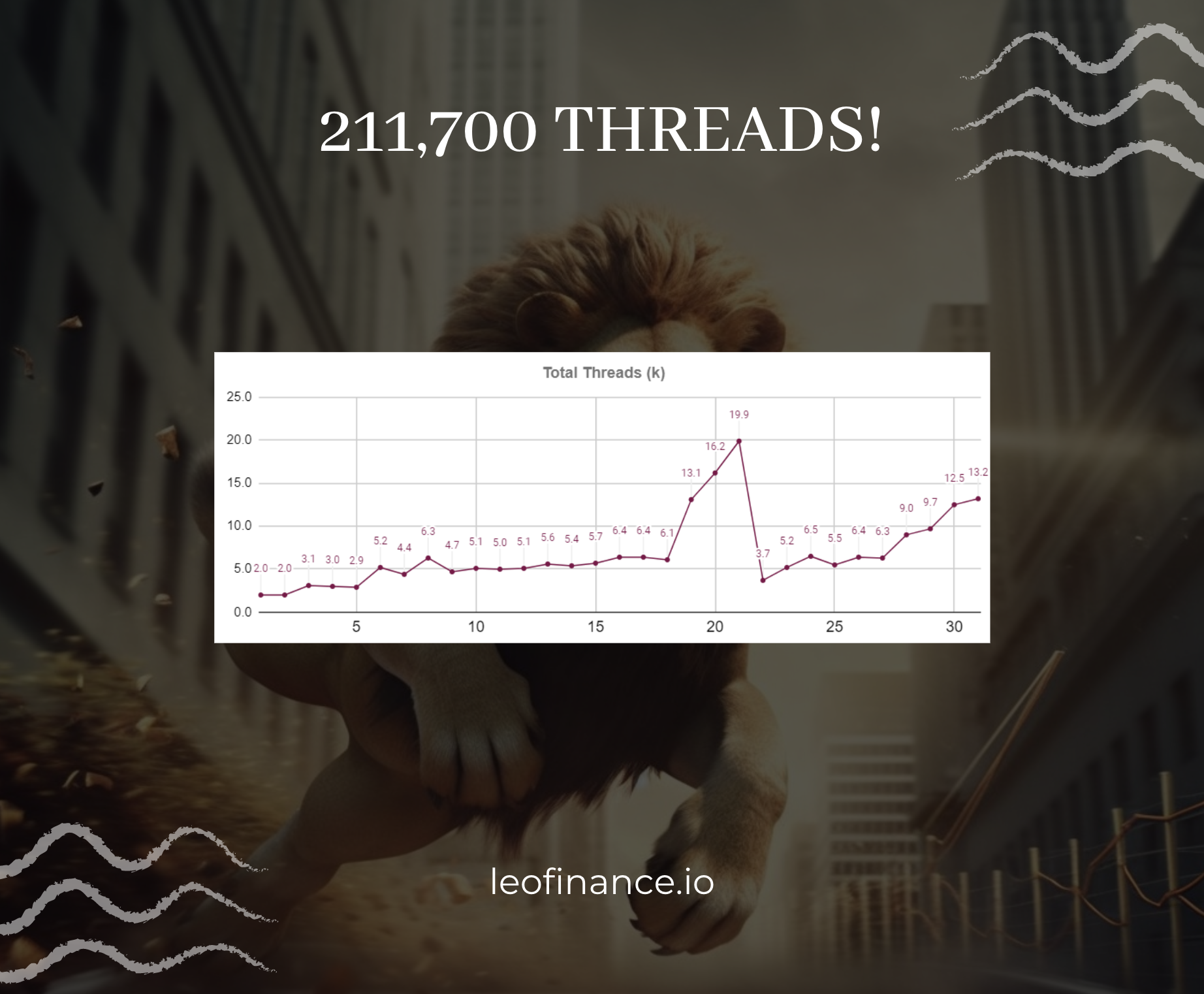 In the month of May, we posted 211,700 threads from leofinance.io! That's absolutely insane.
You can see a few huge spike days coinciding with a part of the Zealy campaign on May 22nd.
Outside of that though, you can see a really steady upward trendline. We're seeing a lot of growth in activity on Threads.
Recently, we pushed a massive update to the Notifications page. We made it 10x better.
Today, we pushed another update for "Live Notifications" so that you can use other parts of the UI and get alerted right when someone engages with you, then you can even more easily engage back.
All of these changes + our work on the marketing / growth front have led to a fantastic upward trend in overall engagement. We're going to keep pushing on both of these fronts and look for new heights in KPIs next month.
June
In June, we're looking to crush our KPIs and reach new all-time highs. To recap:
1289 MAUs
1184 MATs
211,700 Threads
369 Article Creators
259 Article Commenters
As we progress through June, let's keep these KPIs in mind and look for ways to push to new heights. As a user & LEO POWER holder, what can you do in the community to push these metrics?
KPIs are an incredibly important snapshot to see where we're at and where we're headed. With the new LeoAds model on the horizon, it's important to consider all of the ways we can increase traffic, increase engagement, time on site, content created, content shared, etc.
As we push these metrics, a very REAL effect can be felt in the LEO Price. That's an awesome thing to see.
Our next report will talk about the Tokenomics on LEO. These recently got a massive revamp on May 1st and the effects are being seen. Daily LEO Token inflation dropped from 25-30k all the way down to 5,500-6k.
Also implemented were higher @leoburn activity, @leo.bounties buying over 10k LEO per day on the market to pay delegators and LeoAds about to launch.
Strap in frens.

About LeoFinance
LeoFinance is a blockchain-based Web3 community that builds innovative applications on the Hive, BSC, ETH and Polygon blockchains. Our flagship application: LeoFinance.io allows users and creators to engage & share micro and long-form content on the blockchain while earning cryptocurrency rewards.
Our mission is to democratize financial knowledge and access with Web3.
Twitter: https://twitter.com/FinanceLeo
Discord: https://discord.gg/E4jePHe
Whitepaper: https://whitepaper.leofinance.io
Our Hive Applications
Join Web3: https://leofinance.io/
Microblog on Hive: https://leofinance.io/threads
Delegate HIVE POWER: Earn 16% APR, Paid Daily. Currently @ 2.8M HP
Hivestats: https://hivestats.io
LeoDex: https://leodex.io
LeoFi: https://leofi.io
BSC HBD (bHBD): https://wleo.io/hbd-bsc/
BSC HIVE (bHIVE): https://wleo.io/hive-bsc/
Earn 50%+ APR on HIVE/HBD: https://cubdefi.com/farms
Web3 & DeFi
Web3 is about more than social media. It encompasses a personal revolution in financial awareness and data ownership. We've merged the two with our Social Apps and our DeFi Apps:
CubFinance (BSC): https://cubdefi.com
PolyCUB (Polygon): https://polycub.com
Multi-Token Bridge (Bridge HIVE, HBD, LEO): https://wleo.io
Posted Using LeoFinance Alpha
---
---