LeoMobile is Now Live on IOS! | A Fast, Seamless and Intuitive Web3 Experience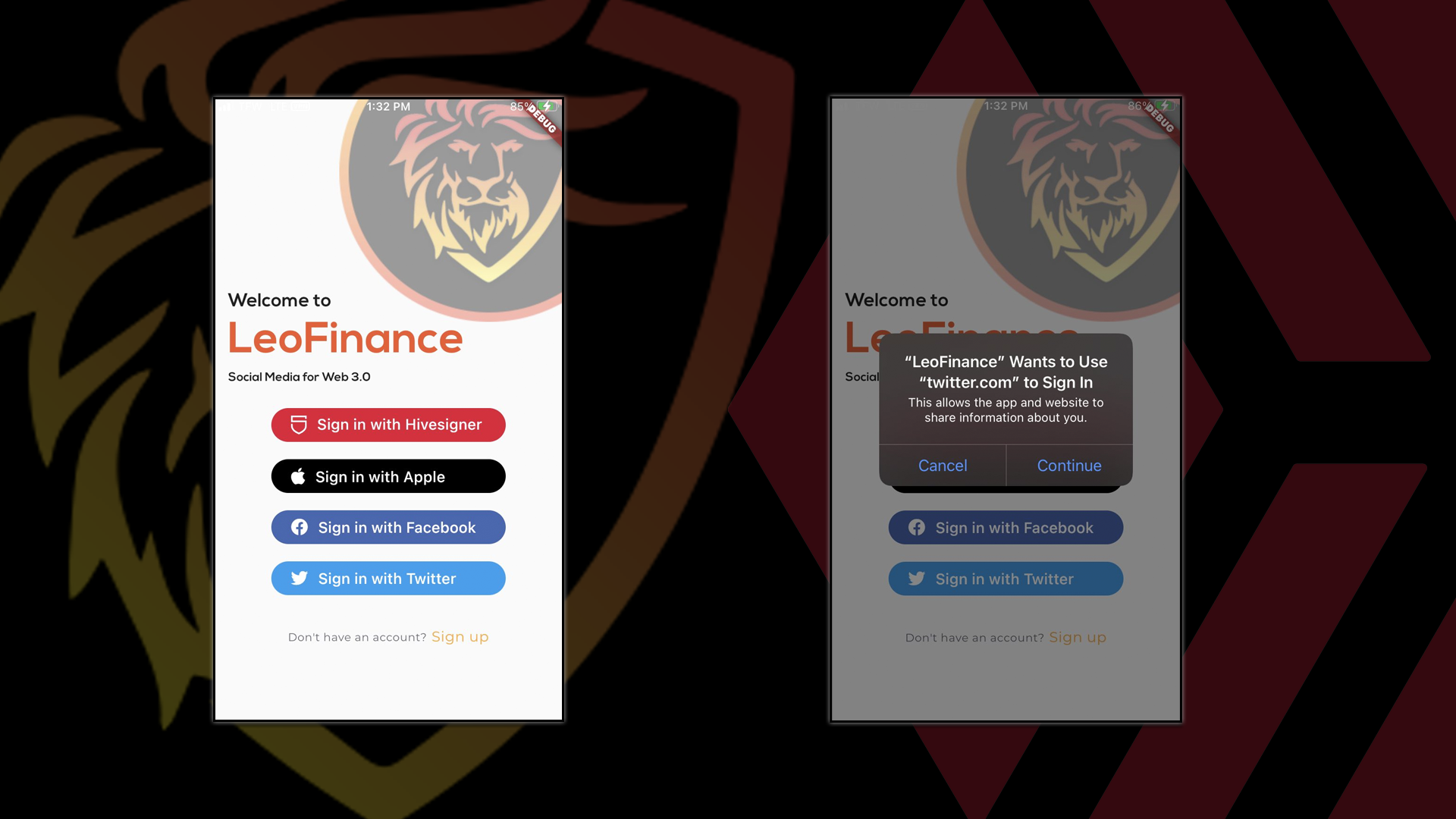 It's been a long-time in the making but LeoFinance's LeoMobile App for the Hive blockchain is now available for early-stage Open Beta testing on IOS devices via Testflight.
LeoMobile: A Journey
LeoMobile has been quite the battle to get rolled out. We anticipated our original release to be somewhere in the September timeframe. Due to a wide-range of technical issues, we pushed that back about 30 days.
After the initial 30 day delay, we finally deployed a build for IOS - at the time, the roadmap was to release IOS first and then build Android later.
After submitting our build to Apple, we got approved for Testflight. We released a post announcing that LeoMobile IOS would be available for testing that week!
Then, Apple decided to push the app to "Under Review" status. We discovered that their automated servers picked up two versions of the app:
The original LeoMobile that we built for internal testing
The new LeoMobile that we built for Open Beta
The Apple Store does not like the idea of two "duplicate" apps being deployed... even if they're deployed by the same team.
After months of battling with Apple to have them understand that we are in fact the owner of both applications, we finally got-re-approved for Testflight this week!
What We've Been Buidling in the Meantime
LeoFinance is always in relentless pursuit of evolution and improvement. The conversations and back-and-forth that we endured with Apple were ongoing but never ate up much of our actual time. More so just replying to emails and phone calls every few days trying to escalate the issue and explain the situation.
In the meantime, we continued our rapid development on LeoMobile. We decided to quickly pivot right after the testflight take-down and build and deploy the Android version of the app.
Many of you have already been using LeoMobile on Android via the Google Play Store. It was actually quite easy to get LeoMobile deployed on Android!
LeoLighting: Building for the Future
Lightning has been integrated into LeoMobile and it took a radical reworking of the existing mobile app framework that we acquired from another Hive-based team that is no longer active.
This reworking was a tedious, multi-month process but eventually led to the climax of us needing to integrate the LeoLightning DB Infrastructure.
The infrastructure was originally built to service LeoFinance.io. It acts as a second-layer caching application on top of Hive. It interfaces directly between users and the Hive blockchain... allowing our website to be nearly 10x faster than it was without Lightning because it loads data to/from this layer as opposed to calling the chain and waiting 3 seconds.
LeoMobile required a major upgrade to LeoLightning. This process was extremely difficult but the result is truly incredible: all of the time and resources spent making Lightning compatible and dramatically better for LeoMobile resulted in a scalable platform from which we can take LeoFinance into the Web3 Revolution.
More on this story and others to come. 2021 has been a hell of a year working on our backend for LeoFinance, LeoMobile, Lightning DB, LeoInfra, CubFinance and PolyCUB. So excited to see what our team has been able to accomplish as we get closer than ever to the culmination of all these major developments.
LeoInfra V3
After our successful overhaul to LeoLightning DB, we turned our focus to LeoInfra.
LeoInfra V3 features a wide-range of improvements that we intend to dive deeply into in what will likely be a series of posts about our hardcore developments these past few months.
Facebook Lite Accounts (One-Click Signup and Sign In to Hive)
Twitter Lite Accounts (One-Click Signup and Sign In to Hive)
Facebook and Twitter are going to make it so easy to login to LeoMobile. This is one of the cornerstones of our vision for Web3.
As I said in one of the AMAs a few weeks ago: we want you to be able to sit at dinner and tell someone about how you use Web3 on LeoMobile. We want you to be able to share a quick link with them and we want them to be able to easily click that link and be signed-up and signed-in to LeoFinance and Hive in a matter of seconds.
One-Click, Easy Signups. All on the Hive Blockchain. That's Web3.
What to Do Now!
This was just a quick backstory on our journey since July with this mobile app. It's been a truly wild but incredible ride to get to this point. Shawn has really spearheaded a lot of this and we all have him to thank for getting us to this point. The team overall has learned a lot through all of our developments and expansion this year and I think 2022 is being set up for an even more explosive growth period than 2021 for LeoFinance and all of our projects.
Now that LeoMobile is available in Open Beta on both Android AND IOS.... get out there and download it!!!
We need rapid feedback and reporting. As of right now, we ask that if you find any bugs, please head over to the LeoFinance Discord channel, click #Tech-Support and open a ticket. Explain the bug and provide any information/screenshots you think will help us with solving the issue.
In the near future, we're going to deploy a separate ticketing system for inputting bug reports. Stay tuned for that but please use #tech-support in the meantime.
NOTE: We're still considering this Open Beta for LeoMobile. We've worked out a lot of bugs (especially since the Android version has been out for some time now) but there are bound to be more. Especially as we release all of the killer features we've been working on while we awaited approval.
Features and updates to the App are going to be released regularly. The more that our community tests and uses the app, the faster and more impactful each of our updates will be. Thank you for your support and patience with our developments 🦁
How to Download the App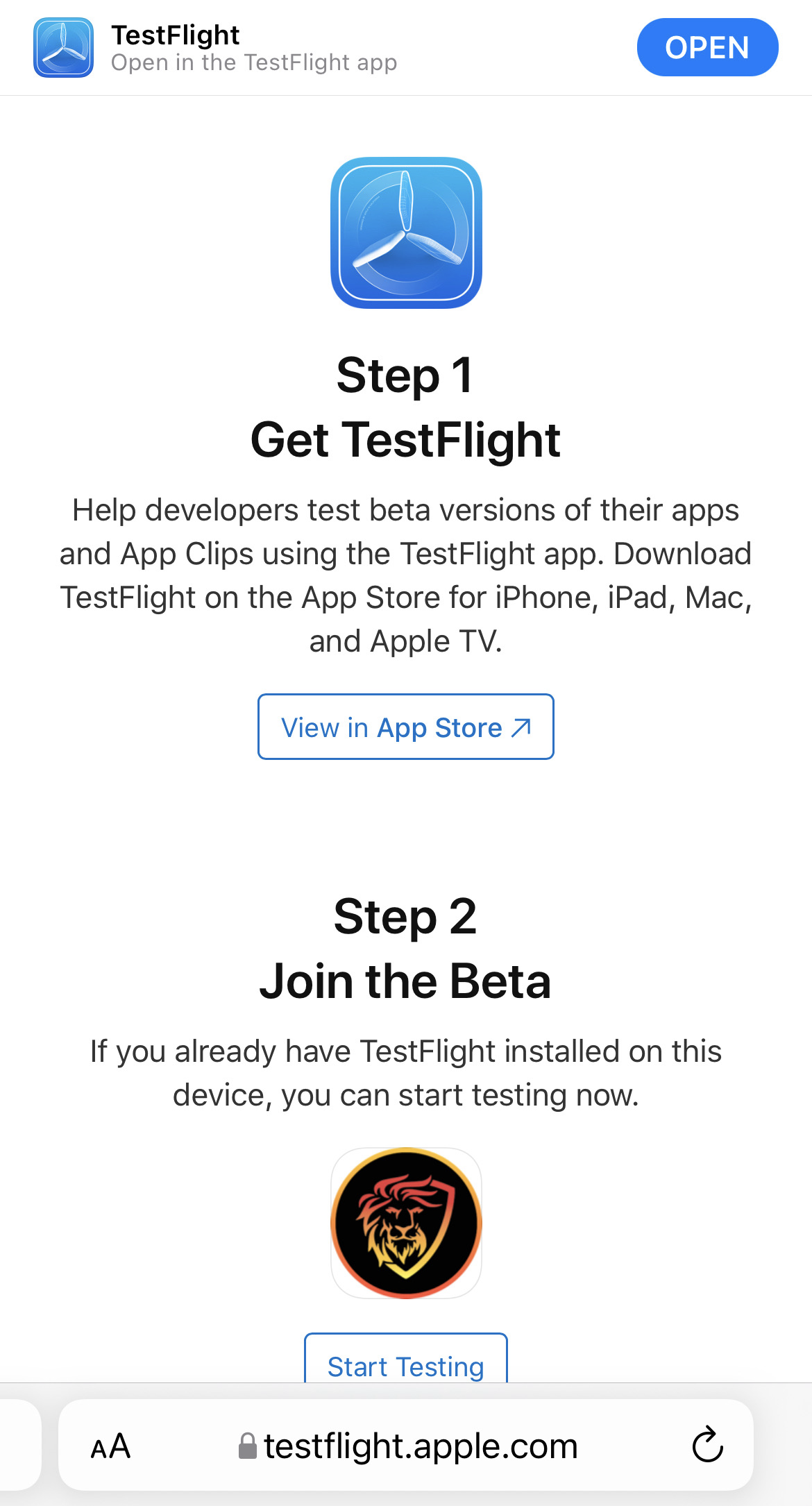 *Note: if you've never used Testflight before, you'll be sent to download Testflight (an Apple Product) before being able to hit "Start Testing" from the link. Download Testflight first and then go back to the link to start testing LeoFinance Mobile.
2). Click "Accept" and then hit "Install"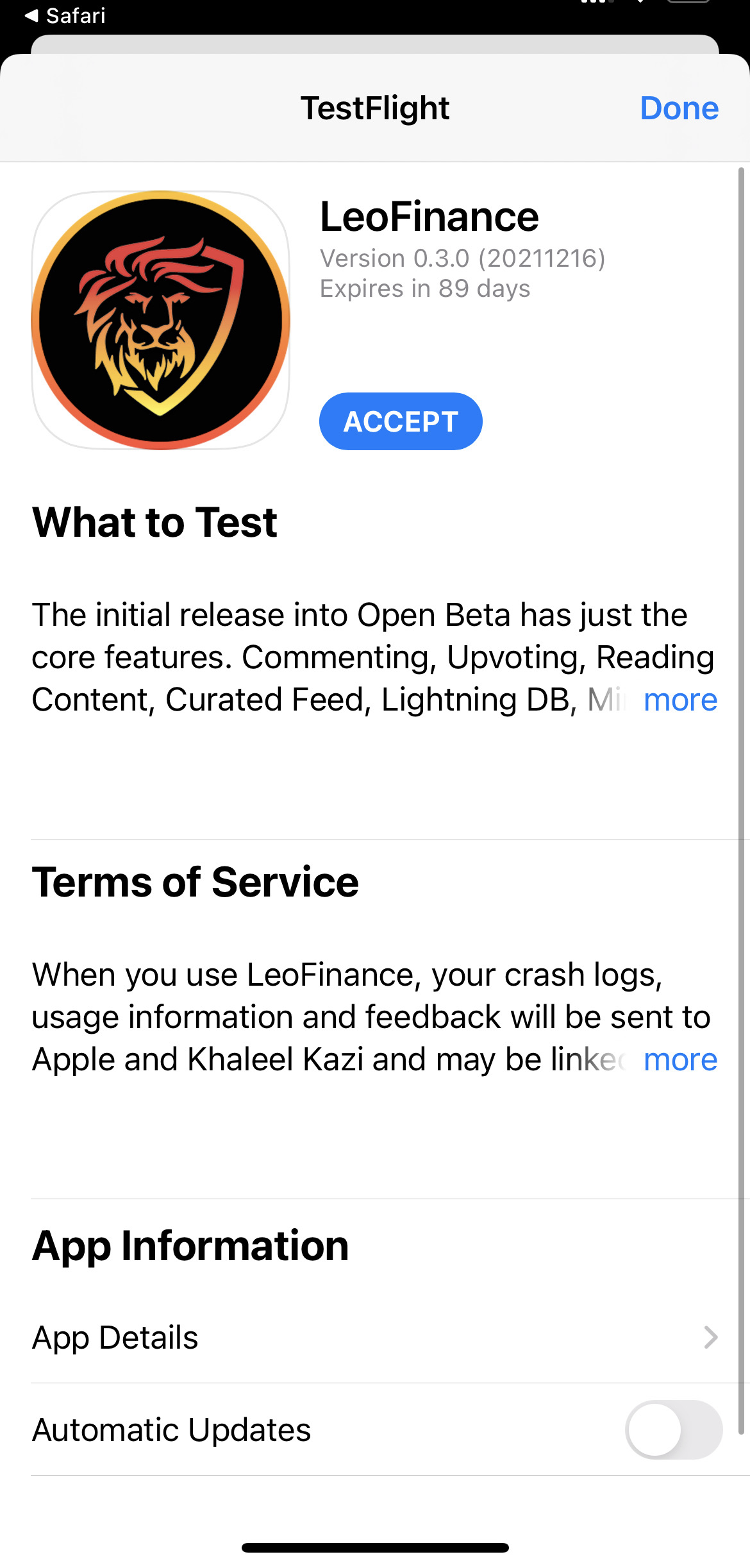 3). Sign in With Hivesigner!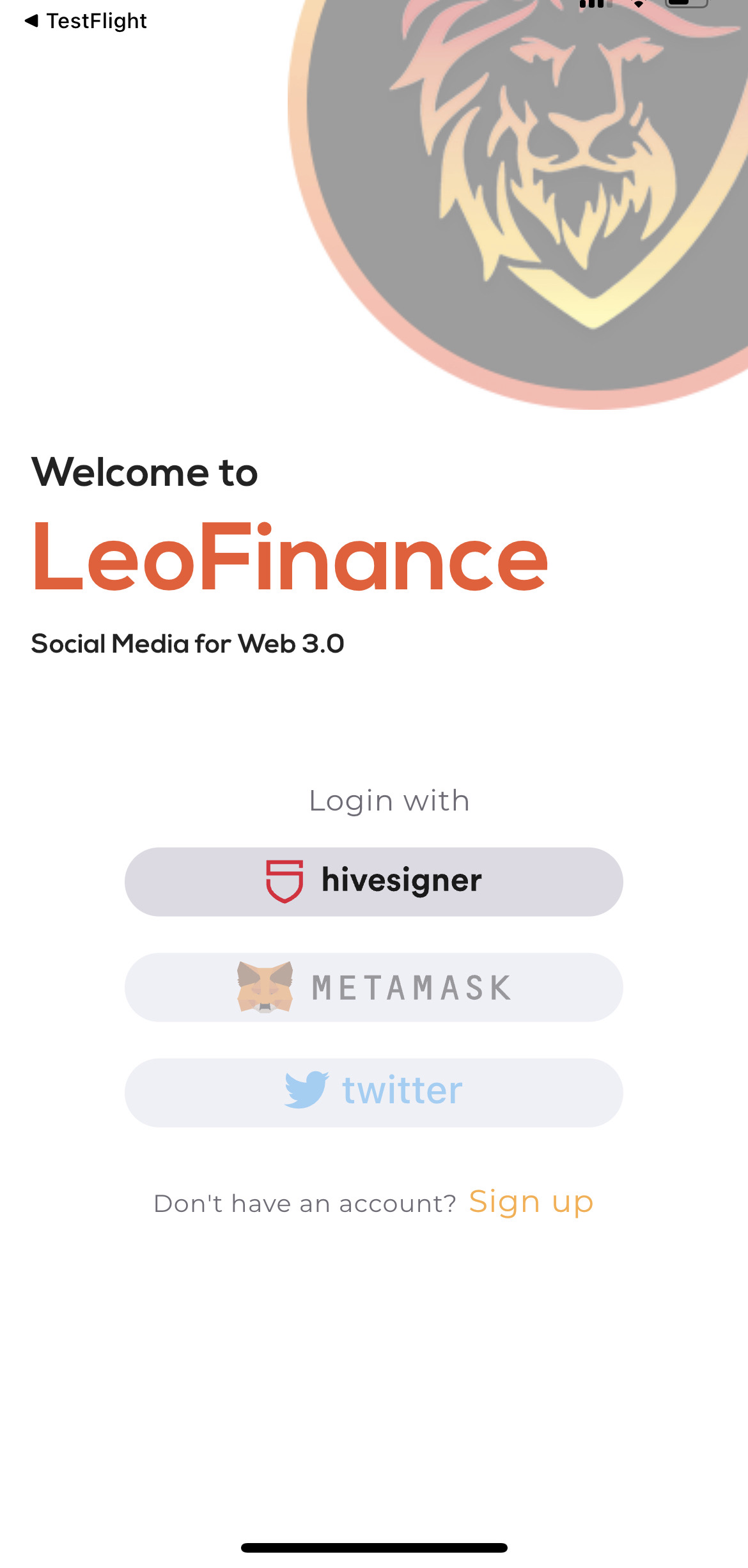 LeoInfra V3 is ready and we've been doing private beta tests on it. When it goes live, you'll be able to sign up and sign in via Twitter and Facebook.
For now, we have LeoInfra V2 integrated with a limitation on Metamask and Twitter sign-ins.
Since this is still the early stage of the Open Beta, we assume you'll be signing in to an existing Hive account anyways.
Our current timeline for LeoInfra V3 integration is to release it before Christmas. We're trying our best to hit this deadline. Stay tuned to your Khalendars!
4). Test and Give Feedback In Discord!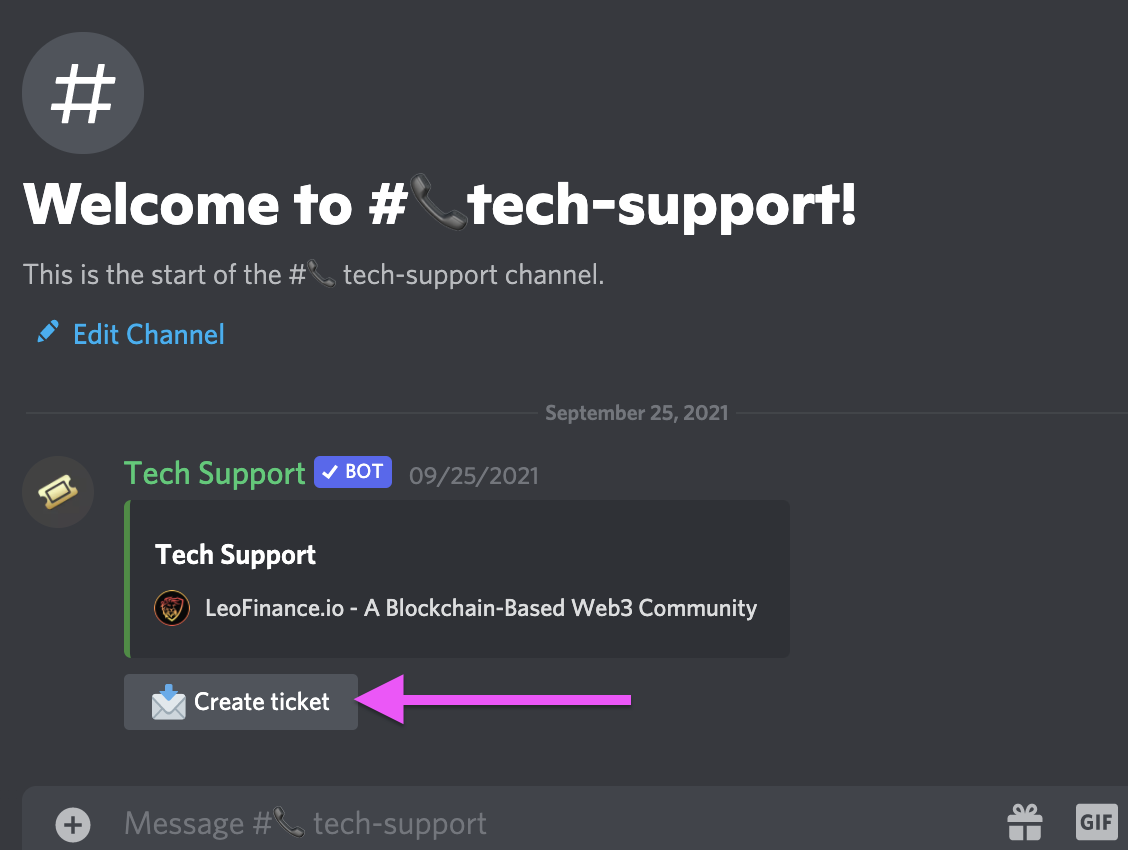 Once you've got the app, please test every feature of it and if you discover any bugs or want to give general feedback, head over to the LeoFinance discord channel labeled "Tech-Support" and open a new ticket to give feedback.

LeoFinance is a blockchain-based social media community that builds innovative applications on the Hive, BSC and ETH blockchains. Our flagship application: LeoFinance.io allows users and creators to engage and share content on the blockchain while earning cryptocurrency rewards.
Earn a 16% APR on HIVE POWER and Support LeoInfra's Onboarding Efforts by Delegating HP to @leo.voter (Currently at 2M HP). We Use this to Claim Accounts and Delegate RCs to Newly Onboarded Users + Daily LEO Payouts to Delegators
Posted Using LeoFinance Beta
---
---