Introducing Polls on Threads | Decentralized Voting Directly on Hive Using Custom JSONs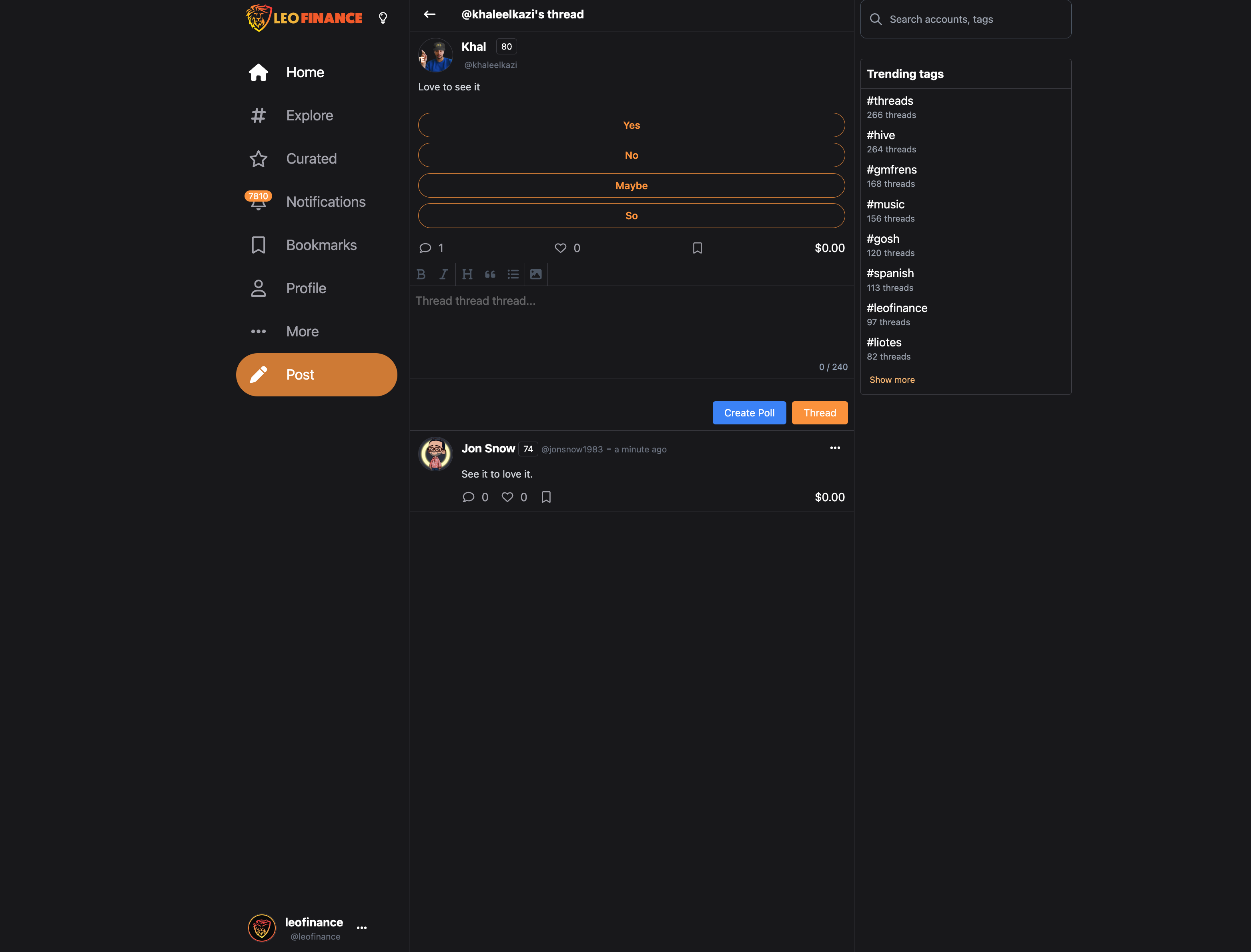 This piece of technology is one of the updates that our whole team and community have been most excited for when it comes to Threads. It's something that many people didn't see coming, but it's truly amazing when you see it in action.
Hive is a truly incredible blockchain. It allows for the creation and deployment of technologies that are only dreams on other chains where high gas fees, slow block times and other lacking features hinder innovation.
Hive is the only chain for Web3 that is relevant right now in terms of social applications. This chief among the reasons why we built Project Blank - https://alpha.leofinance.io - using Hive technology and will continue to innovate with the amazing base layer tech that Hive provides us.
Introducing Polls on Threads | Decentralized Voting Directly on Hive Using Custom JSONs
Polls are something that Twitter does astonishingly well. We've seen all sorts of Polls launched on Twitter. Elon Musk famously has run polls with over 17,000,000 votes cast.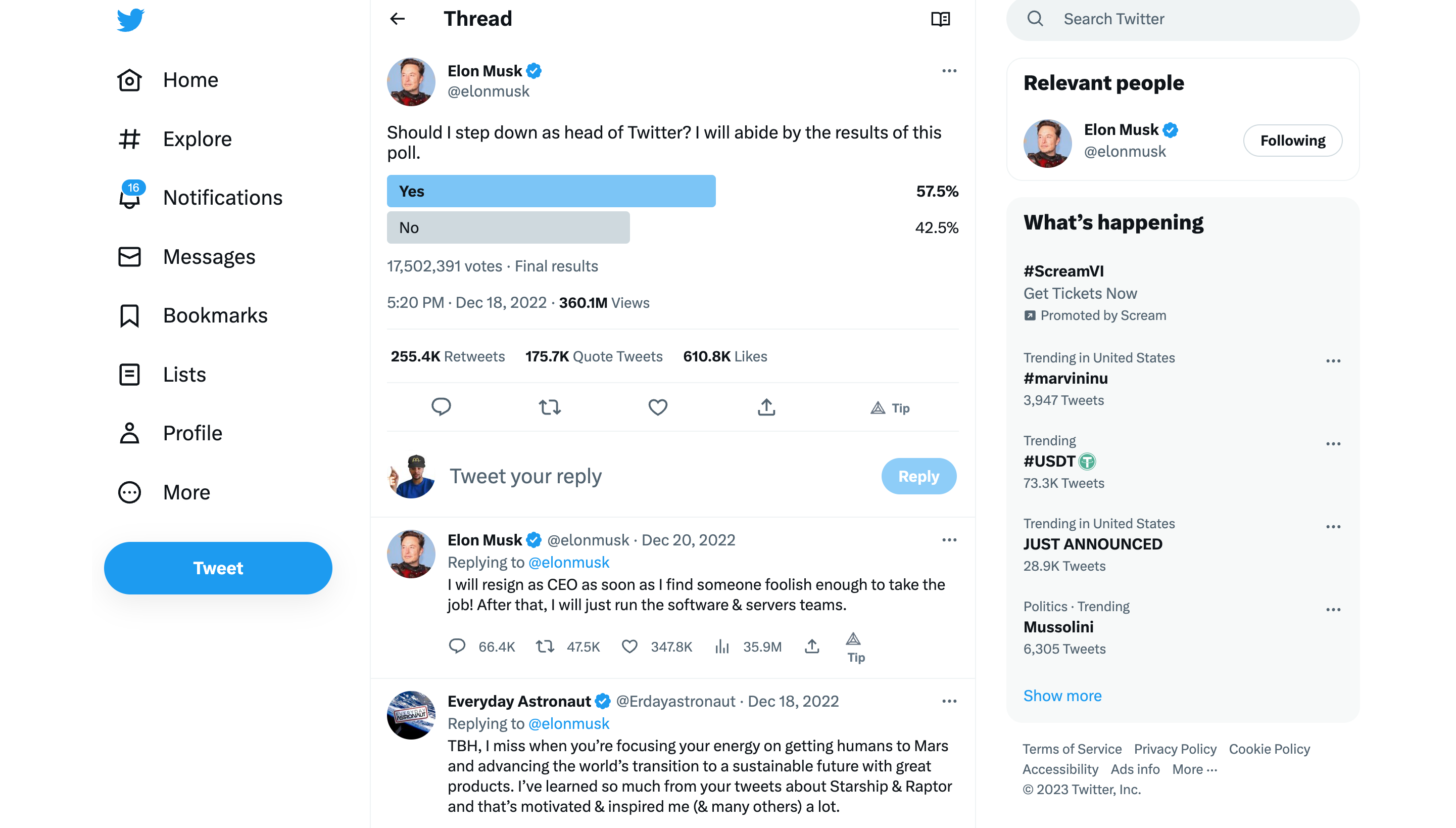 One of my visions for Hive - that I think many other projects and HIVE investors believe in - is that HIVE as an asset will be utilized for Resource Credits primarily. When dApps start to reach critical mass adoption, there will be a war for RCs and this war will lead to the accumulation of HIVE POWER by dApps who are building successfully.
Right now, RCs are relatively cheap. That won't always be the case. In the future, I believe dozens of dApps will reach critical mass adoption and at scale, will cause RCs to be expensive. The average user will need to borrow RCs from dApps and dApps will need to own HIVE POWER in order to lend them out in RC Pools.
Right now, Threads have already changed the game. There are so many TXs that Threads are facilitating on a daily basis.
Threads are actually contributing over 10% of the total comments made on the entire Hive blockchain every single month as of right now.
This % of Threads dominance on Hive comments continues to grow. Our aim is to keep scaling up as our userbase grows from 500 MAUs in January to 1,050 MAUs as of February and to over 5,000 by the end of this year.
With Polls, Threads will not only contribute comments to the Hive ecosystem, now we'll start storing Custom JSONs - much like Splinterlands does.
Custom JSONs
When you vote on a poll, you are casting a CUSTOM JSON directly on the Hive blockchain. This CUSTOM JSON is then read by LeoFinance's LeoInfra Backend and then displays the results of a Poll directly on the UI.
It takes roughly 5-6 seconds for a vote to be cast and then the results to be displayed on the UI. We've added some cool features for loading so that you do not need to refresh the page. It's quite fun and you can thank @anomadsoul for the idea of adding tooltips to the loading process.
The important part is that when you dig into the data on-chain, you can see the results. Immutably, transparently and without manipulation.
We could have built Polls in 1/10th of the time by doing it the way Twitter does it - with a centralized server simply collecting data and feeding it to the UI.
Instead, we built an oracle that reads the JSONs on the Hive blockchain and then tells the UI the results.
Decentralized Voting
Ever since I got into crypto - almost 8 years ago - I had a vision of blockchain voting. I believed that one day, all voting would be done on a blockchain. Government voting, corporate voting, shareholder voting... even down to local village voting and all sorts of cool things.
Imagine in school that you even vote for your class president on a blockchain.
This means that votes are all decentralized, immutable and you also can have the results and voting procedures in real-time and on mobile devices.
Polls Solves This
Polls are beautifully integrated into the experience of https://alpha.leofinance.io. They work very similarly to our Web2 frens on the frontend, but feel free to dive into your hiveblocks page after you vote a poll and take a look at the magic on the backend.
Decentralized. Autonomous. Scalable. Fast. Immutable. Tamper-proof.
How to Use Polls
How to Launch a Poll
Launching a Poll is super easy. Just head to https://alpha.leofinance.io and then click the "Poll" icon in the "Create a Thread" window at the top of the screen.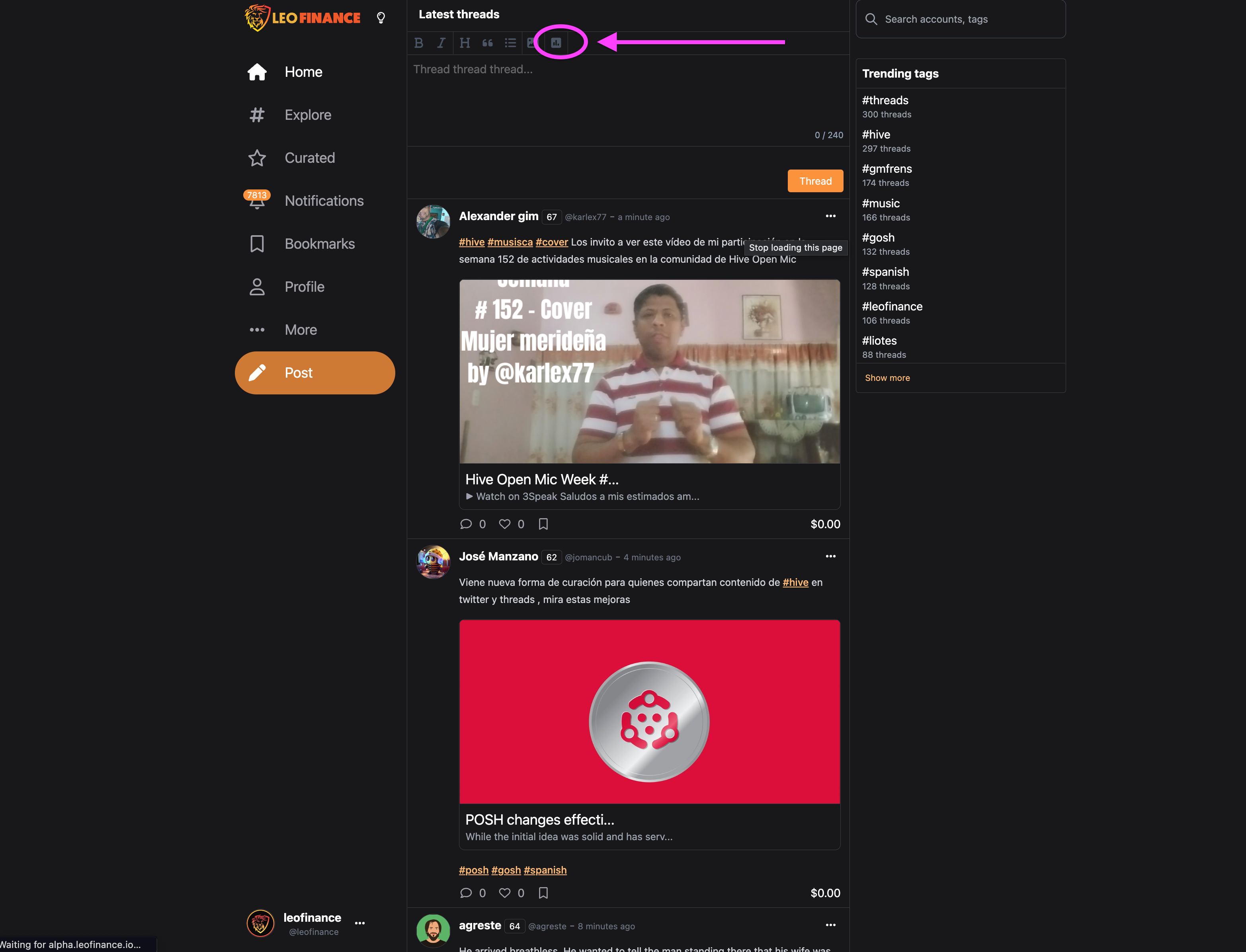 Once you do that, you'll see a pop-up with 4 entry fields. You can enter anywhere from 2-4 options here.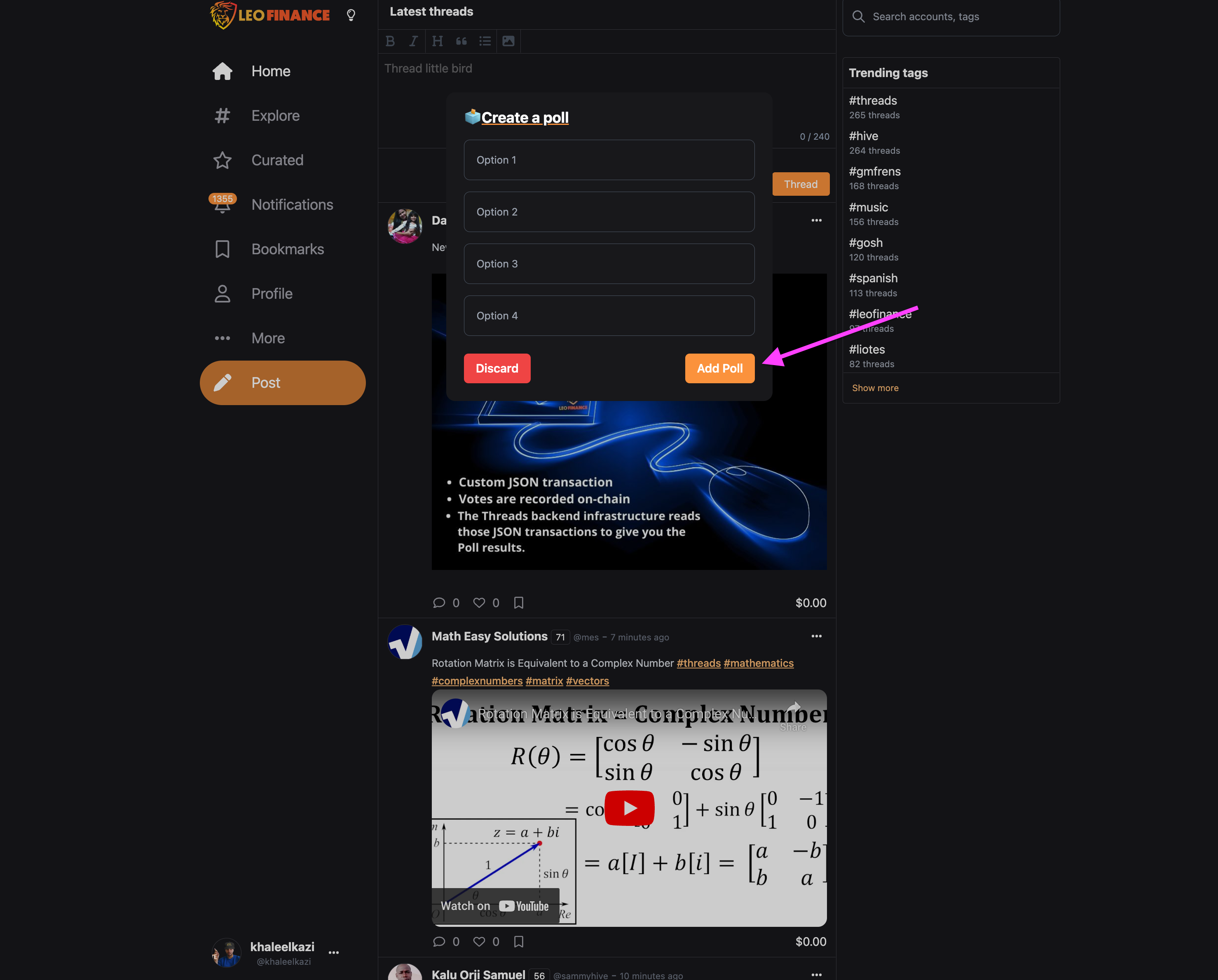 After you're done with the options, hit "Add Poll". Then just click the "Thread" button to post the Thread.
All done! Now you can start watching the results roll in.
Pro tip: bookmark the Thread so that you can quickly and easily find it in the /bookmarks menu on the sidebar!
How to Vote on a Poll
To Vote on a Poll, just click the option you want to vote for! It's literally that easy.
If you're logged in with Hive Keychain, a little Keychain pop-up will appear that will ask you to confirm the CUSTOM JSON TX. This is all on-chain, remember? Vote wisely, fren!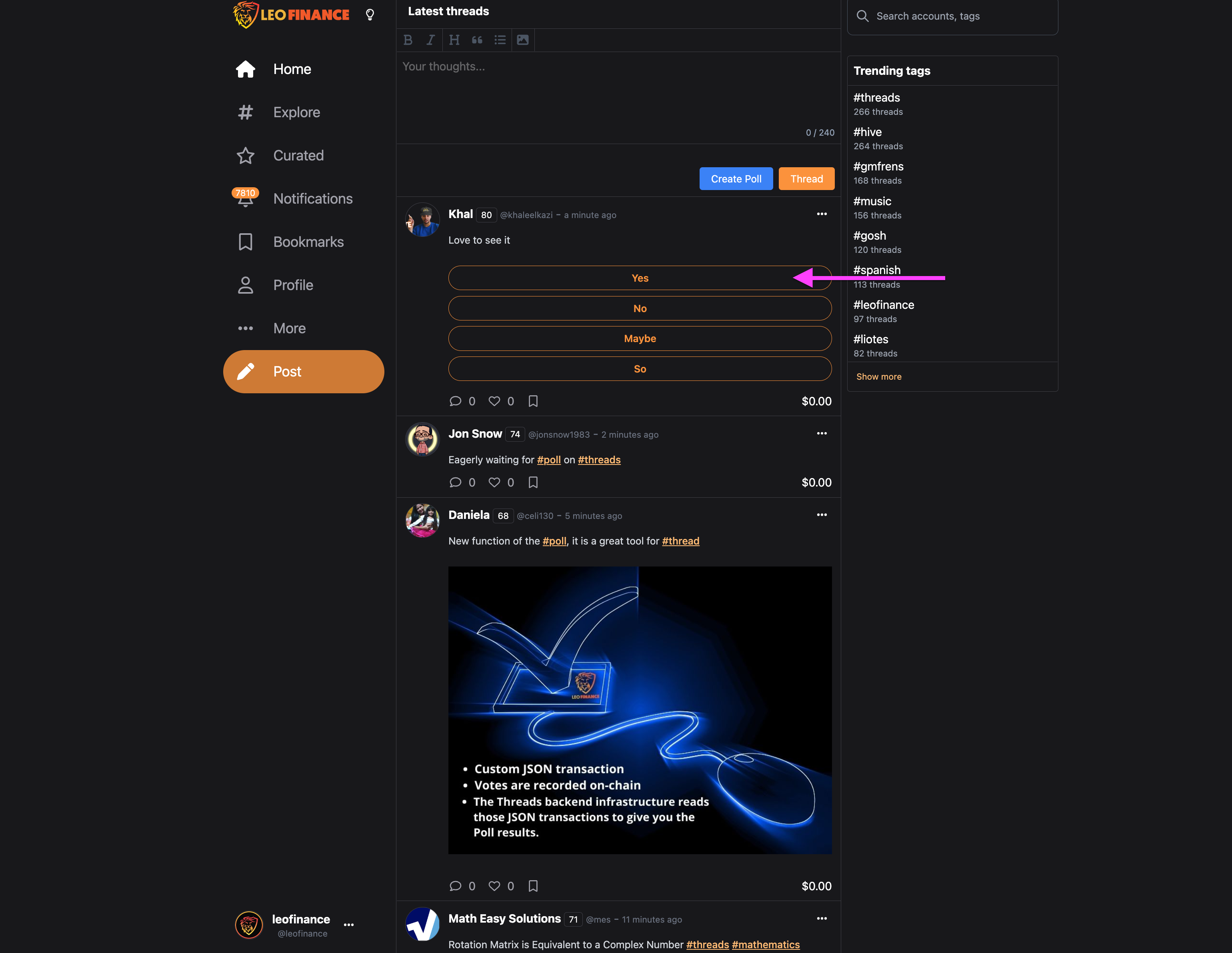 Keep in mind, it does take about 5-6 seconds for LeoInfra to send your JSON to the Hive blockchain and then read it back to the UI. The UI will auto-reload the data for you (no need to reload the page).
While it's reloading, you'll see some fun tooltips we created ;)
The Everything App
We're aiming to turn LEO into The Everything App for Hive
Want to blog? LEO
Want to read long-form? LEO
Want to microblog? LEO
Want decentralized "tik tok"? LEO
Want to run decentralized Polls? LEO
Want to do DeFi? LEO
... you get the picture
Polls are an essential step in our path to building The Everything App.
All value feeds back to the LEO token. We have a lot of cool news on that front as well. We'll let you digest Polls and then hit you with some more love. 🦁

About LeoFinance
LeoFinance is a blockchain-based Web3 community that builds innovative applications on the Hive, BSC, ETH and Polygon blockchains. Our flagship application: LeoFinance.io allows users and creators to engage & share micro and long-form content on the blockchain while earning cryptocurrency rewards.
Our mission is to democratize financial knowledge and access with Web3.
Twitter: https://twitter.com/FinanceLeo
Discord: https://discord.gg/E4jePHe
Whitepaper: https://whitepaper.leofinance.io
Our Hive Applications
Join Web3: https://leofinance.io/
Microblog on Hive: https://leofinance.io/threads
LeoMobile (IOS): https://testflight.apple.com/join/cskYPK1a
LeoMobile (Android): https://play.google.com/store/apps/details?id=io.leofi.mobile
Delegate HIVE POWER: Earn 16% APR, Paid Daily. Currently @ 2.8M HP
Hivestats: https://hivestats.io
LeoDex: https://leodex.io
LeoFi: https://leofi.io
BSC HBD (bHBD): https://wleo.io/hbd-bsc/
BSC HIVE (bHIVE): https://wleo.io/hive-bsc/
Earn 50%+ APR on HIVE/HBD: https://cubdefi.com/farms
Web3 & DeFi
Web3 is about more than social media. It encompasses a personal revolution in financial awareness and data ownership. We've merged the two with our Social Apps and our DeFi Apps:
CubFinance (BSC): https://cubdefi.com
PolyCUB (Polygon): https://polycub.com
Multi-Token Bridge (Bridge HIVE, HBD, LEO): https://wleo.io
Posted Using LeoFinance Alpha
---
---