Introducing Hivestats V3 | Featured Content, New Price Displays, APY Opportunities & HBD Implementation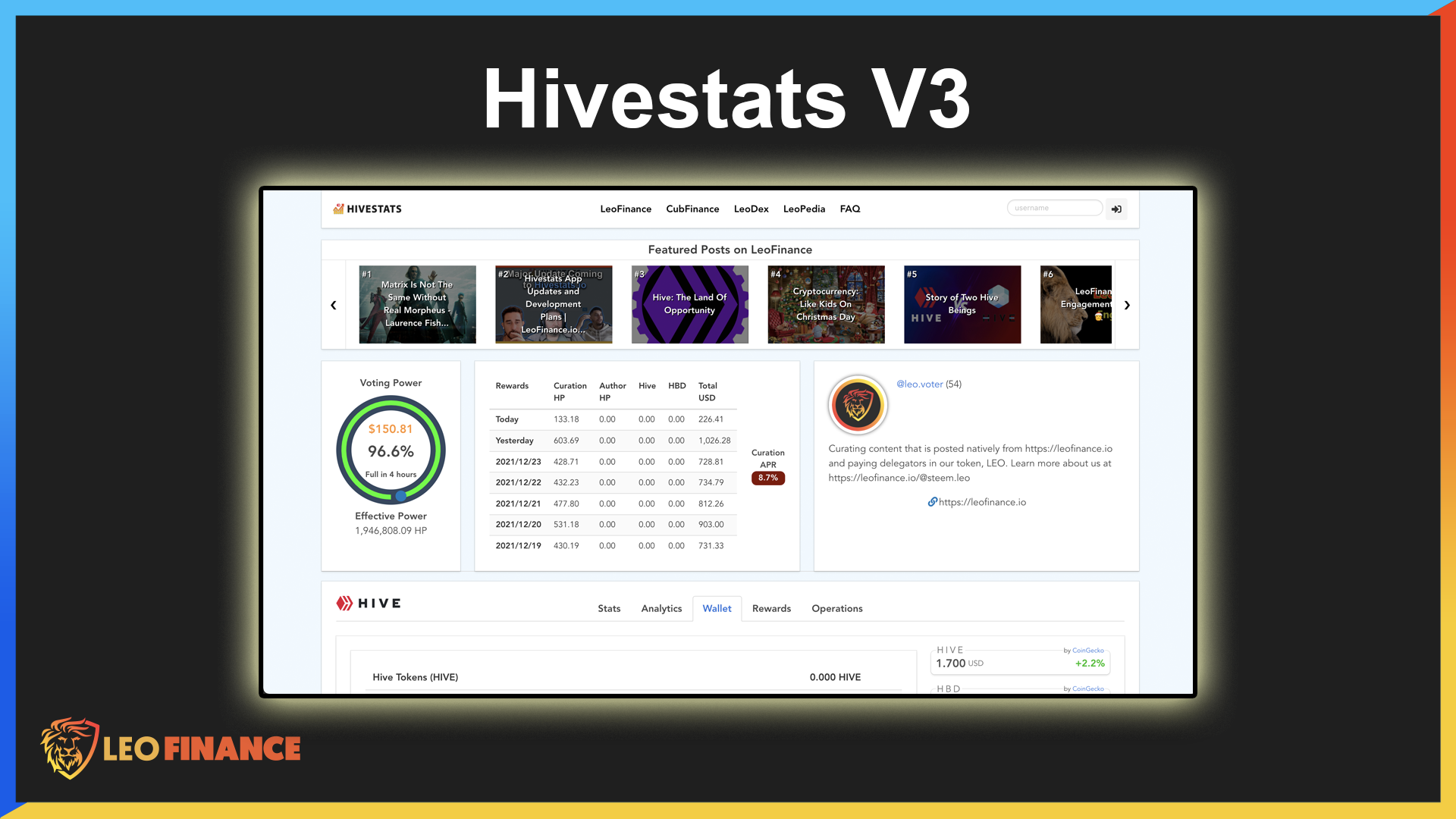 Merry Christmas 🦁 we have a little Christmas surprise planned for the community. We just released Hivestats V3 into production.
With so many incredible app releases and updates coming in 2022, it's a great time to slip in an update to an old app that deserves some much needed attention.
In the latest update we've implemented a number of massive improvements to the backend. Some APIs needed a major round of attention and those have been addressed.
We've also added some Node updates to make the site smoother. A few other backend improvements to reduce the browser load by about 10x, making for a much faster and enjoyable UX with Hivestats.io.
Featured Content
We added a tab at the top to display top content from https://leofinance.io. The mission of Hivestats.io is to service the Hive community and bring deep analytics to everyone on the Hive blockchain. By doing this, we also aim to drive traffic and attention to LeoFinance applications and contnet.
One of the most requested Hivestats features was a module like this. We're really happy with how it turned out.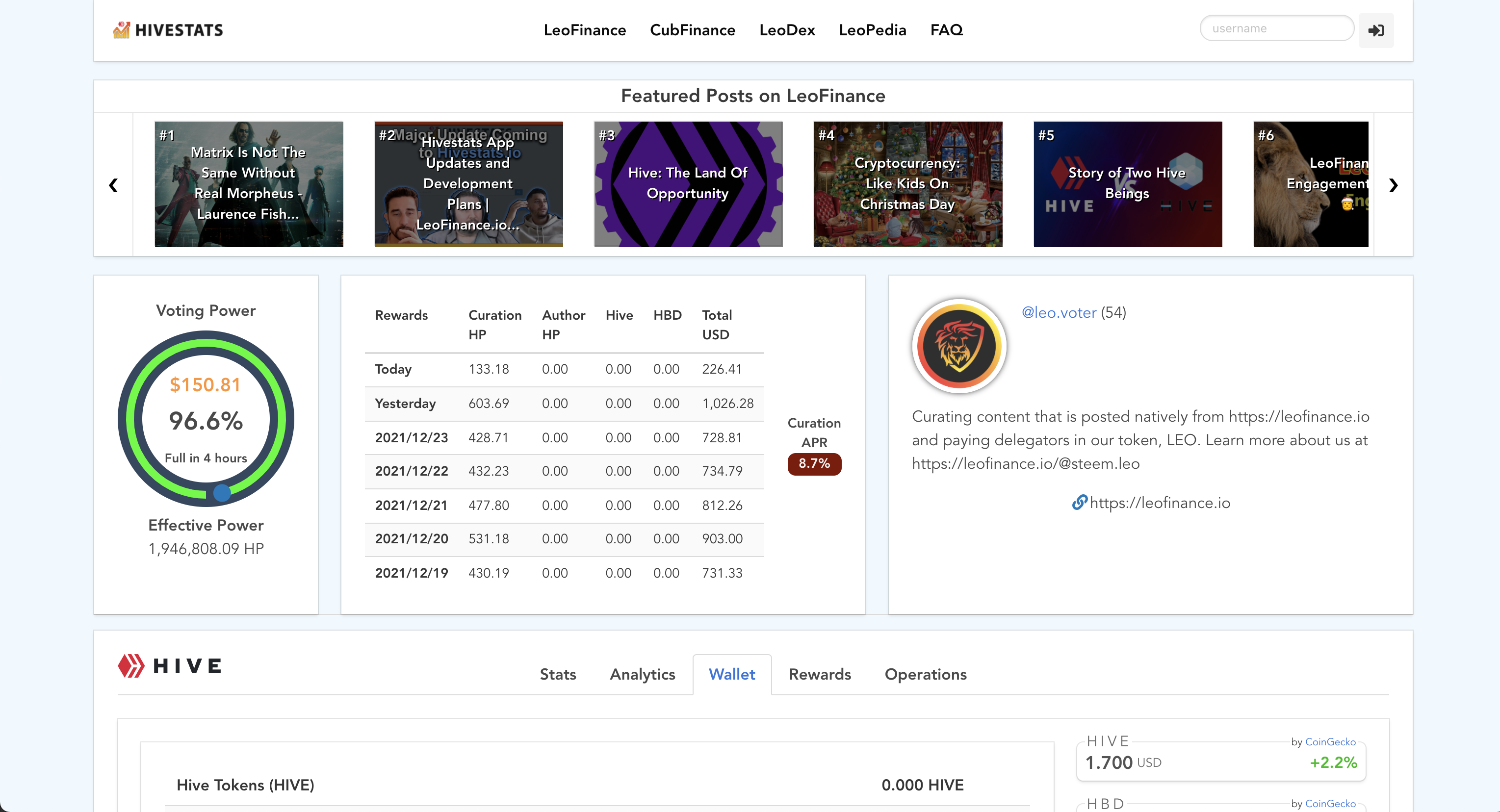 New Wallet and APY Opportunities
In the current release, there are some new wallet displays showing the HIVE, HBD, LEO and CUB prices.
We've also added 2 modules to display the current APY for staking LEO (as blEO-BNB in the https://cubdefi.com/farms vault) and staking CUB (as CUB in the CUB Kingdom).

What's Next for Hivestats?
We wanted to get this initial release of V3 out for Christmas. In the next updates, we'll deploy many of the backend improvements. One of the next major display updates will feature an "Opportunities Tab" for various staking opportunities on the Hive blockchain. Namely, HBD savings which have recently been updated to a 12% APY.
We're adding HBD toggles and displays to the Wallet, Rewards, Analytics and new Opportunities displays to help everyone take advantage of all the new opportunities that are available today and in the future on the Hive blockchain.
What Would You Like to See on Hivestats?
We'll put out a more official post later but if you have any suggestions to improve Hivestats or new feature requests, drop them in the comments below! We'll be prepping the roadmap for Hivestats V4 in the coming weeks.
With our expanded Dev team, we're able to tackle a lot of our existing apps alongside the new apps we're building simultaneously.. as we continue to expand the whole team, the updates will be relentless - as LeoFinance has proven many times over.
We're excited to take the leap into 2022 with many of our DeFi apps, LeoMobile, Hivestats and LeoFinance.io updates. It's going to be a big year!
Merry Christmas 🦁🎄

LeoFinance is a blockchain-based social media community that builds innovative applications on the Hive, BSC and ETH blockchains. Our flagship application: LeoFinance.io allows users and creators to engage and share content on the blockchain while earning cryptocurrency rewards.
Earn a 16% APR on HIVE POWER and Support LeoInfra's Onboarding Efforts by Delegating HP to @leo.voter (Currently at 2M HP). We Use this to Claim Accounts and Delegate RCs to Newly Onboarded Users + Daily LEO Payouts to Delegators
Posted Using LeoFinance Beta
---
---