Hivestats V4 Development Update and Roadmap + Share Your Hivestats Experience Contest Winners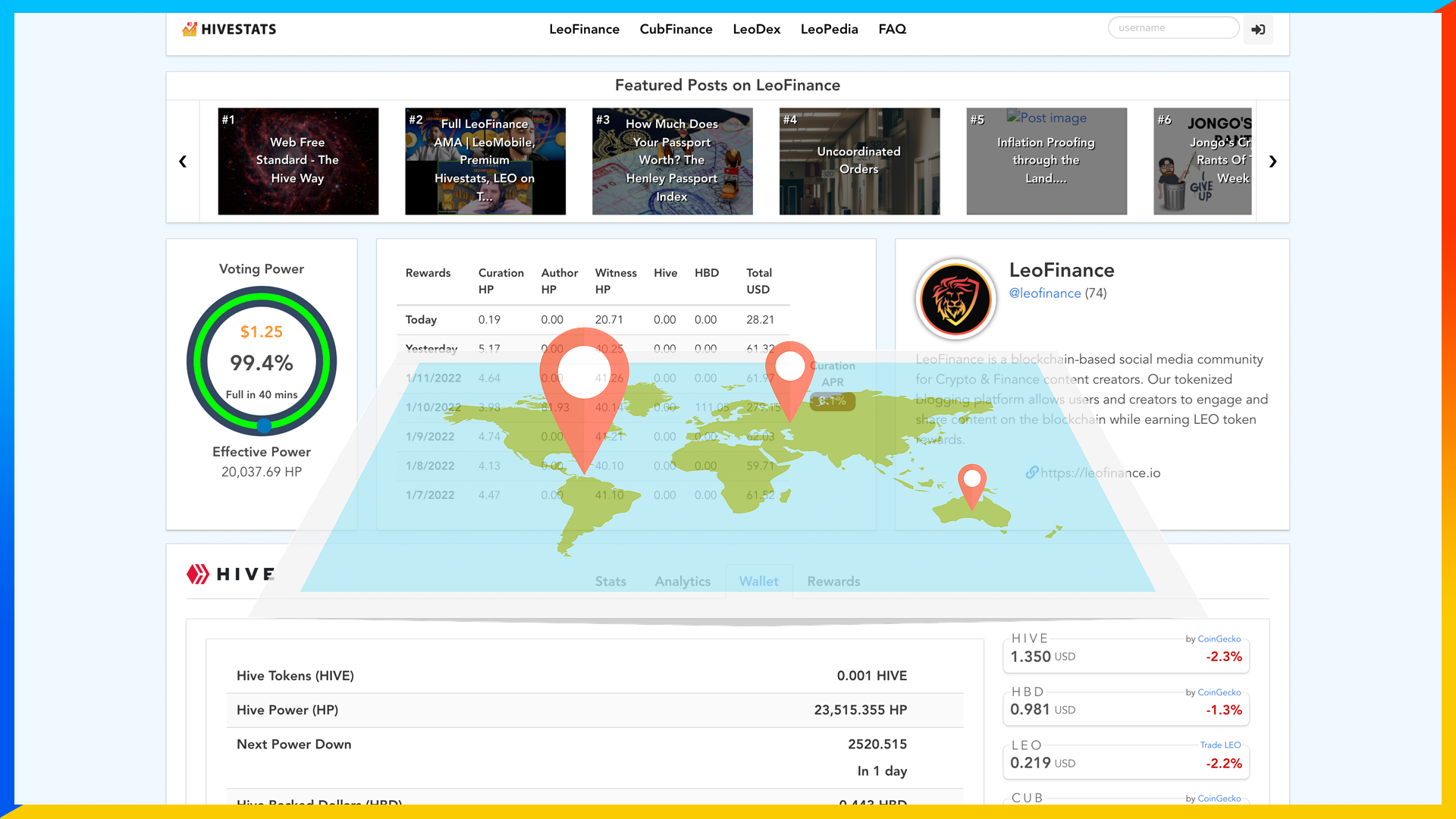 Hivestats V3 is officially in production and the update has brought some great new features to the long-beloved app for Hive Account Analytics.
As is typical for any of our projects: the roadmap for Hivestats is long and contains a lot of exciting features for the long-term vision of Hivestats.
We have plans to make Hivestats one of - if not, the - most useful app on Hive. Something that you'll need to keep open all the time to keep track of your Hive analytics.
Many of the long-time bloggers on Hive - looking at you @taskmaster4450 and @tarazkp - have often called your Hive account a "business".
Your Hive account is a business of sorts. With an ever-expanding list of ways to earn on Hive, you need to keep yourself organized and know the analytics behind your business.
Whether you're a:
Curator
Author
LeoFinance Trader
Splinterlands Player
Hive-Engine Token Trader
HBD Saver
...
.. Hivestats is for you to grow your business, build your earnings and expand your horizons within the Hive ecosystem.
Hivestats V4 Roadmap: A Preliminary Look
Hivestats is getting a complete reworking from the ground up. We're actually rewriting the entire app in a different coding language.
The need for this arises out of the long-term vision for Hivestats.
Right now, Hivestats is a fantastic tool for seeing on-chain analytics about your specific Hive account. The future of Hivestats is to turn it into an essential tool for learning about what's happening to your Hive account in real-time, history and gauge future potential.
The new language will enable us to build the long-term features of Hivestats that will make this a reality. Ideas like a premium membership where LEO is burned monthly to gain access to deeper analytic reports that aren't available on the site currently.
On the most recent AMA, I mentioned this idea: all of the features currently on Hivestats are available free-to-use for all Hivers.
Future features that take your on-chain Hive analytics to the next level like: exchange in-flows and out-flows, HBD optimization rates, extended reports (right now, max is 30 days.. extended would look back over the lifetime of your account), etc.
So with this in mind, the current status of Hivestats development is that we're reworking the whole framework. When you see the new Hivestats, it's going to blow your mind!
V4 Roadmap:
Once the framework is rewritten, we'll be implementing Hivestats V4 features from our roadmap. Here is a preliminary look at what's going to be added in V4. We came up with these features by pulling from the long-term roadmap for Hivestats that we wrote + taking suggestions from you - the community - in your submissions to our Hivestats Engagement Writing Contest.
Rewrite Hivestats Framework and Add Structural Foundations for a Paywall Membership (LEO Burning Mechanism for Advanced Feature Access)
Add Dark Mode
Add "Share Stats" Button
Add More Features to Hive-Engine Tab (i.e. External Link to Beeswap Pools)
Add "Hive Opportunities" Advanced Tab (show opportunities to earn on the Hive blockchain)
Add Account Switcher
Add Account Search Feature and Sort by HIVE POWER
Add Curation Average (an average of other curators on the Hive blockchain to compare your standing against)
Hivestats Engagement Contest Winner!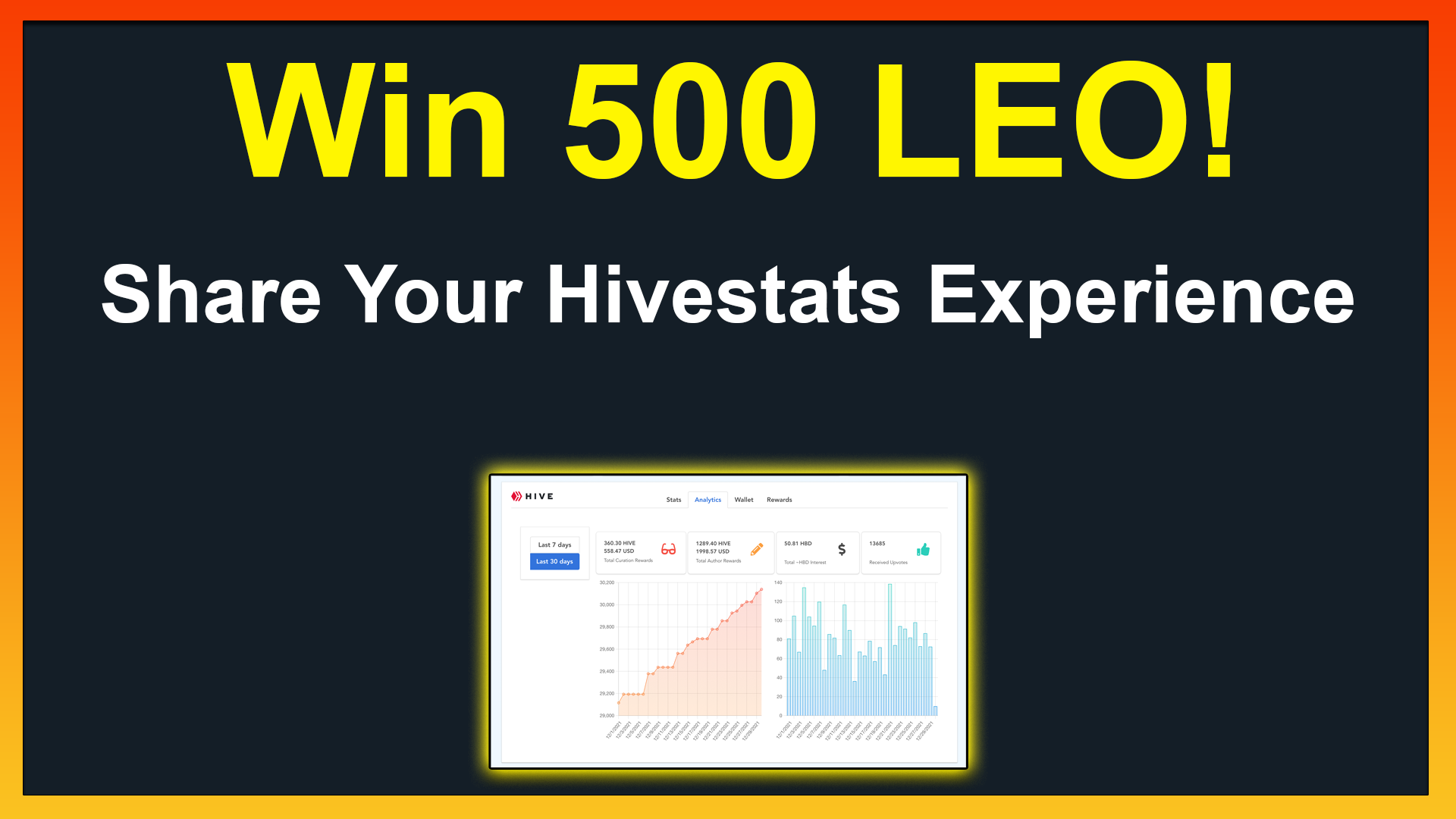 Congratulations to @l337m45732! @l337m45732 shared their Hivestats experience with the whole community and talked about some features they'd like to see in the upcoming versions of Hivestats. You've earned a 500 LEO bounty! 🦁
There were so many great entries to the Hivestats Engagement Contest and entrants received curation from @leo.voter (2,000,000 HIVE POWER). We'll be doing a lot more contests like this, so stay tuned to @leofinance to find more ways to participate and earn within the LeoFinance community.

LeoFinance is a blockchain-based Web3 community that builds innovative applications on the Hive, BSC, ETH and Polygon blockchains. Our flagship application: LeoFinance.io allows users and creators to engage and share content on the blockchain while earning cryptocurrency rewards.
LeoFinance | CubFinance | Hivestats | LeoDex | LeoFi
Delegate HP & Earn 16% APR, Paid Daily. Currently @ 2M HP

Posted Using LeoFinance Beta
---
---