CUB Monthly Burn Report | September 2022 - 317k CUB Bought & Burned, 45% Yield on HBD & HIVE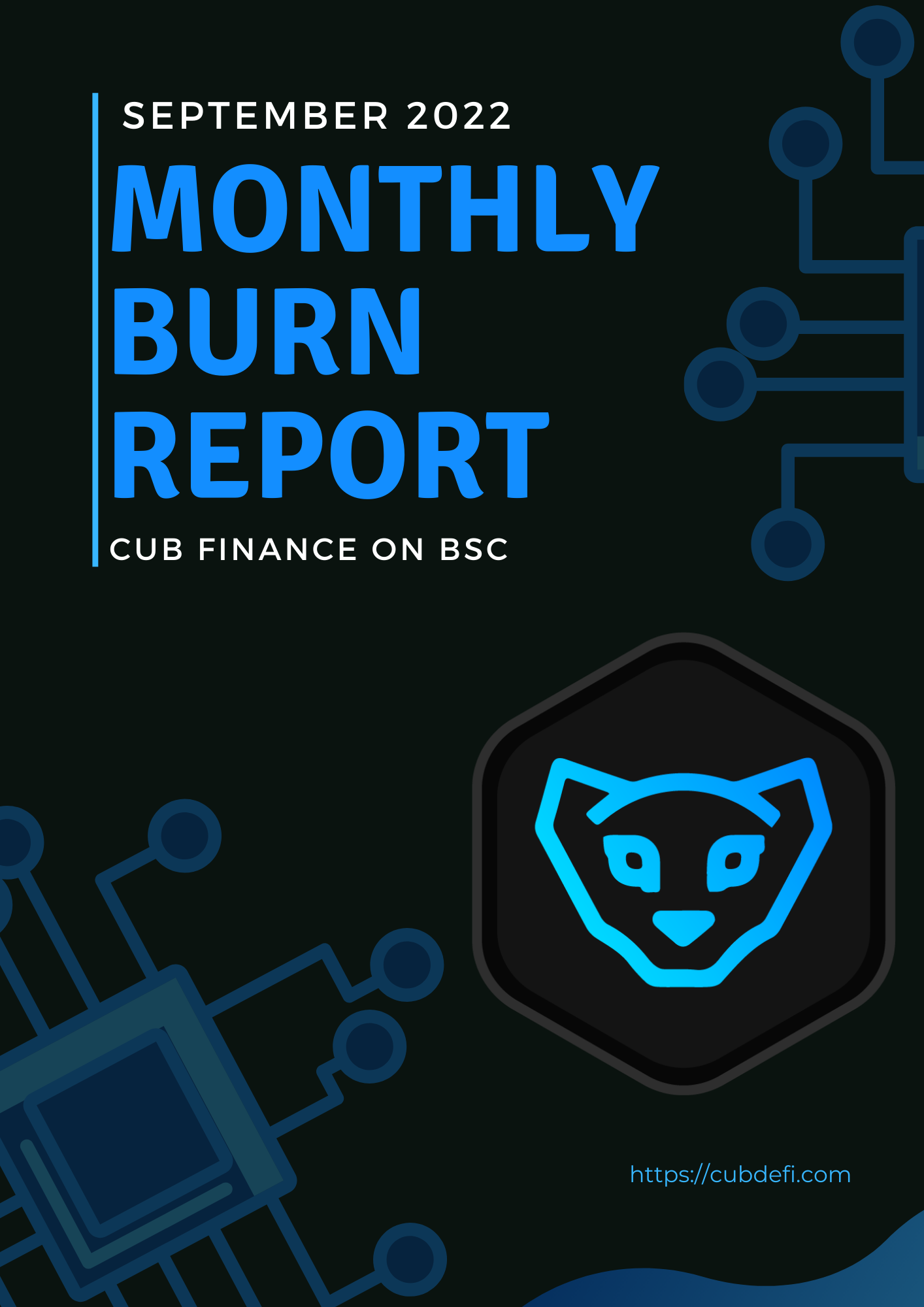 CUB launched in March 2021 with the mission of being LeoFinance's expansion into the DeFi space. CUB had an incredible amount of success in the early days - many of us remember when the CUB price hovered between $3 and $14 after the platform launched.
Since then, we've weathered many storms. Most recently, the 2022 bear market bringing CUB down to all-time lows.
The bHIVE & bHBD Bridge launched in August and quickly turned into something massive.
bHIVE & bHBD allow you to wrap your HBD & HIVE to the BNB Smart Chain (BSC) and provide liquidity & trade assets on a decentralized, permissionless exchange.
Turning to DEXes is becoming more and more valuable in this age of crackdowns on CEXes and high degrees of centralization when it comes to the operation of those CEXes. As a Hive user, we needn't remind you of what exchanges can (and are willing to) do with user assets.
In the following report, we'll take a look at the growth of the Multi-Token Bridge - which has grown in TVL by over 40% month-over-month - and also the growth of revenue it generates for the CUB DAO. This growth has enabled the DAO to burn 317k CUB this month (an increase from 204k last month), pushing us over 1M total CUB burned since inception.
---
View the full PDF of the CUB Monthly Report
---
The mission of LeoFinance is to democratize financial knowledge and access.
CUB is the key to the "Access" part of that mission statement. As time has passed, we've researched and developed so many different methods of building a truly sustainable, reliable, secure and growing DeFi platform.
All of that research has led us to the Multi-Token Bridge and DAO contract that we've deployed in the past 2 months.
The MTB is now live on CUB and TVL is growing quickly. As of this report, we're at $527k in liquidity and growing fast.
---
ICYMI: we added a number of new updates to the CUB UI along with a brand new bHBD-bHIVE vault. Now you can LP bHBD and bHIVE together in a liquidity pool and earn up to 45% yield!

---
The key to growing CUB is to grow the MTB TVL. As this TVL grows, monthly revenue grows. 100% of that monthly revenue is deployed to the CUB DAO which buys and burns CUB on a daily basis.
More CUB Burned in the Past 2 Months Than the Entire Existence of the Platform
More CUB was burned by the DAO in the past 2 months from Multi-Token Bridge Revenue alone than in the prior 18 months of the platform.
518k CUB was burned from March 2021 to August 2022.
523k CUB was burned from August 1st 2022 to September 30th 2022.
🤯
Revenue grew exponentially toward the middle/tail-end of September. We're expecting another blow out month in October with disproportionate growth on all fronts.
Read the PDF
We highly recommend you view the PDF of this report. Below are screenshots that may get cut off depending on your browser.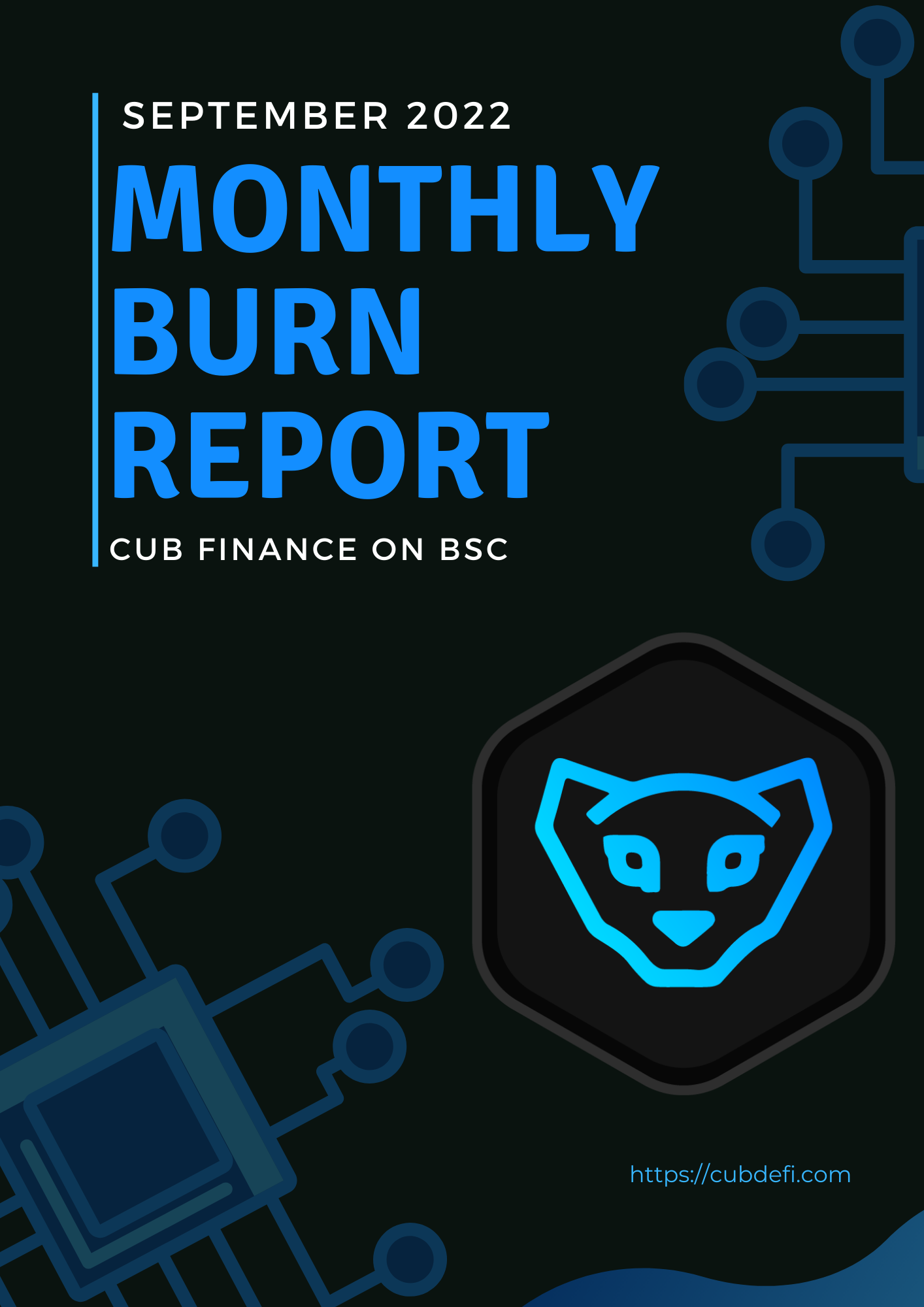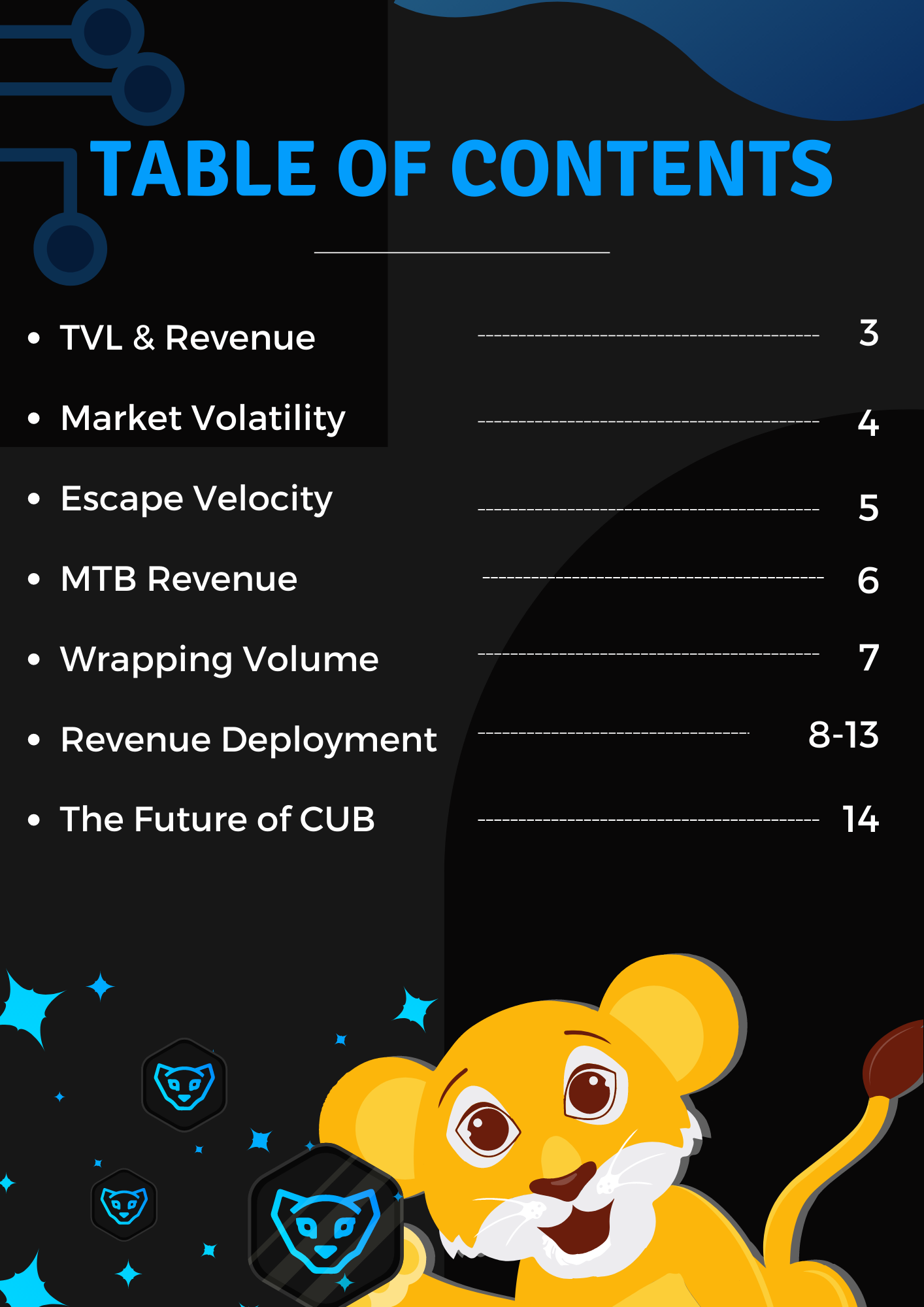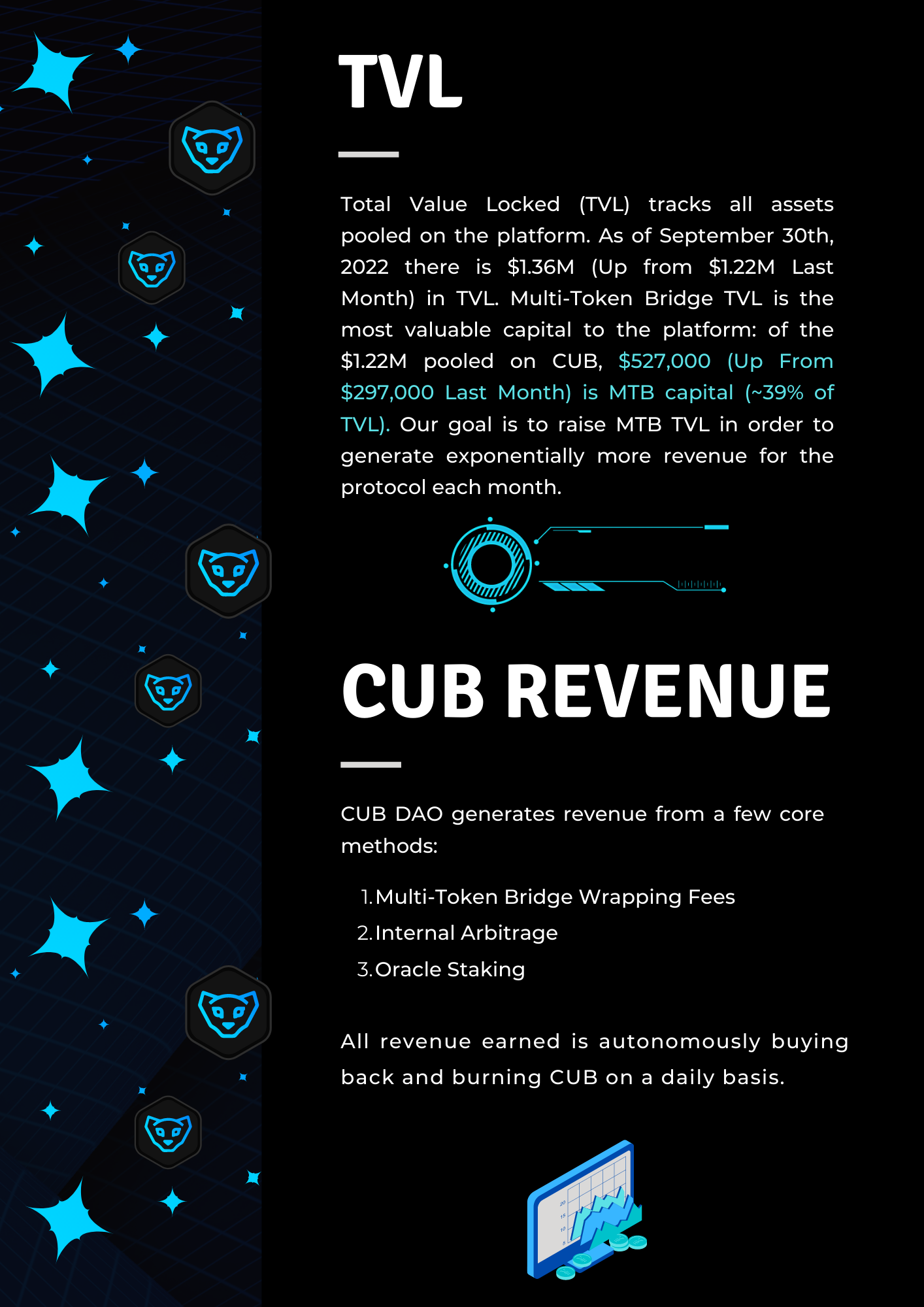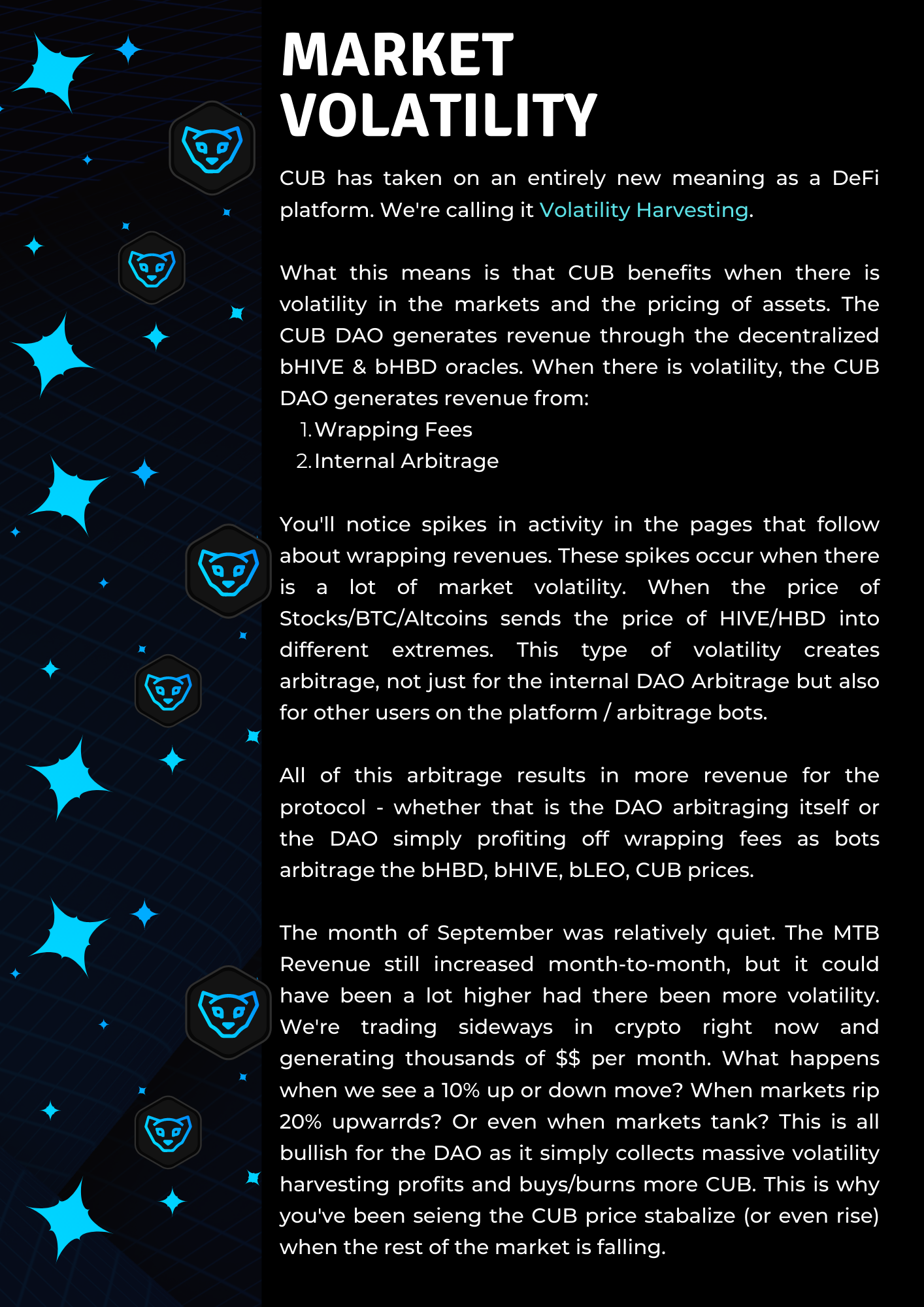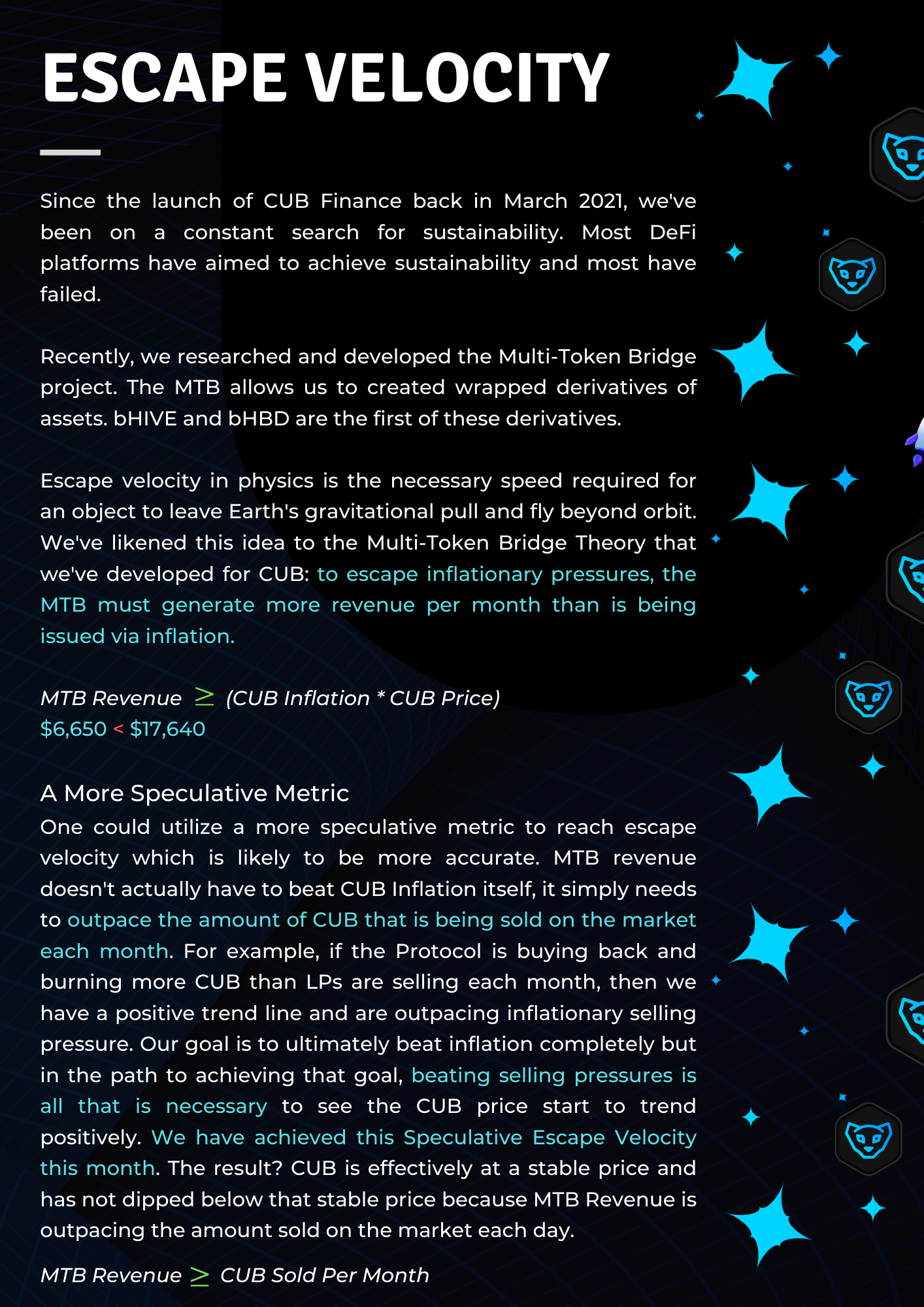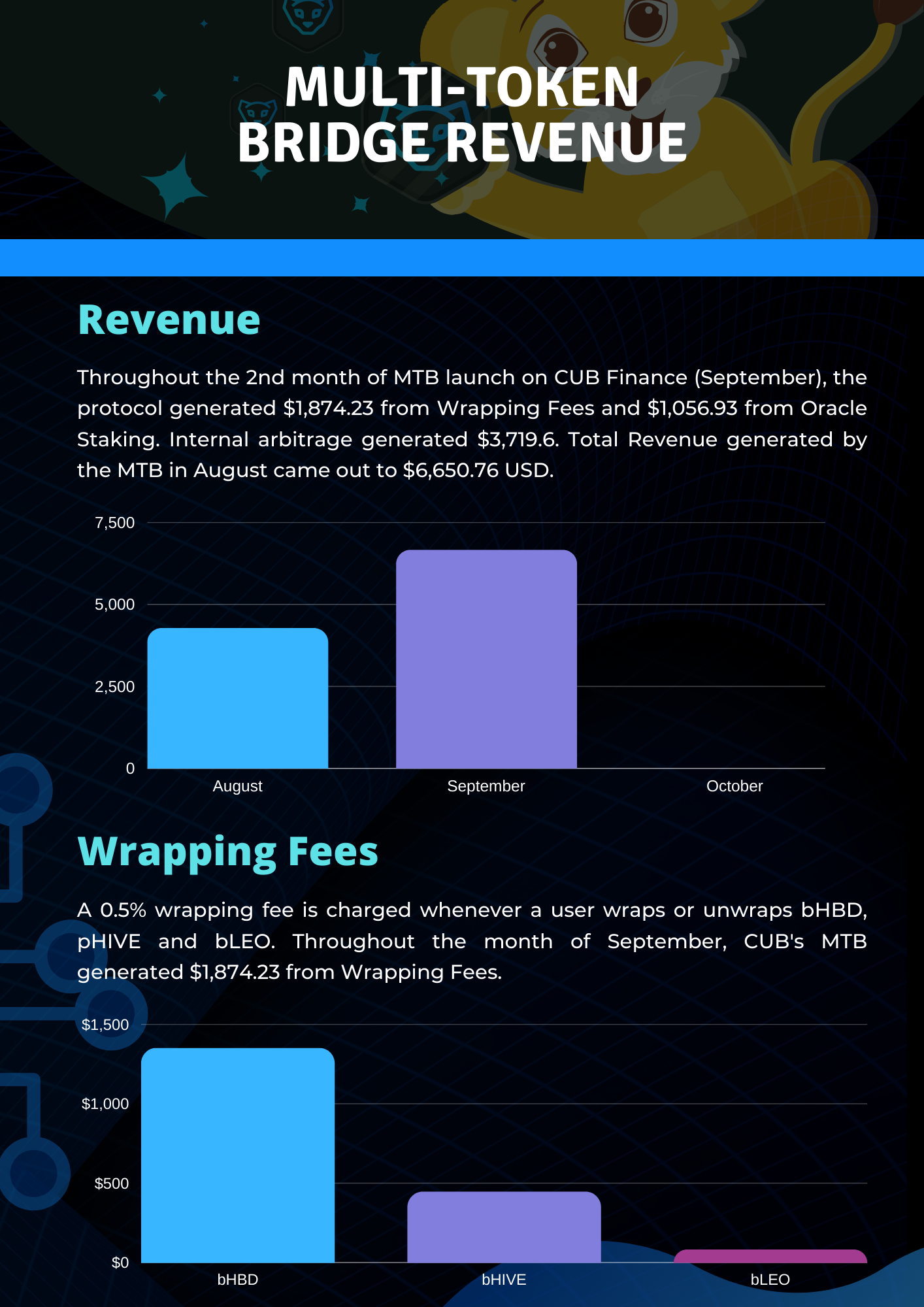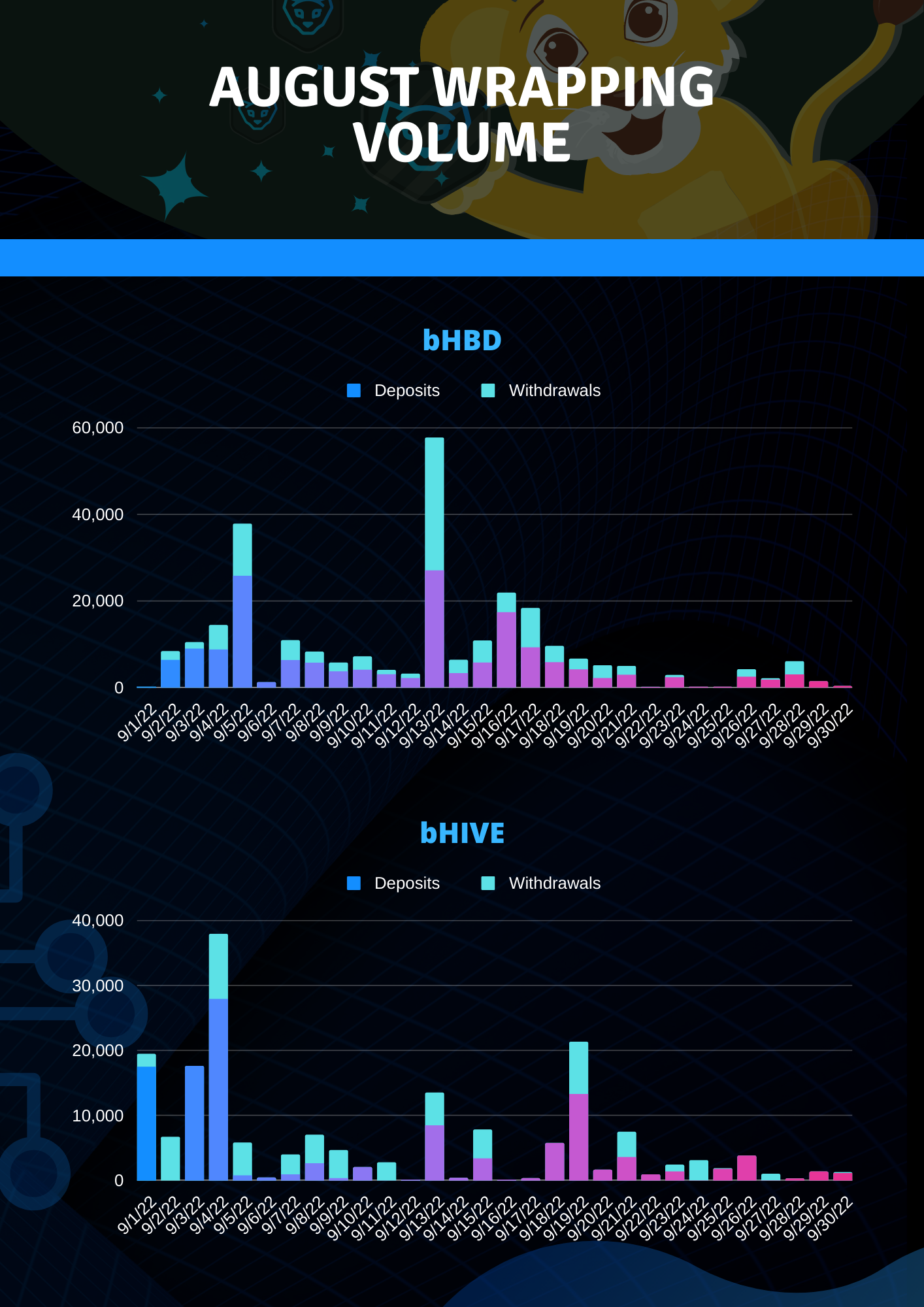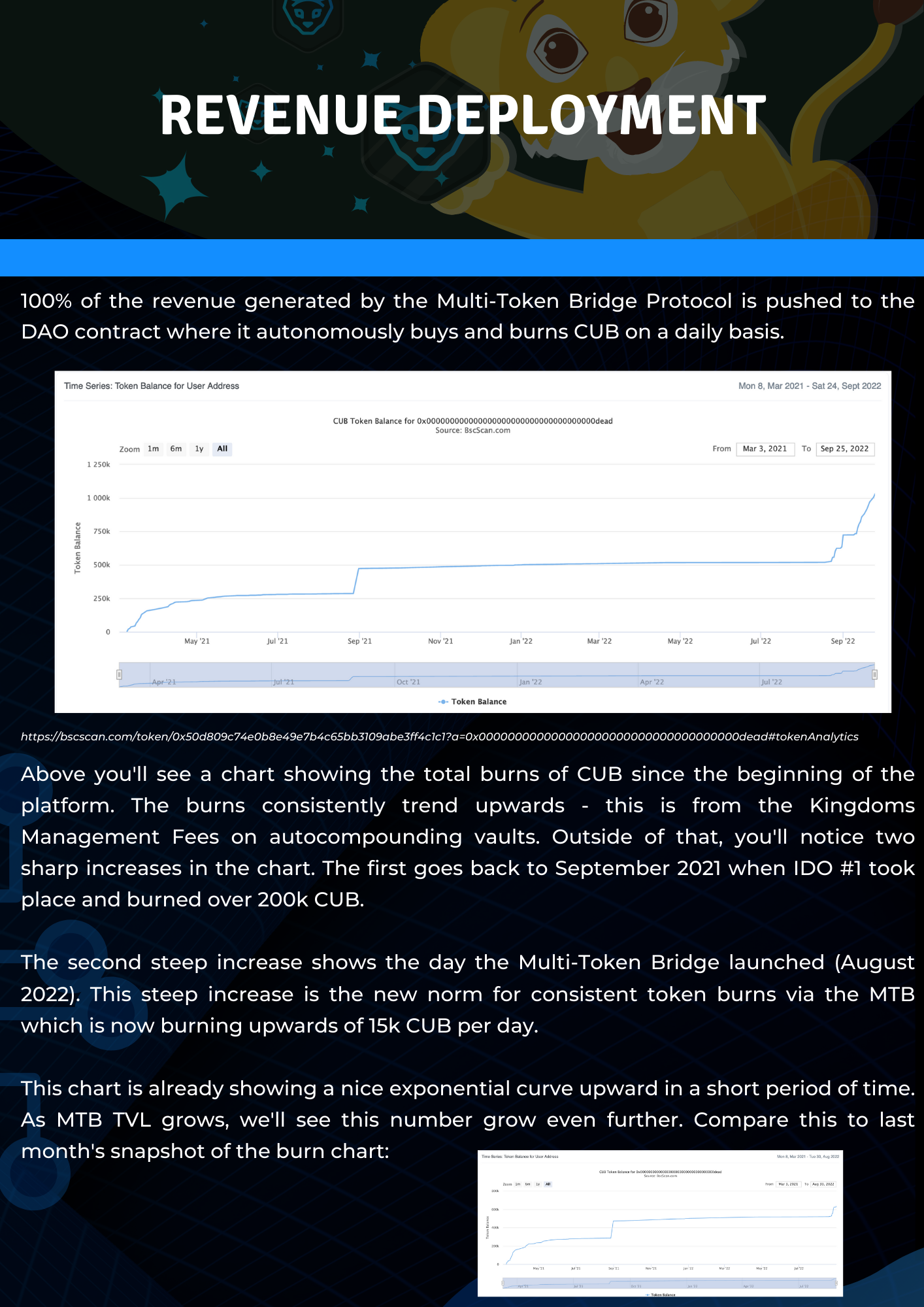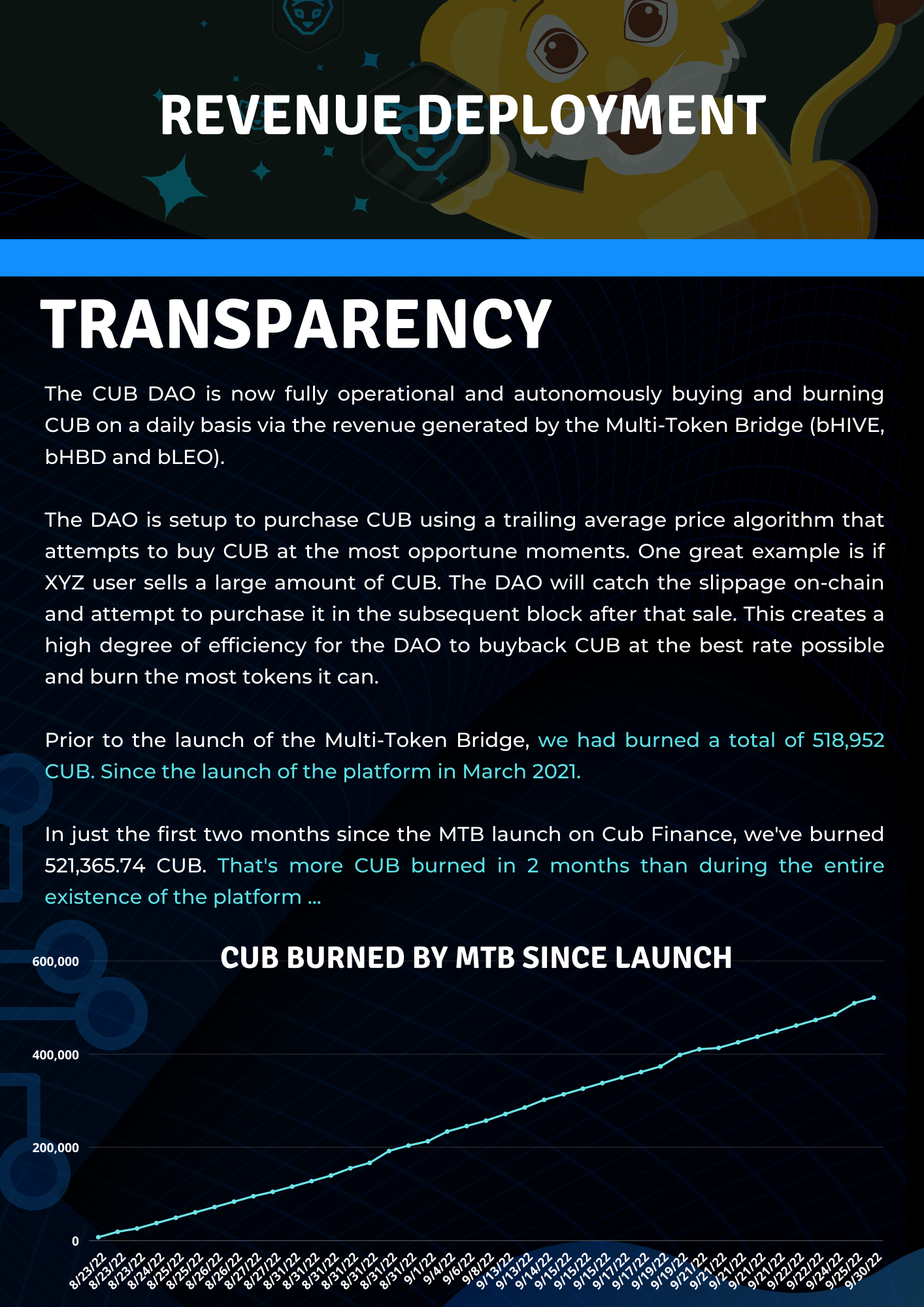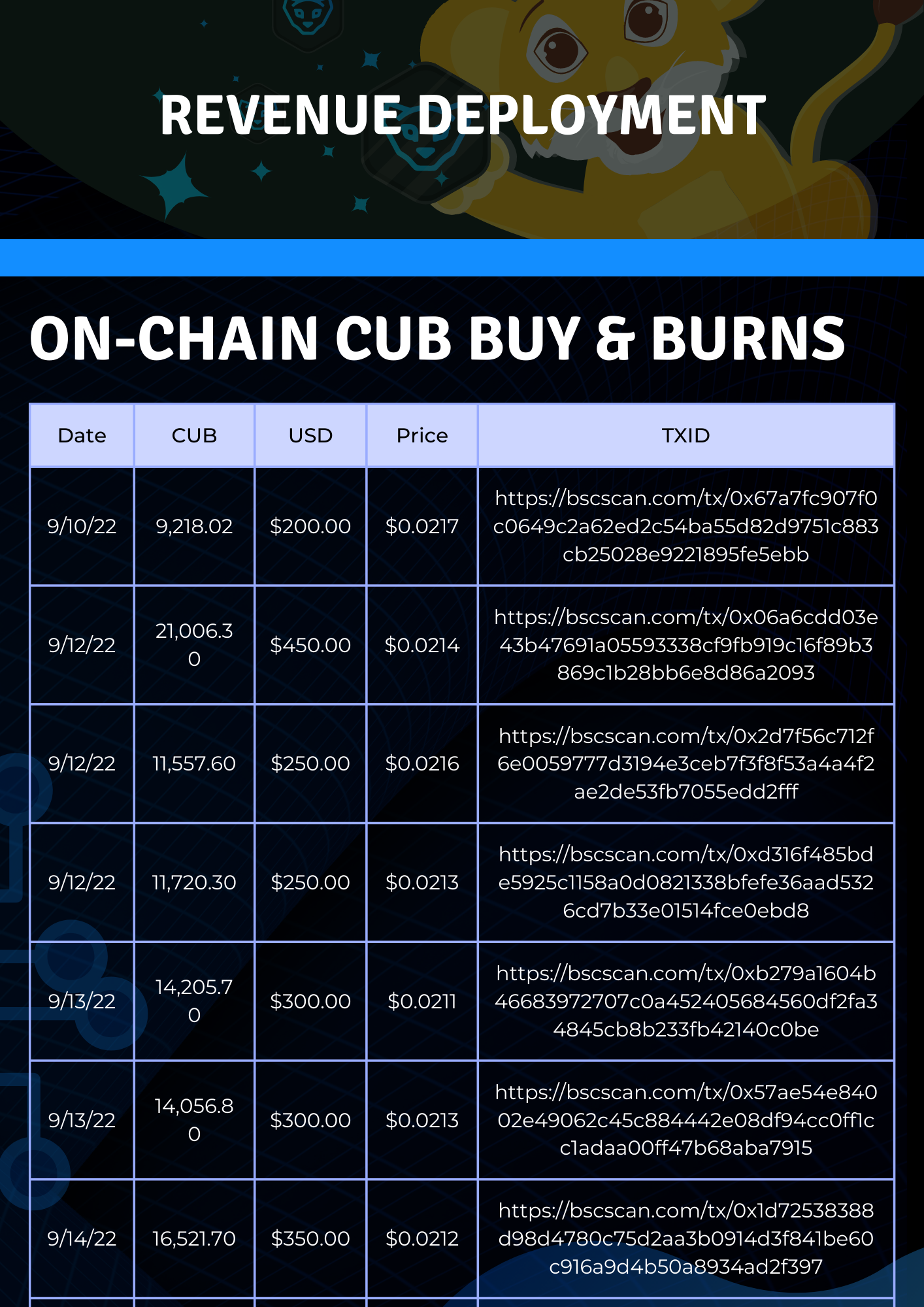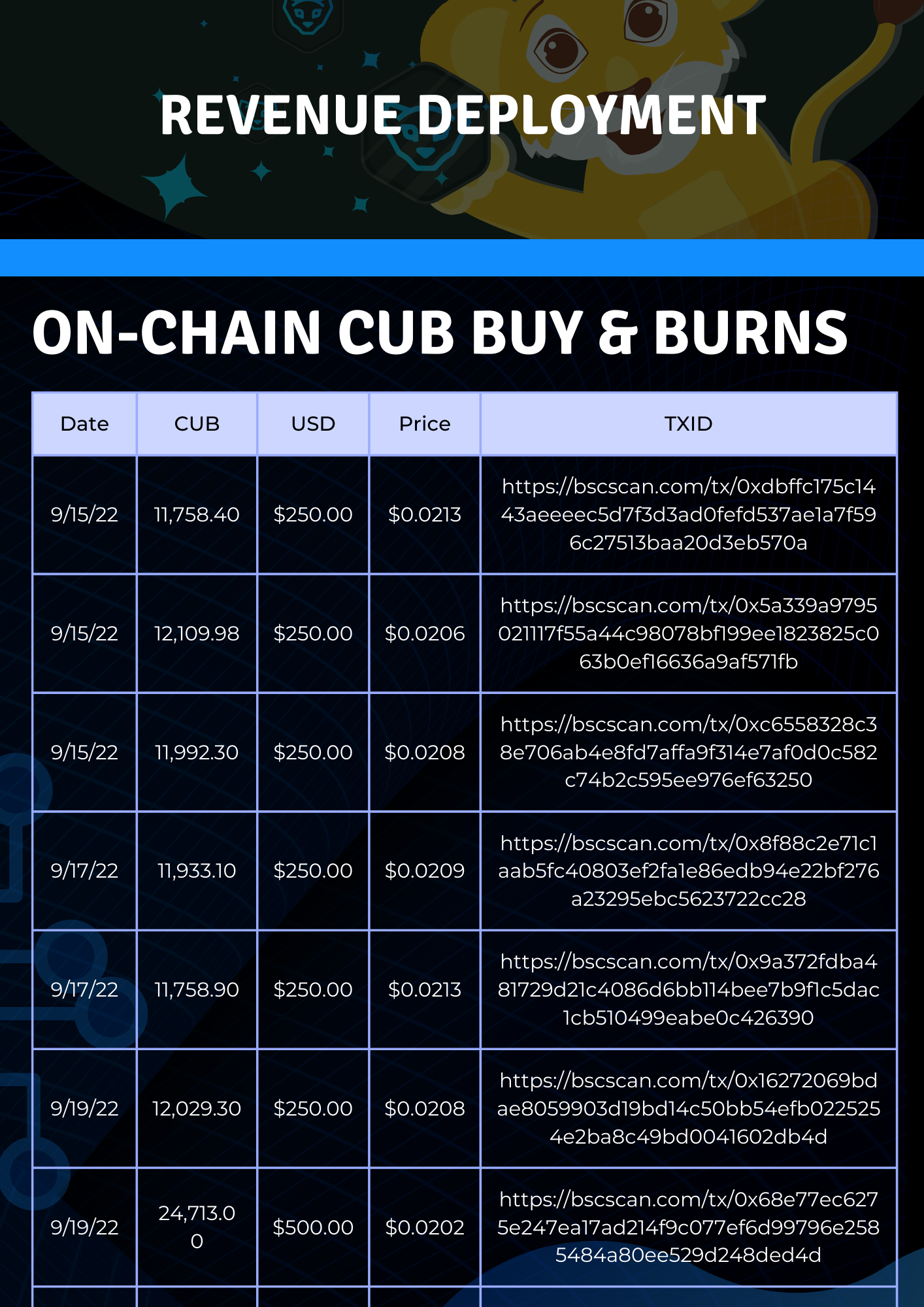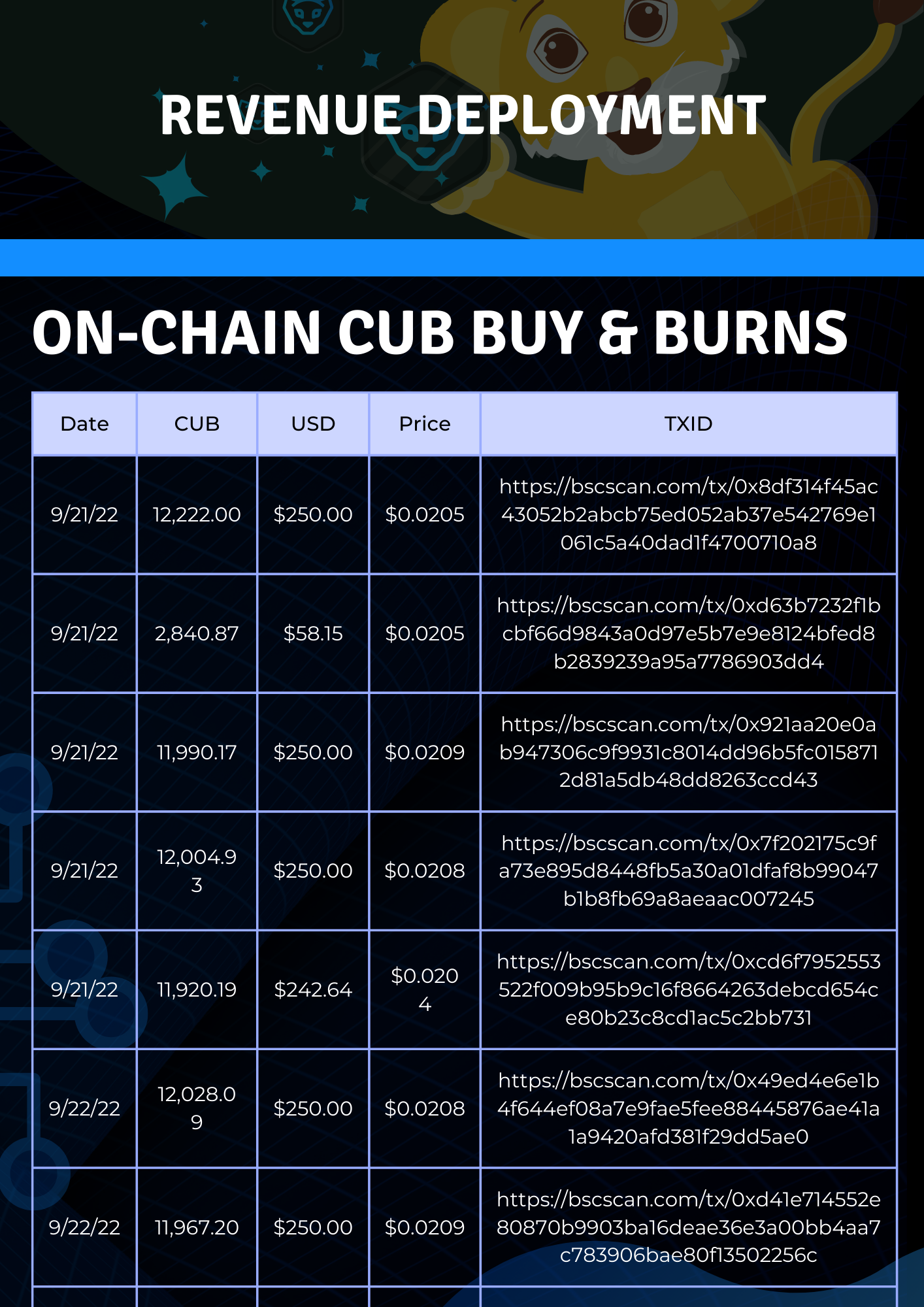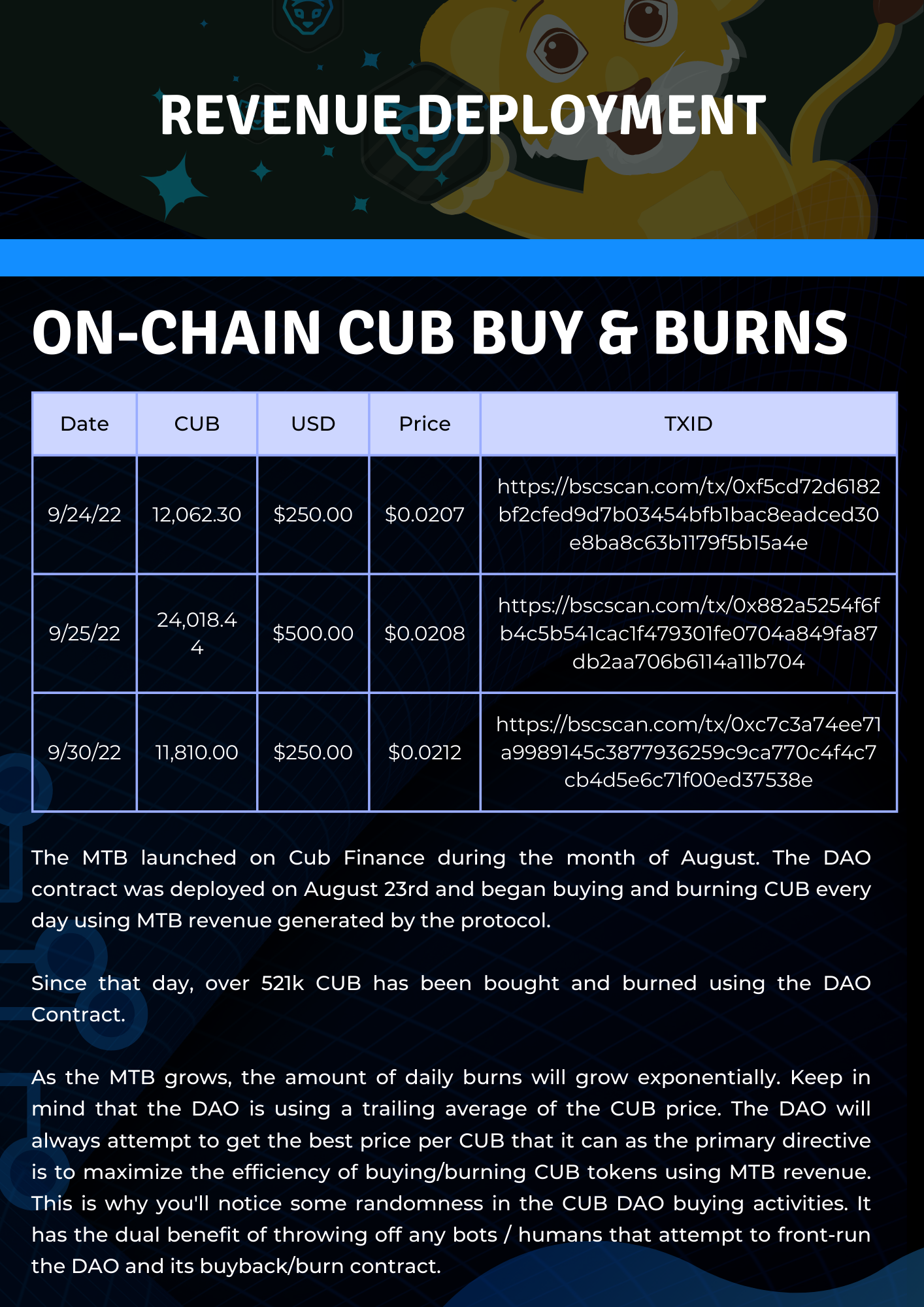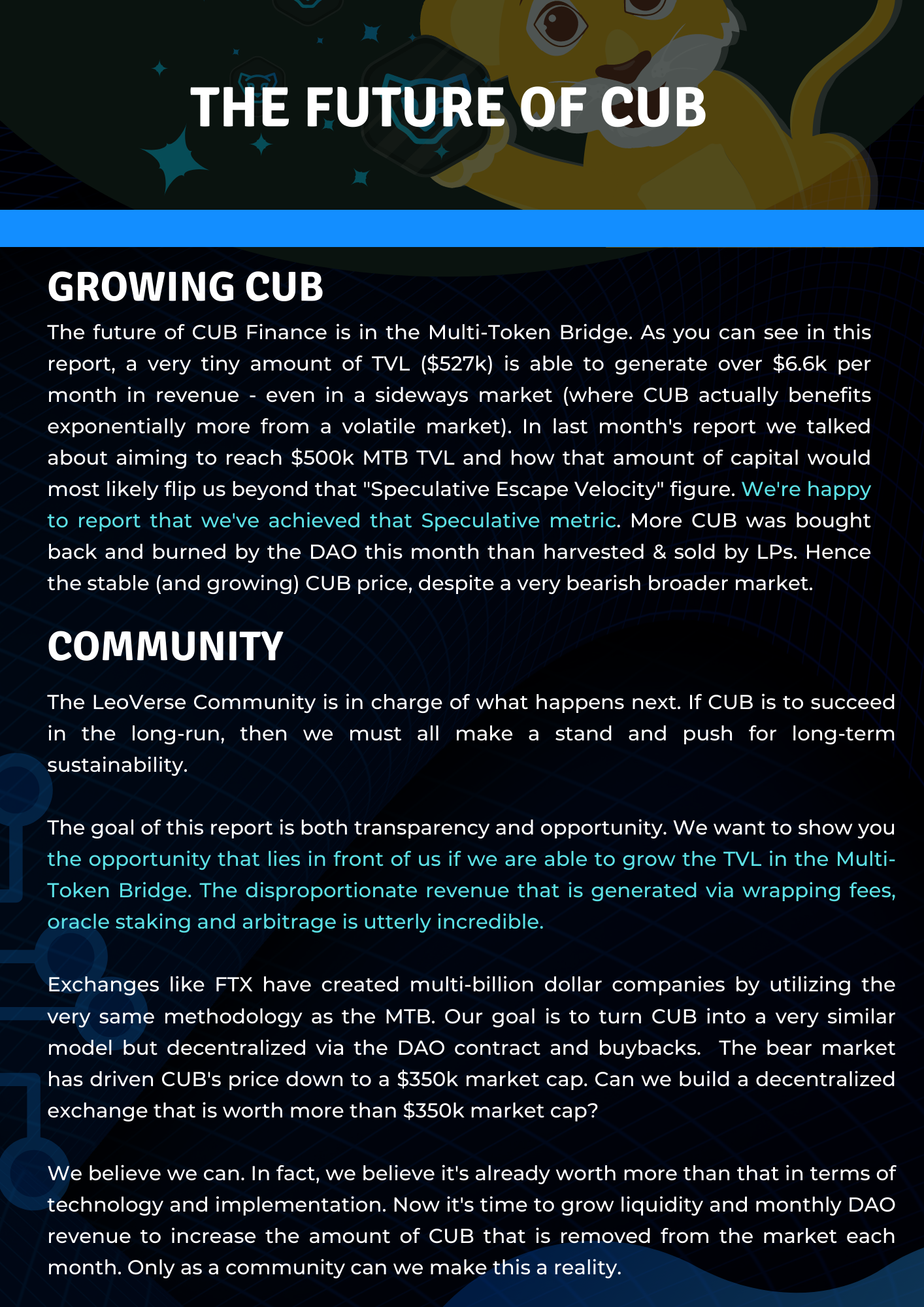 Some items may be cuttoff from the image displays here on LeoFinance / Hive. Open the PDF of the CUB Monthly Report to get the full view of the report.

About LeoFinance
LeoFinance is a blockchain-based Web3 community that builds innovative applications on the Hive, BSC, ETH and Polygon blockchains. Our flagship application: LeoFinance.io allows users and creators to engage and share content on the blockchain while earning cryptocurrency rewards.
Our mission is to put Web3 in the palm of your hands.
Twitter: https://twitter.com/FinanceLeo
Discord: https://discord.gg/E4jePHe
Whitepaper: https://whitepaper.leofinance.io
Our Hive Applications
Join Web3: https://leofinance.io/
Microblog on Hive: https://leofinance.io/threads
LeoMobile (IOS): https://testflight.apple.com/join/cskYPK1a
LeoMobile (Android): https://play.google.com/store/apps/details?id=io.leofi.mobile
Delegate HIVE POWER: Earn 16% APR, Paid Daily. Currently @ 2.8M HP
Hivestats: https://hivestats.io
LeoDex: https://leodex.io
LeoFi: https://leofi.io
BSC HBD (bHBD): https://wleo.io/hbd-bsc/
BSC HIVE (bHIVE): https://wleo.io/hive-bsc/
Earn 50%+ APR on HIVE/HBD: https://cubdefi.com/farms
Web3 & DeFi
Web3 is about more than social media. It encompasses a personal revolution in financial awareness and data ownership. We've merged the two with our Social Apps and our DeFi Apps:
CubFinance (BSC): https://cubdefi.com
PolyCUB (Polygon): https://polycub.com
Multi-Token Bridge (Bridge HIVE, HBD, LEO): https://wleo.io
Posted Using LeoFinance Beta
---
---