Writing Club Contest: A Fairy-tale/Un Cuento De Hadas [ENG-ESP]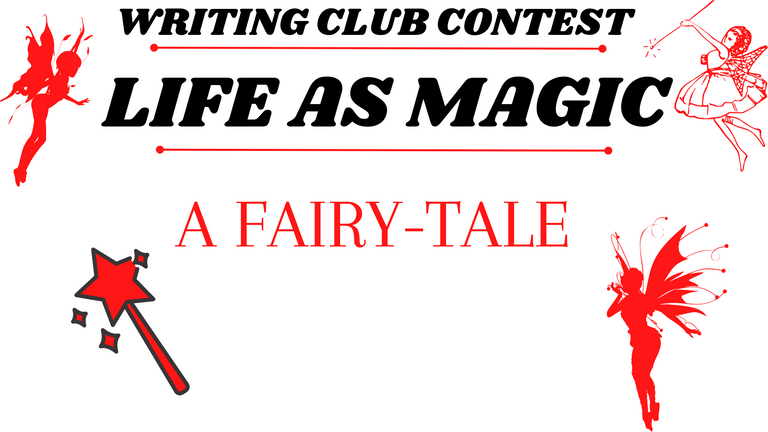 source
A few years ago, something happened to me that changed my view on life, before this incident I didn't believe in magic or even bothered to wish on a shooting star, because to me, it was something for young children who had a privileged life and my life was nothing close to it.
Speaking of my life, I grew up with a submissive mother and a domineering father and you would think that this was a perfect combination, but while my life started with magic and love, it gradually turned into something so abusive that made me leave home at age of 10.
I guess I was lucky to have gotten away when I did, but being in the streets showed me what life was, and how void of magic and hope it could be, well, that was until one fateful day.
The day had started very usual, I had been staying at an abandoned warehouse for months after leaving the homeless shelter, and my routine normally included stepping out to either work or steal food which might sound bad, but, I needed to eat to survive, so I was willing to do anything.
I had spent the whole day begging for work but to avail, so I knew what I had to do to get food before it got dark, I walked into the market scanning for an easy prey to steal from and when I saw one, I immediately took their food and ran away.
For me, I had been victorious at that point, but then I saw that I was being chased and before long, I was ambushed, beaten, and left for dead.
When this happened, I had already given up because I knew that no one would help me, I began praying for a sign, and just as I was about to close my eyes and give up the ghost, I saw a bright light shining from a woman who had wings.
I couldn't understand what was happening and the event felt so surreal, but she flew toward me, held my hand, and at that moment every pain stopped, after she did that, she whispered to me; "You are going to be fine" and I fell into a deep sleep.
I woke up at the warehouse unsure of what was happening because I had no wounds and it felt like it was a dream, but I was sure that I wasn't dreaming because I never had dreams.
Because of that factor, I knew for sure that something had happened, and even though I couldn't believe that a fairy saved me, I needed to be sure of what had happened or else, my mind wouldn't ever rest.
I decided that my best bet to figure out the truth was to draw the strange woman out anyhow I could, so I decided to redo what had happened which I did for almost a month with no success until one night.
I had told myself that I would be trying for the last time and while I was in the same position as I was the last time, I saw a bright light again, shining from the same woman and before she could hold my hand, I held hers.
She tried to struggle, but I refused to let her go and after a few minutes of struggling, she finally gave up and sat next to me, at that point, I could see her face clearly and she looked beautiful with blue gentle eyes and Auburn skin.
We sat in silence for a while before I decided to say a word to her; "who are you" I asked.
She replied by asking if I was curious about who she was or what she was and I replied with "everything" which prompted her to start speaking.
She told me that she was a fairy and went further to tell me about her people and where she lived, she also said she wasn't supposed to be in the human world but, she heard my cry and she had to help me.
We conversed for hours about everything and anything, until she said she needed to go, I begged her to stay which she refused but promised to visit me every day and she kept her promises.
For months, we met at the same spot and explored the city until one day when she asked me to go to the fairy world and live there with her, I immediately agreed with no questions asked and we went through a hidden tunnel to a world that can not be described on paper.
Everything about the fairy world looked magical, the trees looked like they were carved from a fairytale book, the sky had the brightest shade of blue that I had ever seen and the air smelled like mint.
After a minute of looking around in awe, the fairies came to welcome me and showed me to my home which I couldn't believe because I had never truly had a home.
For the longest time, I didn't believe in magic, but after everything that has happened and that I had seen, I've discovered that there is a lot of magic even when we don't see it.
My life ended with a happy ending, and I hope that more people get to experience magic just like I did.
---
THE END
---
This is my entry to the writing club contest with the theme "life as magic" and if you are interested in participating, you can check here.
---
---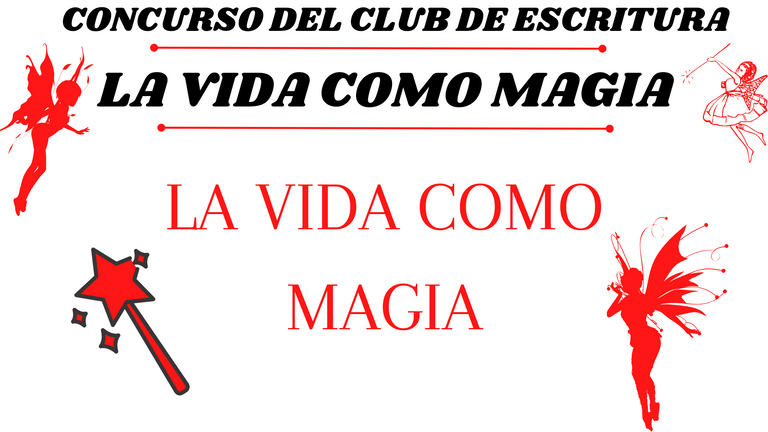 fuente
Hace unos años, me sucedió algo que cambió mi visión de la vida, antes de este incidente no creía en la magia ni me molestaba en pedir un deseo a una estrella fugaz, porque para mí, era algo para niños pequeños que tenían una vida privilegiada y mi vida no se acercaba a eso.
Hablando de mi vida, crecí con una madre sumisa y un padre dominante y se podría pensar que era una combinación perfecta, pero aunque mi vida empezó con magia y amor, poco a poco se fue convirtiendo en algo tan abusivo que me hizo irme de casa a los 10 años.
Supongo que tuve suerte de haberme ido cuando lo hice, pero estar en la calle me mostró lo que era la vida, y lo vacía de magia y esperanza que podía ser, bueno, eso fue hasta un fatídico día.
El día había empezado muy normal, llevaba meses en un almacén abandonado después de salir del albergue para indigentes, y mi rutina normalmente incluía salir a trabajar o a robar comida, lo cual podría sonar mal, pero, necesitaba comer para sobrevivir, así que estaba dispuesto a hacer cualquier cosa.
Me había pasado todo el día mendigando trabajo pero sin éxito, así que sabía lo que tenía que hacer para conseguir comida antes de que se hiciera de noche, entré en el mercado buscando una presa fácil a la que robar y cuando vi una, cogí inmediatamente su comida y salí corriendo.
En ese momento salí victorioso, pero luego vi que me perseguían y al poco tiempo me emboscaron, me golpearon y me dieron por muerto.
Cuando esto sucedió, ya me había rendido porque sabía que nadie me ayudaría, comencé a rezar por una señal, y justo cuando estaba a punto de cerrar los ojos y abandonar el fantasma, vi una luz brillante que salía de una mujer que tenía alas.
No podía entender lo que estaba sucediendo y el evento se sentía tan surrealista, pero ella voló hacia mí, me tomó de la mano, y en ese momento todo el dolor se detuvo, después de que ella hizo eso, me susurró; "Vas a estar bien" y caí en un profundo sueño.
Me desperté en el almacén sin saber qué estaba pasando porque no tenía heridas y me parecía que era un sueño, pero estaba segura de que no estaba soñando porque nunca he tenido sueños.
Por ese factor, sabía con certeza que algo había sucedido, y aunque no podía creer que un hada me hubiera salvado, necesitaba estar segura de lo que había sucedido o de lo contrario, mi mente no descansaría nunca.
Decidí que mi mejor apuesta para averiguar la verdad era sacar a la extraña mujer como fuera, así que decidí rehacer lo que había pasado, lo que hice durante casi un mes sin éxito hasta una noche.
Me había dicho que lo intentaría por última vez y mientras estaba en la misma posición que la última vez, volví a ver una luz brillante, que brillaba de la misma mujer y antes de que ella pudiera coger mi mano, yo cogí la suya.
Ella trató de luchar, pero me negué a dejarla ir y después de unos minutos de lucha, finalmente se rindió y se sentó a mi lado, en ese momento, pude ver su cara claramente y se veía hermosa con ojos azules suaves y piel de color caoba.
Nos sentamos en silencio durante un rato antes de que me decidiera a decirle una palabra; "¿quién eres?" le pregunté.
Ella respondió preguntando si tenía curiosidad por saber quién era o qué era y yo respondí con un "todo", lo que hizo que empezara a hablar.
Me dijo que era un hada y continuó hablándome de su pueblo y de dónde vivía, también me dijo que no debía estar en el mundo de los humanos pero que había oído mi grito y tenía que ayudarme.
Hablamos durante horas de todo y de nada, hasta que me dijo que tenía que irse, le rogué que se quedara a lo que ella se negó pero prometió visitarme todos los días y cumplió sus promesas.
Durante meses, nos reunimos en el mismo lugar y exploramos la ciudad hasta que un día me pidió que fuera al mundo de las hadas y que viviera allí con ella, acepté inmediatamente sin hacer preguntas y fuimos a través de un túnel oculto a un mundo que no se puede describir en papel.
Todo en el mundo de las hadas parecía mágico, los árboles parecían sacados de un libro de cuentos, el cielo tenía el tono de azul más brillante que jamás había visto y el aire olía a menta.
Después de un minuto de mirar alrededor con asombro, las hadas vinieron a darme la bienvenida y me mostraron mi hogar, que no podía creer porque nunca había tenido un verdadero hogar.
Durante mucho tiempo no creí en la magia, pero después de todo lo que ha pasado y lo que he visto, he descubierto que hay mucha magia incluso cuando no la vemos.
Mi vida terminó con un final feliz, y espero que más personas puedan experimentar la magia como yo lo hice.
---
EL FINAL
---
Esta es mi participación en el concurso del club de escritura con el tema "la vida como magia" y si estás interesado en participar, puedes consultar aqui.
---
---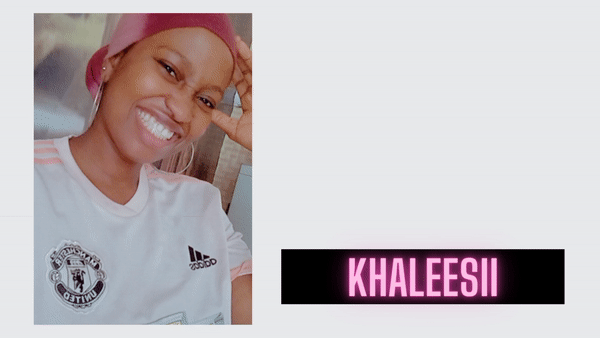 ---
---