How I Use LeoThreads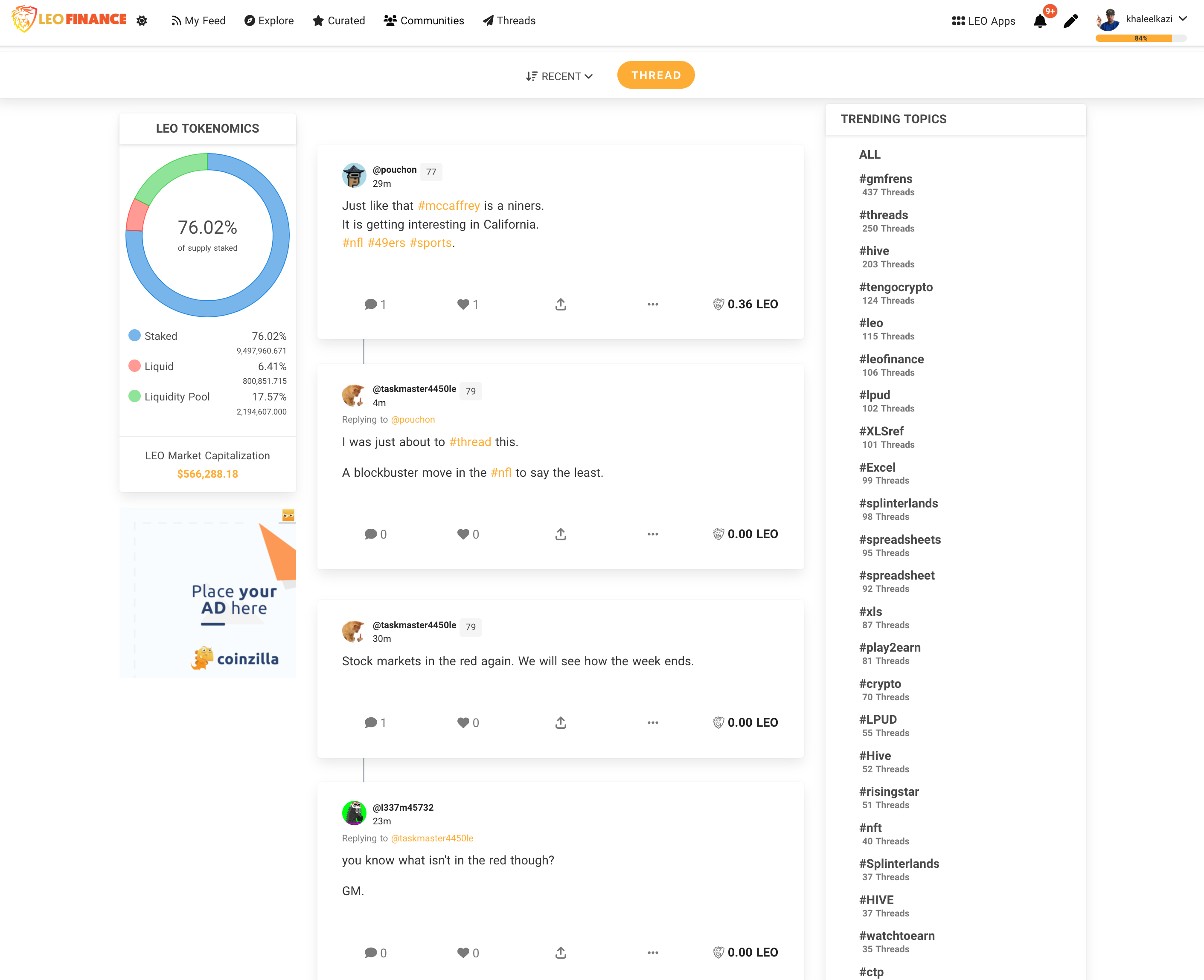 LeoThreads is microblogging on the Hive blockchain. It's something that we've all spent a disproportionate amount of time waiting for.
The key to LeoThreads is that none of the content posted on it is considered a Hive post. Instead, LeoThreads uses the LeoLightning & LeoInfra backends to database content on the Hive blockchain as comments.
So making a Thread is like making a comment on the Hive blockchain. You can still earn rewards, but autovoters and other issues with posting too frequently on the Hive blockchain don't apply.
How I Use LeoThreads
I love using Threads. It has completely and radically shifted my experience on the Hive blockchain. Sure, I still love writing and consuming long form content - like this article you're reading - but I also love to just login and casually read, engage and create short-form content.
LeoThreads has found its way into my every day life. It's more than just posting to get a few rewards or posting once a day to keep your account active on Hive... It's real engagement with your friends and fellow Hive blockchain members.
I often wake up in the morning and post a Thread about something that I think about first thing. Usually (naturally) I wake up and have some thought to something Leo Development related. So I'll sit down at my computer and post up a Thread about whatever the team and I are working on.
Other times, I'm reading a book and find a cool quote. I post up a Thread with the quote.
Not only do I get to share this quote with the entire community who can perhaps gain what I've gained from it, but now I also have an immutable notebook. I can go back and find that quote with an exact timestamp of when I posted it... Right on the Hive blockchain.
Threads for Polls we have Polls on the roadmap but in the meantime, myself (and many other Threads users) utilize Threads to ask the community questions.
For example, we were looking for a name for the new weekly podcast we do with founders from other blockchain projects. The podcast is now called Chain Chatter! I didn't come up with that name, we had over 20 name entries submitted to a Thread that I just randomly posted. I sent the winner - @steemstreams - 100 LEO as a thank you gift for picking the name.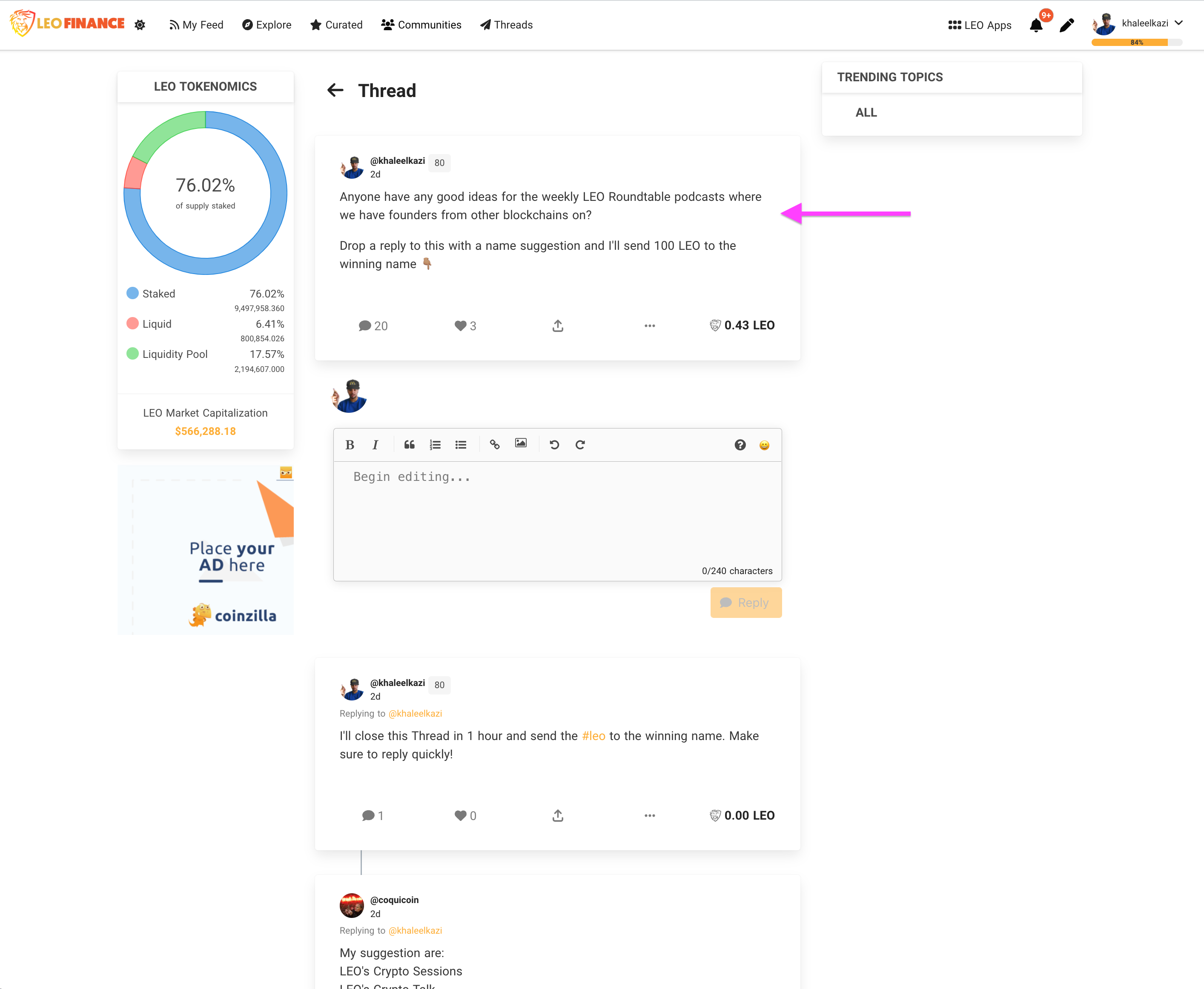 In the sooniverse, all sorts of other polling mechanisms will be available. Imagine being a content creator like @taskmaster4450 and running out of topic ideas. You post up a Thread asking your audience for some ideas and maybe tip them some LEO in exchange for their help (tipping in LEO, HIVE & HBD also coming soon).
I also love to see a lot of friendly faces on Hive and LeoFinance using Threads to post non-financial content. They're posting pictures of their dogs or posting pictures of a view they had when they go hiking.
@onealfa posted some pictures from a trip he recently went on. We all spend so much time together here on LeoFinance/Hive but we often don't see that more casual side of eachother's lives.
Another great use case is to share links of your Hive articles. I always take the link from the latest article I've posted (just like I'll do with this one) and post it on Threads as well! It increases exposure, potential earnings and most importantly: engagement.
One of my goals is to start using Threads to show that more casual side of my life as well. I think it's really fun to have that non-serious place where we can all gather. Life isn't just upvotes, downvotes and autovoters!
Threads Are Dynamic
My point here is that Threads are dynamic. True microblogging is whatever you choose to make it. Twitter started out as SMS messages. Today, it is one of the world's largest social media platforms and serves as a gathering place for great ideas, collaboration, funny pictures, memes, and more.
I use Threads on a daily basis and am always discovering new ways to utilize it to supercharge my Hive experience and enjoy my time here on this blockchain.
I invite you to give it a shot. If you've tried it in the past, but not recently - we've made a lot of changes and Threads are better than ever.
If you've never tried it, then you need to go make your first Microblog! I guarantee that you'll love the experience!

About LeoFinance
LeoFinance is a blockchain-based Web3 community that builds innovative applications on the Hive, BSC, ETH and Polygon blockchains. Our flagship application: LeoFinance.io allows users and creators to engage and share content on the blockchain while earning cryptocurrency rewards.
Our mission is to put Web3 in the palm of your hands.
Twitter: https://twitter.com/FinanceLeo
Discord: https://discord.gg/E4jePHe
Whitepaper: https://whitepaper.leofinance.io
Our Hive Applications
Join Web3: https://leofinance.io/
Microblog on Hive: https://leofinance.io/threads
LeoMobile (IOS): https://testflight.apple.com/join/cskYPK1a
LeoMobile (Android): https://play.google.com/store/apps/details?id=io.leofi.mobile
Delegate HIVE POWER: Earn 16% APR, Paid Daily. Currently @ 2.8M HP
Hivestats: https://hivestats.io
LeoDex: https://leodex.io
LeoFi: https://leofi.io
BSC HBD (bHBD): https://wleo.io/hbd-bsc/
BSC HIVE (bHIVE): https://wleo.io/hive-bsc/
Earn 50%+ APR on HIVE/HBD: https://cubdefi.com/farms
Web3 & DeFi
Web3 is about more than social media. It encompasses a personal revolution in financial awareness and data ownership. We've merged the two with our Social Apps and our DeFi Apps:
CubFinance (BSC): https://cubdefi.com
PolyCUB (Polygon): https://polycub.com
Multi-Token Bridge (Bridge HIVE, HBD, LEO): https://wleo.io
Posted Using LeoFinance Beta
---
---