Join the AFIT ✖️ DigiFinex listing events to share 100,000 AFIT
Yes, AFIT is getting listed in DigiFinex!
Only a few hours left, less than 24h at the time this is being written, till the AFIT gets listed on DigiFinex.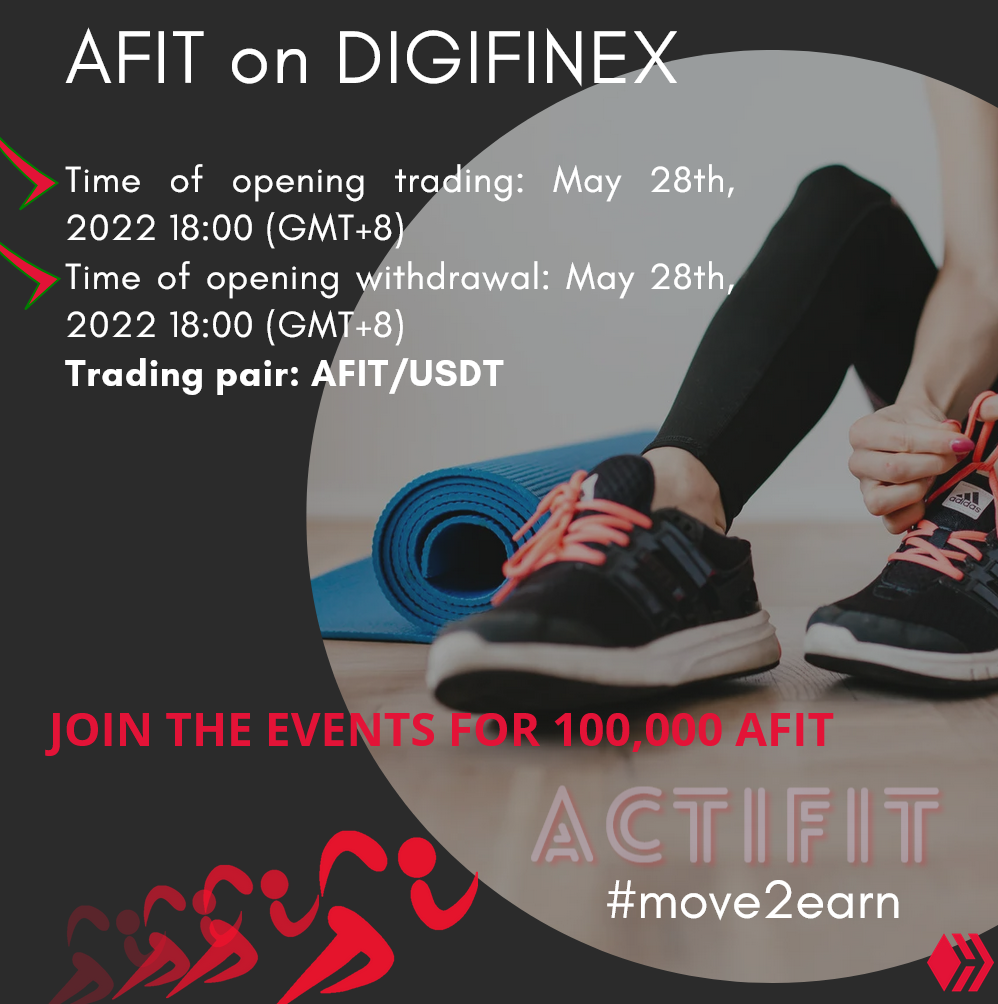 You may remember, the team shared some incentives & extra rewards and if you have been following the announcements at @actifit, then you already know it.
In case you were one of the users who deposited AFIT at DigiFinex, make sure to check out this announcement and fill in your data in the form so that you claim your airdrop.
And as if it was not enough, more rewards are offered by both @actifit and digifinex!
---
Join the upcoming events to Join share 100,000 AFIT!
Event 1
Event 1: Follow & Retweet to Share 40,000 AFIT
To participate in this event, users should finish the following tasks via this page:
https://gleam.io/lENJ7/afit-digifinex-listing
Task:
Follow Actifit's official Twitter (https://twitter.com/Actifit_fitness).
Follow DigiFinex's Twitter(https://twitter.com/DigiFinex).
Retweet the 'New Coin Listing' post using hashtag#DigiFinexListsAFIT, and tag three friends.
Join in Actifit's Discord Server (https://links.actifit.io/discord).
Join in Actifit's Telegram Community (https://t.me/actifit).
Join in DigiFinex's Telagram Airdrop Community (https://t.me/DigiFinexAirdrop365).
Reward:
The first 200 participants will each receive 50 AFIT (~4.6 USDT).

200 randomly selected participants will each receive 150 AFIT (~14 USDT).
Limited quantity, first come first served, until all are given out!
Event 2
Event 2: Trade AFIT to share 30,000 AFIT
During this event, users who trading volume (buys & sells) meets the requirements shown in the table below and have a least one single buy order of AFIT ≥$50 will get the corresponding rewards.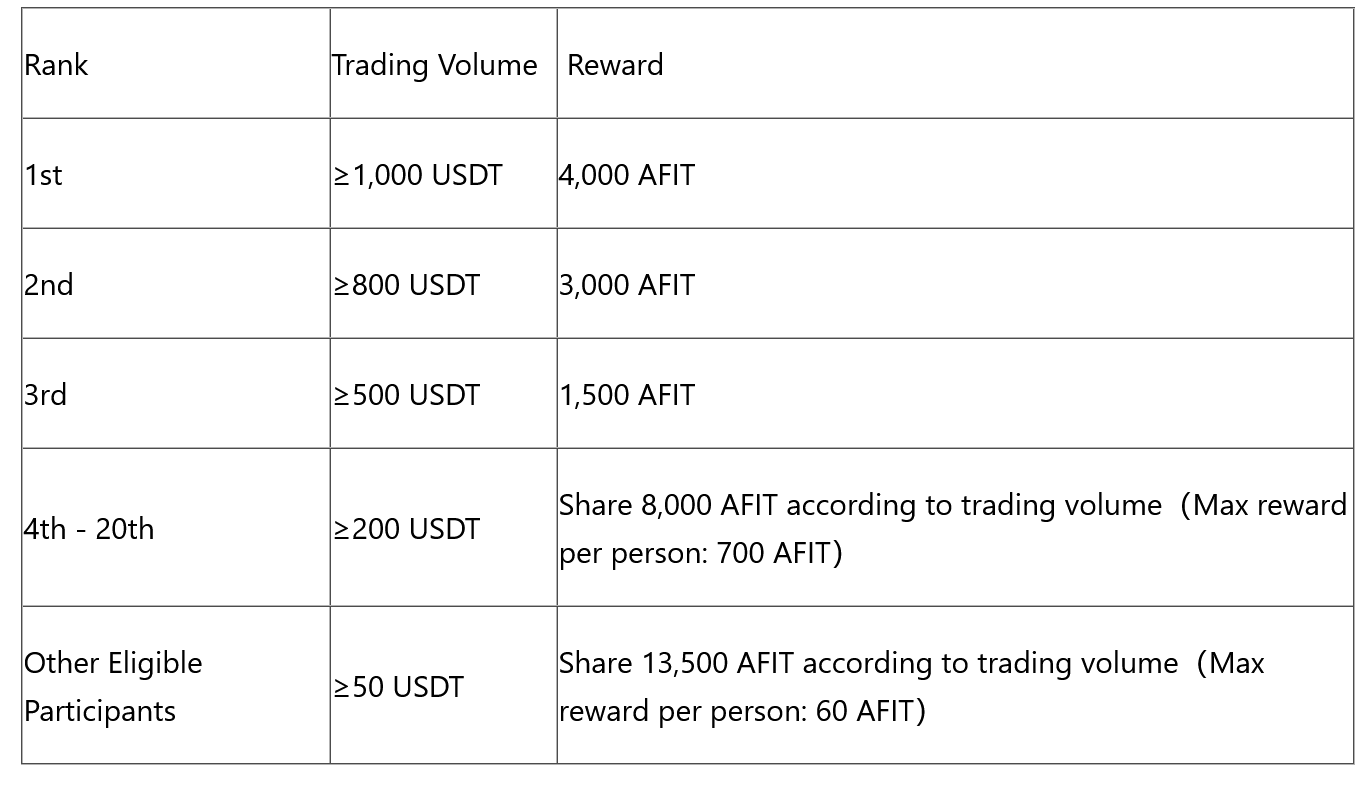 Event 3
Event 3: Stake AFIT to share 30,000 AFIT
We will set 30,000 AFIT in candy box during this event and users can get interest by staking AFIT. Rewards will be distributed on a first-come, first-served basis.

Official Actifit Announcement
https://hive.blog/hive-193552/@actifit/afit-listing-on-digifinex-this-saturday-10-am-utc-100000-afit-giveaway-to-events-participants
About Actifit
Actifit kicked off in June 2018 as an innovative and disrupting social project, that incentivizes healthy lifestyle by rewarding its users for living healthier, making it the first social, gamified, cross-chain, multi-reward, move-to-earn project.
https://actifit.io
About Digifinex>
DigiFinex is the world's top 10 crypto exchange by trading volume and liquidity, offering spot, leverage, perpetual swap trading, and fiat to crypto trading. Digifinex is widely loved for being stable, secure and easy to use.
You can sign up via my referral :)
https://www.digifinex.com/en-ww/from/z8GuFA?channelCode=ljaUPp or not!
---
Please note:
The post are not endorsements, please always do your own research before any actions regarding cryptocurrency.
NFA - DYOR
Thank you for visiting!
Let's connect: https://twitter.com/katerinaramm1
Still time to grab the giveaway of 10 $LEO & 5 HBD!
Info here: https://leofinance.io/@katerinaramm/giveaway-share-a-favorite-post-to-win-usdleo-and-usdhbd-sign-up-and-win-50hp-delegation
Posted Using LeoFinance Beta
---
---