Midnight In the Garden of Squamata (Part 2) | LMAC FreeStyle Collage No. 27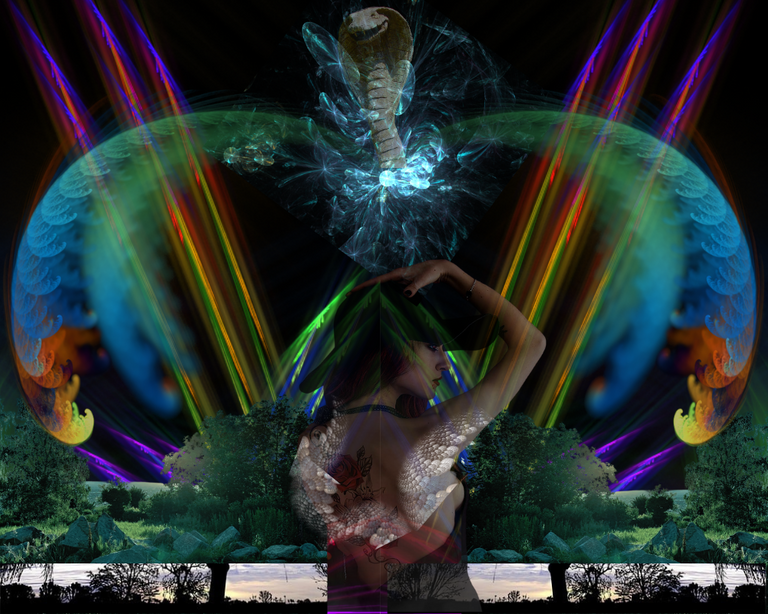 Author's Note: PART 1
Mirabella was unusual and unique. To her friends, she was "Misty". But she loathed that name. It carved a tale of untruths that she was of no consequence. Did she care? No. She fiercely protected her inner thoughts and actions.
There was no escaping the constant thoughts of others.
Her part-time job at the diner. Assigned to Table 10 full with the town's prolific gossip mongers who gathered each Saturday morning to collect the latest news everyone could use but no one wanted.
Mirabella knew from their thoughts that they were afraid of her. Her only friend, a co-worker understood her plight.
Embracing all that the gossip mongers speculated about her and her family, she forged ahead until graduation year, deciding it was time for her to embark on her future.
Just as her mother left, so would she.
Her dad knew, but never spoke of it.
Can Mirabelle find her true calling in life?

Now, Part 2

With each passing month, school dimmed in Mirabella's mind and no longer held her interest. A deep, burning desire crawled its way to the top just beneath the skin. An itch she couldn't reach nor sooth enveloped her. Annoyed, she would lie in bed, squirming, unable to relax or sleep. Her father's medicine cabinet became her comfort, at least temporarily.
But the feeling of restlessness intensified.
Mirabella avoided her dad's piercing stares. The feeling his eyes could see through her facade an into her soul of self-doubt.
He did understand, but he couldn't help her. The reading material she chose worried him. He didn't questioned her love of and obsession with reptiles.
He'd lie in bed himself cursing for his weak moments. One can't stop falling in love. That he fell hard for her mother his family questioned as insanity.
Even more so when he relocated his wife and daughter without notice. His wife adamantly refused to stay away from the area. He doubted her reason included the friendly reception by townspeople.
Six weeks before graduation. A flurry of activity surrounded the town. The freedom festival stirred the local resident's hearts and imaginations.
Only a few days away, they worked fervently organizing the parade and creating floats. Firework displays on major boulevards would draw the townspeople into the central square.
Costume sales tripled as they did each year. Misty, as she was called, was pressed into service.
The idea surfaced slowly. No one would notice.

Frowning, Louis, the shopkeeper located on the edge of town, looked down at her from behind the counter.
Misty pulled out the wad of bills she'd saved and shoved them onto the counter.
The shopkeeper alternated his gaze between her stone face and the money. He shook his head indicating he wasn't interested. Pointing to the sign on the back wall,
Misty followed his finger and read the rules sign.
Frustrated, she reached into her pocket and slammed the folded piece of paper, torn at one end, down next to the money. She knew she'd need a backup plan if her quest was to move forward with no questions.
Carefully unfolding the paper, Louis looked again at Misty. He'd not seen her in his shop before. This time his eyes traveled the length of her body. He snatched the paper from the counter, turned, and headed into a small room off the main business area.
Quietly, an elderly gentleman entered the front area. He beckoned for Misty to approach. "Show me," he ordered with a stern glare.
Misty hesitated. No one else had seen the upper part of her back this past year. She closed her eyes while slowly unbuttoning her blouse. The artist's eyes bulged as he retreated from her. He stood stoic looking rapidly from the paper to her back, unable to grasp what he was seeing.
"This girl doesn't need a tattoo." An outline of the image she wanted applied was already imprinted on her back. It now glowed. He stepped back slowly, unaware he'd reached the nearby wall. The sight frightened and sickened him. He leaned over unable to comprehend the hideous sight he was witnessing.
Moments crept by. "Do you know that what you're asking for, you already possess?"
"What do you mean?"
"Haven't you examined your own body lately? Here." Louis pushed the mirror into her hand.
Misty screamed, then became quiet. Suddenly she understood. She understood her gnawing feelings. She smiled. "Thank you for helping me. I would appreciate it if this remained among us."
Louis nodded.
She didn't know where her place in the world stood. But she now understood why she couldn't return home. Living in that world was not her identity nor destiny.
But first, the festival. A wide grin crossed her face as she imagined her costume.
The festival lights captivated and thrilled Misty. She stood taking in the people, the scenes, the laughter, and the fireworks. From the opposite side of the street, she waved briefly to her dad.
Their eyes met as both captured the memory.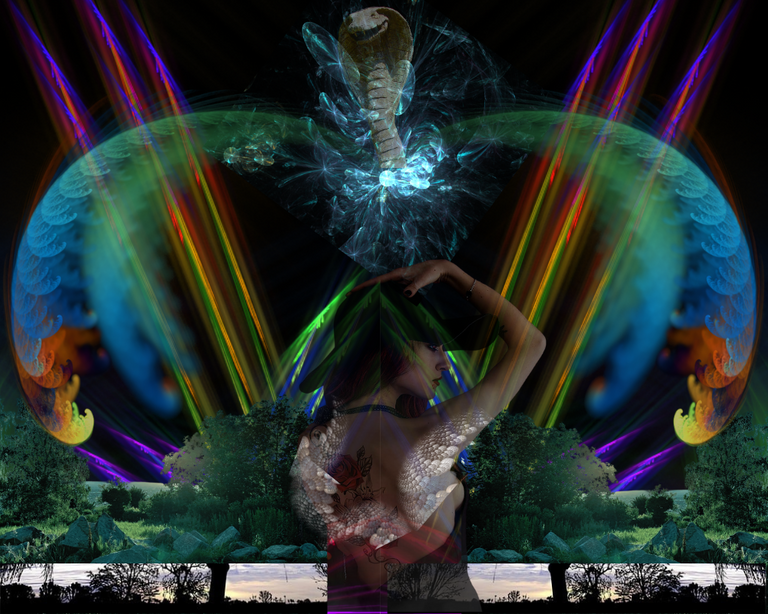 Misty turned and walked briskly toward the edge of town away from the festivities.
The voice in the swamp was calling.

The white waters flowed effortlessly, ribbing through the sediment of the riverbed.
Misty disrobed and felt at ease doing so.
The huge tree bristled, then wrapped its thin branches around her neck. Hissing wind soothed her heartbeat. She turned.
Not more than than inches from her face stood the ten-foot, alabaster viper. The books nowhere near captured its beauty. Expanding its neck to five feet in width, its mouth opened slowly as if to engulf the length of her.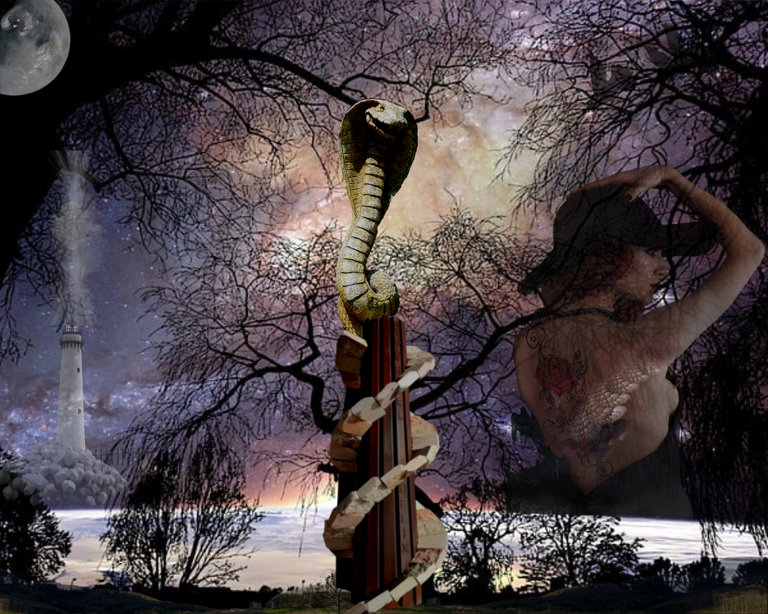 [LMAC Freestyle No. 27 created by me]
Her first thought was to scream and run, but the reptile's soothing voice calmed her. No longer repulsed by the huge scales and long fangs, she held out her hands.
As if frozen in delight, her eyes darted back and forth as the creature's long tongue caressed her cheek.
"Hello daughter. We've been waiting. Come, meet your grand kin and the rest of your family."
The raspy echo she remembered in a lullaby. She smiled, then closed her eyes. The creature coiled around Mirabella until their bodies were as one. It lifted her body gently from the moist grass and guided her to the water's edge.
Her mother lathered her skin with an essence of oil.
"Will I ever return to my father?" She questioned, not out of fright, but curiosity.
"In due time, Mirabella," her mother repeated until they both disappeared into the murky area of the lake's rushing waters.

Part 2 of my Freestyle collage and story was fun to create. For this second part, transformation continued as the center of my theme. In preparing my collage, I again wanted a dark scene to include the swamp-like and dramatic setting in the background. This time, the scene would focus on a festival my character is involved in.
Drawing on Part 1's mysterious collage I created, wanted a black background to represent a night version with the fireworks on display.
I added to the theme with three beautiful and colorful fractals I recently contributed to the LIL.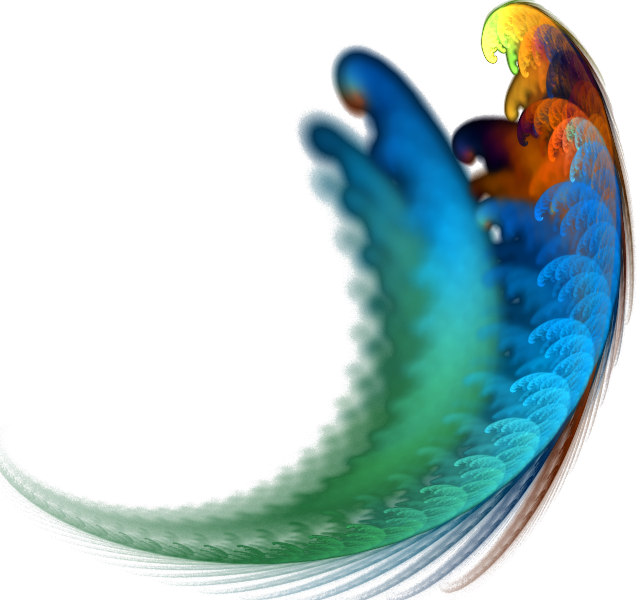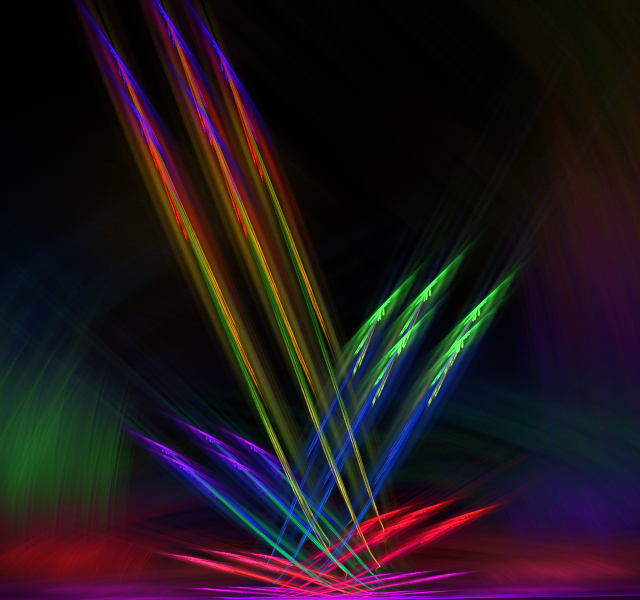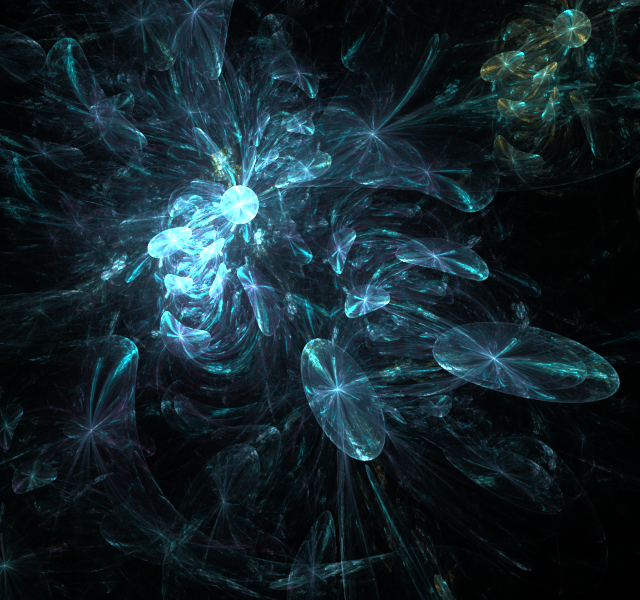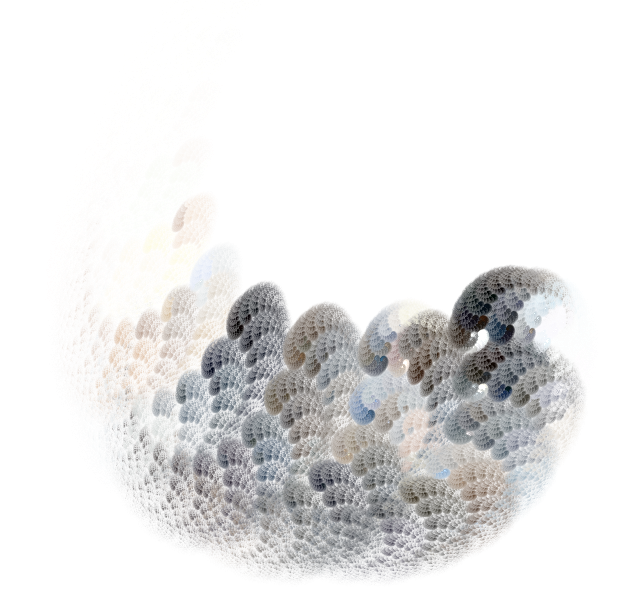 The remaining images for this collage consisted of several of the original images from my Part 1 collage. I uploaded all images into Canva to take advantage of my Annual Pro Membership Subscription to blend the images into the scene.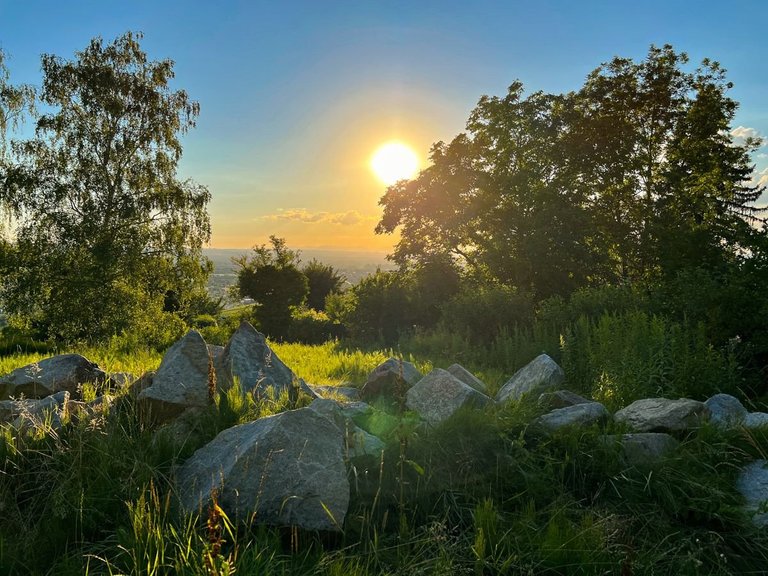 [LMAC Round 161 Original contest image]
Below are the additional images I included to complete my theme:

Here is the final version: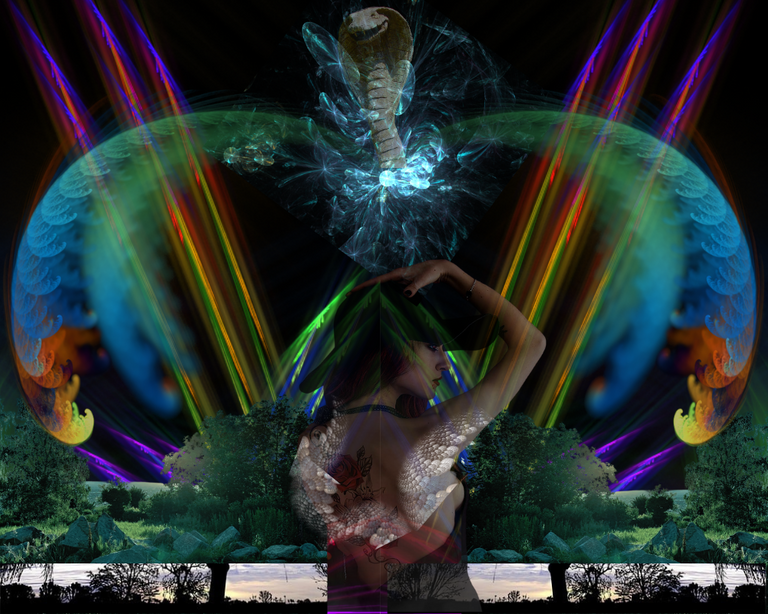 Good luck everyone with whatever your endeavors.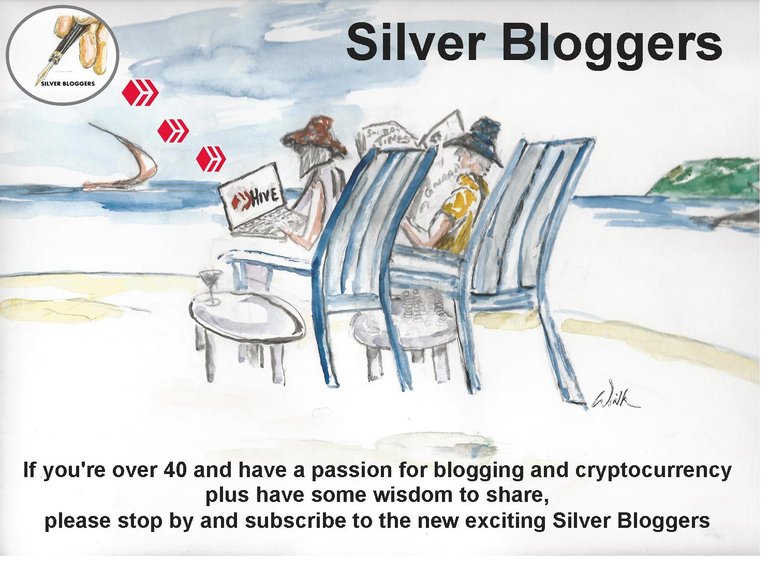 SOURCES:
a) JustClickindiva's Footer created in Canva utilizing its free background and images used with permission from discord admins.
b) Unless otherwise noted, all photos taken by me with my (i) Samsung Galaxy 10" Tablet, (ii) Samsung Phone, & (iii) FUJI FinePix S3380 - 14 Mega Pixels Digital Camera
c) Purple Butterfly part of purchased set of Spiritual Clip Art for my Personal Use
d) All Community logos, banners, page dividers used with permission of Discord Channel admins.
e) Ladies of Hive banner used with permission of and in accordance with the admin's guidelines
f) Thumbnail Image created by me in Canva.
g) "Flames." What is Apophysis 2.09. https://flam3.com/

English is my native language.
If translation included, I use DeepL to assist my readers.
Thanks for your patience an understanding.
El inglés es mi lengua materna.
Si se incluye traducción, utilizo DeepL para ayudar a mis lectores.
Gracias por su paciencia y comprensión.

---
---