Reminiscing The 1st and 2nd year of Needlework Your Barbie Contest || My Doll's Outfit Collection #01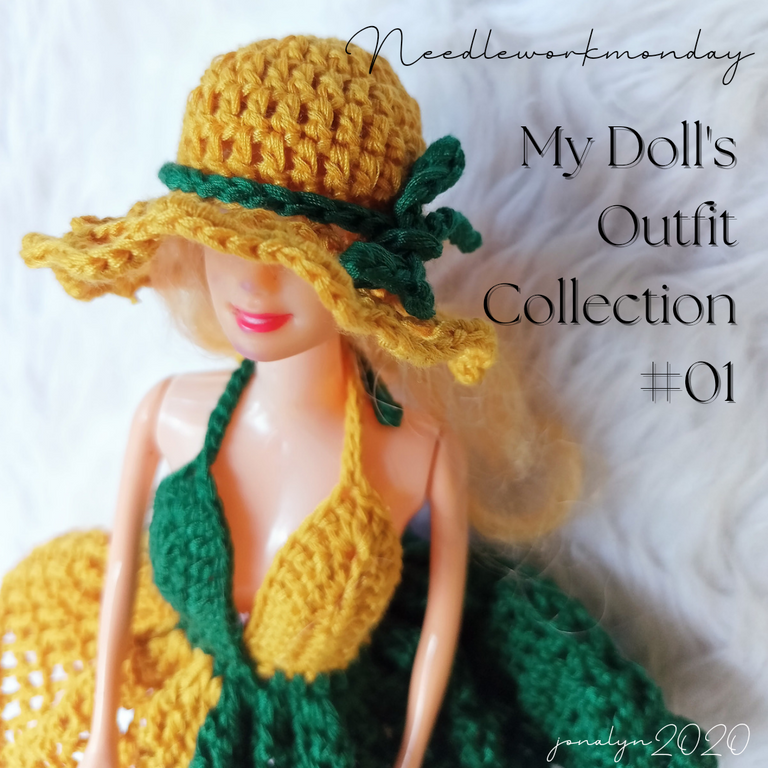 (Edited in Canva)
I was missing this community for a long time. Though I wanted to make a post here, some rush orders, house chores, and duties of being a mother had prevented my urge to do it. Last Monday, I was really thinking of something to share here. And I was a little guilty of not being active in my dearest community.
And honestly, I could sense SILENCE here when I visit the community. Or maybe, I was the only one who felt it, the one who imagined it. As if something is missing, or someone.
Then today, I remember that last year, in November 2021, the Needlework community organized a contest with the title: Needlework your Barbie Contest!
@crosheille
brought back that contest that was first organized in the year 2020 (November) and due to its public demand, it was reorganized again in its 2nd year.
For me, it was the most exciting event every crafter, around the globe awaited. And I was happy that I was able to participate in the 1st and 2nd year of the said contest.
This is the link to the first Contest that happened in November 2020 where 115 entries were being submitted and the result were all spectacular.
This was my 2020 Entry.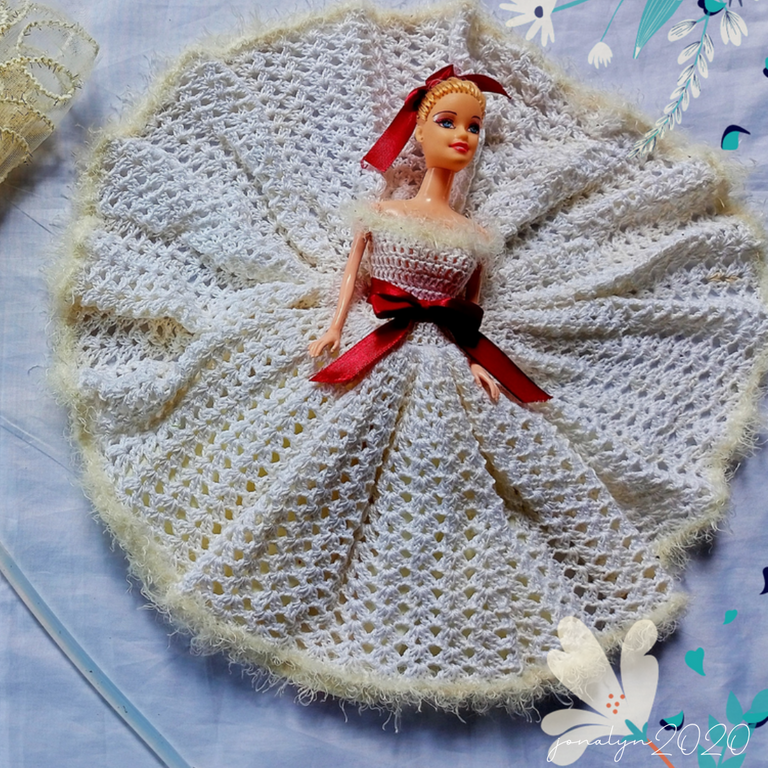 A crocheted ball gown with red ribbon to accentuate her whole outfit.
Then last year, in November 2021
the contest was reorganized. A total of 162 participants had submitted their entries and the result were announced.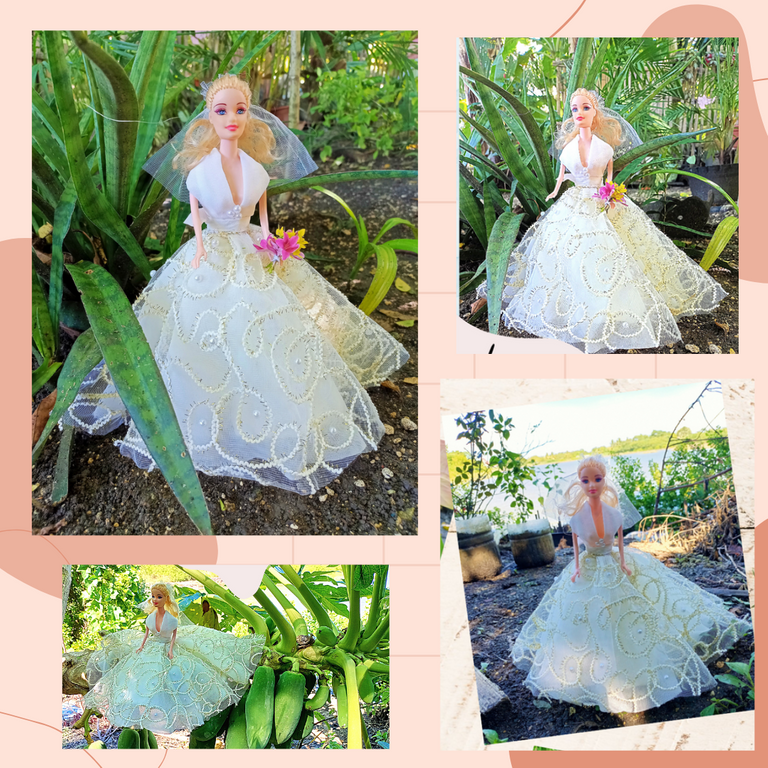 A bridal gown with veil and tiny flowers for the bouquet.
Now, I'm kinda missing the contest and though November hasn't ended yet, it means there's still a chance for the 3rd year of the "Needlework your Barbie contest"!
So I decided to practice making another outfit of my doll in preparation for the coming contest. Plus, I wanted to have that collection of barbie dresses that will soon be available for selling as Christmas gifts for children. Another thing is that I want to design my own crochet dresses that will soon be my guide in making real-size crocheted dresses pattern.
Ah, that would be a nice plan, isn't it? But hoping I could make it besides I still have tons of WIPs that need to finish, and some pending orders from my customers. 😅
Anyway, here's my tutorial of how I made this two-toned dress for my Barbie doll. Let's begin.

Choosing the color of yarns.
It was just an accident that dark green and mustard color yarns were placed side by side and noticed that they are a great combination. So I gave it a try and was delighted with the result.
Materials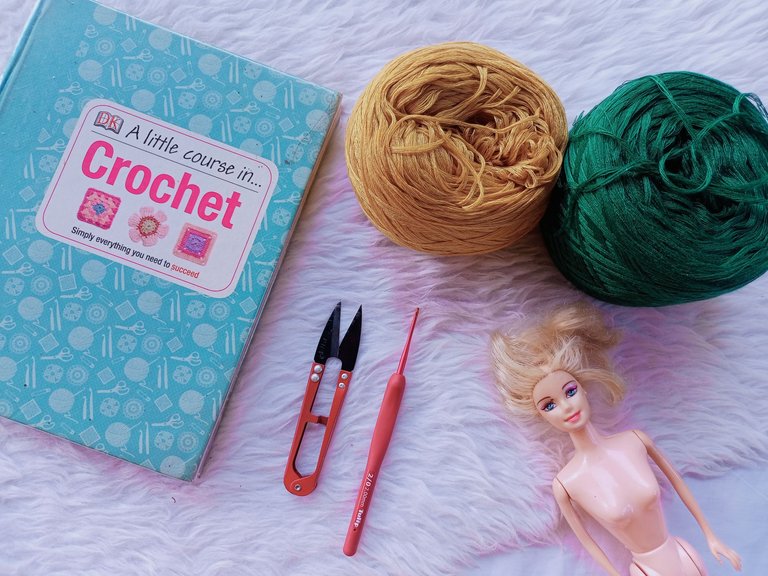 IMG20221107100631
8ply of spun polyester (mustard and dark green in color)
2.5mm crochet hook
cutter
The Process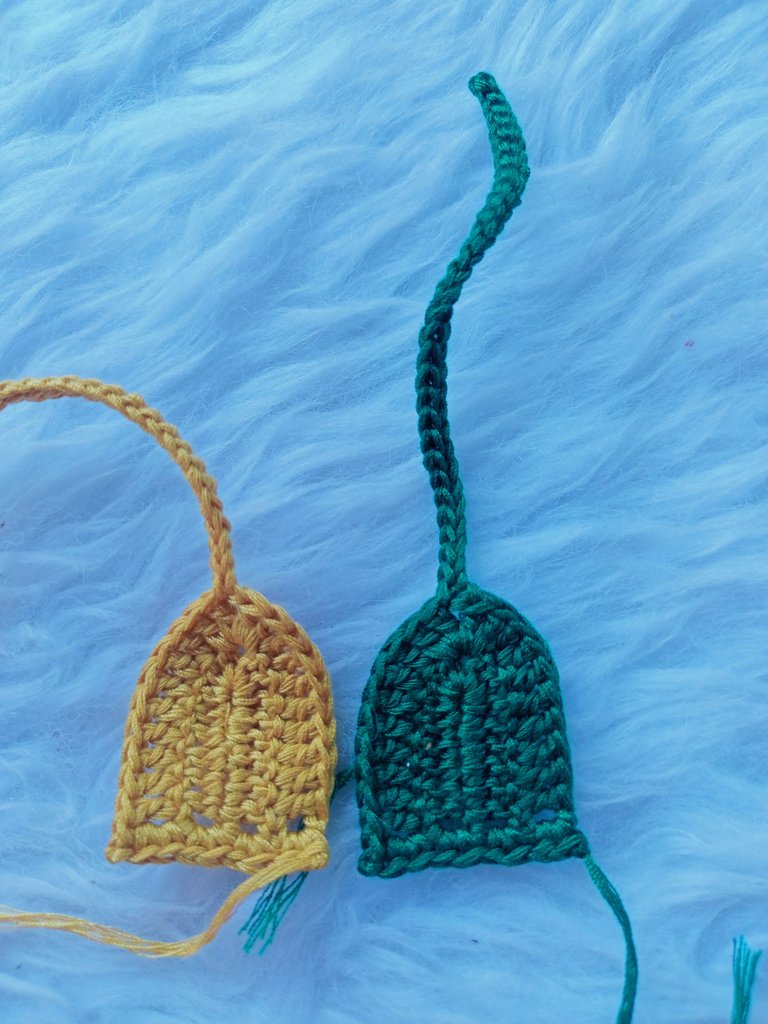 IMG20221107103035_01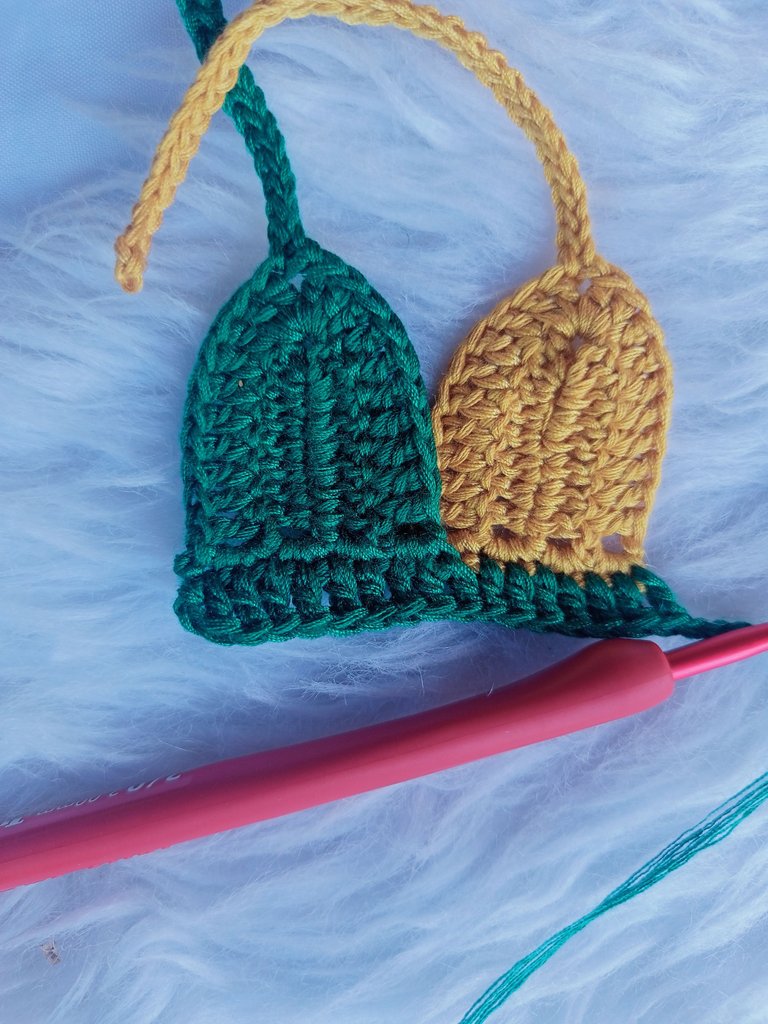 IMG20221107103606_01
I first made the two cups for the top and joined them overlapping with each other.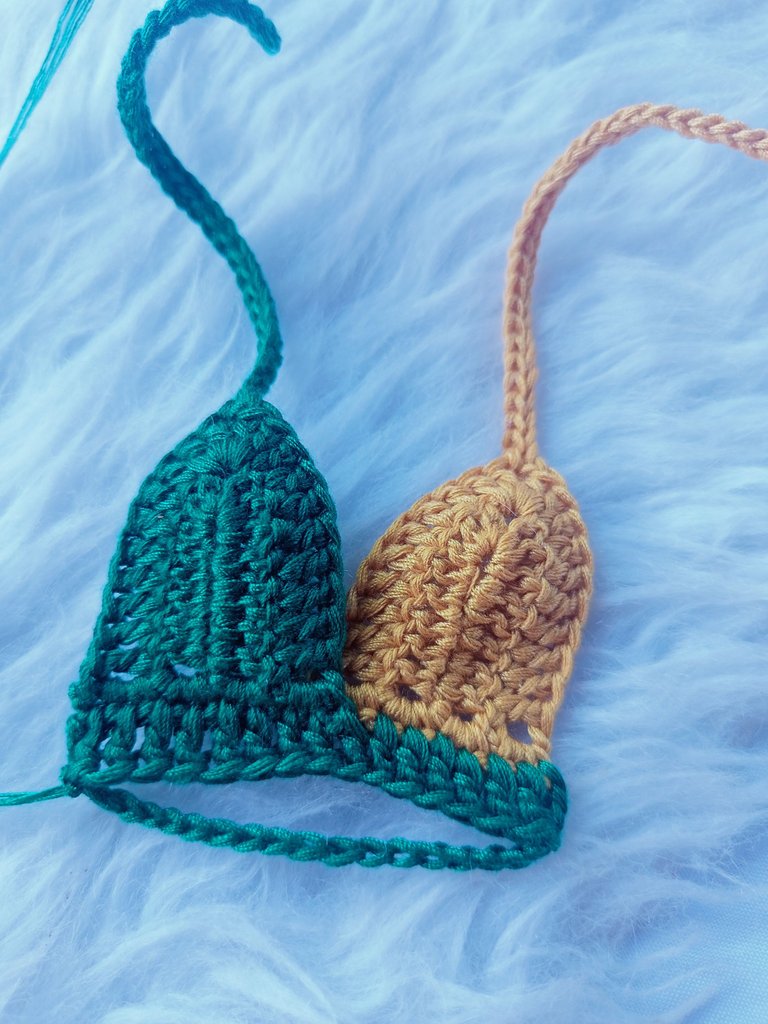 IMG20221107103835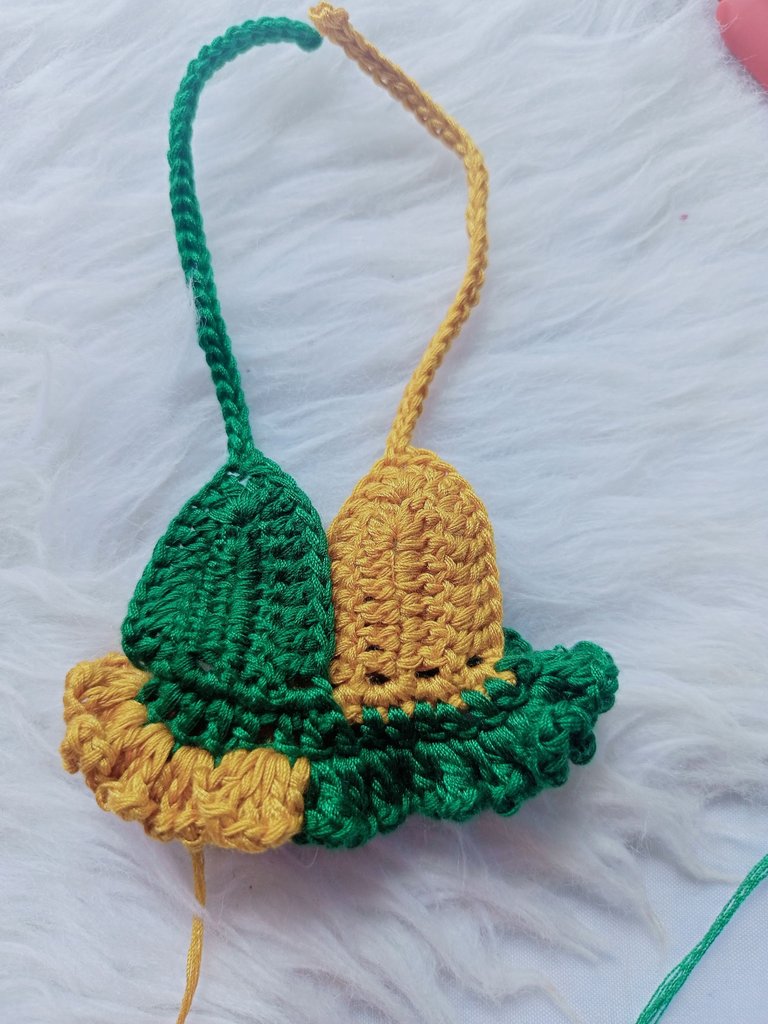 IMG20221107105326
Next, I began to work on the lower portion, where it should be a puff or wide skirt resembling to a ball gown. I decided to divide also the bottom part where the mustard color will be on the left side while the dark green yarn on the right side of the skirt.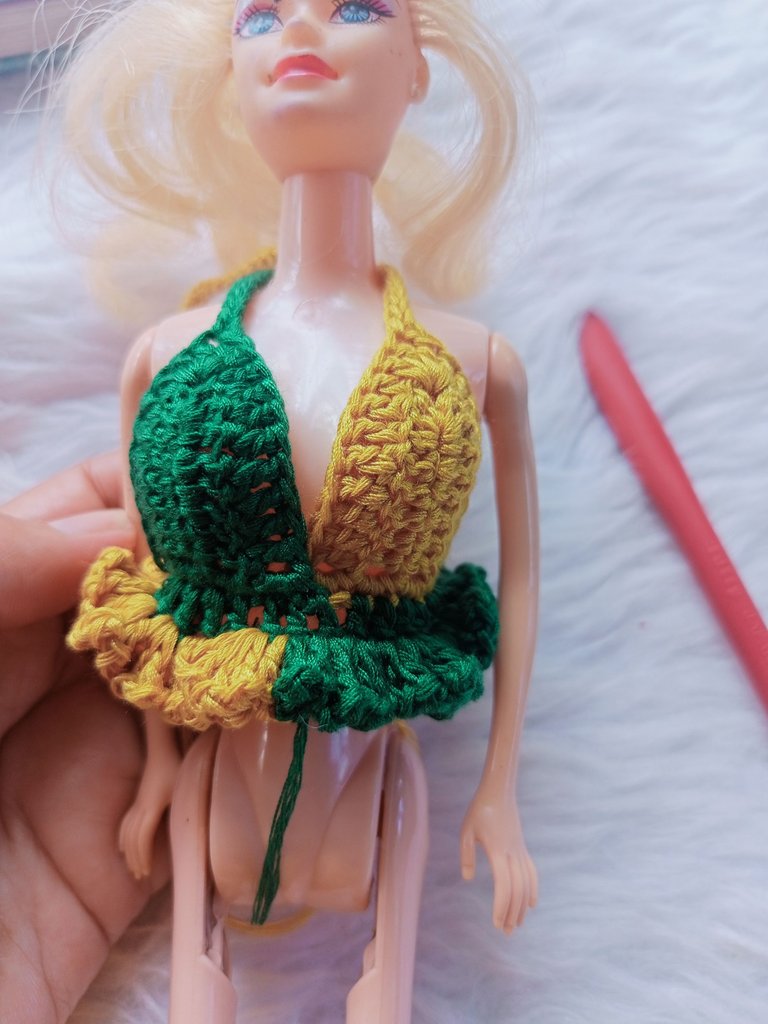 IMG20221107105438_01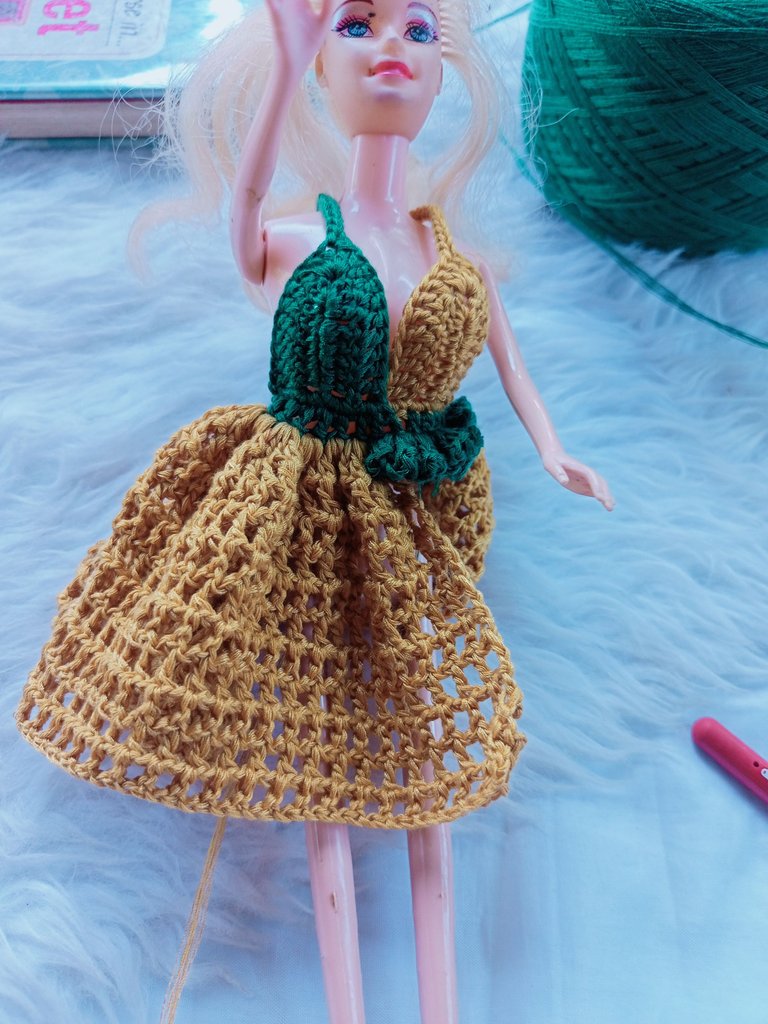 IMG20221107134424_01
The good thing when making a doll's dress is that you can always try to fit them if it will look pretty or something that you can adjust.
The right side picture shows that I did crochet first the mustard so I can continuously work on it without cutting the yarn.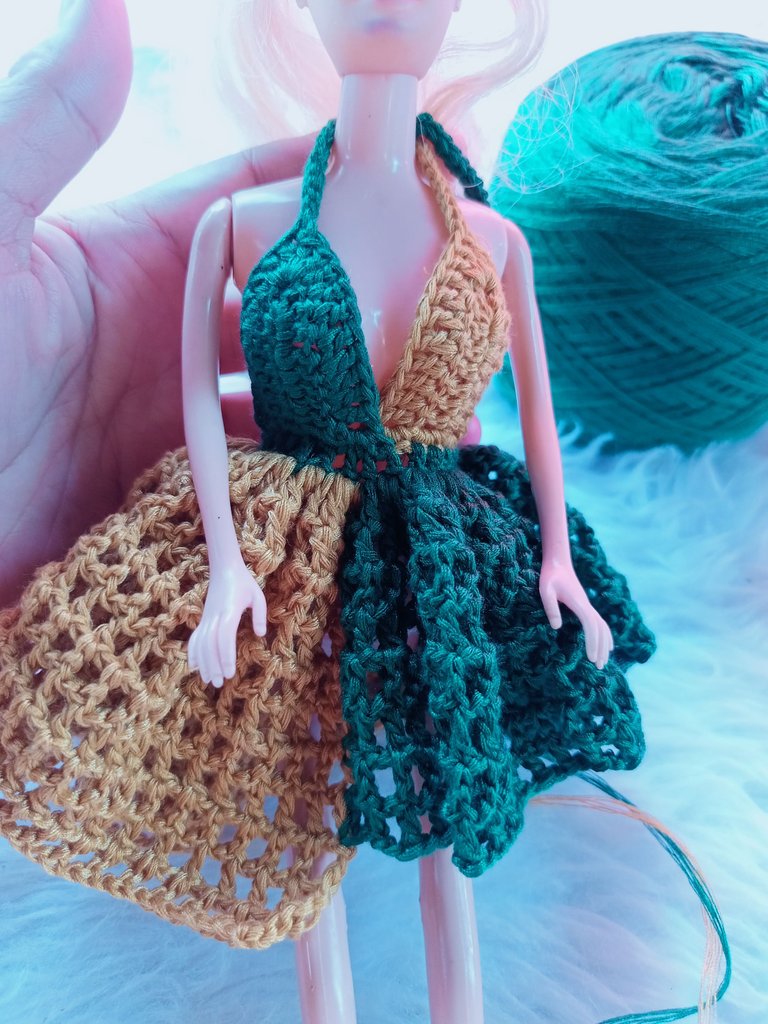 IMG20221107143228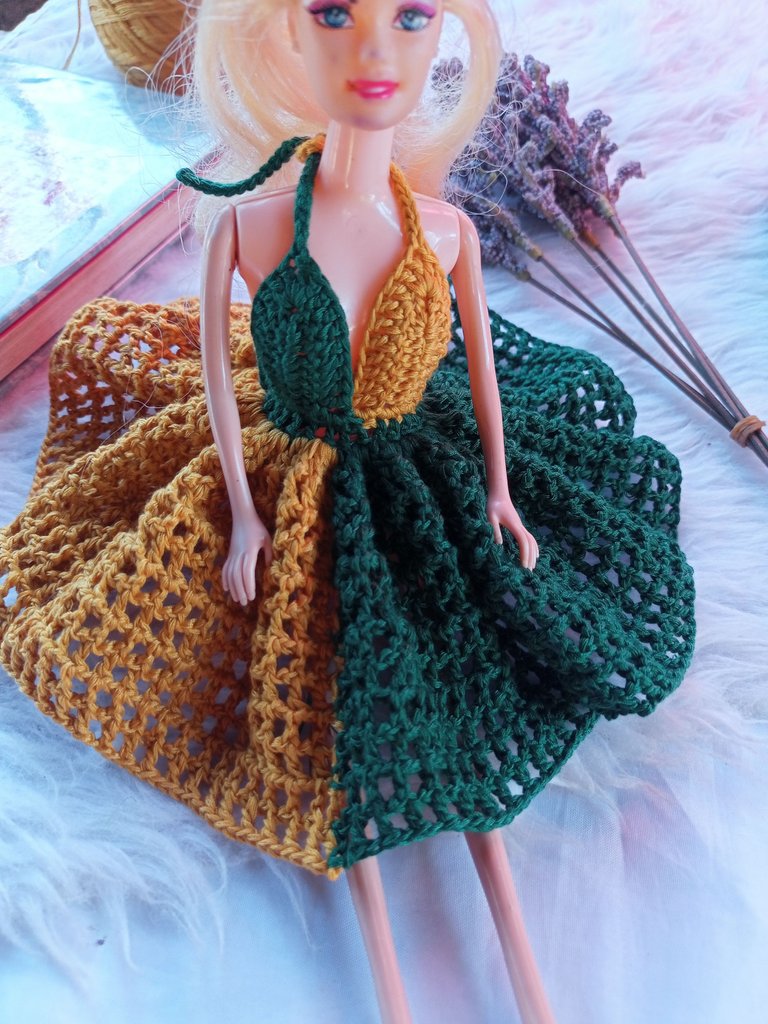 IMG20221107150921
Then after achieving the right length of the skirt, I then continue on the dark green-colored yarn.
I was getting excited as my work progressed and doesn't want to stop until I finish it all.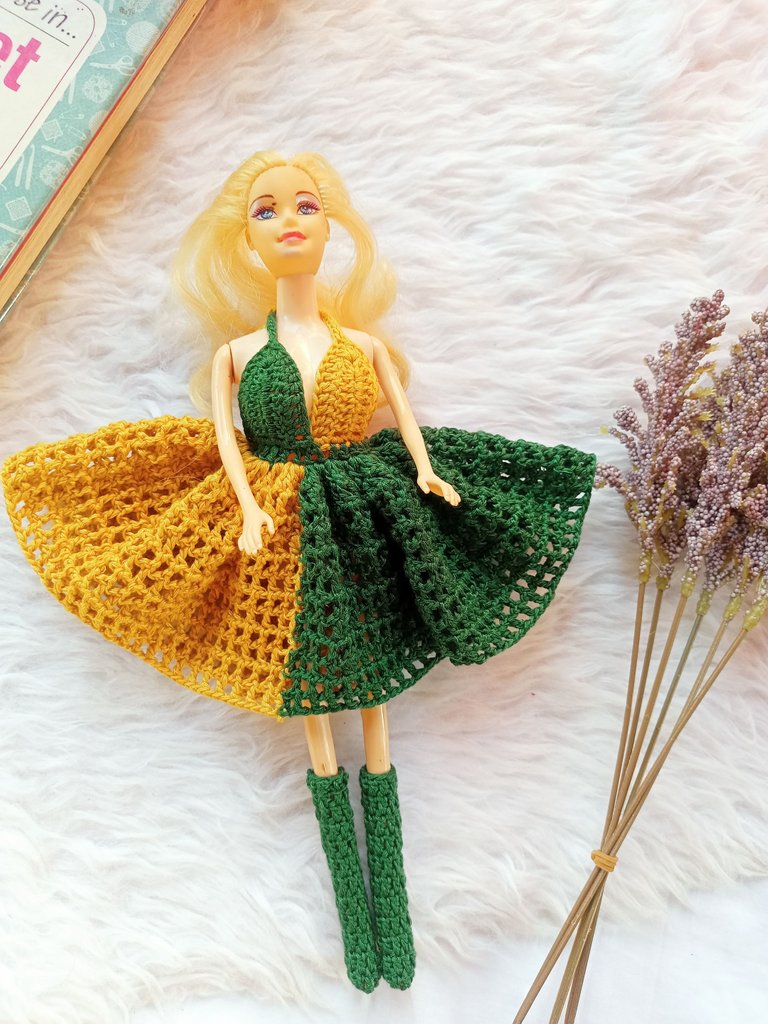 IMG20221107154025_01
Her outfit would not be complete without boots or shoes and since I lost her original footwear, I have to make boots of dark green or mustard color. I was thinking first if I can also make one dark green colored boot on the left and the other in mustard (in the right side) but then decided to choose only one color.
But what do you think? Would it be good making two different colors of boots which is dark green (on the left) and mustard (on the right)? I would be happy to know your side.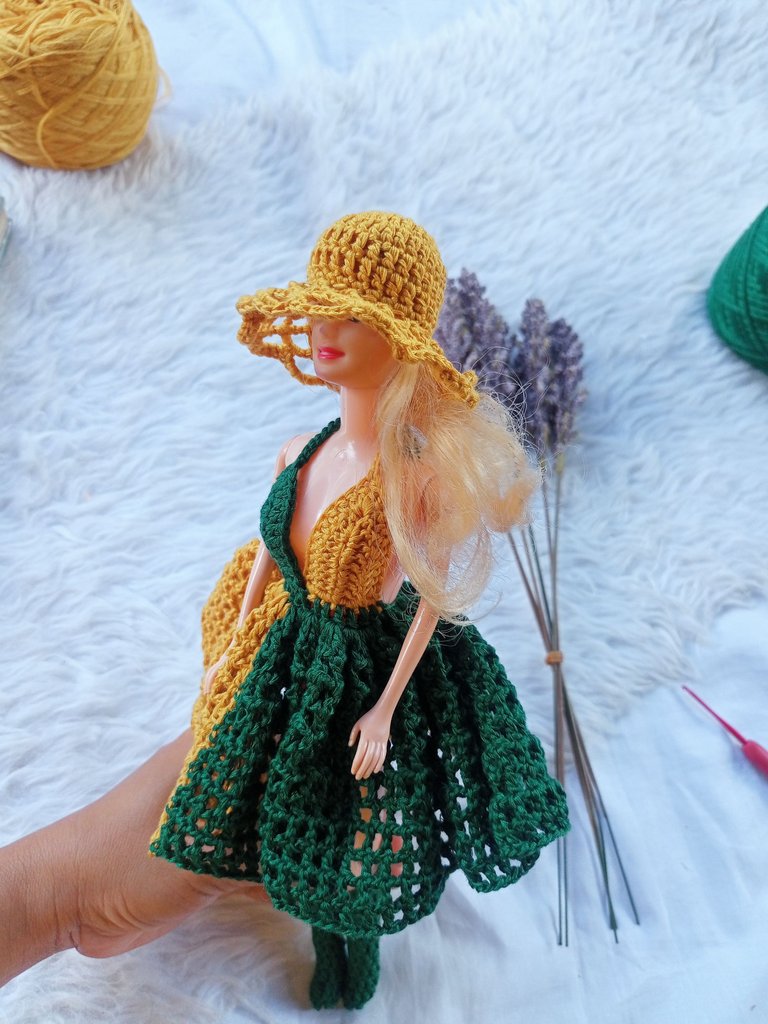 IMG20221107161903_01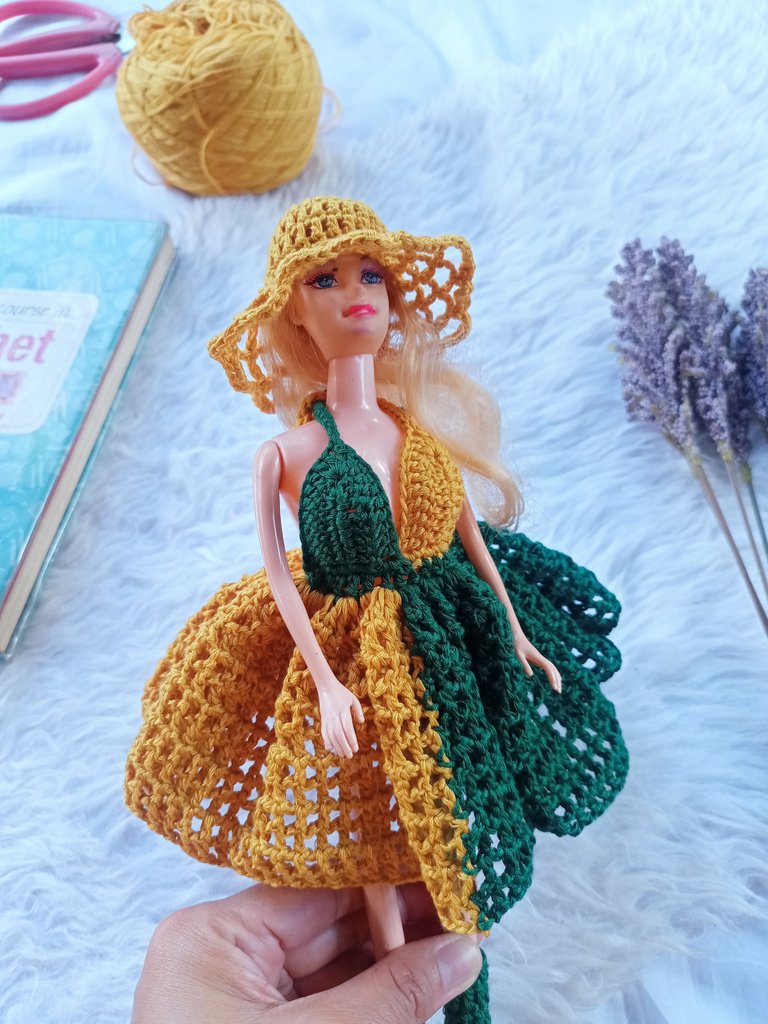 IMG20221107161834_01
And then finally, the hat to complete her outfit. I choose mustard to balance it with the colored green boots. And added a green small tie on the brim of the hat.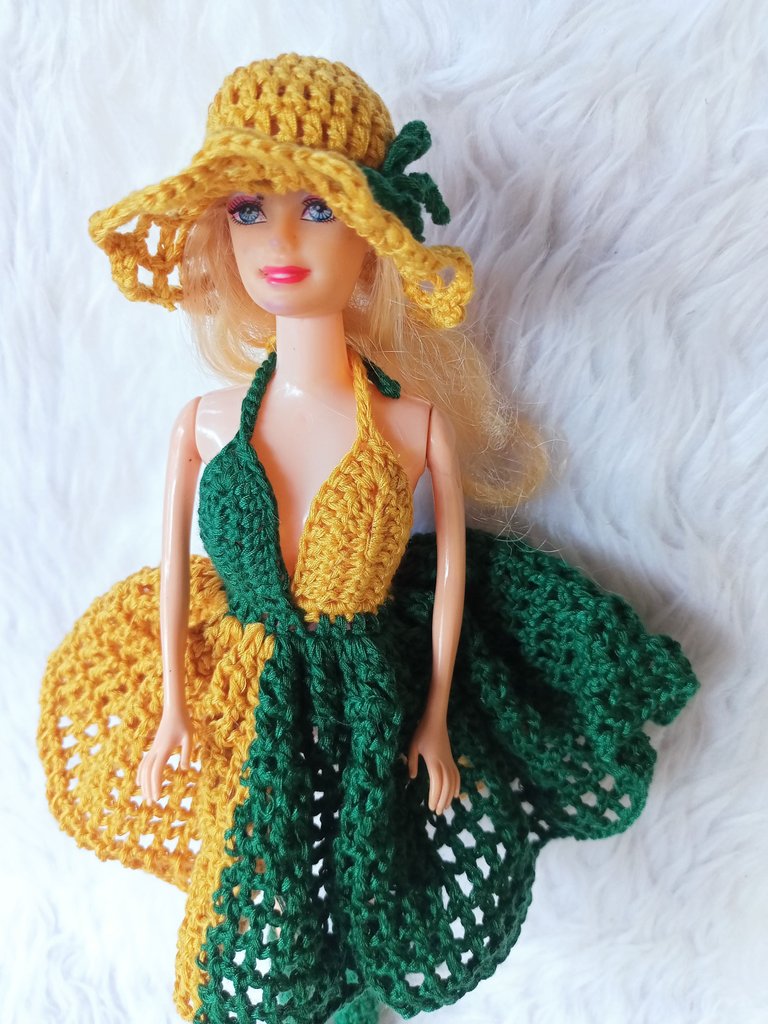 IMG20221107162825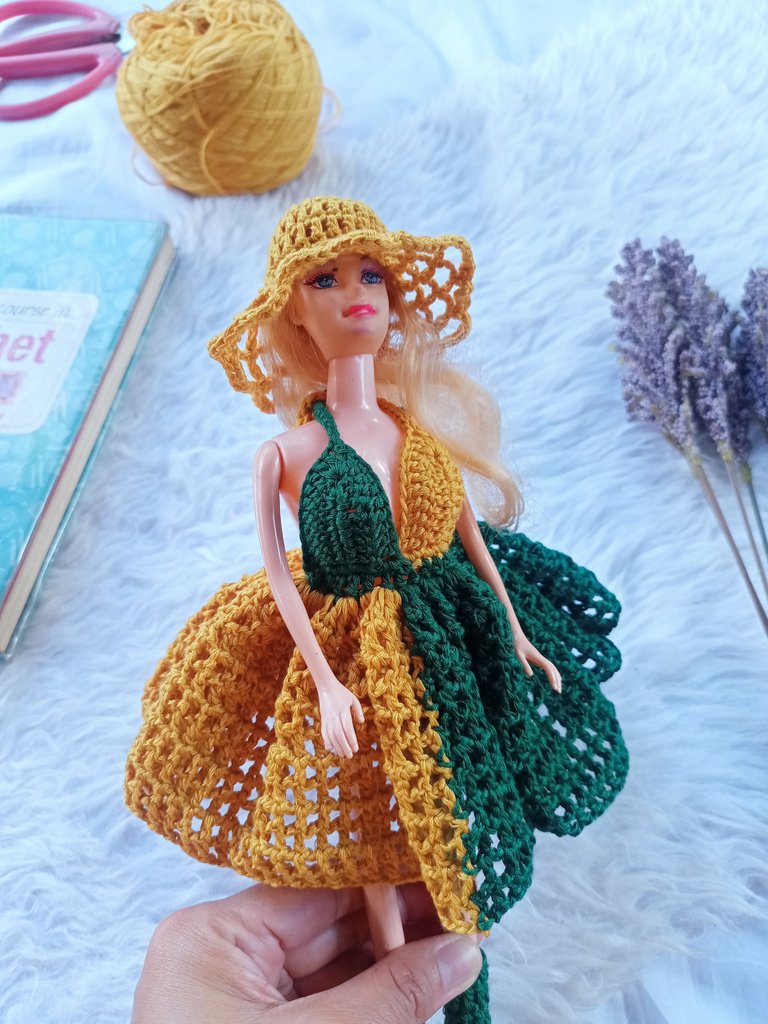 IMG20221107161834_01
And voila! It's all done. I was able to do it in just a matter of hours, 2-3 hours I guess. But of course, with lots of distractions.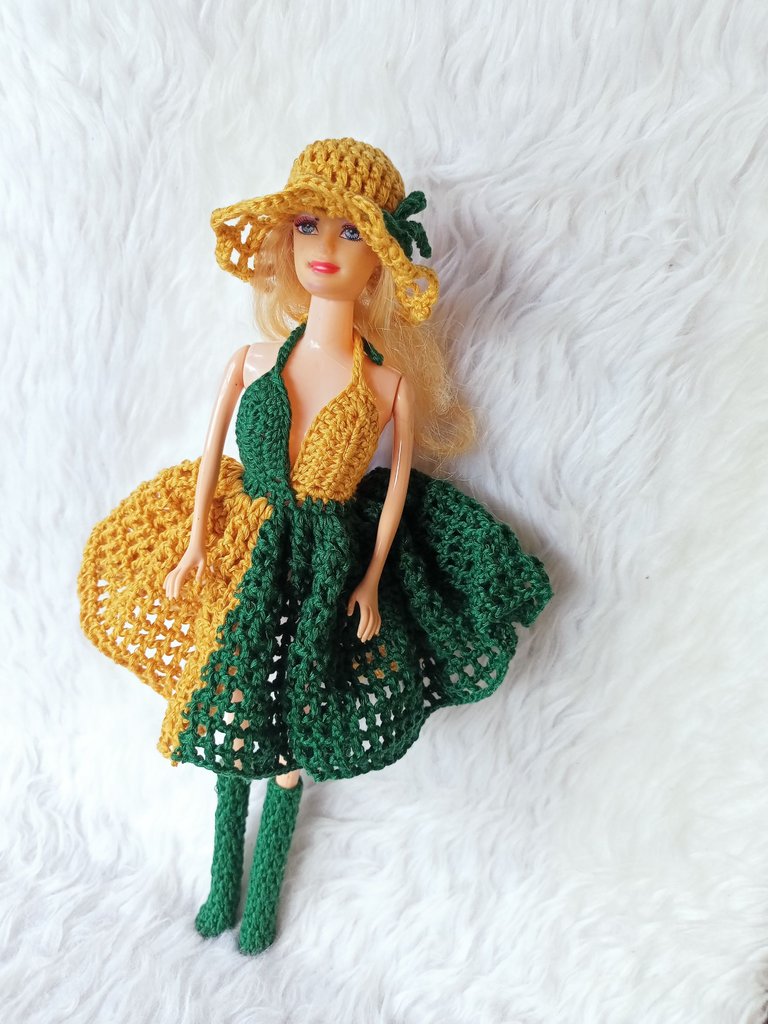 IMG20221107162755_01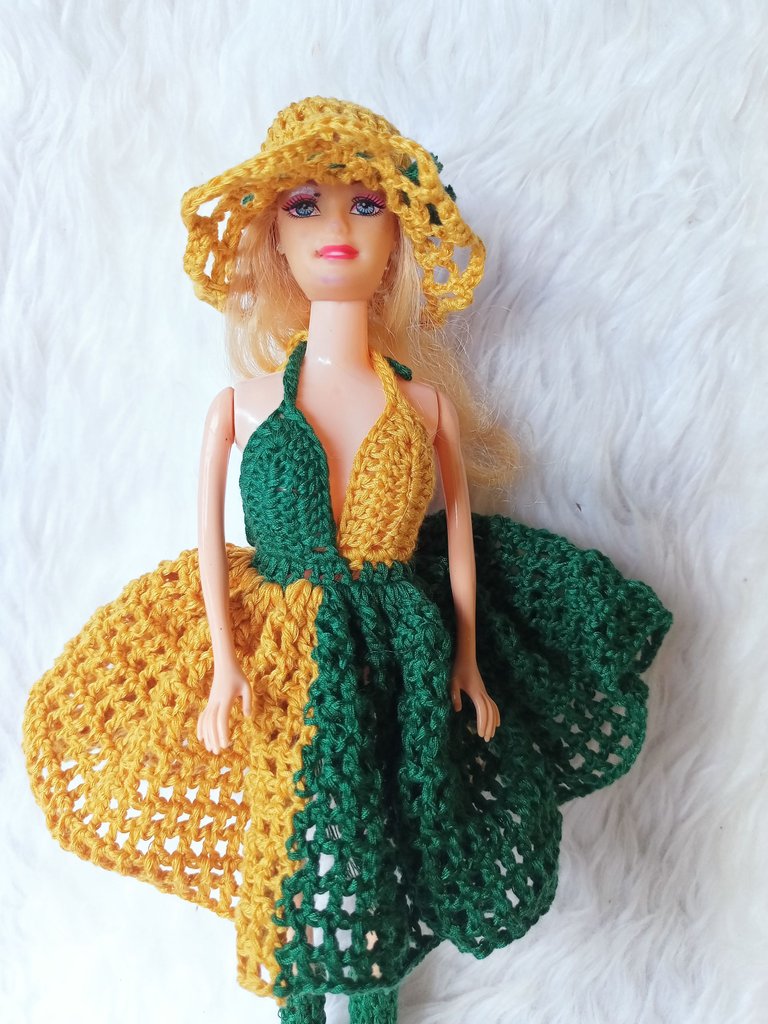 IMG20221107162819_01
I kinda like her outfit, but I think there is still something that can be added here. A ribbon? or pearls? beads? I just can't figure it out yet. But maybe, you can share with me your recommendations, comments, or feedback here. I would love to hear something from you.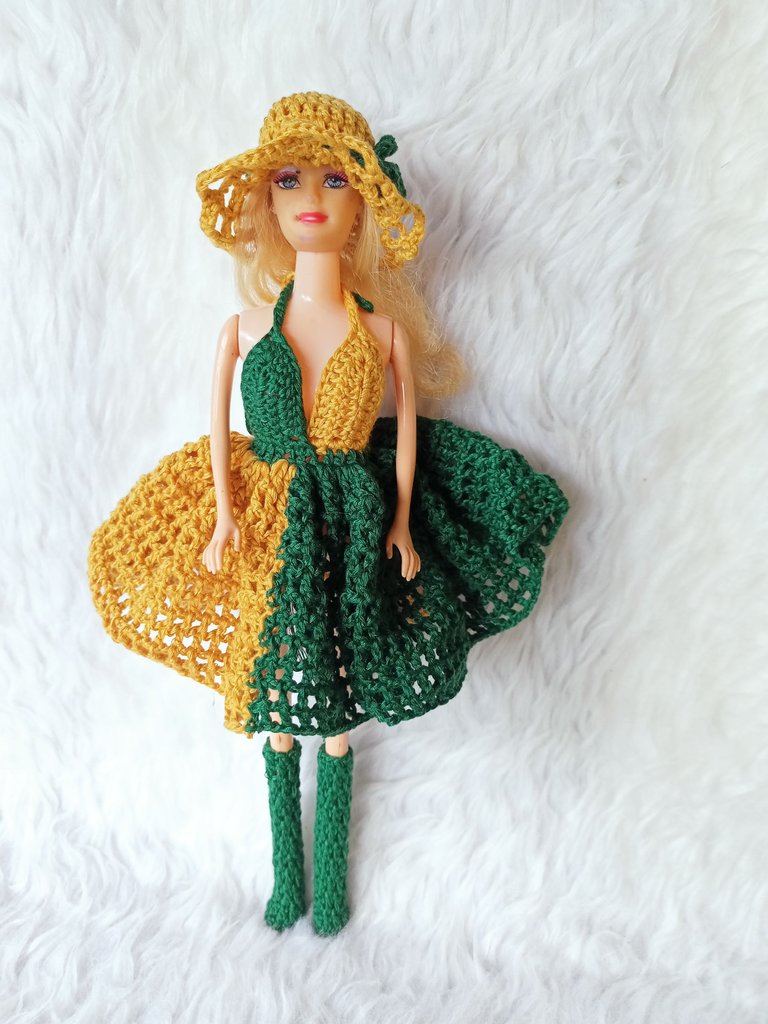 IMG20221107162758_01
Anyway, I hope you all like her new outfit as much as I do. And that is all for now, God bless everyone. Enjoy your day!
Love lots,
@jonalyn2020

Shopee
To God Be The Glory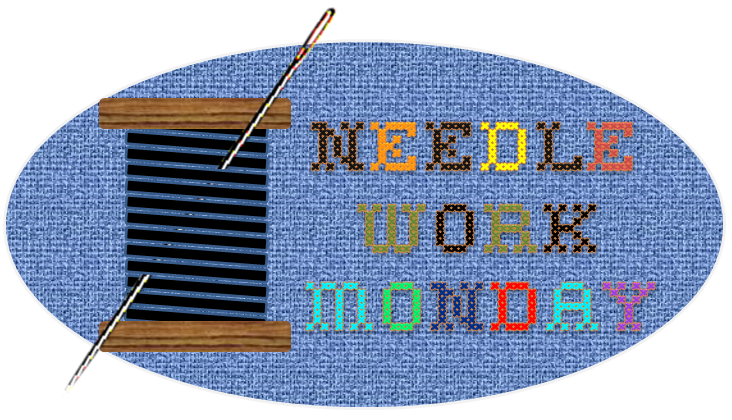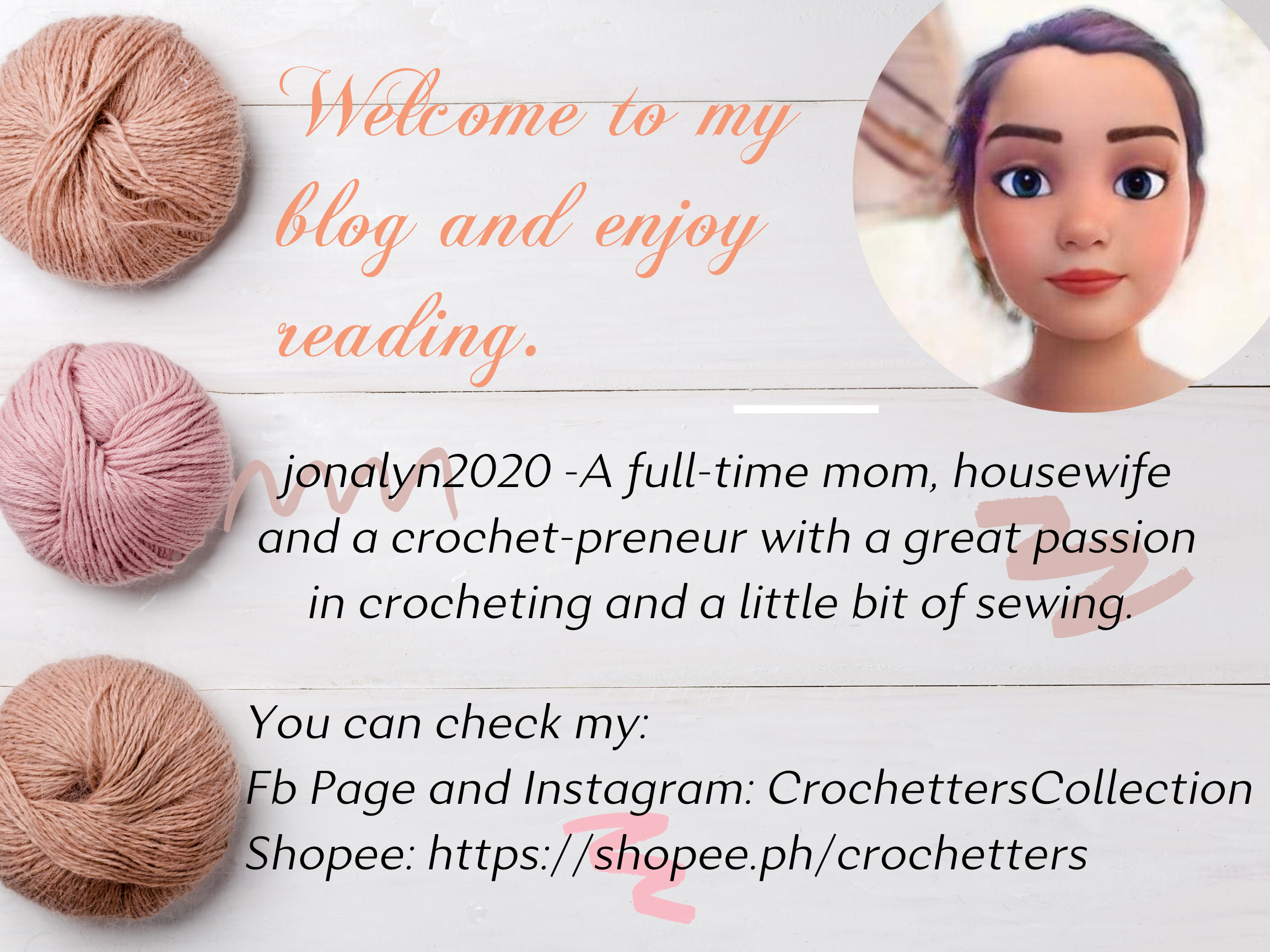 ---
---