"STOLEN STORIES" - MONOMAD - 03NOV22 || ENG-ESP || (10 Pics)


---
Today is another day of gray dawn and scattered showers in my town.... So it is not appropriate to go out to take pictures and walk a bit on the streets and country roads.... So I've simply sit in front of my PC and opened the directories on my hard drives.... There I have thousands of RAW files with stories.... Then I have taken some of them and I have driven away the ghosts of discouragement by editing one by one and thinking and writing their stories...
Hoy es otro día de amanecer gris y lluvias dispersas en mi pueblo... Entonces no es propicio salir a hacer fotos y caminar un poco en las calles y caminos rurales... Así que simplemente me he sentado en frente de mi PC y he abierto los directorios de mis discos duros... Allí tengo miles de archivos RAW con historias... Entonces he tomado algunas y he alejado los fantasmas del desanimo editando una por una y pensando y escribiendo sus historias...
I have to confess that building these publications and sharing them in #HIVE with you, is for me a kind of "catharsis" which allows me to feel better (I am a real "cocktail" of mixed thoughts and bipolarity, so for me it is good and necessary to do this)...
Tengo que confesar que construir estas publicaciones y compartirlas en #HIVE con ustedes, es para mi una especie de "catarsis" la cual me permite sentirme mejor (soy un verdadero "cóctel" de pensamientos encontrados y bipolaridad, así que para mi es bueno y necesario hacer esto)...
These then are my "Stolen Stories" today for you and it is also my entry to today's #monomad challenge...
Estas son entonces mis "Historias Robadas" de hoy para ustedes y también es mi entrada al reto #monomad de hoy...
---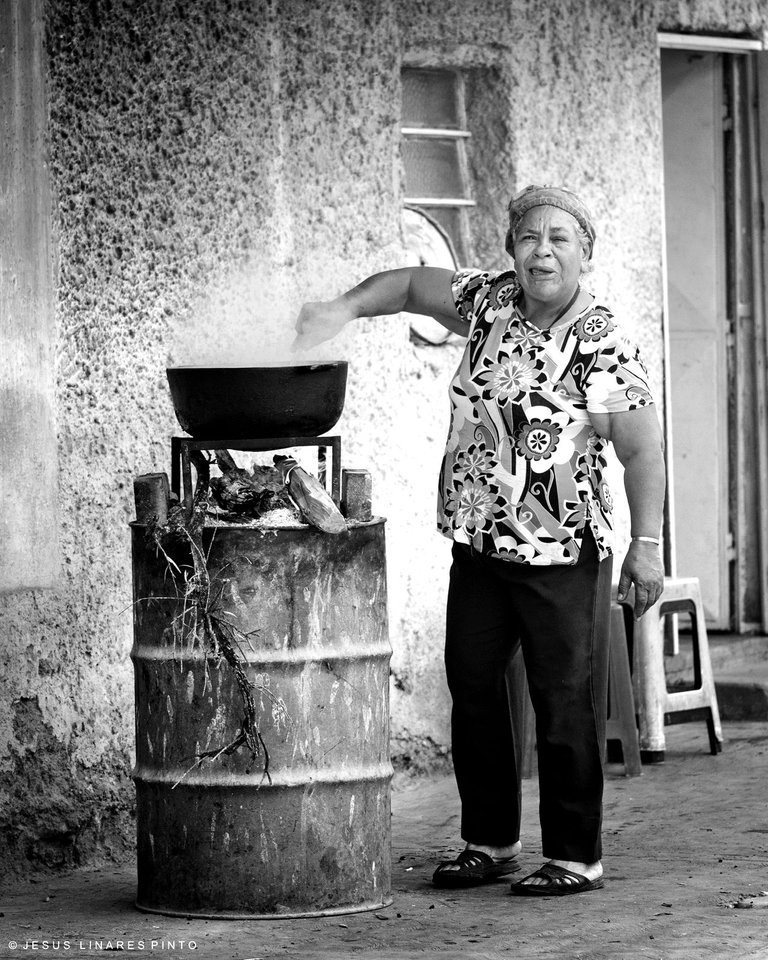 "Lina Tarazona"... I'm walking down a village street and behind me I hear a voice shouting: "Hey Jesus, take a picture of me making the soup! Ha ha ha :))... I love when these things happen to me!.... About fifty meters away I see Lina standing next to a makeshift wood stove built with a metal barrel.... Lina was born and grew up in the mountains to the northwest of the village, but when she was still very young she decided to come to live in the village and since then she has dedicated to cooking and selling various dishes prepared by herself and always using wood for cooking... Lina says she has been doing this for over 50 years and also claims that "Her wood-fired soup is the best in the world!"... I have heard very good opinions about it, but I am a consummate vegetarian, so I'll have to trust what others say!... ;)
"Lina Tarazona"... Voy por una calle del pueblo y a mis espalda oigo una voz que grita: "¡Hey Jesús tomame una foto haciendo la sopa!"... Ha ha ha :))... ¡Amo cuando estas cosas me pasan!... A una cincuentena de metros observo a Lina de pié al lado de una improvisada estufa de leña construía con un bidón metálico... Lina nació y creció en las latas montañas al noroeste del pueblo, pero siendo aún muy joven decidió venirse a vivir al pueblo y desde entonces se ha dedicado a cocinar y vender diversos platos preparados por ella misma y siempre usando leña para cocinar... Lina dice que ha estado haciendo esto por más de 50 años y también afirma que "Su sopa a la leña es la mejor del mundo!"... ¡Es escuchado muy buenas opiniones respecto a eso, pero yo soy un vegetariano consumado, así que tendré que confiar ello que otros dicen!... ;)
---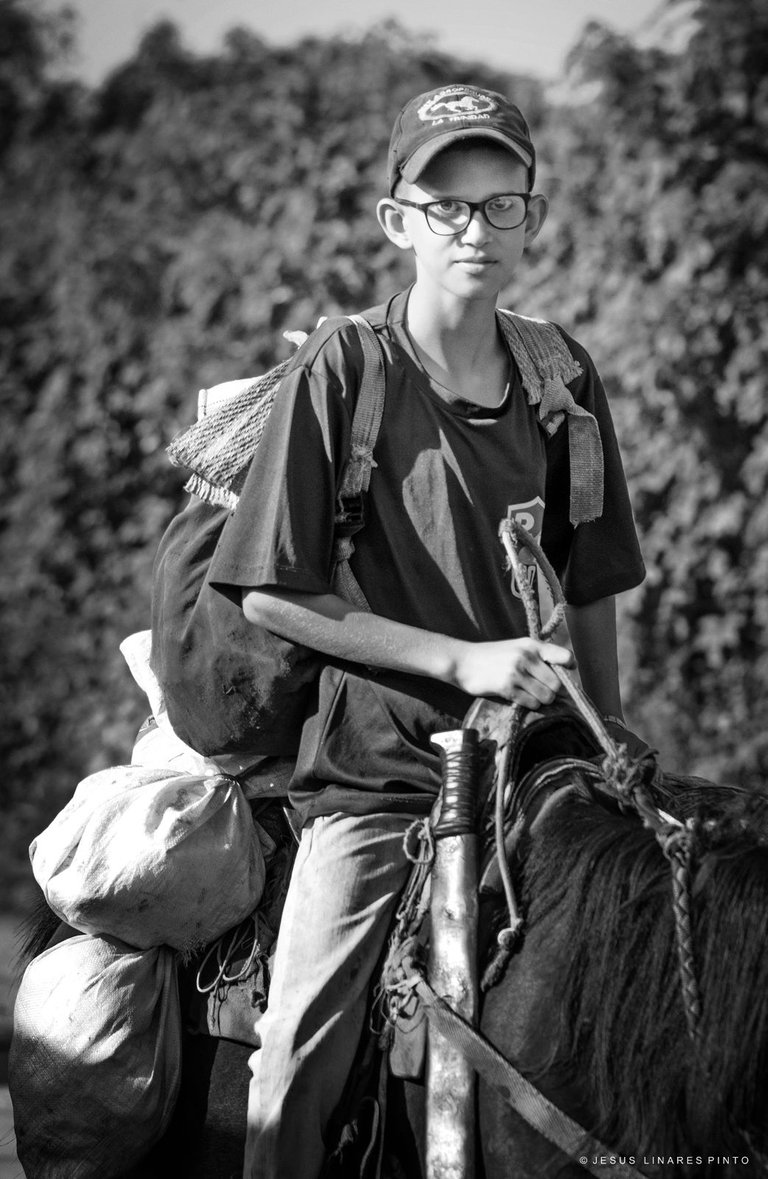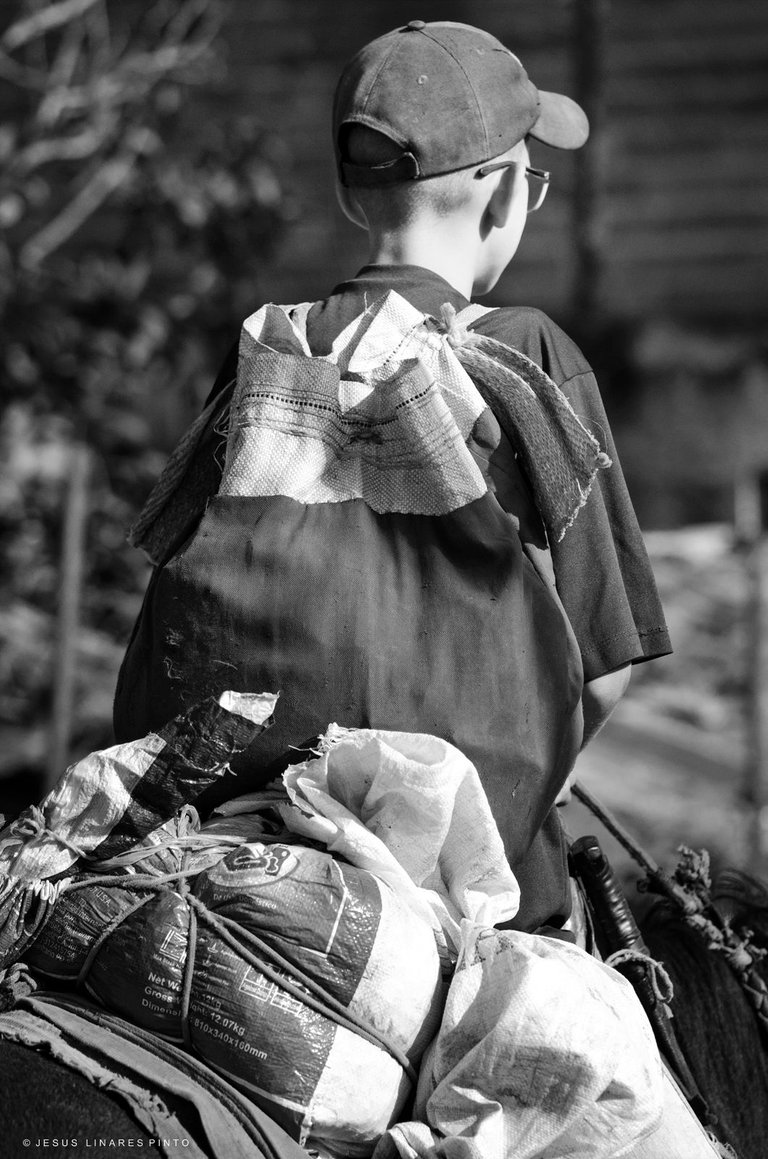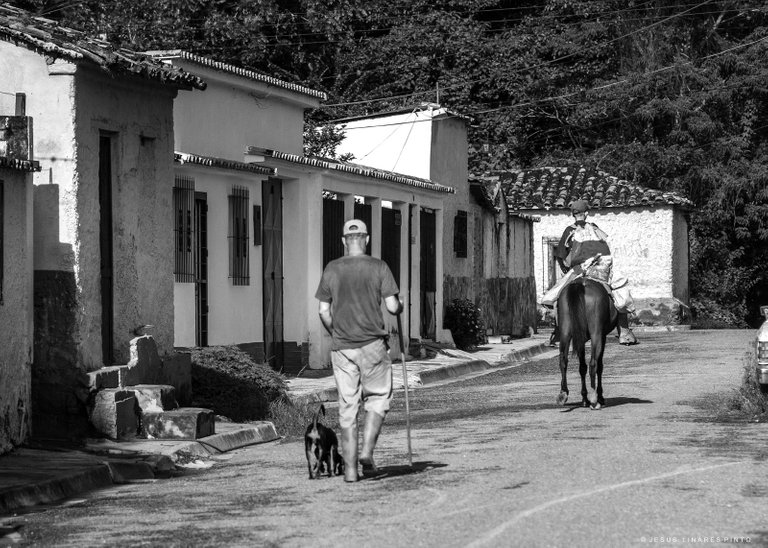 "Antonio Jr." ... Seeing this boy on horseback in the streets of the village, I was somewhat curious, as his appearance is perhaps more that of a young intellectual than that of a local peasant.... A few meters away from this boy and his horse, I observed my friend "Antonio Sanchez", a tall and imposing looking man, whom I often meet on the trails of the nearby mountains... Antonio (the father) explained everything to me... He told me that his son was going to the mountains in his company to go and see a cow he owned that had given birth to a calf, as the boy is a veterinary student and usually supports his father from time to time in the care of the animals on his farm about 10 kilometers away from the mountains... In the last photo you can see Antonio and his son leaving the streets of the village to begin the ascent... Antonio walks accompanied by a small hunting dog, which they use as a pet and to alert of the presence of snakes and even of strange people nearby...
"Antonio Jr." ... Al ver a este chico a lomos de caballo en las calles del pueblo, sentí algo de curiosidad, pues su aspecto es quizás más el de un joven intelectual que el de un campesino de la zona... A pocos metros de este chico y su caballo, observe a mi amigo "Antonio Sanchez" un hombre alto y de aspecto imponente, al cual suelo encontrar con frecuencia en los senderos de las montañas cercanas... Antonio (el padre) me aclaró todo... Me dijo que su hijo iba hacia las montañas en su compañía para ir a ver una vaca que de su propiedad que había dado a luz un becerro, pues el chico es estudiante de veterinaria y suele apoyar a su padre de vez en cuando en la atención de los animales de su finca a unos 10 kilómetros de camino hacia las montañas... En la ultima foto se ve a Antonio y su hijo abandonando las calles del pueblo para comenzar el ascenso... Antonio camina acompañado de un pequeño perro cazador, el cual usan como mascota y para alertar de la presencia de serpientes e incluso de personas extrañas cerca...
---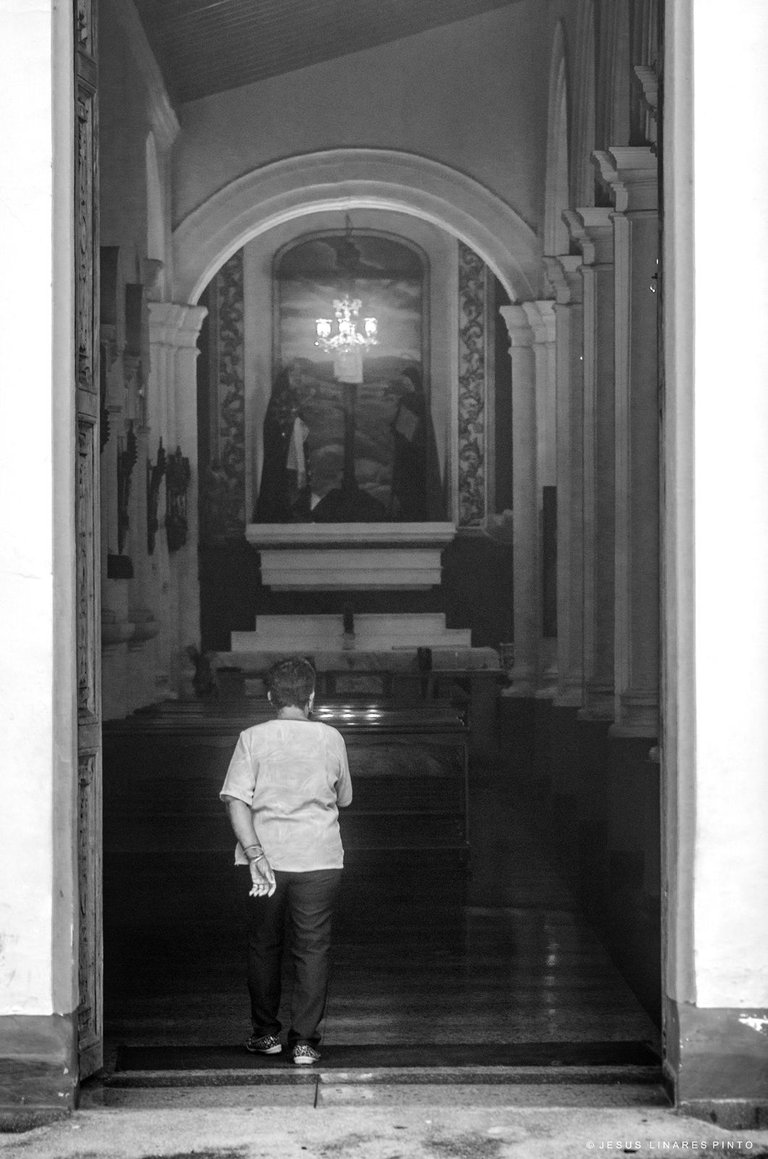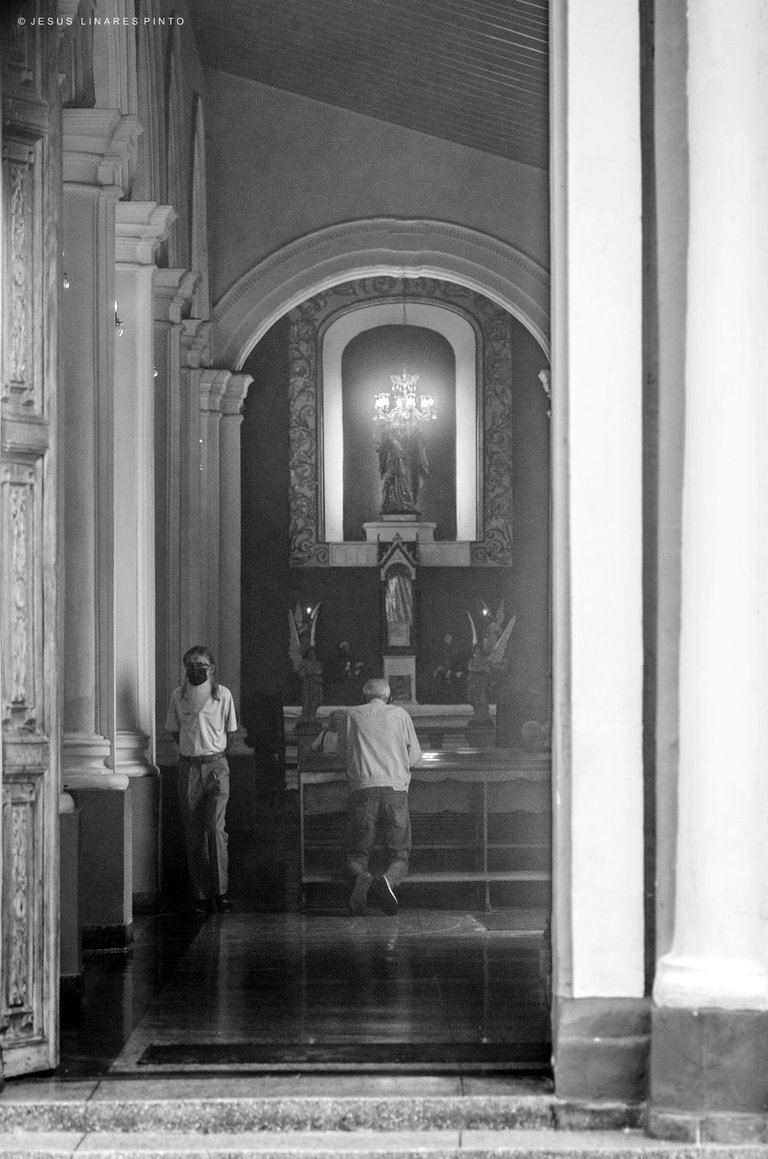 "North Gate and South Gate".... The parish church of the village was finished in 1767 (source link with data)... Since then the village grew and grew around it... On Sundays very early in the morning it opens its doors and the faithful pray while the mist slowly penetrates its naves... The mass begins at 8AM, but the church is usually open much earlier.
"Puerta Norte y Puerta Sur"... La iglesia parroquial del pueblo se terminó de construir en 1767 (enlace fuente con datos)... Desde entonce el pueblo creció y creció a sus alrededores... Los Domingos muy temprano suele abrir sus puestas y los fieles suelen orar mientras la neblina penetra sus naves lentamente... La misa comienza a las 8AM, pero la iglesia suele estar abierta desde mucho antes.
---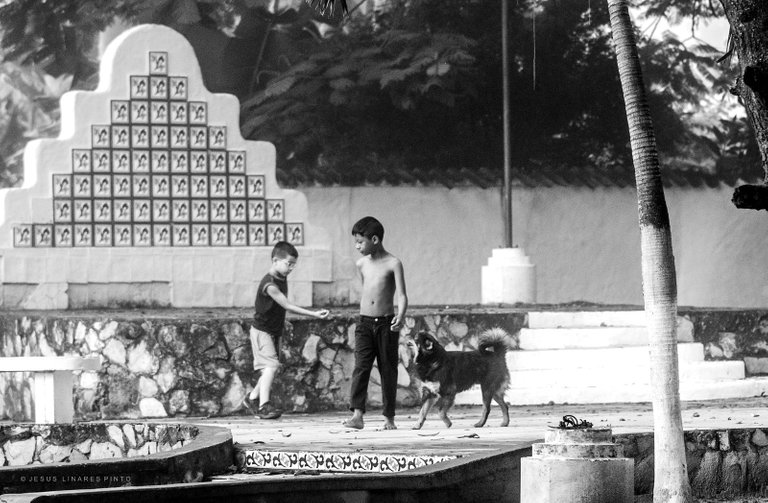 "The Two Childhoods"... The young son of a renowned local doctor plays with his friend from a poorer family and the latter's pet... A beautiful thing about this town is that all of us who have grown up here have grown up without any kind of distinctions between us... Religious, social or even personal differences are practically "irrelevant" :)... This is something that we keep even when we are adults... It's as if we were a single herd of strange people locked up in a town far away from everything! :))
"Las Dos infancias"... El joven hijo de un renombrado médico local juega con su amigo proveniente de una familia de menos recursos y la mascota de este... Algo hermoso que tiene este pueblo, es que todos los que hemos crecido aquí lo hemos hecho sin distinciones de ningún tipo entre nosotros... Las diferencias religiosas, sociales o inclusive personales son prácticamente "irrelevantes" :)... Esto es algo que conservamos aún cuando somos adultos... ¡Es como si fuésemos una sola manada de gente extraña encerrada en un pueblo alejado de todo! :))
---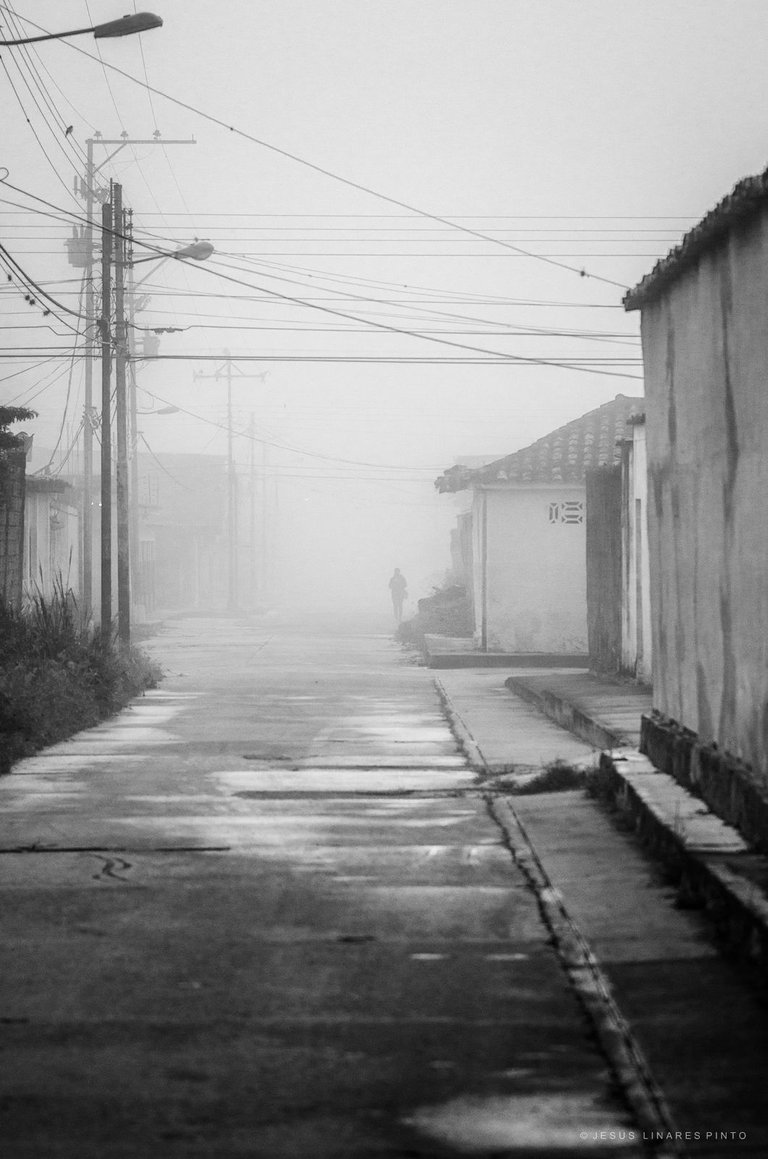 "A single soul"... Well... This photo may be a product of my imagination and my "unhealthy vice" of dramatizing almost everything around me... But it seems to me that this tiny human figure seen in the fog, is something like a "hymn to the loneliness of a Sunday morning"... (Yes, I have problems, it's obvious)... heh heh heh :))
"Un alma sola"... Bien... Esta foto quizás sea producto de mi imaginación y de mi "vicio insano" de dramatizar casi todo mi alrededor... Pero a mi me parece que esa diminuta figura humana que se ve entre la niebla, es algo así como un "himno a la soledad de una mañana de domingo"... (Sí, tengo problemas, es obvio)... je je je :))
---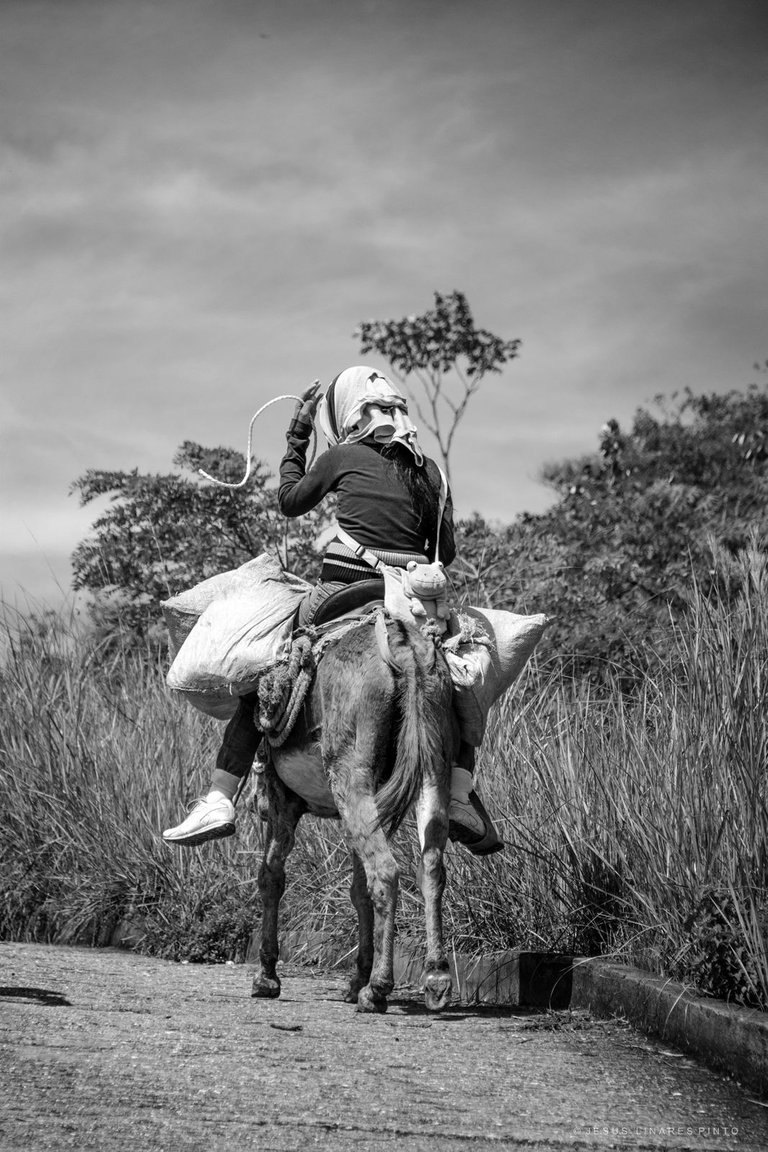 "Uphill"... This young girl leads her little donkey up the steep paths that lead to the mountain tops... It is a sunny day and she protects herself from the heat as best she can, using pieces of cloth to cover her head above all... The children of our rural areas are strong, and they tend to be very independent from an early age... They are not afraid to undertake relatively long journeys on their mounts, despite being very young...
"Cuesta arriba"... Esta joven niña lleva su pequeño borrico por los empinados caminos que conducen a las cumbres de las montañas... Es un día soleado y se protege del calor como puede, usando pedazos de tela para cubrir su cabeza sobre todo... Los niños de nuestra zonas rurales son fuertes, y suelen ser muy independientes desde temprana edad... No temen emprender relativamente largos viajes en sus monturas a pesar de ser muy jóvenes...
---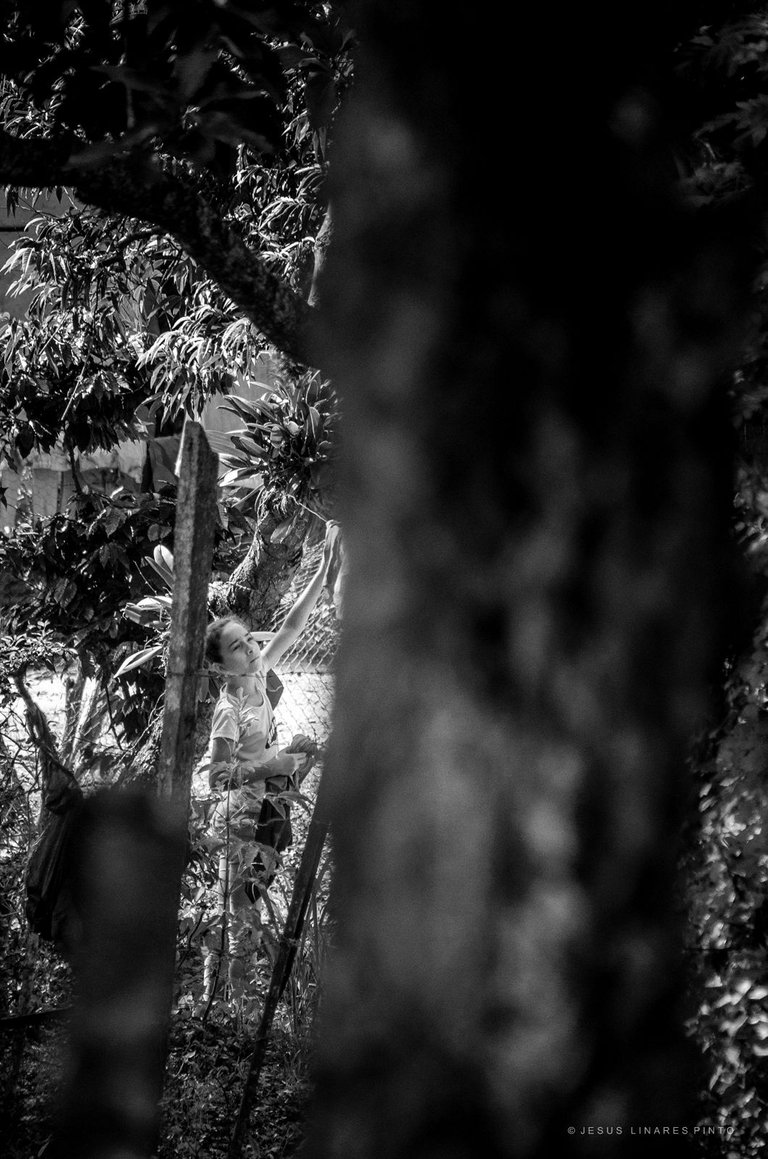 "Girl hanging clothes".... This is perhaps my favourite picture today and that is why I have left it to finish my publication.... This is my friend Bartolo's little granddaughter, they live in a small house in the first hills of the nearby mountains... This photo just "happened" when I was "observing ants" walking around the tree that appears blurred in the foreground... It is a complex photo, perhaps technically not very precise... But I liked it a lot!...
"Niña colgando ropa"... Esta es quizás mi foto favorita de hoy y por eso la he dejado para finalizar mi publicación.... Se trata de la pequeña nieta de mi amigo Bartolo, ellos viven en una pequeña casa en las primeras colinas de las montañas cercanas... Esta foto simplemente "sucedió" cundo yo me encontraba "observando hormigas" que caminaban por el torno del árbol que aparece difuminado en primer plano... Es una foto compleja, quizás técnicamente poco precisa... ¡Pero me ha gustado a mares!...
---
So, these have been my stories for today... All the photos have been taken in my hometown (Montalbán, Carabobo, Venezuela)... Thank you very much for stopping by, for appreciating and for sharing... See you again very soon... Always with more stories and more black and white photos... A hug for all of you!
Estas han sido entonces mis historias de hoy... Todas las fotos ha sido realizadas en los predios de mi pueblo (Montalbán, Carabobo, Venezuela)... Muchas gracias por pasar por aquí, por apreciar y por compartir... Nos veremos nuevamente muy pronto... Siempre con más historias y más fotos en banco y negro... ¡Un abrazo para todos ustedes!
---
END / FIN
---
"We make photographs to understand what our lives mean to ourselves." - Ralph Hattersley.
"Hacemos fotografías para comprender lo que nuestras vidas significan para nosotros mismos." - Ralph Hattersley.

Camera: Nikon D7000 | Lens: Sigma 18-200mm f3.5-6.3 II DC OS HSM
Cámara: Nikon D7000 | Objetivo: Sigma 18-200mm f3.5-6.3 II DC OS HSM
Montalbán, Carabobo, Venezuela.
---
---