Zucchini Fries With Italian Herbs And Udon Noodles In Tomato Sauce
9th November 2022
Ola Foodies Bee Hive!
Happy cooking once again.
I've been craving fries since last weekend, but I'm hesitant to buy any. I came across a post about zucchini fries while scrolling through my Facebook feed one day. We usually eat potato fries, but after reading that post, I realized that we can make other types of fries besides potatoes.
We love cooking zucchini at home, and the idea of turning it into fries is brilliant. Furthermore, it is healthier than those sold in fast food restaurants such as McDonald's, which is a popular place to buy fries in this area. I don't need to go to the store to get the ingredients for this recipe because we already have some on hand. Meanwhile, udon is my favorite type of noodle, and I enjoy eating it despite the gluten content, lol.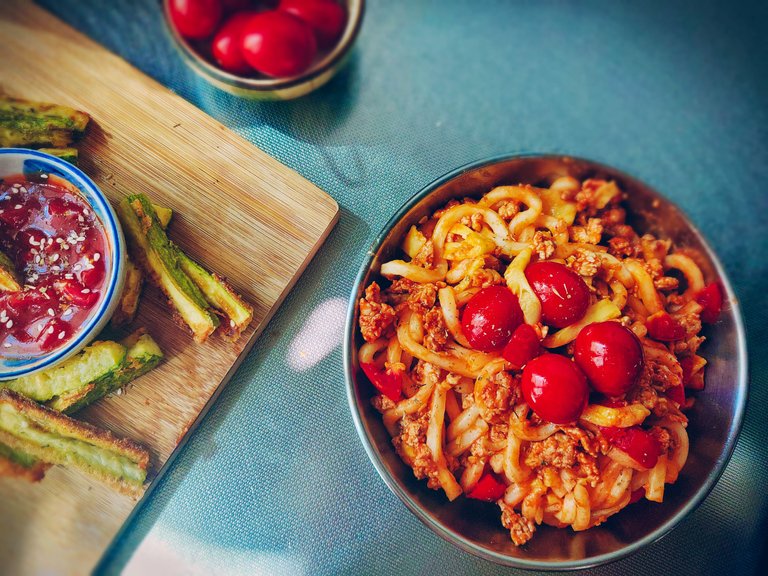 ---
Zucchini Fries
I decided to make a different version with the ingredients I had on hand. When I saw a bottle of Italian herbs, I decided to use it as a spice. Instead of using ketchup, cherry tomatoes were used as the dipping sauce. I also kept some aside for the udon noodles.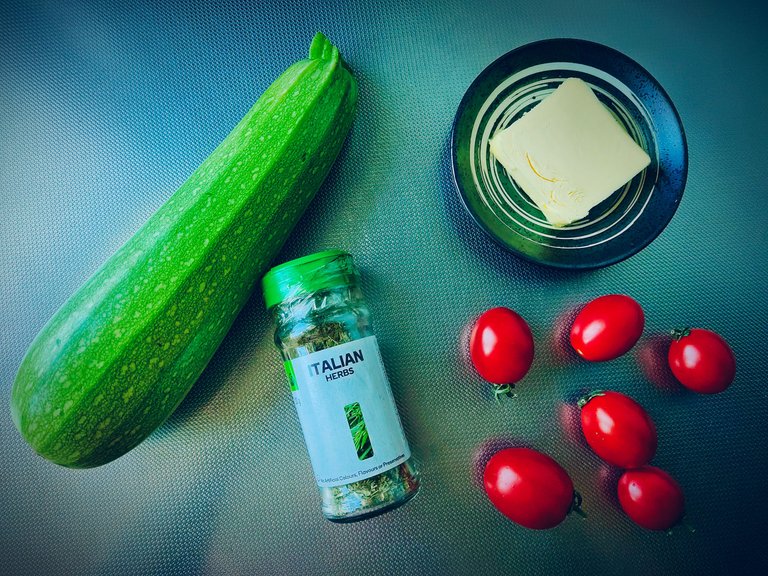 The cooking procedures are just so easy and you can finish it in less than 20 minutes. Just slice the zucchini into strips, then prepare the batter. The batter consists of egg, flour, melted butter, and Italian herbs. You can add some salt and pepper to taste.
Next is to coat the zucchini strips with the batter. Then put them into a baking pan and bake for 10-15 minutes, depending on your desired time. Flip the fries after 10 minutes.
Note that this was just an experiment, so the result was still uncertain. Baking the zucchini can't guarantee the crispiness of the fries, so some prefer frying to baking. This method, however, is healthier than baking. You'll find out later as you read along the result of this cooking experiment.
---
Udon noodles in tomato sauce
While waiting for the fries to cook, I made something that I could pair with it.
This is another recipe for udon. Udon is a type of thick noodle that originated in Japan. It's typically fried or boiled. But, since I was thinking of something to go with the fries, I decided on spaghetti. I used udon noodles instead of pasta because we didn't have any. We just need to be creative 😊. This time I used ketchup and some minced pork.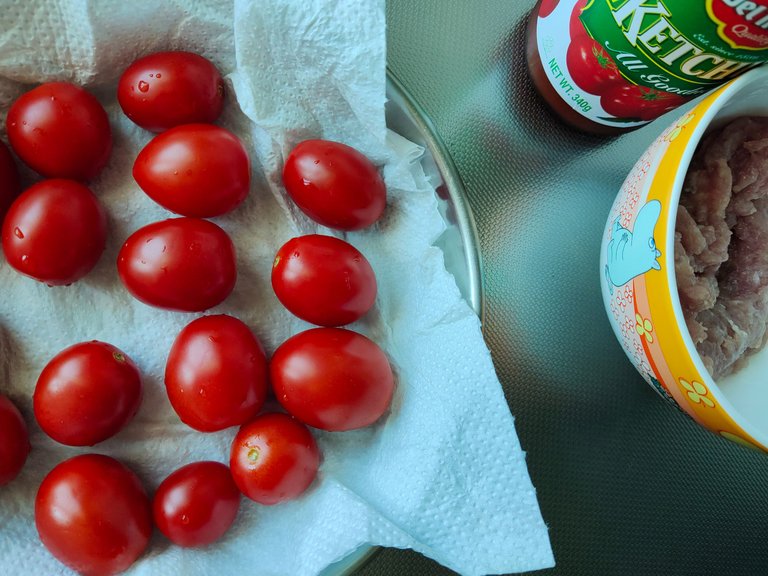 I cooked this so quickly with just a few steps. Just boil the udon noodles for about 3 to 5 minutes. Then saute diced tomatoes in a pan, add the minced pork, add some ketchup, then season it with salt and pepper. I like eating whole cherry tomatoes so I added some.
As easy as these steps you can make simple, yet, delicious udon noodles in the tomato sauce recipe.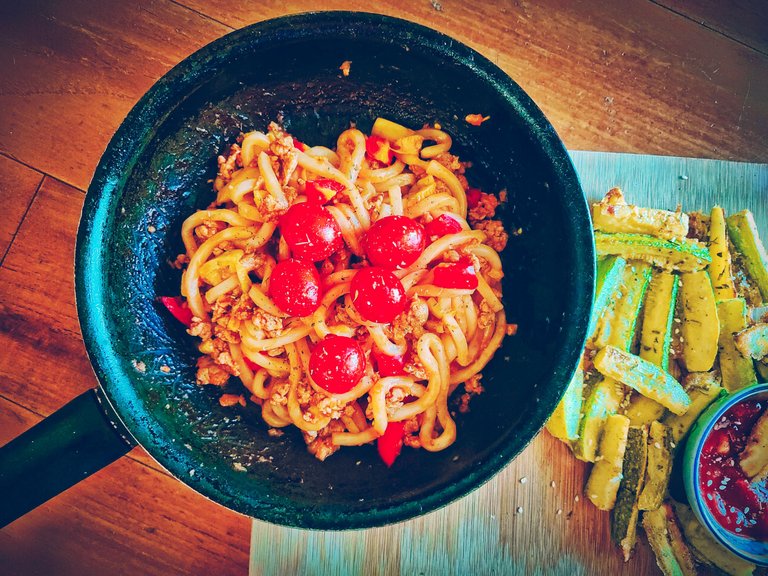 ---
The outcome
After cooking the udon, the zucchini fries were perfectly cooked. As previously stated, this was purely experimental cooking. The fries weren't as crispy as I had hoped, but they were still tasty. *** The fries were crispy when I took them out of the oven, but unlike the potatoes, they softened quickly. As a result, it is much better to consume them while they are still hot***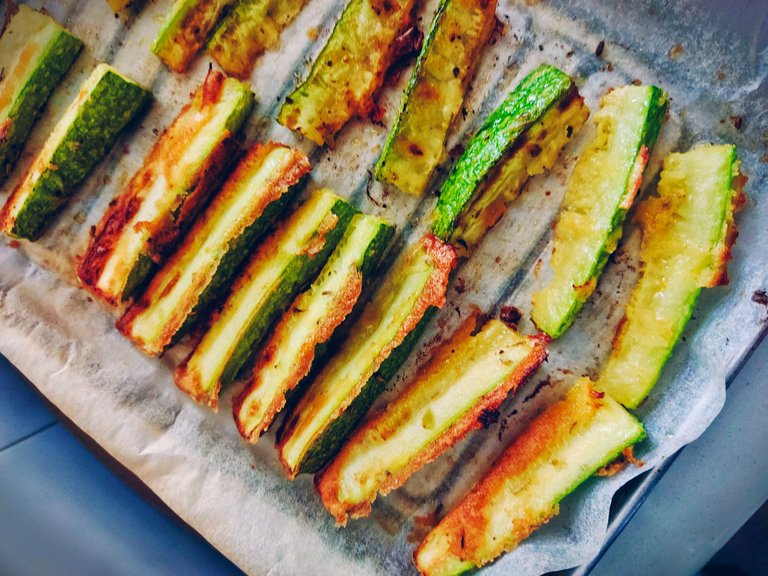 For those who want crispier zucchini fries, you can either bake first then slightly fry, or just deep fry directly. Surely, the fries taste good either way. I prefer baking to avoid using too much oil. For those with air fryers, then it would be easier for you to make zucchini fries. The dipping sauce I made was crushed cherry tomatoes. I just seasoned it with a little sugar and salt, then sprinkled it with some sesame seeds and Italian herbs.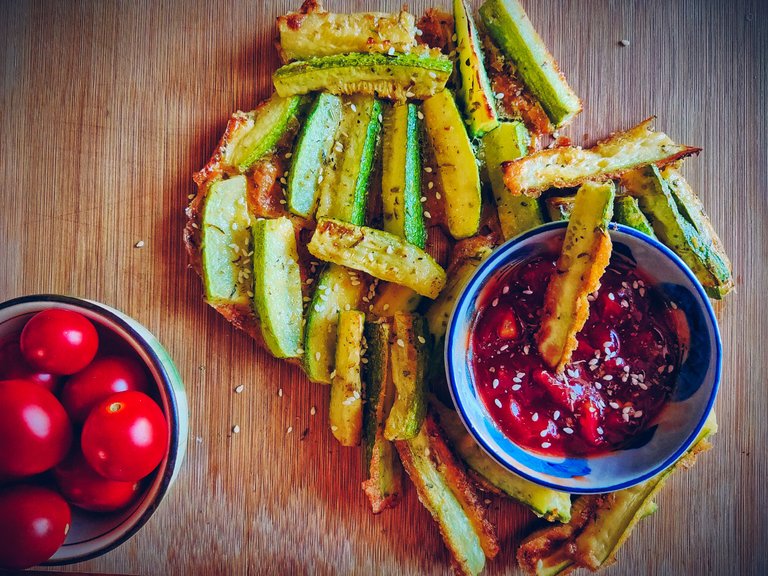 Experimental cooking is my pastime hobby aside from writing, especially when I have nothing to do at all. We can be creative in everything, not just in art or writing, but also in cooking.
Using only a few ingredients, I was able to get make a great recipe combo. This was served as my lunch at the time of cooking.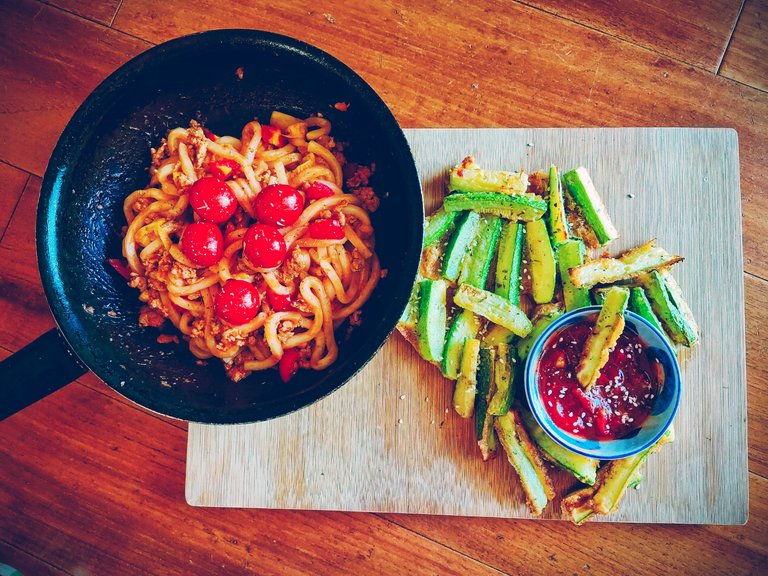 Happy cooking!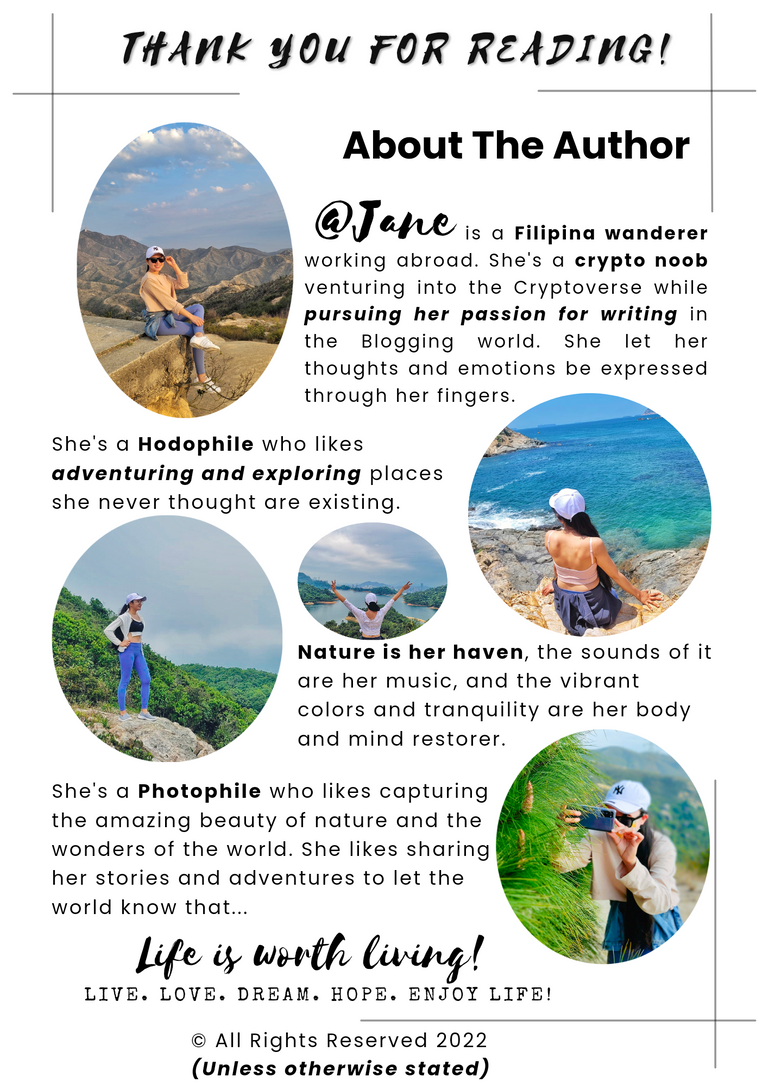 ---
---