Not Only Honey Bees ❀🐝 | 昆虫和花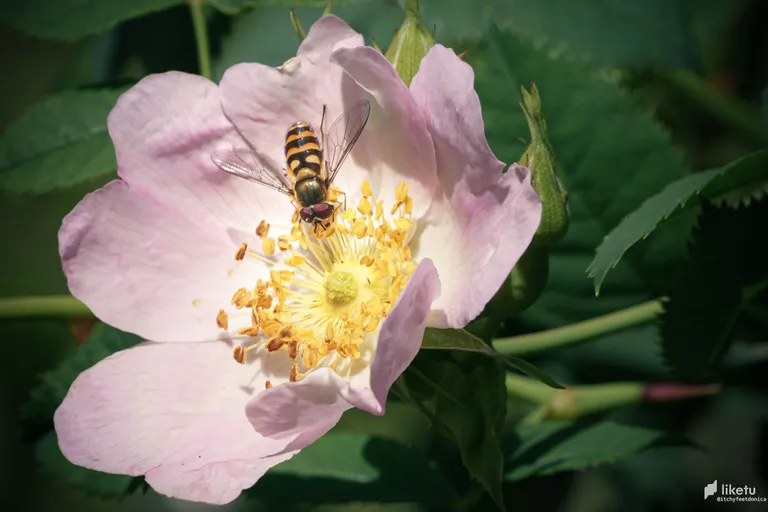 今天来分享几张昆虫停在花上的照片,受到本周Qurator摄影活动同名主题的启发。
It's always fun for me to witness a small bug being busy with a flower; most of the time, it's a honey bee, but it can also be something else. Today, I'm presenting a couple of photos inspired by Qurator's Photo Quest for this week, which is Insects. The first image of them is my entry.


我开始从远处看到这两张里的昆虫时,还以为是某种蜜蜂。但接近后拍摄时,才发现它实际上是食蚜蝇,看起来就像苍蝇和蜜蜂的杂交品种。


When I initially saw the insect in these first two photos from a distance, I assumed it was some kind of bee. However, after getting close enough to photograph it, I discovered that it's actually a hover fly. To me, it seems like a cross between a fly and a bee.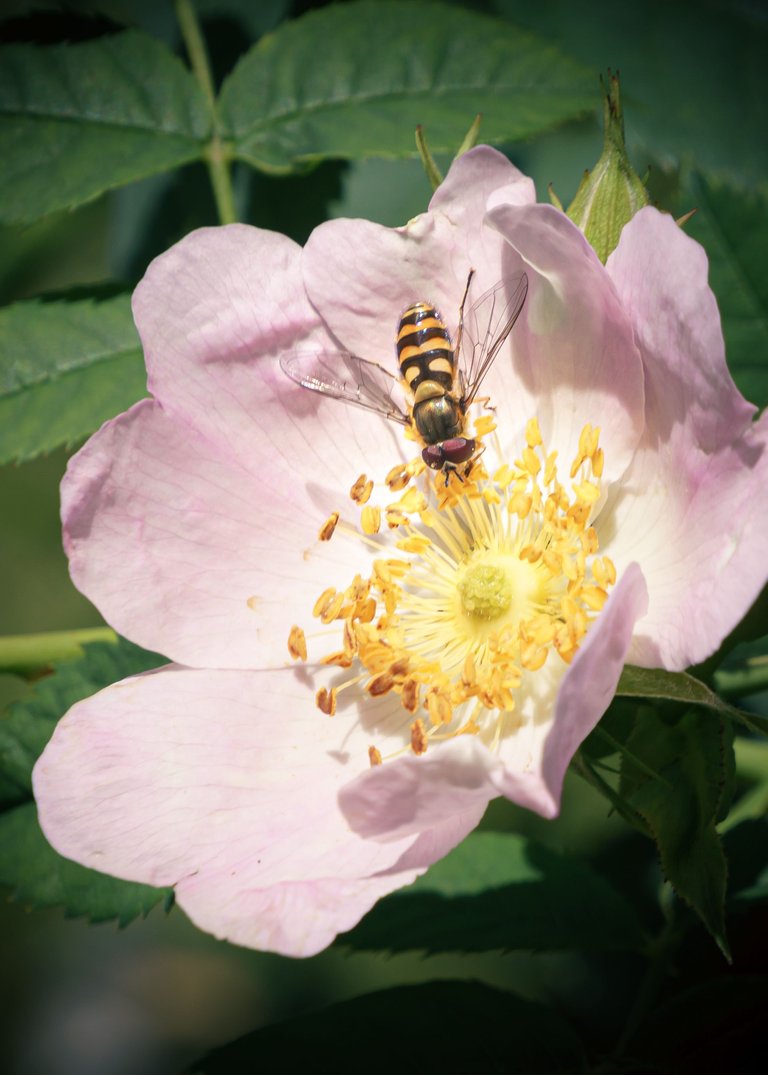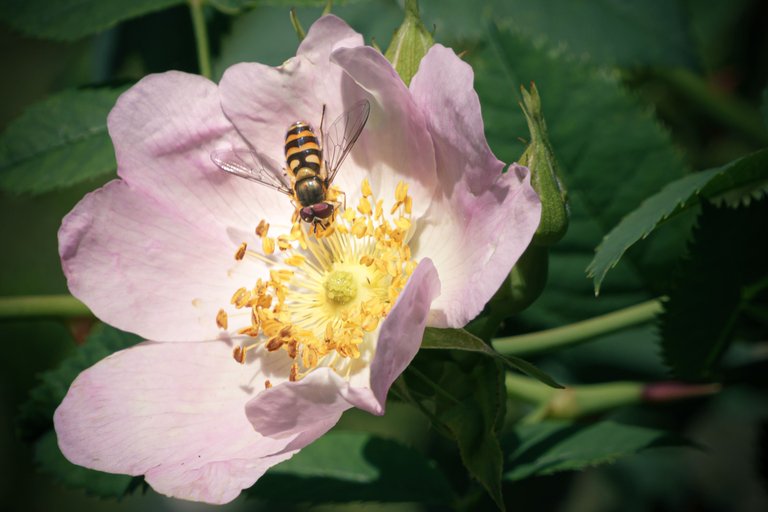 ---




The bee in the following three photos appears to be a wild one. Is it a nomad bee, nomada? I'm not 100% sure though... Is there anyone who knows? It looks happily immersed in the pollen feast, and the flower petals are also pollen-laden.
这三张里的应该是某种野蜂,尽情沉浸在花粉的世界里,花瓣内侧也布满了花粉: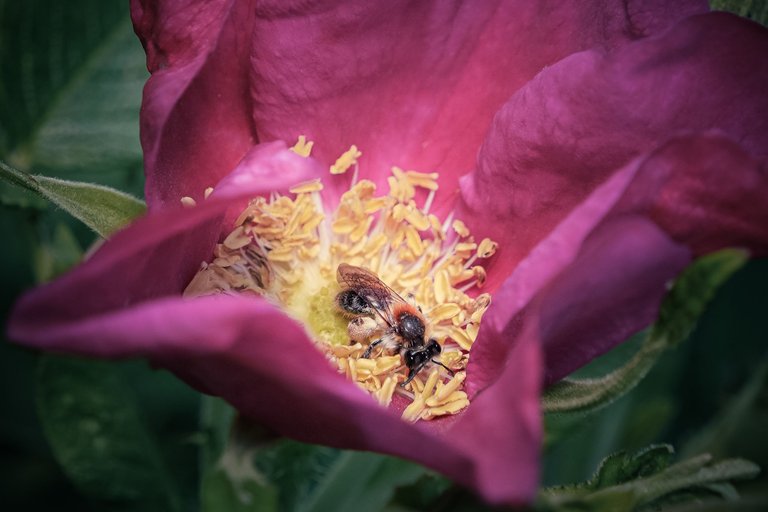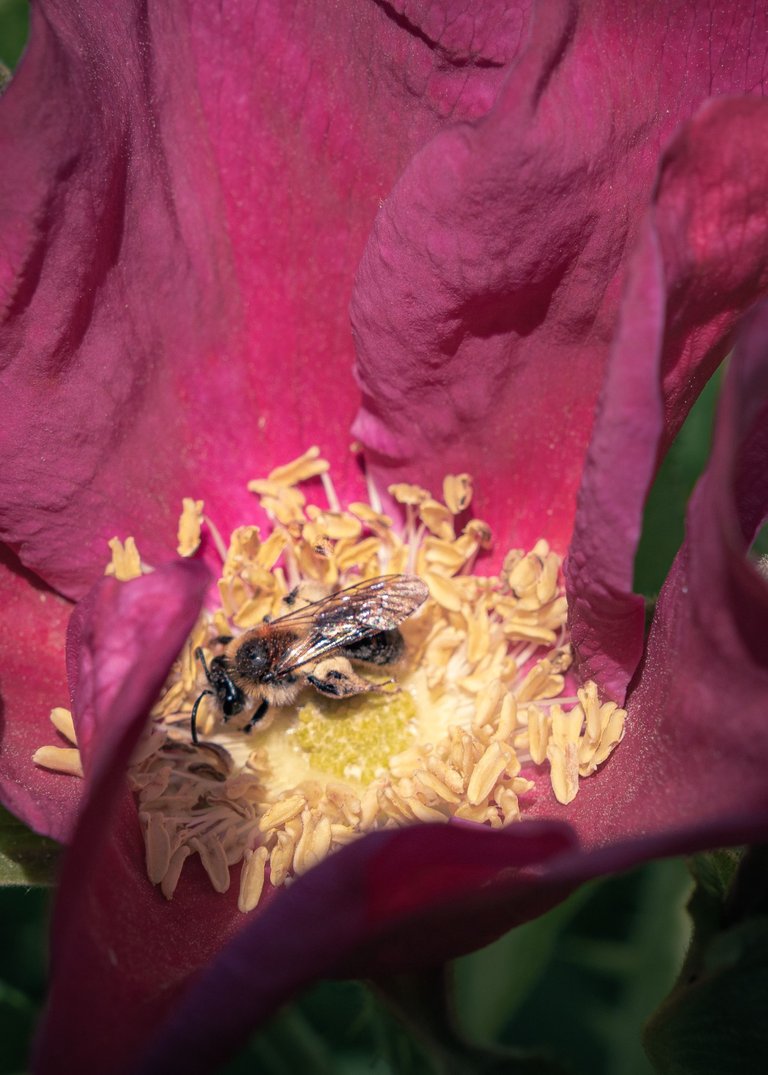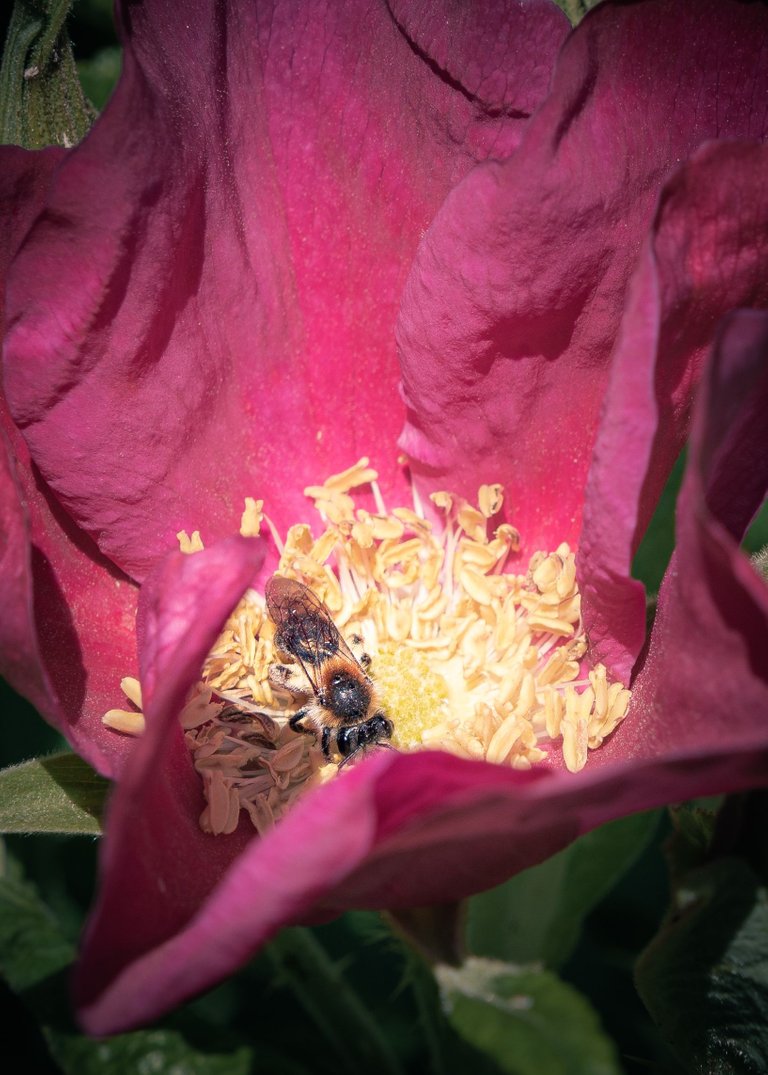 ---




And then, the pesky flies... I know even less about flies than I do about bees. Is this a shitfly, or what? I imagine there are apps for identifying insects as well? Just like the plants apps, which I downloaded a bunch of and used to picture plants on a regular basis.
还有惹人厌的苍蝇🪰,不知道下图里的具体是哪种。我手机里下载了好几个拍照识花的app,这些年经常用来识别路上不知名的花草。估计也有拍照识别昆虫的app吧,但对这些毛茸茸的小生物兴趣毕竟没有花草那么大,所以也没花时间去搜索。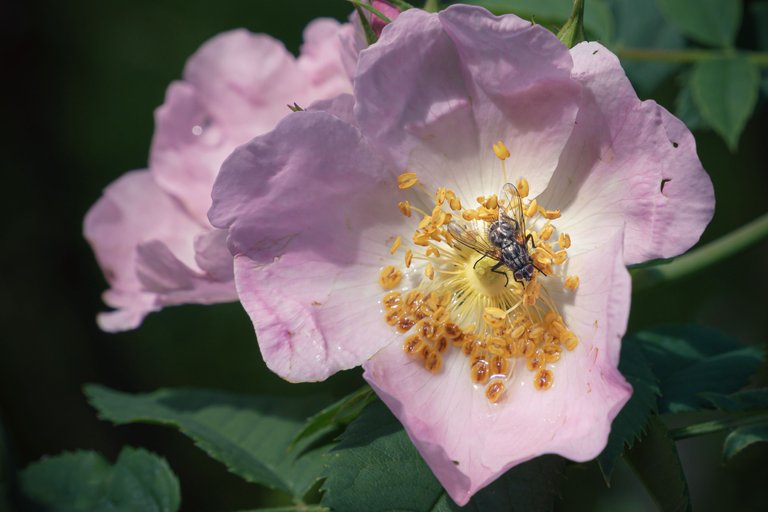 ---




Finally, I'd like to show you a closeup photo of a cute honey bee that I captured. I know it's a stretch to call it cute, but of the insects in today's post, this one strikes me as the "cutest". You can clearly see the pollen stuffed into its hairy receptacles on rear legs . :) However, because this is a shot I already posted a few years ago, I'm not entering it in this contest. I hope you enjoy all these hairy fellows' closeups! =)
最后这张小蜜蜂的特写几年前发过,但是不知道为什么,我觉得它比上面那几只昆虫更可爱,后腿上还沾着花粉在嗡嗡嗡,果真是勤劳的小蜜蜂呀!=)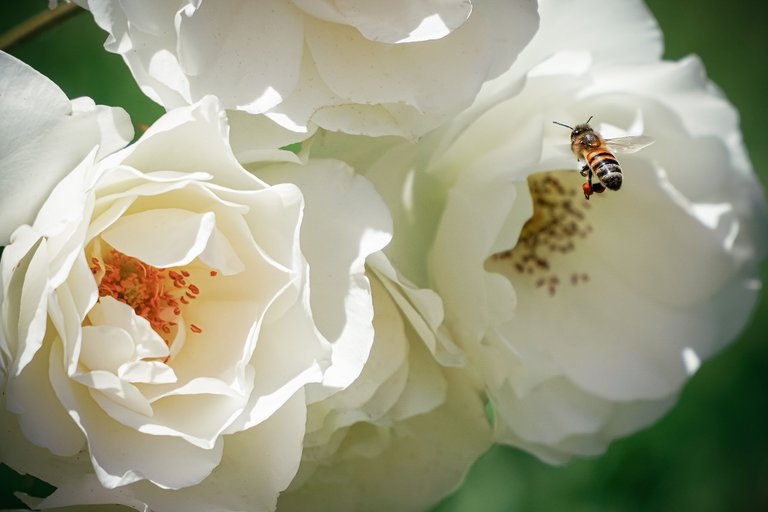 ---
For the best experience view this post on Liketu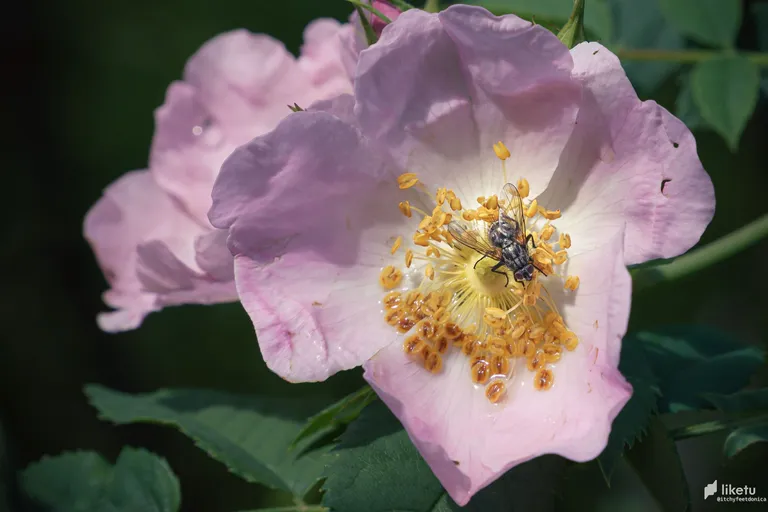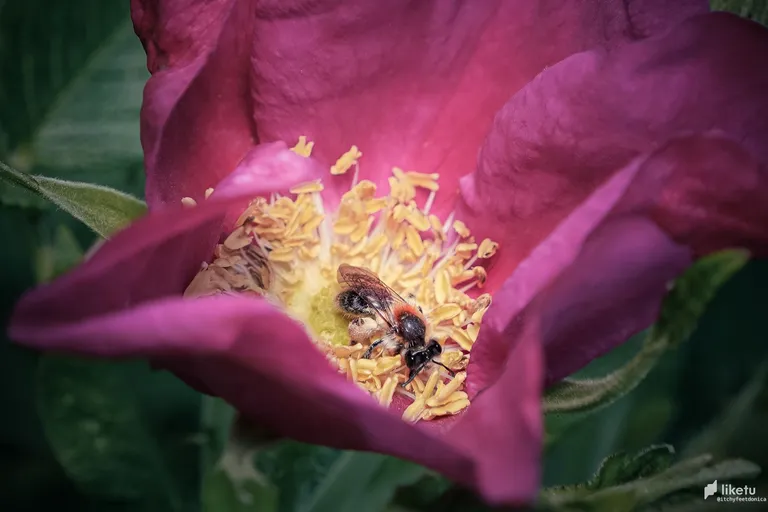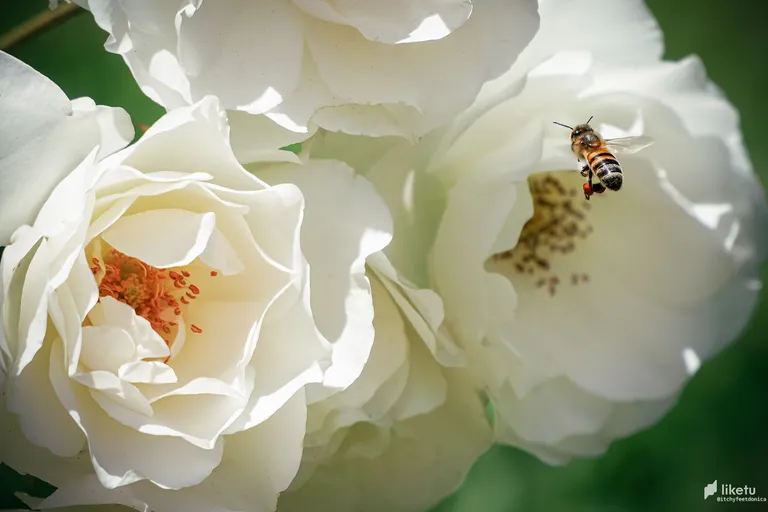 All content by @itchyfeetdonica. Thank you for visiting!
图文 by Donica,谢谢来访!=)


---
---