El fin del mundo y un despiadado país de las maravillas. Haruki Murakami |Reseña |Hard-Boiled Wonderland and the End of the World |Review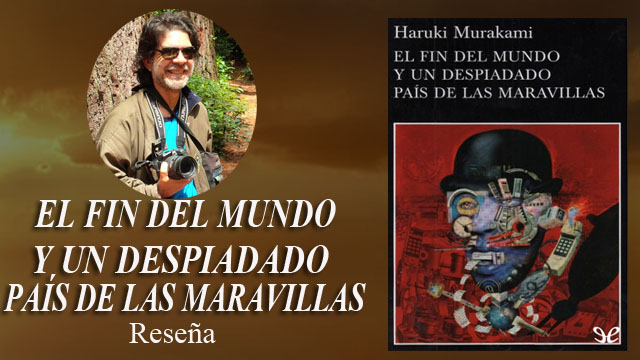 Murakami es un autor al que no me canso de volver, disfruto de su infinita capacidad de crear mundos donde cualquier cosa puede ocurrir. Tenía tiempo sin leerlo, mi última lectura de este autor japonés fue "Kafka en la Orilla", la leí hace algún tiempo y es una obra que recomiendo.
No tenía claro con cuál obra quería continuar, pero si deseaba encontrar alguna que me llevara a esos universos de fantasía que se le dan tan bien a este autor. Revisé por aquí y por allá y me topé con "Sauce ciego, mujer dormida", una compilación de sus mejores relatos, pero mi ánimo no logró engancharse con ninguno de los que revisé.
Buscando un poco más, me llamó la atención "El fin del mundo y un despiadado país de las maravillas ", uno de sus primeros libros, publicado en el año 85. Al principio me intimidó la extensión, ya que es un poco largo, casi quinientas páginas en la edición de papel, yo lo leí en el lector y en el cell.
Desde las primeras páginas la obra me atrapó y la verdad es que no me hizo mella su considerable extensión, la despaché en un poco más de una semana.
El libro combina dos historias, las que al inicio parecieran independientes. La narración está estructurada en breves capítulos, que alternan lo que ocurre en dos sitios, el "despiadado país de las maravillas" y "el fin del mundo". Yo lo leí de corrido pero pudiera leerse toda una parte y después la otra.
El despiadado país de las maravillas, está ubicado en un Japón futurista pero muy parecido a nuestro mundo actual. Las viviendas, los vehículos, la tecnología, las costumbres, son similares a las que conocemos. Sin embargo, hay una gran diferencia y es el nivel que ha alcanzado la investigación científica. Y por ahí es que Murakami desarrolla la historia, por los problemas que se le crean a un hombre común al ser víctima de unos experimentos realizados en el cerebro humano, con la finalidad de convertirlo en la mejor caja fuerte donde se pueda guardar información. En aquel momento Murakami no sabía que existiría la Blockchain.

Una de las cosas que llamó mi atención es que todos los personajes son anónimos, no tienen nombres, pero aún así uno logra identificarse con ellos, porque el autor hace un excelente tratamiento psicológico de cada uno. Luego de leer la obra es difícil olvidar al joven calculista, el protagonista al que le implantan un sistema informático en su cerebro, hecho que le cambia la vida.
La muchacha gorda que viste de color rosa, una niña criada por su abuelo, al margen de la institución escolar, y que es capaz de hacer las cosas más asombrosas, desde disparar con precisión, escalar muros, hablar varios idiomas, ser corredora de la bolsa y tocar instrumentos musicales, todo ello con apenas diecisiete años.
El abuelo, un extraordinario científico, de buen corazón, preocupado por el futuro de la humanidad, pero que por su afán de investigación es capaz de destruir vidas humanas.

En esta parte la historia se desarrolla a partir de los problemas que le ocurren al joven calculista, el que sin saber por qué se ha convertido en el objeto más buscado por dos organizaciones que tienen intereses opuestos, ambas se quieren apoderar de él y le hacen la vida imposible.
La clave para saber su destino la tiene el abuelo, el que vive en una zona ubicada en las profundidades de la tierra, un territorio gobernado por unos seres extraños, los tinieblos, enemigos de los hombres; dueños y señores del mundo subterráneo. La narración aquí es similar a cualquier buen thriller, más una buena dosis de situaciones inimaginables para el mortal común.

El fin del mundo es otra cosa distinta. Se ubica en una ciudad donde los habitantes conocen la eternidad, es un mundo medio etéreo donde no hay carros, ni farmacias, ni bancos, ni escuelas. No hay problemas de ningún tipo pero tampoco grandes satisfacciones. Las personas viven en el tedio de la placidez eterna
Como se trata del fin del mundo es un camino sin retorno, el que llega a la ciudad no puede salir de ella jamás. Allí nadie se multiplica, se enamora o envejece, y cada quien tiene una rutina que cumplir.

Uno de los requisitos para ingresar a la ciudad es separarse de la sombra, y con ella se van los recuerdos. El cuerpo puede seguir viviendo pero la sombra no. Y al morir la sombra muere el corazón, el que solo se mantiene vivo mientras existan los recuerdos. Ya sin corazón nadie se enamora, no se multiplican y tampoco envejece.
A mí esta parte del "fin del mundo" me gustó más que la del "Despiadado País…"
Esta es una obra que sin duda voy a leer de nuevo, con calma, precisando sus problemas filosóficos, y saboreando paso a paso todas las ocurrencias del autor. Si tienen la oportunidad pónganse con ella, puede ser que sea de su agrado.
Gracias por tu tiempo.
Fuente de imagen de portada. I
Todas las citas corresponden a una versión electrónica.


Murakami is an author to whom I never tire of returning, I enjoy his infinite capacity to create worlds where anything can happen. I had some time without reading him, my last reading of this Japanese author was Kafka on the Shore, I read it some time ago and it is a work that I recommend.
I wasn't sure which work I wanted to continue with, but I did want to find one that would take me to those fantasy universes that this author is so good at. I looked here and there and stumbled upon "Blind Willow, Sleeping Woman", a compilation of his best stories, but my mood failed to engage with any of the ones I reviewed.
Looking for a little more, "El fin del mundo y un despiadado país de las maravillas", one of his first books, published in 1985, caught my attention. At first I was intimidated by the length, as it is a bit long, almost five hundred pages in the paper edition, but I read it on the reader and on the cell.

From the first pages the book grabbed me and the truth is that I didn't mind its considerable length, I finished it in a little more than a week.
The book combines two stories, which at the beginning seem independent. The narrative is structured in short chapters, alternating what happens in two places, the "merciless wonderland" and "the end of the world". I read it in one sitting but you could read all of one part and then the other.
The merciless wonderland is set in a futuristic Japan but very similar to our world today. The houses, the vehicles, the technology, the customs, are similar to what we know. However, there is a big difference and that is the level that scientific research has reached. And that is where Murakami develops the story, because of the problems that are created for an ordinary man when he becomes a victim of experiments carried out on the human brain, with the purpose of turning it into the best safe where information can be stored. At that time Murakami did not know that the Blockchain would exist.

One of the things that caught my attention is that all the characters are anonymous, they have no names, but still one manages to identify with them, because the author makes an excellent psychological treatment of each one. After reading the book it is difficult to forget the young calculator, the protagonist who has a computer system implanted in his brain, a fact that changes his life.
The fat girl who wears pink, a girl raised by her grandfather, on the fringes of the school institution, and who is capable of doing the most amazing things, from shooting with precision, climbing walls, speaking several languages, being a stockbroker and playing musical instruments, all at the age of just seventeen.
Grandfather. An extraordinary scientist, kind-hearted, concerned about the future of mankind, but who, because of his eagerness for research, is capable of destroying human lives.

In this part the story develops from the problems that happen to the young calculator, who without knowing why has become the most wanted object by two organizations that have opposing interests, both want to get hold of him and make his life impossible.
The key to his destiny lies with his grandfather, who lives in an area located in the depths of the earth, a territory governed by strange beings, the darkness, enemies of men, owners and lords of the underworld. The narration here is similar to any good thriller, plus a good dose of unimaginable situations for the common mortal.
The end of the world is something else. It is set in a city where the inhabitants know eternity, it is a half ethereal world where there are no cars, no pharmacies, no banks, no schools. There are no problems of any kind, but neither are there any great satisfactions. People live in the tedium of eternal placidity.

As it is the end of the world, it is a road of no return, the one who arrives in the city can never leave it. No one multiplies, falls in love or grows old there, and everyone has a routine to fulfill.
One of the requirements to enter the city is to separate from the shadow, and with it go the memories. The body can continue living but the shadow cannot. And when the shadow dies, the heart dies, which only remains alive as long as the memories exist. Without a heart, no one falls in love, no one multiplies and no one ages.

I liked this part of the "end of the world" better than the "Merciless Country..."
This is a work that I will certainly read again, calmly, specifying its philosophical problems, and savoring step by step all the author's witticisms.
If you have the opportunity, get to it, it may be to your liking.
Thanks for your time.
Translated with www.DeepL.com/Translator (free version)

Todos tus comentarios son bienvenidos en este sitio. Los leeré con gusto y dedicación.
Hasta una próxima entrega. Gracias.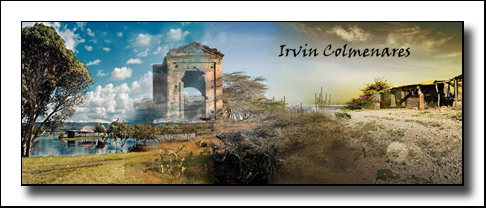 Las fotos, la edición digital y los Gifs son de mi autoría.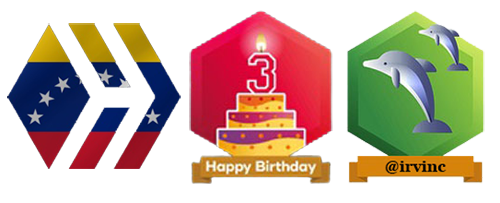 No te olvides de votar @cervantes como witness en esta página:
https:/wallet.hive.blog/~witnesses

Te invito a apoyar este proyecto como witness y a formar parte de esta gran comunidad uniéndote a su Discord en el siguiente enlace:

---
---