Hello from the other side - Hive Introduction

Aloha, fabulous Hivers! A pleasant day (or night) to you, where ever you are! Very warm greetings from the FarmGirl of Northern Philippines :)
So who is FarmGirl?
She is a fun friend, a cheerful sister, an annoying playmate, a joker, a queen in her own right (LOL), but most importantly, a loving partner to her good husband whom she fondly calls the 'farm boy.'
Apart from crypto and writing, her interests include audiobooks. She has listened to several from "The Monk Who Sold His Ferrari", "The Richest Man in Babylon", "The Alchemist", "Think & Grow Rich", and "Outwitting the Devil" just to name a few.
Okay, let me speak for myself now :)
I used to work in a corporate setting overseas but decided to retire early some years ago. We now live in a mountainous farming region which I often refer to as our lil kingdom in my write-ups. It is also where my husband spends time experimenting on different crops for consumption and for the market too, while I am glued to my chair and in front of the computer most days, learning new things, trading crypto, writing, and engaging with fellow bloggers in other platforms and these recent days, here in Hive.
I found a love for writing when I started my blogging journey in ReadCash a few months ago. I have also been microblogging in another platform called NoiseCash in and it is where I first heard about Hive sometime in April so I created my account here. I regret, however, that I am unable to remember whose post led me here. But whoever you are, this FarmGirl is thanking you sincerely :)
Going places, taking photos, and writing about them are some of my interests too, but the restrictions we face during these challenging pandemic times are real and we can only go as far as we are allowed to. Of course, these don't deter the husband and me to enjoy life as much as we can. We do love to go on an adventure together, may it just be a random drive anywhere or a short hike up the hills when we are up to it. We believe that we are here on earth not just to exist but to have fun and live gracefully and joyfully.
Plants, flowers and everything nature fascinate me. We have various greens in our yard, which I also spend time with from time to time when I am not busy on my online engagements. Just recently, I developed a love for walking which allows me to go outdoors from time to time and spend time with nature and I thank #ActifitApp for making this possible. The collage below is just a few of my captures.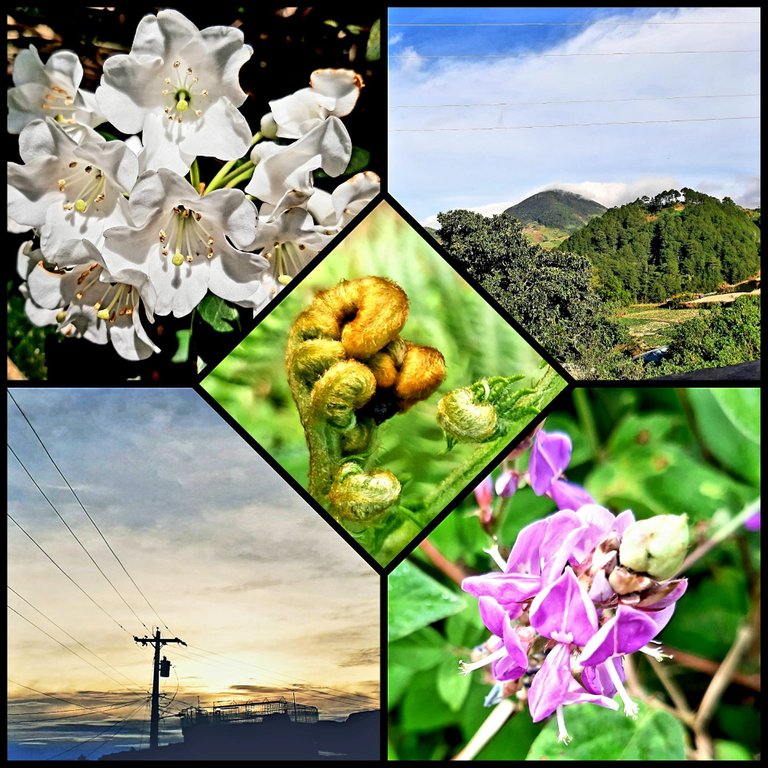 The world is a beautiful place and I want to see most of it while I am still around, and one way to go about it these days while we are confined in the comforts of our own places is connecting online with like-minded people because by then, we get to travel to their worlds through their camera lenses and the stories they share.
Thank you so much and I look forward to learning, having fun, and growing with you all as I also share my bountiful world through my writings and photos.
And oh, I'm Cj by the way. I don't bite, don't worry :)
My special thanks to @livingUKtaiwan for the recommendation to create an introduction post. It had been long on my draft, but here it is. Gracias and salute to you :)
​
Cheers!
-o- @iFarmGirl is also on Read -o- Noise -o- Twitter -o- Discord -o-
---
---