Hive Power Up Month Challenge 2022-04 - Winners List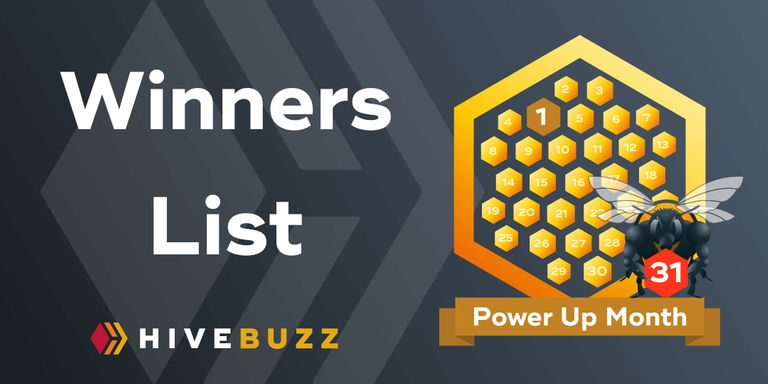 The fourth edition of the Hive Power Up Month challenge of this year is now over.
Once again, this challenge has proven how difficult it is to stay committed for a whole month, even with rules as simple as:
do 1 HIVE power-up or a 100% Hive Power post every day of the month
don't power down
April was better than March
Compared to the previous edition in March 2022, we are back to growth with more participants who held out successfully throughout the challenge.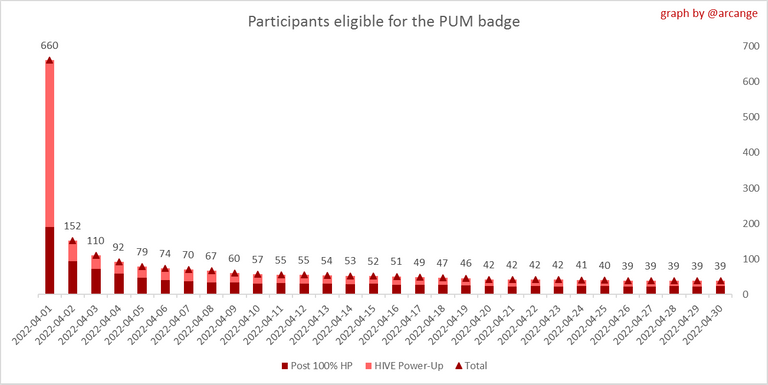 With 39 winners, that's a 25% rise in successful participation!
And now, the winners list
Among the 39 participants to have held out with metronome regularity, 24 chose the publication with a 100% HP payout option, and 15 preferred the power-up way.
They will soon receive their "Power Up Month" badge: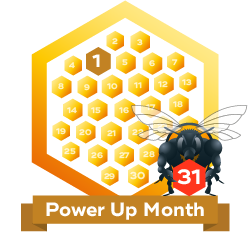 Congratulations to @amaari, @andrastia, @arcange, @awah, @blitzzzz, @bombus, @bradleyarrow, @brianoflondon, @buffalobison, @consciouscat, @cursephantom, @definethedollar, @dizzyapple, @falcout, @femcy-willcy, @hivebuzz, @hopestylist, @ifarmgirl, @iptrucs, @itsostylish, @jacobtothe, @jang, @manuvert, @mein-senf-dazu, @michelmake, @namelessnameless, @ninaeatshere, @orionvk, @papilloncharity, @penyaircyber, @raistling, @ricestrela, @rzc24-nftbbg, @stdd, @successchar, @tawadak24, @theawesononso, @tydynrain and @vasupi.
Hive Power delegations coming!
As announced in our announcement post, all the winners of the PUM challenge will receive a 3 weeks Hive Power delegation from us!
The amount of HP delegated will be calculated according to the following criteria:
How many successful Power Up Months you have achieved throughout the year.
The total amount you powered up during the PUM.
How many PUDs in a row have you participated in
The levels of your power-ups on PUD (ex: you made two "level 3" and three "level 5" power-ups).
The number of people you helped to power-up and the amount involved.
The higher all the above-mentioned values, the higher the delegation you will receive.
We still need to do some math to figure out what everyone will get but don't worry, we'll report the results soon.
Everyone who participates in the Hive Power Up Day today is already registered for the May edition of the Hive Power Up Month!
Happy Power Up Month!
---
HiveBuzz is a project created by @arcange
---
---