Revisando mis videos antiguos / Checking my old videos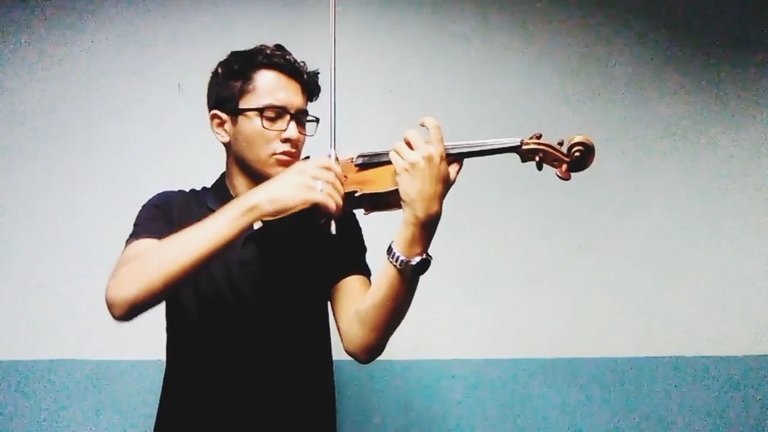 Hola queridos y apreciados amigos, espero sigan de lo mejor el día de hoy
En unos de estos días que me tomé un tiempo para organizar un poco todo lo que quiero comenzar a hacer éste año, y sobretodo las "rutinas" que quiero implementar (dias que no me sirvieron para completamente hacer todo eso😂), me puse a revisar algunos vídeos que hice hace un tiempo, solamente por curiosidad,
Éstos videos fueron de distintas épocas, en las cuales empecé a pensar en los rasgos musicales que en ese momento tuve, tanto aptitudes como debilidades técnicas, etc, para así quizás implementar de nuevo algunas otras cosas y felicitarme por los errores que corregí,
Éste proceso en un artista, y diría que hasta en las personas en general es importante hacerlo, para justamente evaluar el "antes y después", para reconocer si es o no el camino que estamos tomando, el del crecimiento.
En éste video de hoy escucharemos la primera parte del concierto de Bruch, el cuál lo estudié hace bastantes años, y que en aquel entonces habían muchos pasajes que me parecían más difíciles que al día de hoy,
En el vídeo debo reconocer varias cosas que tenía en ese entonces, y es qué el vibrato era muy amplio, de hecho mi vibrato llegó a ser una característica muy mía,
Además de eso en la etapa en la que grabé el video trataba de usar mucho más arco, y creo que hasta usaba más arco que hoy en día, sobretodo para tocar más fuerte. Hoy por hoy busco tocar con un sonido más limpio que más fuerte,
Otra característica es que también usaba soporte, que es un accesorio en lleva el violín enganchado para justo sostener el violín con más comodidad,
La razón por la que hoy por hoy no lo uso es porque me gusta cómo mi violín proyecta sonido sin ese accesorio, porque justamente al usarlo tapa más el sonido,
Así que sin más que agregar por hoy espero les guste, ¡Abrazos!
/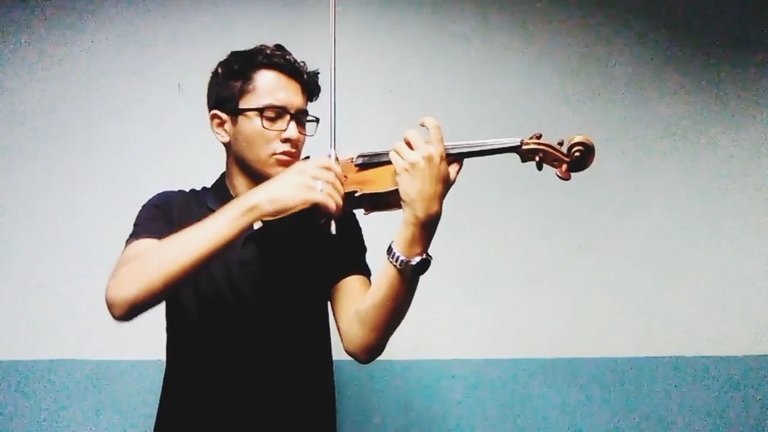 Hello dear and appreciated friends, I hope you continue to have the best today
In one of these days that I took some time to organize a little everything that I want to start doing this year, and especially the "routines" that I want to implement (days that did not help me to completely do all that😂), I began to review some videos I made a while ago, just out of curiosity,
These videos were from different times, in which I started to think about the musical traits that I had at that time, both technical skills and weaknesses, etc., in order to maybe re-implement some other things and congratulate myself for the mistakes I corrected,
This process in an artist, and I would say that even in people in general, it is important to do it, to precisely evaluate the "before and after", to recognize whether or not it is the path we are taking, that of growth.
In this video today we will listen to the first part of Bruch's concerto, which I studied many years ago, and at that time there were many passages that seemed more difficult to me than today,
In the video I must recognize several things that I had at that time, and that is that the vibrato was very broad, in fact my vibrato became a very characteristic of mine,
In addition to that, at the stage in which I recorded the video, I tried to use much more bow, and I think I even used more bow than today, especially to play harder. Today I seek to play with a cleaner sound than a stronger one,
Another feature is that it also used a support, which is an accessory that holds the violin hooked to just hold the violin more comfortably,
The reason why today I don't use it is because I like how my violin projects sound without that accessory, because precisely when using it it covers the sound more,
So without further ado for today I hope you like it, hugs!
---
---