Hive F1, 2022 Contest - Race #19 - Austin, USA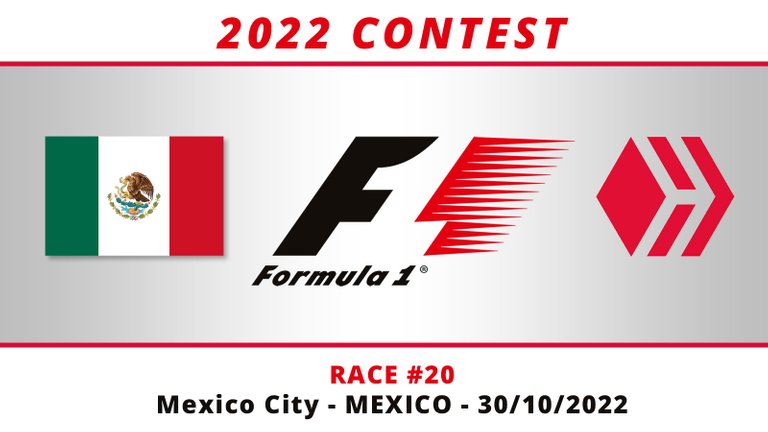 Gara #20 - Città del Messico, Messico
Un saluto a tutti,
restiamo in continente americano, ma ci spostiamo in altra nazione. Questo weekend si correrà in Messico, pista di casa per Perez su RedBull. I pronostici vanno abbastanza in suo favore: hanno la vettura migliore e Verstappen, avendo già vinto tutto, potrebbe "regalare" la vittoria al compagno di squadra.
Pista con caratteristiche simili a quelle che abbiamo avuto ad Austin, due rettilinei abbastanza veloci, e parte più tecnica abbastanza tortuosa. E' in circuito semi-permanente cittadino, quindi con presenza di muretti e tratti molto stretti.
Anche se il campionato è ormai stato assegnato, piloti e squadre sono sempre in cerca di una vittoria, e anche stavolta sicuramente non mancherà lo spettacolo.
Attenzione all'orario di partenza, che essendo in Messico, per noi in Europa sarà nella serata della domenica.
Aspetto i vostri pronostici e come sempre, buona fortuna a tutti! 🏁
---
Molti di voi già conoscono il funzionamento del nostro contest, mentre per i nuovi rimando al regolamento del concorso presente nel post della prima gara.
---
Per quanto riguarda il nostro concorso, più sotto potete vedere i risultati dell'ultima gara e la nostra classifica generale.
Il risultato è stato abbastanza scontato per il pilota vincitore, meno per seconda e terza posizione. Pochi di noi hanno ottenuto dei punti, ma centrare il vincitore è servito a @c3r34lk1ll3r per salire in testa scavalcando @stefano.massari. Le altre posizioni restano invariate.


Race #20 - Mexico City, Mexico
Hello everybody,
we remain in the American continent, but we move to another nation. This weekend we will race in Mexico, Perez's home track on RedBull. The predictions are quite in favor of him: they have the best car and Verstappen, having already won everything, could "give" the victory to his teammate.
Track with characteristics similar to those we had in Austin, two fairly fast straights, and a more technical part that is quite winding. It is in a semi-permanent city circuit, therefore with the presence of walls and very narrow sections.
Even though the championship has now been awarded, drivers and teams are always looking for a win, and this time too, the show will certainly not be missing.
Pay attention to the departure time, which being in Mexico, for us in Europe will be in the evening on Sunday.
I'll wait for your prediction, and as always, good luck to everyone! 🏁
---
Many of you already know how our contest works, while for the new ones I refer to the contest rules in the post of the first race.
---
As for our competition, below you can see the results of the last race and our general ranking.
The result was quite obvious for the winning driver, less for second and third positions. Few of us got any points, but hitting the winner helped @c3r34lk1ll3r to take the lead by overtaking @stefano.massari. The other positions remain unchanged.


Race #19 results and general standing



Races Calendar 2022
| RACE | Track | 1st | 2nd | 3rd |
| --- | --- | --- | --- | --- |
| | | | | |
| 20 / 03 | | | | |
| R01 | Bahrain | Leclerc | Sainz | Hamilton |
| 27 / 03 | | | | |
| R02 | Saudi Arabia | Verstappen | Leclerc | Sainz |
| 10 / 04 | | | | |
| R03 | Australia | Leclerc | Perez | Russell |
| 24 / 04 | | | | |
| R04 | Italy - Imola | Verstappen | Perez | Norris |
| 08 / 05 | | | | |
| R05 | USA - Miami | Verstappen | Leclerc | Sainz |
| 22 / 05 | | | | |
| R06 | Spain | Verstappen | Perez | Russell |
| 29 / 05 | | | | |
| R07 | Monaco | Perez | Sainz | Verstappen |
| 12 / 06 | | | | |
| R08 | Azerbaijan | Verstappen | Perez | Russell |
| 19 / 06 | | | | |
| R09 | Canada | Verstappen | Sainz | Hamilton |
| 03 / 07 | | | | |
| R10 | Great Britain | Sainz | Perez | Hamilton |
| 10 / 07 | | | | |
| R11 | Austria | Leclerc | Verstappen | Hamilton |
| 24 / 07 | | | | |
| R12 | France | Verstappen | Hamilton | Russell |
| 31 / 07 | | | | |
| R13 | Hungary | Verstappen | Hamilton | Russell |
| 28 / 08 | | | | |
| R14 | Belgium | Verstappen | Perez | Sainz |
| 04 / 09 | | | | |
| R15 | Netherlands | Verstappen | Russell | Leclerc |
| 11 / 09 | | | | |
| R16 | Italy - Monza | Verstappen | Leclerc | Russell |
| 02 / 10 | | | | |
| R7 | Singapore | Perez | Leclerc | Sainz |
| 09 / 10 | | | | |
| R18 | Japan | Verstappen | Perez | Leclerc |
| 23 / 10 | | | | |
| R19 | USA - Austin | Verstappen | Hamilton | Leclerc |
| 30 / 10 | | | | |
| R20 | Mexico | - | - | - |
| 13 / 11 | | | | |
| R21 | Brazil | - | - | - |
| 20 / 11 | | | | |
| R22 | Abu Dhabi | - | - | - |




Official FIA Formula 1 Site
Official FIA Formula 1 Youtube Channel
---
Call for the Players
@robertomarinello, @zottone444, @stefano.massari, @catgio, @zipsardinia, @lokibalboa, @ciuoto, @blumela, @yocritico, @alfredolopez1980, @grof, @jonelescalona, @vicpics, @dexpartacus, @franz54, @nfelix92, @fuentesjo3006, @chipi17, @edgarf1979, @cmoljoe, @sportsjrfc2018, @bisec, @lucasantangelo, @carlood, @dianagomez, @pagliozzo, @lelluzzo, @antorchajohnny, @acont, @dernierdiaz, @deusjudo, @lolyfuentes, @salazarcag, @colon2018, @linterio, @jclark, @neo-wiza, @sljivanono, @justamoment, @lostprophet, @lovetaxi005, @hollywwod, @barbadosso, @davidesimoncini, @serialfiller, @sukhothai, @perdomo56, @adimantong, @traveljack894, @stefanogabbo, @coccodema, @freestyle7, @massrado, @alequandro, @eagle71, @mrhuman88, @ifiwasfrank, @britandjosie, @cetyoung, @tosolini, @samubit, @vancouverpics, @samubit, @mauropi,@ifiwasfrank, @c3r34lk1ll3r, @bencwarmer, @siomara-2018, @sportsbuddy, @makeitreal95, @libertycrypto27, @ismaelgranados, @mrfrank88, @coolkris, @fraba, @stewie.wieno, @davidesimoncini and the others…
---
Immagini CC0 con diritti di modifica
CC0 Image labeled for reuse with modification
---
---