Hive F1, 2022 Contest - Race #19 - Austin, USA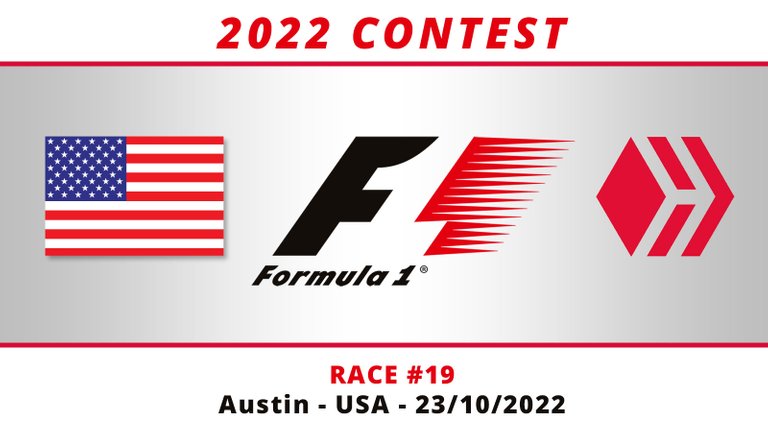 Gara #19 - Austin, USA
Un saluto a tutti,
lasciato il Giappone, ci si avvicina alle ultime gare del campionato e si va in terra americana, in USA sul tracciato di Austin, la capitale del Texas. Pista abbastanza tortuosa, con due soli lunghi rettilinei. Solitamente le Ferrari qui vanno bene, ma le RedBull saranno di nuovo le auto da battere. McLaren in miglioramento, Alpine veloci e Mercedes possibili outsider (anche se con troppi problemi nelle ultime gare) completano il quadro della prossima gara.
Per quanto riguarda il campionato, siamo tutti in attesa degli sviluppi della questione relativa allo sforamento del budget cap da parte di RedBull, e conseguenti sanzioni che potrebbero rivoluzionare la classifica e il risultato finale.
Voi cosa ne pensate? Magari parliamone insieme ai vostri pronostici.
Attenzione all'orario di partenza, che essendo in USA, per noi in Europa sarà nella serata della domenica.
Aspetto i vostri pronostici e come sempre, buona fortuna a tutti! 🏁
---
Molti di voi già conoscono il funzionamento del nostro contest, mentre per i nuovi rimando al regolamento del concorso presente nel post della prima gara.
---
Per quanto riguarda il nostro concorso, più sotto potete vedere i risultati dell'ultima gara e la nostra classifica generale.
Gara difficile in Giappone, sotto la pioggia e con molti cambi gomme. Hanno avuto la meglio le RedBull, con Leclerc che ha provato a resistere per tenere la seconda posizione, ma alla fine ha dovuto cedere a Perez. Tra di noi, solamente @green77 ha indovinato i primi due piloti, mentre tre concorrenti solamente il vincitore. Classifica invariata, tranne per @uggya ed @acont che si scambiano la posizione.


Race #19 - Austin, USA
Hello everybody,
leaving Japan, we approach the last races of the championship and go to American soil, in the USA on the Austin track, the capital of Texas. Quite winding track, with only two long straights. Ferraris are usually fine here, but RedBull will again be the cars to beat. Improving McLaren, fast Alpines and Mercedes possible outsiders (albeit with too many problems in the last few races) complete the picture of the next race.
As for the championship, we are all awaiting the developments of the issue relating to the overrun of the budget cap by RedBull, and consequent sanctions that could revolutionize the ranking and the final result.
What do you think about it? Maybe let's talk about it together with your predictions.
Pay attention to the departure time, which being in USA, for us in Europe will be in the evening on Sunday.
I'll wait for your prediction, and as always, good luck to everyone! 🏁
---
Many of you already know how our contest works, while for the new ones I refer to the contest rules in the post of the first race.
---
As for our competition, below you can see the results of the last race and our general ranking.
Strange race in Singapore: the wet weather upset the race a bit, with some minor incidents which however caused the Safety Car to enter on more than one occasion; Verstappen who started in the middle of the grid and nobody expected Perez to win.
So between us @acont and @uggya only guess Leclerc in second place and four other Sainz competitors in third place.
Unchanged ranking in positions.


Race #18 results and general standing



Races Calendar 2022
| RACE | Track | 1st | 2nd | 3rd |
| --- | --- | --- | --- | --- |
| | | | | |
| 20 / 03 | | | | |
| R01 | Bahrain | Leclerc | Sainz | Hamilton |
| 27 / 03 | | | | |
| R02 | Saudi Arabia | Verstappen | Leclerc | Sainz |
| 10 / 04 | | | | |
| R03 | Australia | Leclerc | Perez | Russell |
| 24 / 04 | | | | |
| R04 | Italy - Imola | Verstappen | Perez | Norris |
| 08 / 05 | | | | |
| R05 | USA - Miami | Verstappen | Leclerc | Sainz |
| 22 / 05 | | | | |
| R06 | Spain | Verstappen | Perez | Russell |
| 29 / 05 | | | | |
| R07 | Monaco | Perez | Sainz | Verstappen |
| 12 / 06 | | | | |
| R08 | Azerbaijan | Verstappen | Perez | Russell |
| 19 / 06 | | | | |
| R09 | Canada | Verstappen | Sainz | Hamilton |
| 03 / 07 | | | | |
| R10 | Great Britain | Sainz | Perez | Hamilton |
| 10 / 07 | | | | |
| R11 | Austria | Leclerc | Verstappen | Hamilton |
| 24 / 07 | | | | |
| R12 | France | Verstappen | Hamilton | Russell |
| 31 / 07 | | | | |
| R13 | Hungary | Verstappen | Hamilton | Russell |
| 28 / 08 | | | | |
| R14 | Belgium | Verstappen | Perez | Sainz |
| 04 / 09 | | | | |
| R15 | Netherlands | Verstappen | Russell | Leclerc |
| 11 / 09 | | | | |
| R16 | Italy - Monza | Verstappen | Leclerc | Russell |
| 02 / 10 | | | | |
| R7 | Singapore | Perez | Leclerc | Sainz |
| 09 / 10 | | | | |
| R18 | Japan | Verstappen | Perez | Leclerc |
| 23 / 10 | | | | |
| R19 | USA - Austin | - | - | - |
| 30 / 10 | | | | |
| R20 | Mexico | - | - | - |
| 13 / 11 | | | | |
| R21 | Brazil | - | - | - |
| 20 / 11 | | | | |
| R22 | Abu Dhabi | - | - | - |




Official FIA Formula 1 Site
Official FIA Formula 1 Youtube Channel
---
Call for the Players
@robertomarinello, @zottone444, @stefano.massari, @catgio, @zipsardinia, @lokibalboa, @ciuoto, @blumela, @yocritico, @alfredolopez1980, @grof, @jonelescalona, @vicpics, @dexpartacus, @franz54, @nfelix92, @fuentesjo3006, @chipi17, @edgarf1979, @cmoljoe, @sportsjrfc2018, @bisec, @lucasantangelo, @carlood, @dianagomez, @pagliozzo, @lelluzzo, @antorchajohnny, @acont, @dernierdiaz, @deusjudo, @lolyfuentes, @salazarcag, @colon2018, @linterio, @jclark, @neo-wiza, @sljivanono, @justamoment, @lostprophet, @lovetaxi005, @hollywwod, @barbadosso, @davidesimoncini, @serialfiller, @sukhothai, @perdomo56, @adimantong, @traveljack894, @stefanogabbo, @coccodema, @freestyle7, @massrado, @alequandro, @eagle71, @mrhuman88, @ifiwasfrank, @britandjosie, @cetyoung, @tosolini, @samubit, @vancouverpics, @samubit, @mauropi,@ifiwasfrank, @c3r34lk1ll3r, @bencwarmer, @siomara-2018, @sportsbuddy, @makeitreal95, @libertycrypto27, @ismaelgranados, @mrfrank88, @coolkris, @fraba, @stewie.wieno, @davidesimoncini and the others…
---
Immagini CC0 con diritti di modifica
CC0 Image labeled for reuse with modification
---
---