20% APR For Hive Dollars | Decentralization In Action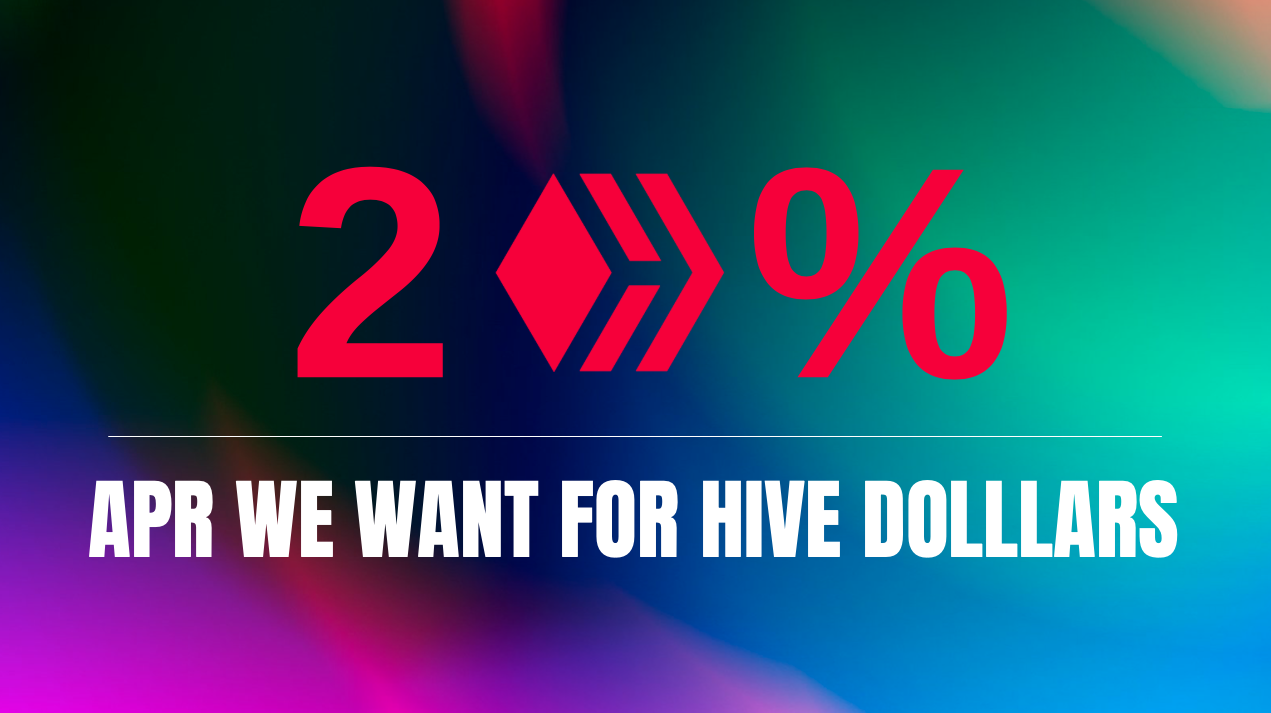 Most of us already know that Hive blockchains has been paying 12% APR for all HBD held in Savings. This is a really good deal for a stable coin. Banks can't afford these rates. However, in crypto world there is competition among stable coins and there are options that pay higher than 20%. Some of us would like to see the APR increased. To increase APR Hive blockchain does not need a hard-fork. This is simply achieved by majority of top witnesses configuring their APR parameter.
While 12% APR seems like a norm now, it is still a new thing and when witnesses first started updating their APR parameter they were hesitant to play with high numbers. These interest payments started with 3% last year. Then changed to 7%. Then changed again to 12%. Now there seems to be some activity going on to push for 20%. Wow!
Our witnesses are very protective of the blockchain. They don't like to change things too fast. They do prefer to consider all possible outcomes and potential risks before acting. That is a great thing. If now some witnesses are actually updating their parameter to 20%, I am sure they have done their due diligence before making such changes.
I personally think it would be great to have higher APR. Hive Dollar has proven to be able to function as a stable coin. There is a great demand for stable coins in the world. This became obvious during the Bitcoin Convention 2022 talks as well. So why not Hive? Hive is a great chain with a lot to offer. HBD is only one of the features Hive has. Increasing APR to 20% would definitely make some noise in crypto space and may also serve as a marketing strategy. Moreover, I believe 20% is a balance approach. Because this would also drive interest in buying HBD. There aren't a lot of them in the market. Those who want a lot of them, will have to buy Hive and convert them to HBDs via Hive conversion mechanism. This will be good for Hive price as well, because it will create more demand for Hive.
You can see the parameters witnesses have set on hiveblocks.com/witnesses. Ten of the top witnesses have APR set at 12%. Four of them have at 15%. One at 13%. And four more below 12%. There is one top 20 witness who has APR at 20% - themarkymark.
Among backup witnesses, there are four who have set APR to 20% at ranks close to top 20 - smooth, engrave, threespeak, mahdiyari. If we scroll down we can see three more witnesses with 20% APR. As you can see there is interest even among witnesses for higher APR. It does seem like 15% could be easily be achieved, but not sure if it would be high enough to make Hive Dollars competitive in the stable coins space.
I don't remember seeing 20% a week ago when I was preparing the report on monthly interest payments. This does seem like a beginning of the movement. There has been a lot interesting discussions about HBD on-chain and off-chain lately. Maybe more people are realizing that higher interest for HBD will be a good thing for Hive. I am thinking/hoping to see more witnesses start signaling 20%, more stakeholders start sharing their thoughts and positions on this. It is going to be interesting to see.
Hive is a decentralized blockchain. The governance is done with stake-based voting for witnesses. If more stakeholders like to see 20% APR, they may start switching their votes to witnesses who have APR set 20%. I doubt stakeholders would make such decisions based only on this criteria. But as long as these are capable and trustworthy witnesses, they may just earn these votes. If you are a backup witness and was hoping to get some more attention, perhaps changing APR to 20% can help? That is, if you believe it is a good thing for Hive. Everybody should make their own research and educated decisions, be it witnesses, stakeholders and investors.
I would like to see higher interest for HBD, not because I would like to earn higher passive income, but mainly I would like to see HBD to be noticed by the world because it is a great solution for stable coin needs. I also think more attention on HBD will drive more interest to Hive blockchain. I also like such experiments, social and financial aspects of them. It is interesting to see how people make decisions in a decentralized space. For these reasons, I will be changing my witness votes as well. At least for now, to participate in this decentralized process. Decentralization requires participation.
What do you think about 20% APR? Let me know in the comments.
Posted Using LeoFinance Beta
---
---