ONE TEAM ONE GOAL "TEAM HARRY ON THE GO"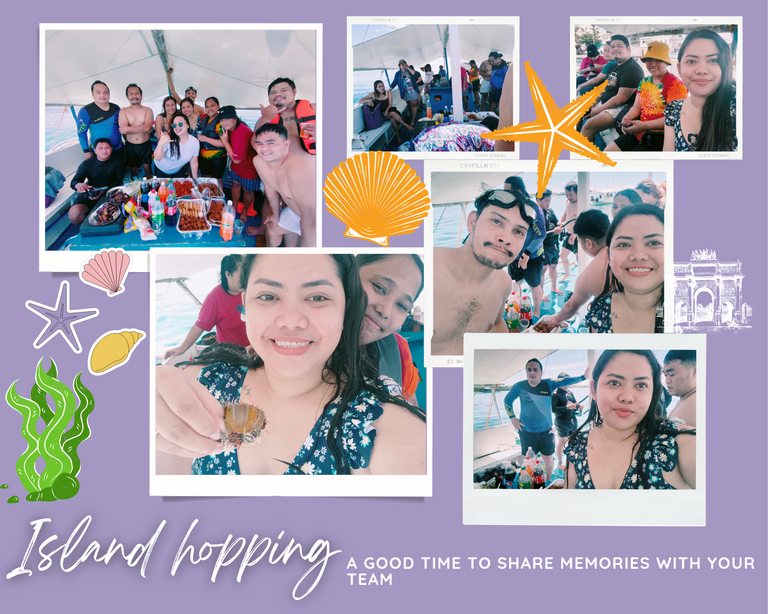 ---
How are you all doing today, hivers? Are you still basking in the sun this summer? Well, I hope you had a wonderful summer.
I had the opportunity to enjoy the water and the summer heat last weekend.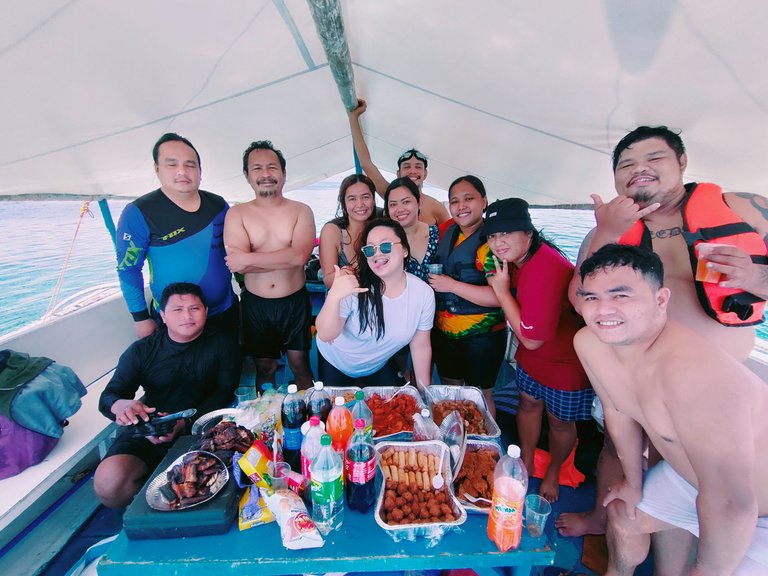 We traveled to Lapu-Lapu for our first Team Building last Saturday. It had been scheduled since last month, but due to ongoing discussions over our office protocol, it has been repeatedly postponed.
Before we decide to go island hopping, we think about a lot of things. Most of my colleagues have children and families and are unable to remain overnight if we want to go somewhere in the Northern or Southern part of Cebu.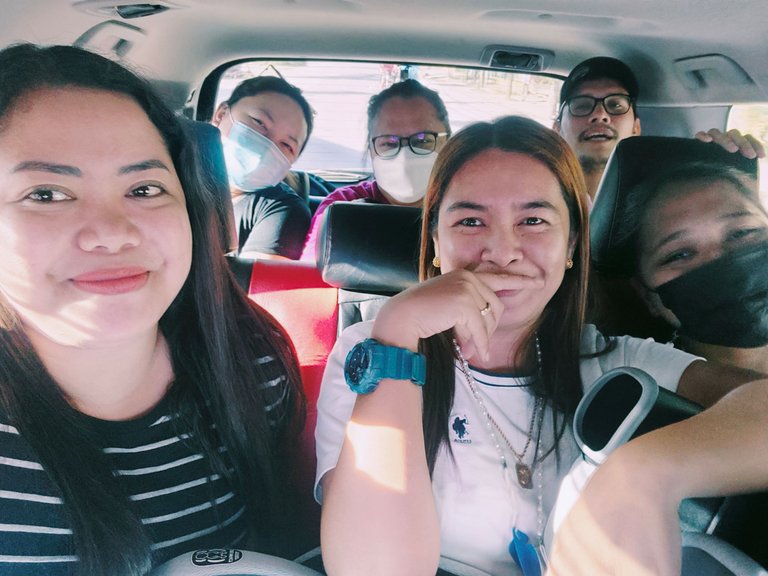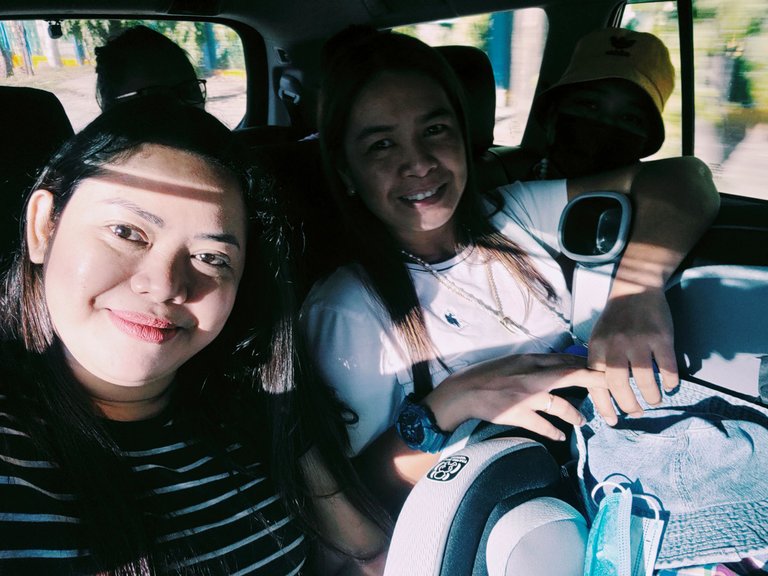 ---
We were concerned about the weather as we waited for someone to pick us up since the clouds appeared to be dark, and the rain began to fall while we were driving. We were unfamiliar with the area, so it was fortunate that someone had offered to drive us there. We planned to meet there before 8:00 a.m., and we got there at 7:15 AM, which was OK. We waited for the others to arrive and then went to one of the stores to get some supplies for the boat.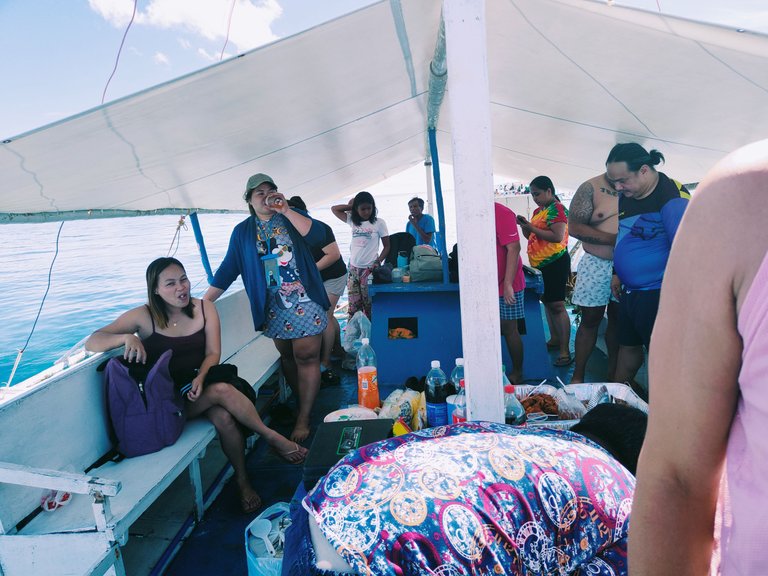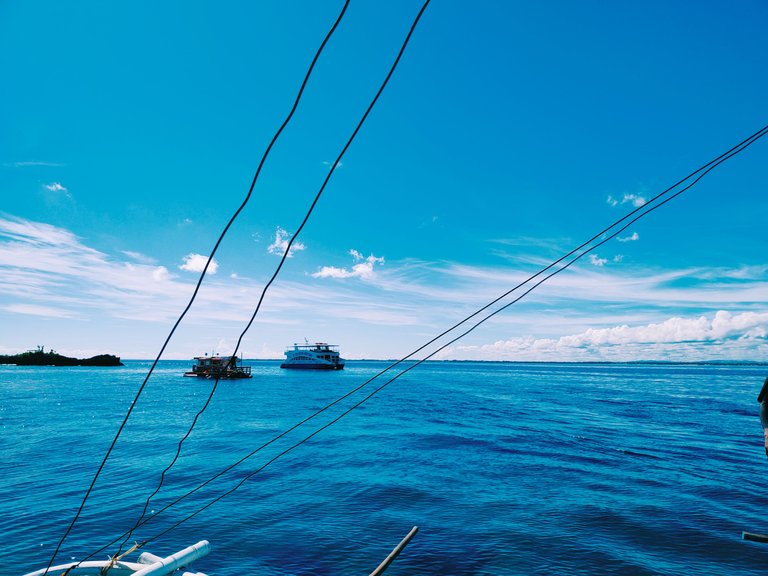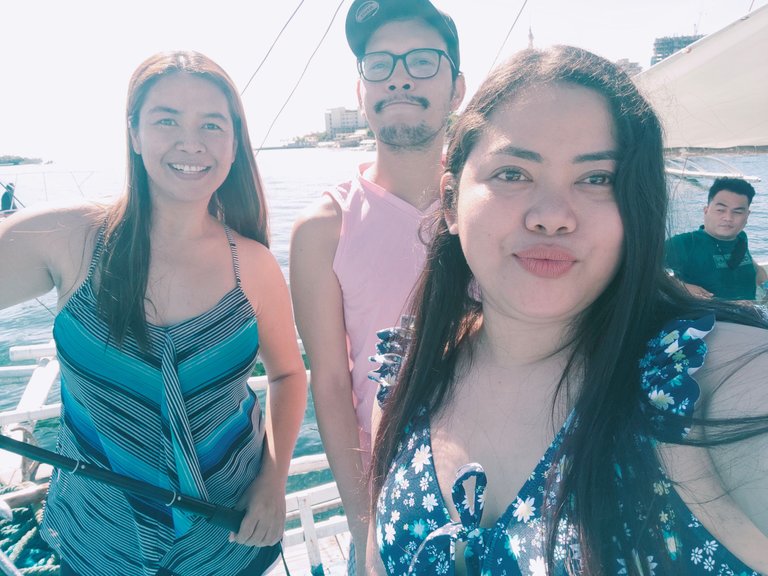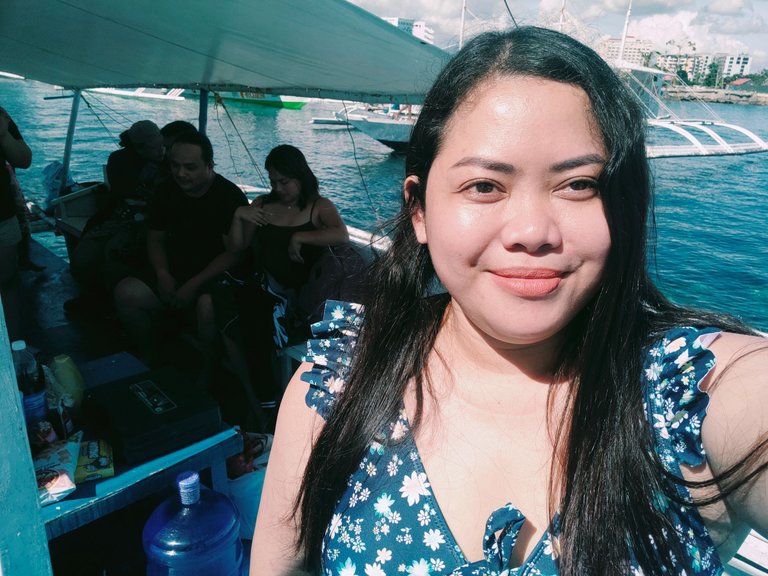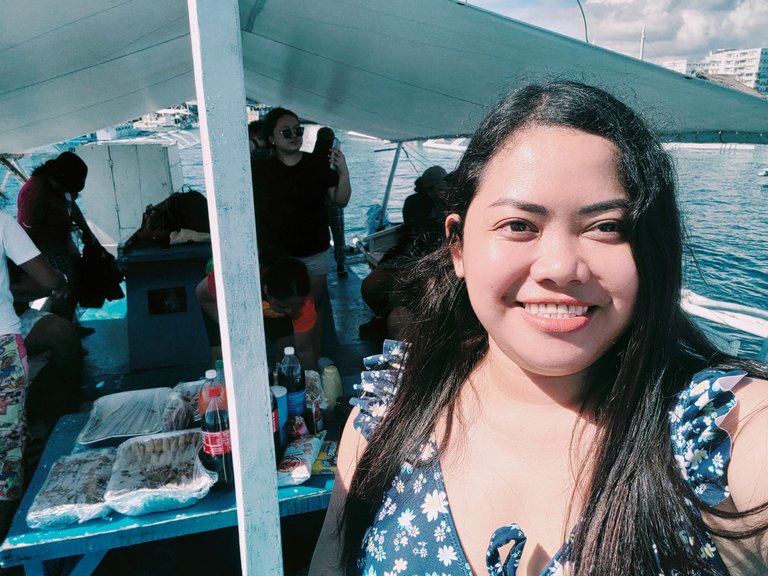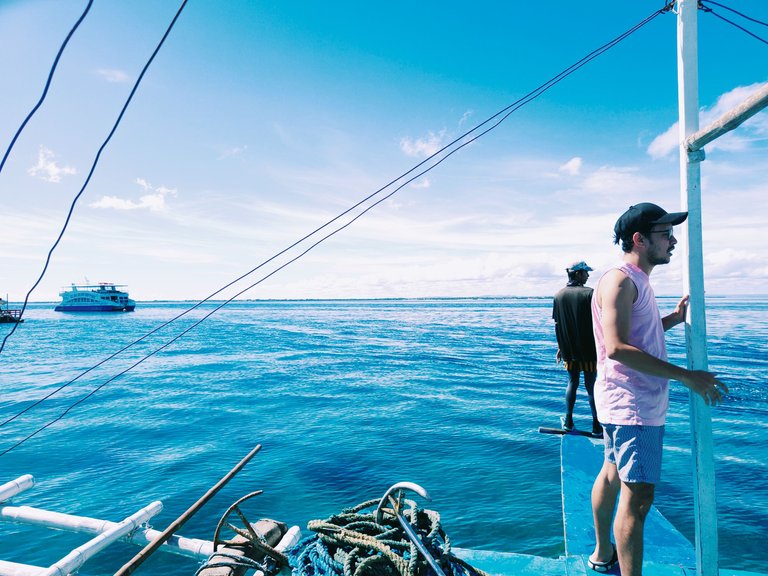 ---
We didn't bring much, which was convenient, so I volunteered to purchase a soda with my own money outside of the cost of our team-building funds.
While we waited for the others, the boat was already waiting for us, and after 30 minutes, we were finally complete.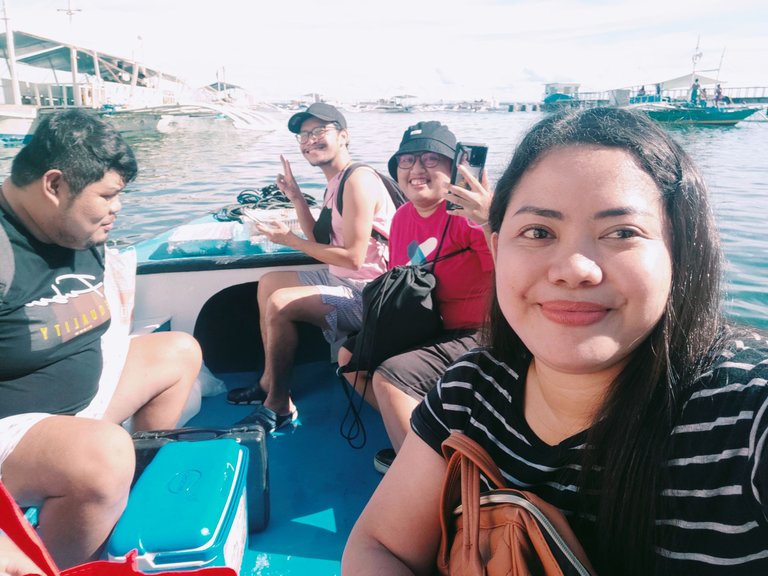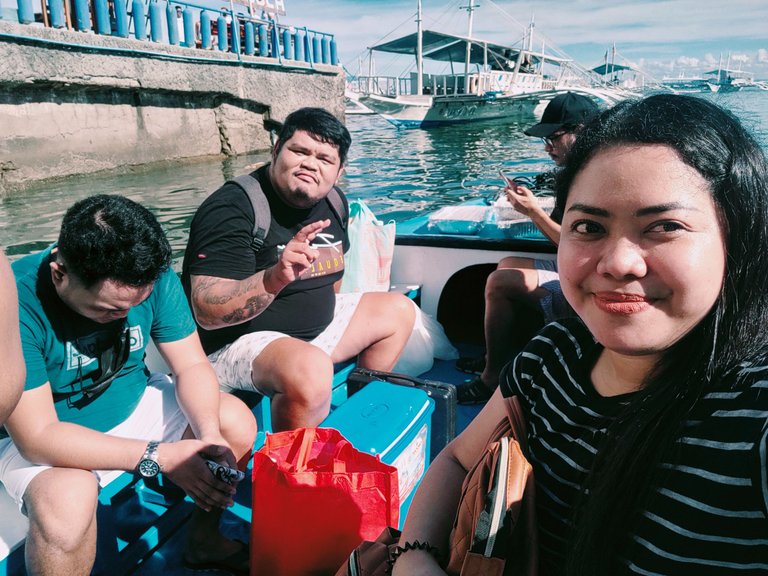 We had to ride another boat to get to the bigger boat, which cost us 20 pesos apiece. It wasn't that far, but that's how it works, so we didn't question it.
We arrive at the boat and get in one by one and begin unloading the food and other stuff. We had to wait another 10-15 minutes before we could start our journey. We failed to buy several items, such as charcoal for the barbeque and rented snorkeling gear for 40 pesos apiece.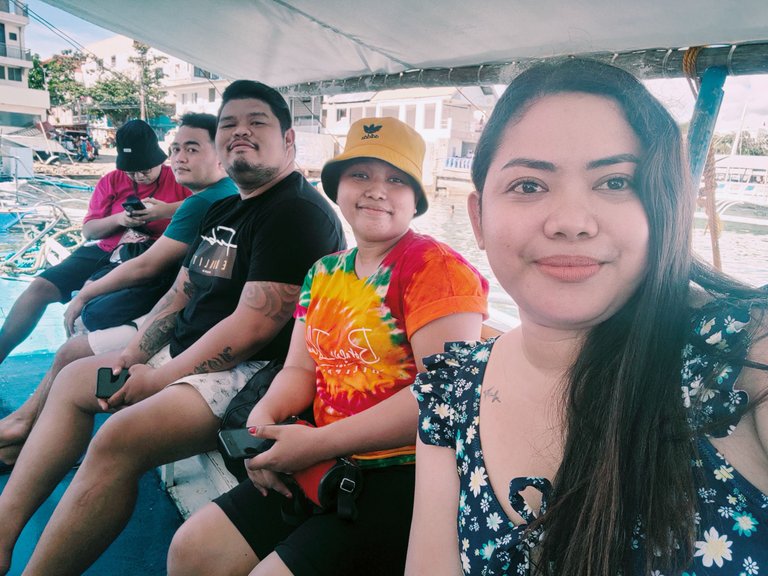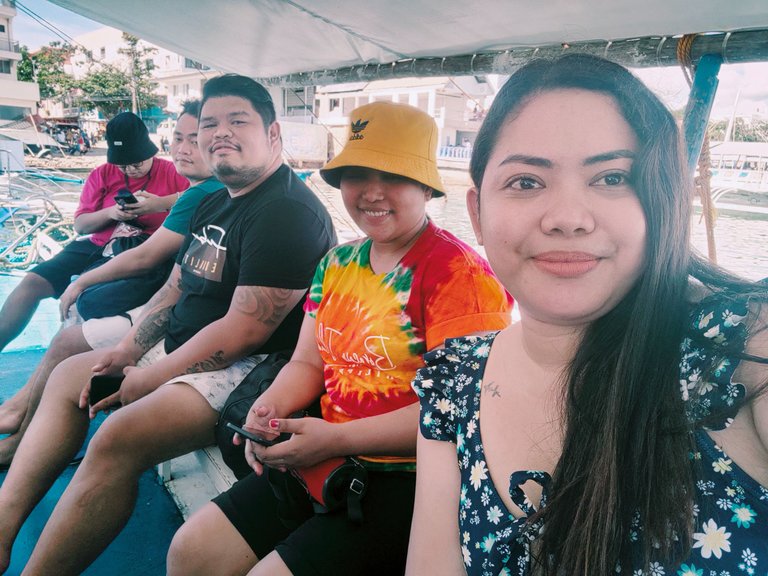 ---
We began our adventure by arranging the table and preparing the food. We opted to eat because most of us were famished after not having eaten breakfast.
We barbequed the pork belly and chorizo to add to the meal on the table as we ate. We were fortunate in that we did not have to put in a lot of work to prepare and cook the food, and the key is that we ordered it.
We have Bam-i, chicken, spring rolls, meatballs, pork adobo, and chicken fillet for 4,999 PHP. It's not bad for the price, and the meal portion given is more than enough for everyone.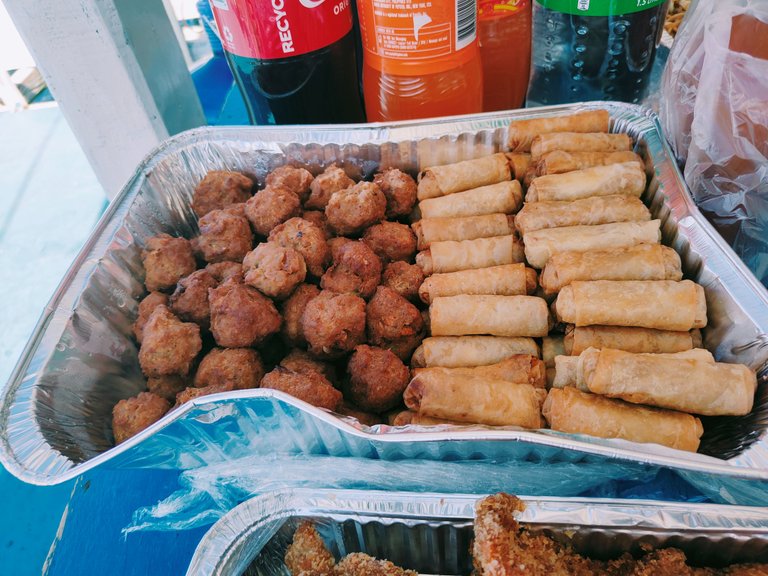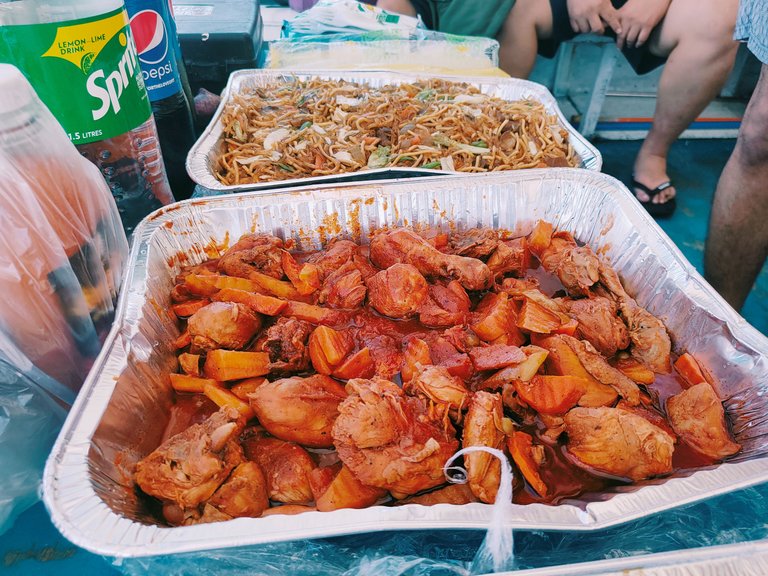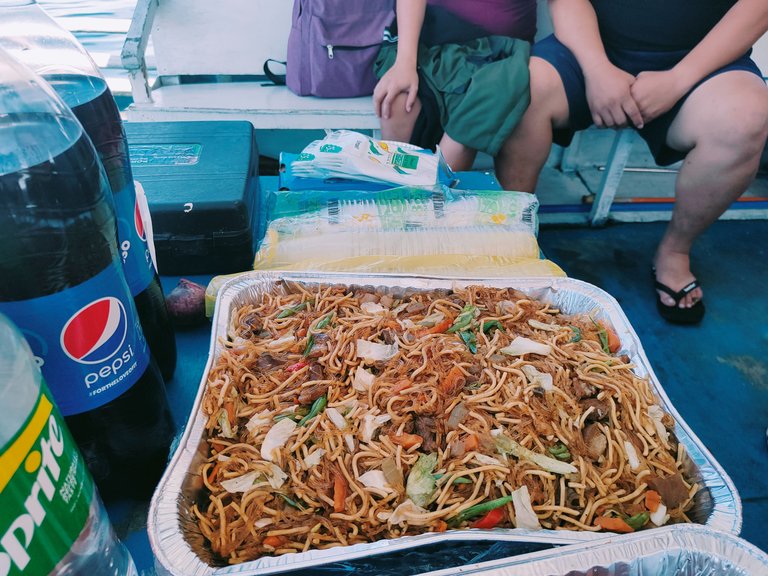 After we finished eating, we came to a halt in the middle of the water, where we found our first snorkeling area.
We had no idea the place would be so beautiful; we were simply swimming about with our life jackets on for safety. And then, when we were in the water, we started feeding them, and the fish came to the area where we were. I can still capture clear photos of them from the boat since the water is so clean.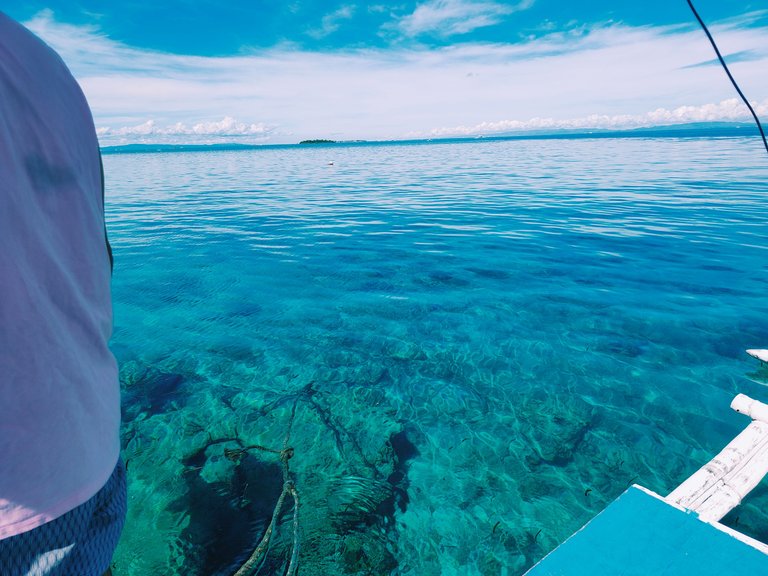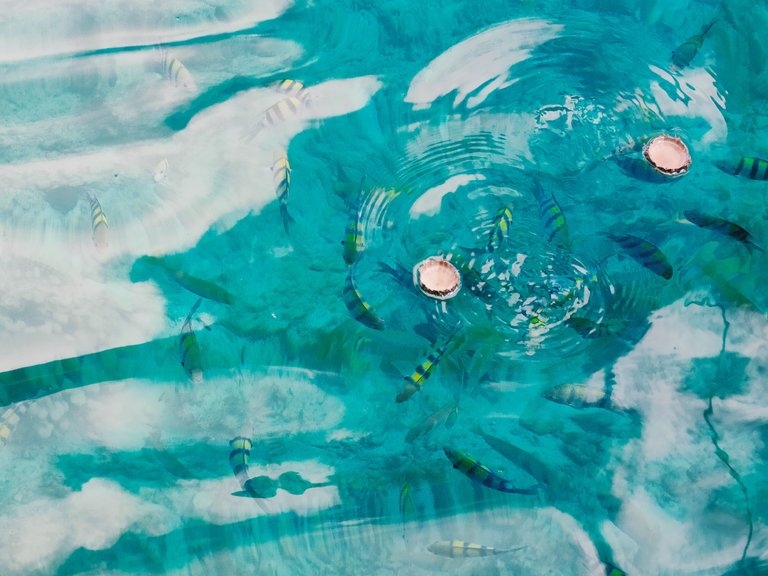 Some fisherman approached us and offered us Sea Urchins. I've wanted to try it ever since several hivers talked about it. I'm not sure how much it actually cost in the market, but we paid 450 pesos for it; perhaps it was too expensive, but we did buy it anyway. I attempted to restrict my consumption due to allergies, however, it tastes great with Sukang pinakurat.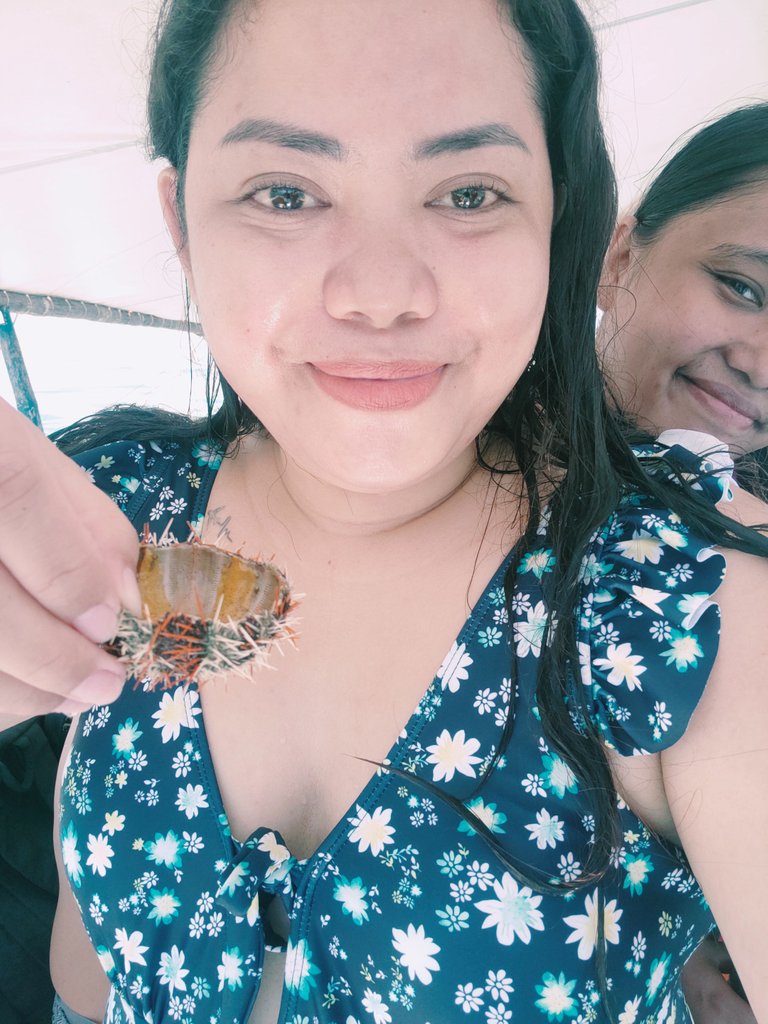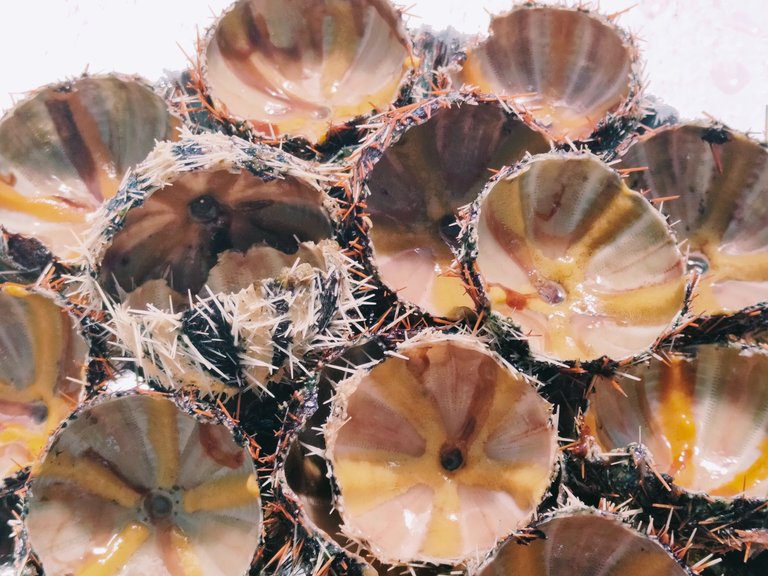 We moved on to the next location, where there aren't many fish but plenty of starfish. We stayed and got another chance to eat the food and they started drinking while also talking about work and life in general. We were able to catch up, get to know each other better, and bond. We had a lot of fun and started mocking each other, which was a great way for us to bond.
---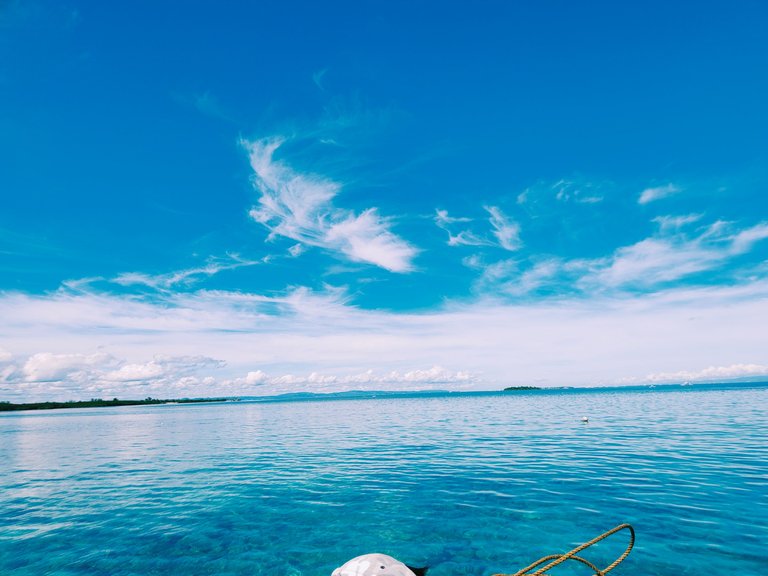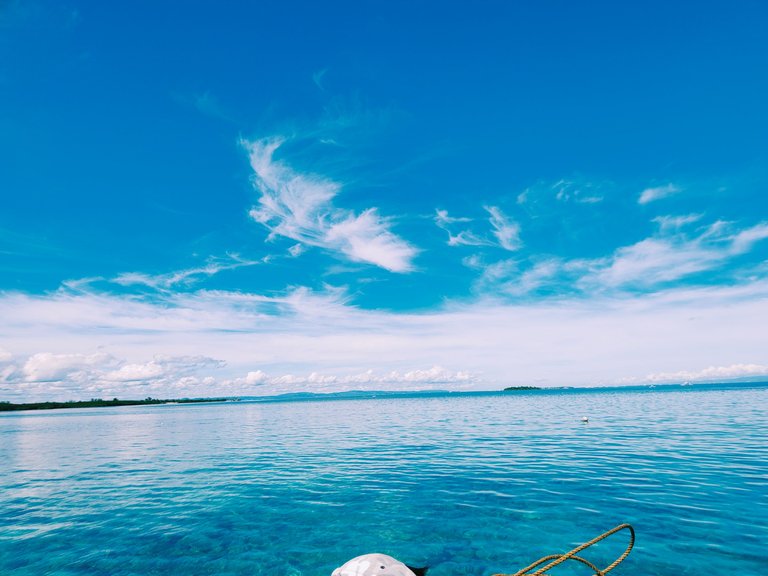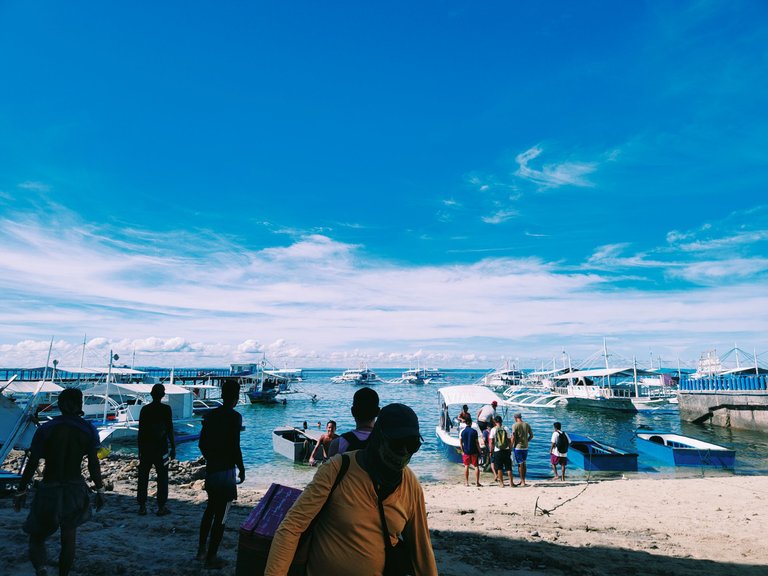 ---
We needed to get moving since we didn't want to be stuck in traffic, so we opted to return. We were fortunate to be able to fit in our supervisor's car and headed home.
It was a pleasant and entertaining team-building experience, and I had a fantastic weekend.
---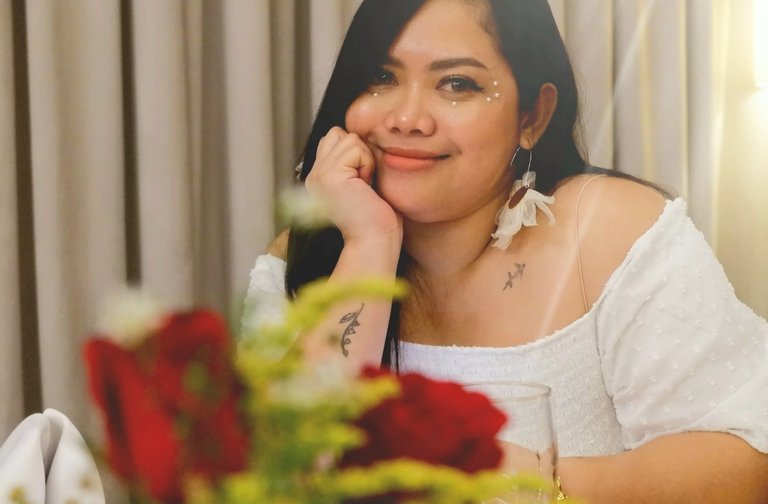 Explorewithsasha Blog about her passion, daily and weekly routine, travels, and experiences, and in between. I welcome comments and feedback to improve my content and to continue learning.
If you love what you read, feel free to comment, follow and upvote my content.
If you want to get to know me and reach out outside of this platform, feel free to check out my other social media accounts.
FACEBOOK
INSTAGRAM
---
---