Where Are We At? Still On The Safe Side?

When the correction started this week, I decided to stay away from voicing my opinion about it in here. It's better to see how things stand instead of jumping to conclusions.
Corrections happen all the time and are needed. Is this a healthy correction? Is this manipulation? Does Evergrande's collapse has anything to do with what's happened in the crypto market?? These are all interesting questions, would be great to know the truth, but at the end of the day, the only thing that matters is how you are able to preserve your capital and what can you do to profit from this situation and any situation in general.
Traders usually are trading the market both ways, with much or less success. Investors are in a different situation as investments are (usually) long term, so obviously the strategy they have are very different.
Just like everybody else, I've been following the news to see where this is going. Twitter has been burning literally, everyone has been tweeting and we've got to see once again (not that it has been necessary), what it means to listen to random people blindly, without DYOR.
If you look at the charts, what's happened is not unprecedented. These corrections happen all the time and you can count on the chart how many times it has already happened. However, that doesn't mean people are prepared and protected.
The most painful to watch is when you see people in need jumping in, investing their last penny in crypto, hoping to 2x, 5x, 10x it, to then make ends meet and later to change their lives just to find out their investment just halved or even worse. Then asking help from those they think are more experienced and ending up subscribing to a group that sells you info you can get for free.
Losing money in crypto is something you can't avoid at the beginning and maybe later either as volatility can create situations you're not prepared for. There's no trader with 100% success rate. However, risk to reward ratio must be reasonable and again, preserving your capital should always be your number one priority. Otherwise it's just a gamble.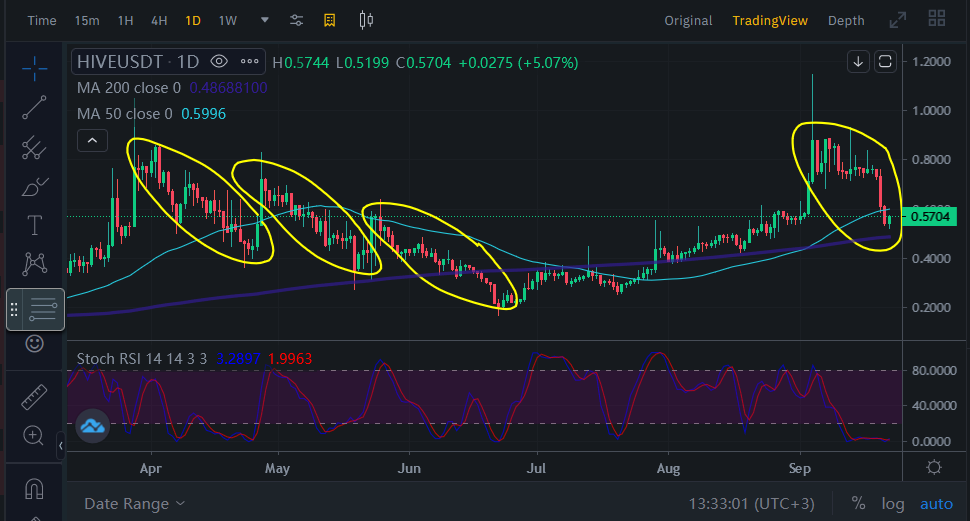 source
HIVE
I've been following HIVE's market evolution for a few months now. I know, it sounds strange and you may ask what the hell have I been doing till then, to which the answer is, I've been accumulating, without caring about the price.
I've been proud of HIVE as it's been holding pretty strong lately and even when the correction started, it seemed like our coin is bullet proof, till it didn't. Unfortunately HIVE took a hit as well and we're back to the $0.5 - $0.6 range we've hoped to leave forever.
Chart-wise this is normal as we haven't had a correction since June. Obviously I'm not an expert, but that's what the chart shows me. Better now that come back again from $1 or higher.
To answer my question, where are we at or still on the safe side, in my very humble opinion, we've never been in danger. There's a strong project behind HIVE and an even stronger community. We've come a long way and we've been through a lot of 💩 and we know how to defend ourselves and what's ours.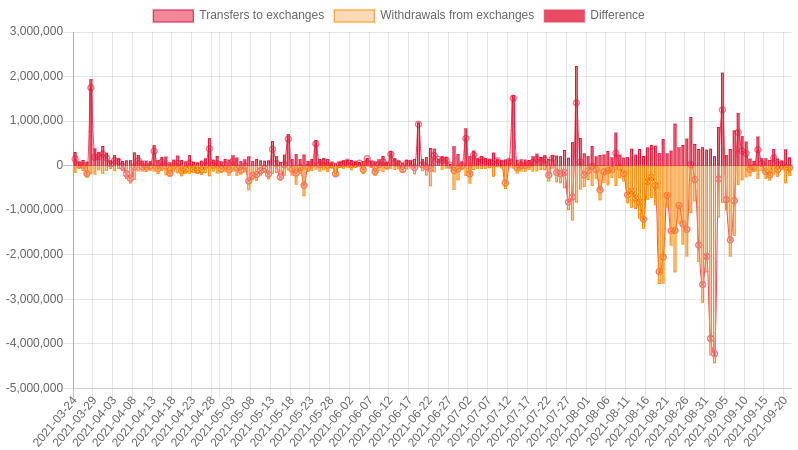 Daily HIVE Transfers from and to exchanges
If you look at penguinpablo's stats, new account creation is on he rise, Splinterland is leading and driving new users to the chain constantly.
The chart above shows HIVE transfer from and to exchanges has not sky rocketed. I know many have been preparing to sell toward the end of the bull run, which is delayed now, on the other hand I guess just as many are prepared to buy as well. If the plan works, then more HIVE will be taken off the exchanges and powered up, which can only benefit the chain.
In the meantime we sill have our earning possibilities by posting, curating (which sometimes is overlooked), participating in DeFi and in investment projects we have on Leofinance.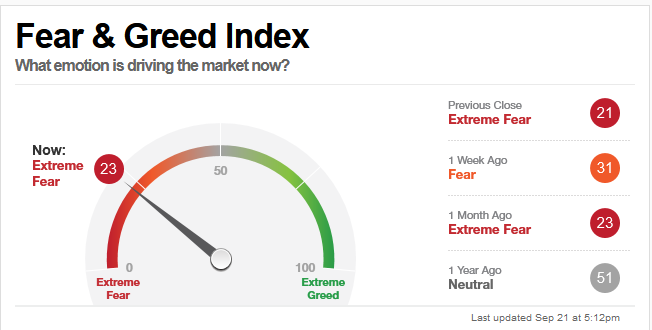 source
So two days ago, when the news about the Chinese giant broke out, everyone in the crypto world was waiting for the Fear & Greed Index to update, I was wondering how our HIVE Fear & Greed Index would look like if we'd have one. It would be nice to have one and check from time to time how we stand, but I don't think many were worried about HIVE.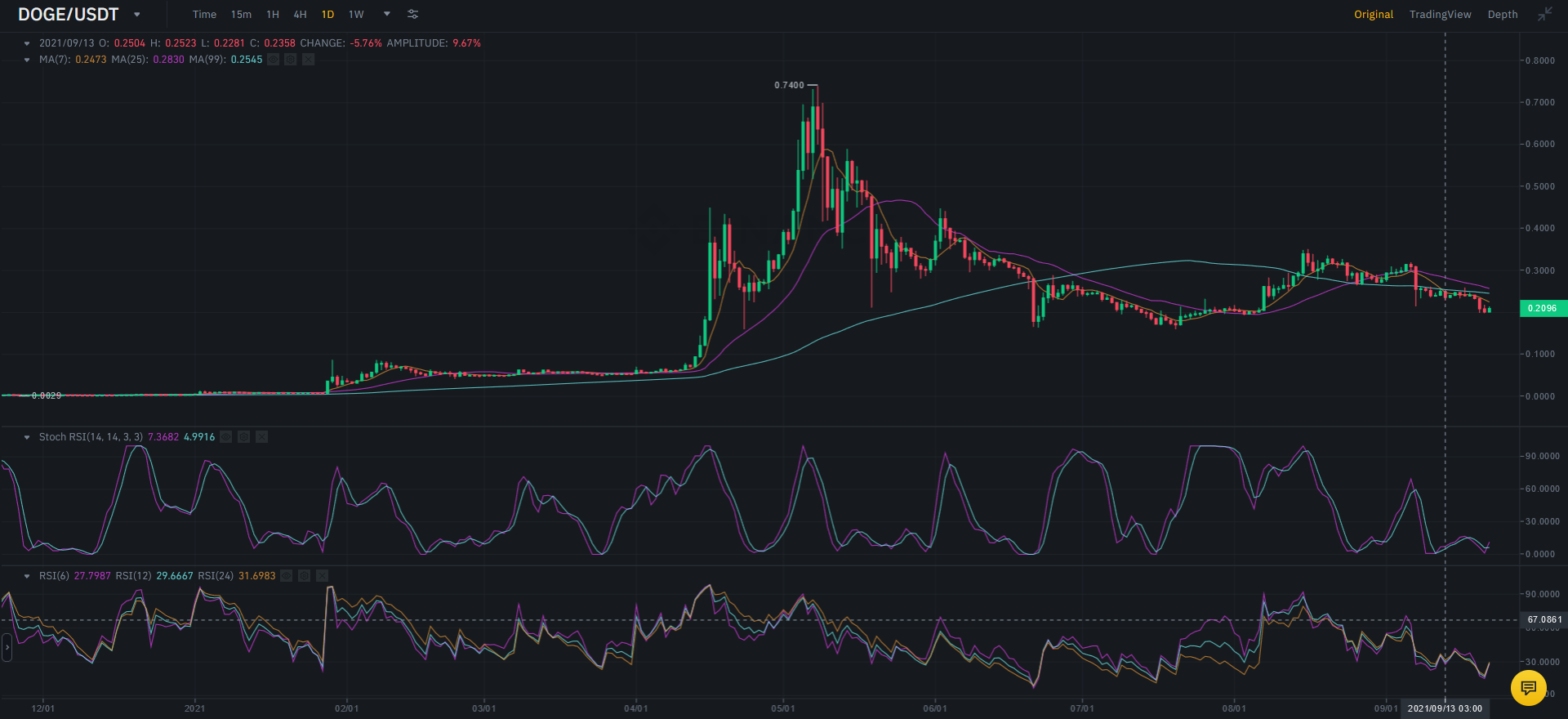 source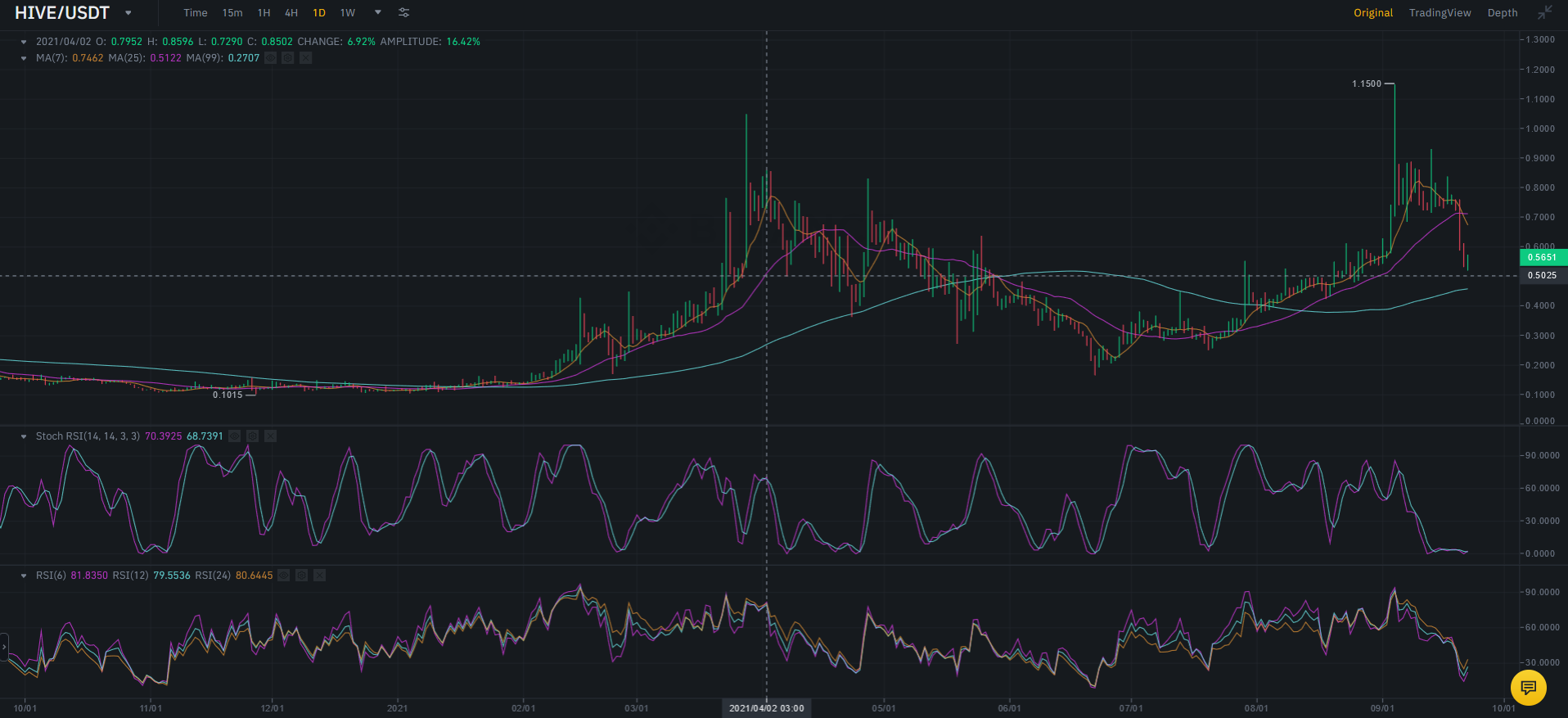 source
I see people chasing crypto gems, hoping to 10x, 100x their holdings. One of the most famous new gem (so they have thought) is DOGE. I may face some criticism for comparing DOGE to HIVE or vice versa, but if you look at the charts, you can see which one is in a better position right now.
I remember many were replying to Elon's tweet, hoping he'd endorse HIVE and we can benefit from it. Well, we don't need Elon Musk, we have a better plan, that is working well, as the attached chart shows. Elon's tweets are not affecting us and we can hammer out our way on our own.
For some Hive means earning a living. Living costs are not the same everywhere, so not everyone can live off Hive right now but hopefully in a year we're going to get there. Till then, accumulate, accumulate, accumulate, so you can live off of putting your Hive to work.
I'm repeating myself, I know, but I'm damn proud of Hive! You can't go wrong with it!
Posted Using LeoFinance Beta
---
---