You should get away.
You should get away.
There's a line in the song Fearless by K-pop girl group, Le SSerafim that goes:
You should get away
Get a get a get away
So you don't get hurt, get hurt
You should get away
Get a, get a, get away
Mm-mm-mm-mm, I'm fearless, huh
Man, should I get away.
Warning: Usual rant ahead.
The usual rant
The usual rant is always related to my life outside the arts, or even hive. Actually, life outside the internet may just be it.
Two months ago, the Big Boss (like, the boss of our bosses) had me apply for an international mentorship program. I couldn't find it in my heart to say no, as in reality, while going through the whole process should I get accepted would be a lot of work, it was such a huge opportunity that I couldn't simply let go. Unsure if I'd even get in, I applied. A few weeks ago, I got notified that I was chosen to participate and was briefed about the mentorship program. At the very least, it was going to take 6 months. At most, 1 year. Definitely, though, it would be an avalanche of commitment.
Months before that, though, I had applied for a graduate school program. I'd been thinking about doing this in the last 5 years. I was scared to do so then, still scared now. But I thought that if not then and now, then when? A few days ago, I learned that I got into the program. Needless to say, it's going to be another mountain of commitment.
I should get away.
Ack, I should be the one getting away, don't you think? 😅 As if it has foreseen this happening, a drawing I started working on 1 month ago had this very concept. A girl, telling you to get away. Else you'll get hurt. Yikes.
The drawing
Now that the rant's out of the way, onto the drawing.
I wanted to draw something different, I guess. Or, well, related to my last drawing. For more context about how the first one went, you may check this post.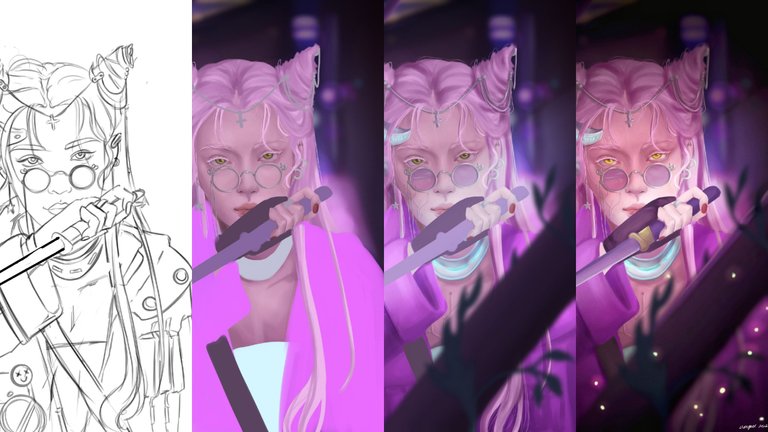 Honestly, though, I wasn't quite sure how it will turn out. I can say that there was quite a lot of experimentation going on here. From the choice of colors, to the style in general. I definitely can't say I had fun. 😭 It was more, "I want to finish a drawing!" more than anything.
To be honest, this drawing is a mix of many concepts I wanted to draw in the last few months. I wanted to draw something cyberpunk-ish, but with action. But... I also wanted it be very feminine. I think it worked out in the end?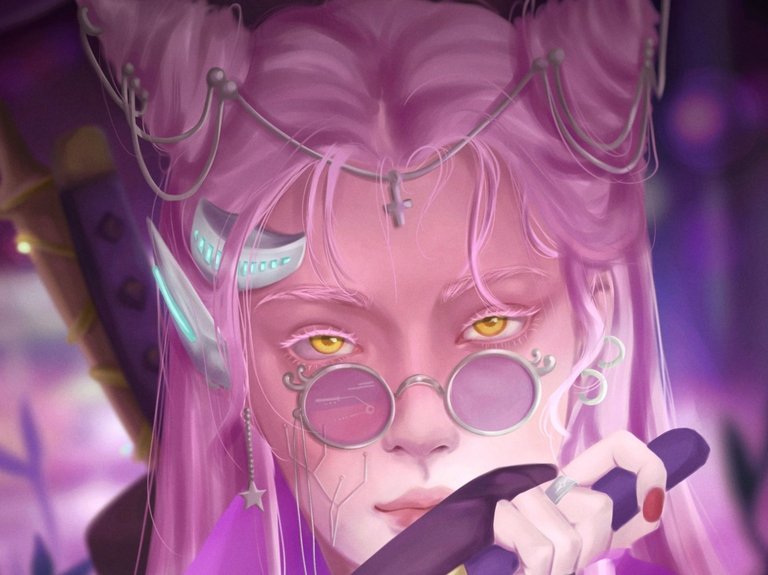 The timelapse
To give you an idea of how working on this artwork went, here's a very quick timelapse! (featuring Le Sserafim's Fearless)
Notes
Don't you think she looks like an older version of Anya? With many differences, though, but there's just something about her... I didn't notice until I was at least halfway through the illustration.
So what's next for me? Actually, there's something I'd started drawing last week. It's a revamping of a very, very old artwork (a 10-year-old one!). I'm curious how it'll turn out, so hopefully, I'd get it done, soon!
---

erangvee.carrd.co
ko-fi | twitter | instagram | nft showroom
---
---