Cutest things. / Cosas cutes. (ENG/ESP)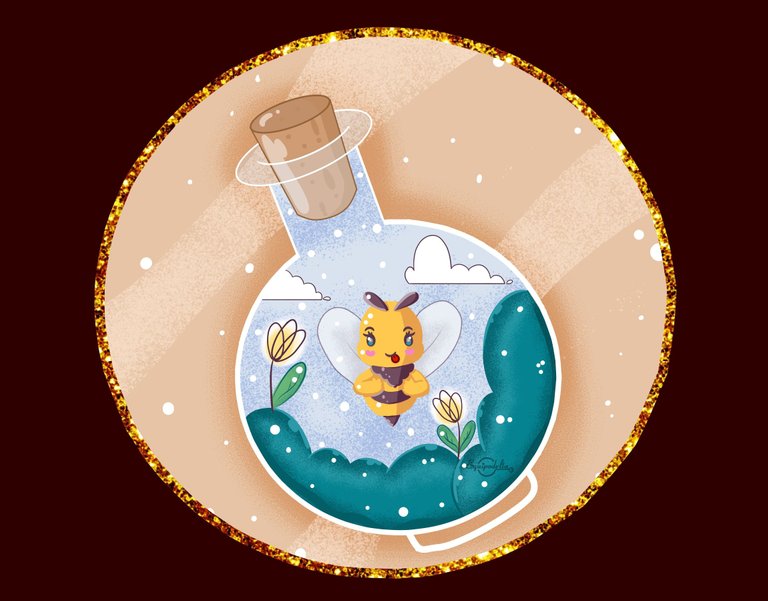 Greetings once again my dear ones, thank you for your visit.
The beautiful things in life are treasured, kept, frozen in our memories and help us in the most difficult moments.
I treasure many moments with my family, my siblings, my parents, my children, then I had no more opportunity to treasure more beautiful moments, for many years they were so bitter that they pierced my soul.
Nothing is ever perfect, happiness is neither full nor eternal, no one can be completely in a state of stillness without problems, we will always have something that worries us even if it has nothing to do directly with us. At the moment I am in a stage of treasuring and living beautiful moments with my partner, of which I could not have the opportunity before, they are truly magical moments.
Like this little bee full of honey, there I am keeping my beautiful moments and in silence. Not everything is perfect, health is always bothering one thing or another, people who want to sabotage everything as always, but this little bee does not stop working and trying to give the best of itself all the time.

Saludos una vez más queridos míos, gracias por su compañia.
Las cosas bellas de la vida se atesoran se guardan se congelan en nuestras memorias y nos ayudan en los momentos más difíciles.
Atesoro muchos momentos con mi familia, mis hermanos, mis padres, mis hijos luego no tuve más oportunidad de atesorar más momentos bellos, por largos años fueron tan amargos que calaron mi alma.
Nunca nada es perfecto, la felicidad no es plena ni eterna, nadie puede estar completamente en un estado de quietud sin problemas, siempre tendremos algo que nos inquieta aunque no tenga que ver directamente con nosotros. En el ahora estoy en una etapa de atesorar y vivir hermosos momentos con mi compañero, de los que no pude tener oportunidad antes, son momentos realmente mágicos.
Como esta abejita llena de miel, allí estoy guardando mis hermosos momentos y en silencio. No todo es perfecto, la salud siempre está molestando una que otra cosa, personas que quieren sabotear todo como siempre, pero esta abejita no deja de trabajar y tratar de dar lo mejor de sí todo el tiempo.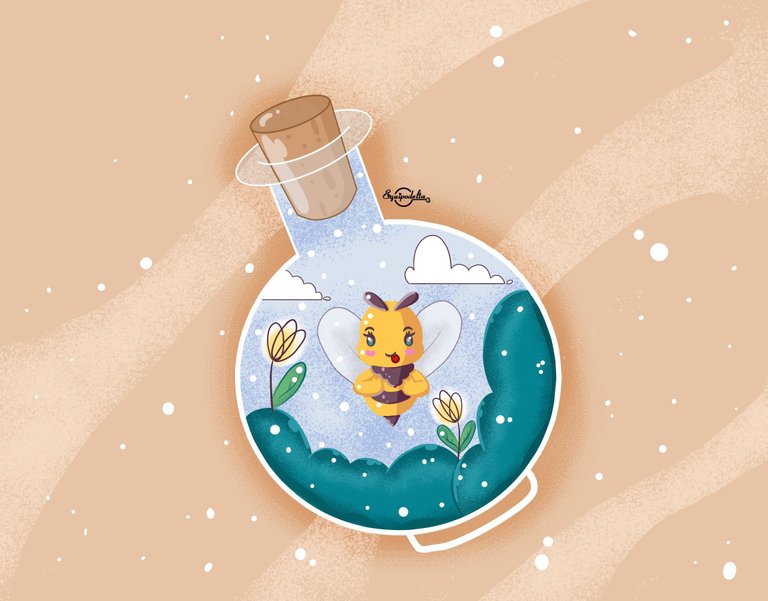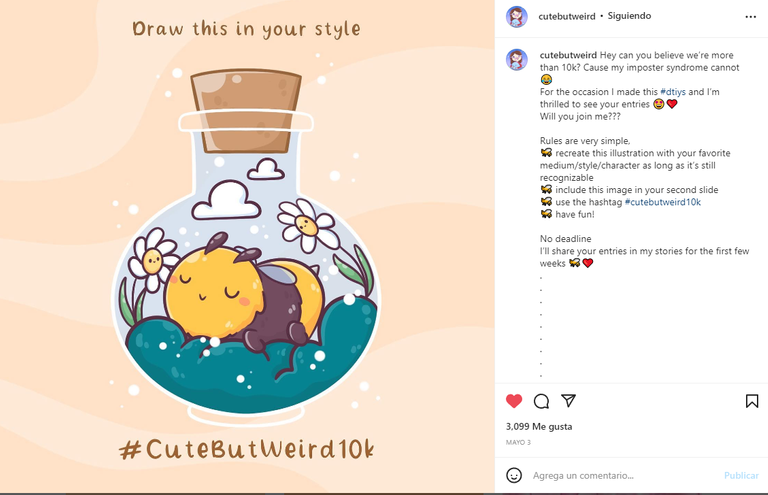 🐝 DRAW THIS IN YOUR STYLE🐝 @cutebutweird


I found this beautiful little thing around here and didn't miss the opportunity to participate and recreate it in my own style.
Let's talk about the work of Cutebutweird, meeting this artist, illustrator, Instagram freelancer who also has her own online store on Etsy. Her works are all adorable, her style is only dedicated to the design of animal characters, in many facets, in many styles, she has a beautiful palette in pastel tones, standing out a lot for the yellow and orange colors, she has a lot of harmony in her profile, you can tell she has taken care to show only her portfolio, I invite you to meet her for sure you will like it.
She has launched this challenge to celebrate that she has passed 10k subscribers. You may notice that the colors are a shade darker, it's because I had to go down and up a shade more because of my color blindness, it was difficult. I think it's my first time drawing a little bee in this style, more kawaii, since I've done a few in cartoons. Among other things you know that I love bottles and that's why I wanted to recreate it. I hope you like it.
In the meantime, let's keep treasuring the best moments of our lives and like the little bee let's carry the honey.

Encontré esta cosita hermosa por aquí y no perdí la oportunidad de participar y recrearla a mi estilo.
Hablemos del trabajo de Cutebutweird, conociendo a esta artista, ilustradora, freelancer de Instagram quien cuenta además con su propia tienda virtual en Etsy. Sus trabajos son todos adorables, su estilo sólo está dedicado al diseño de personajes animales, en muchas facetas, en muchos estilos, tiene una paleta hermosa en tonos pasteles, destacándose mucho por los colores amarillos y naranjas, tiene mucha armonía en su perfil, se nota que se ha encargado de mostrar solamente su portafolio, los invito a conocerla seguro les gustará.
Ha lanzado este reto para celebrar que ha pasado los 10k de suscriptores. Tal vez noten que los colores son un tono más oscuro, es porque tuve que bajar y subir un tono más por mi daltonismo, estaba difícil. Creo que es mi primera vez dibujando una abejita en este estilo, más kawaii, ya que en caricaturas he hecho unas cuantas. Entre otras cosas saben que me encantan las botellas y por eso quise recrearla. Espero les guste.
Mientras tanto, sigamos atesorando los mejores momentos de nuestras vidas y como la abejita llevemos la miel.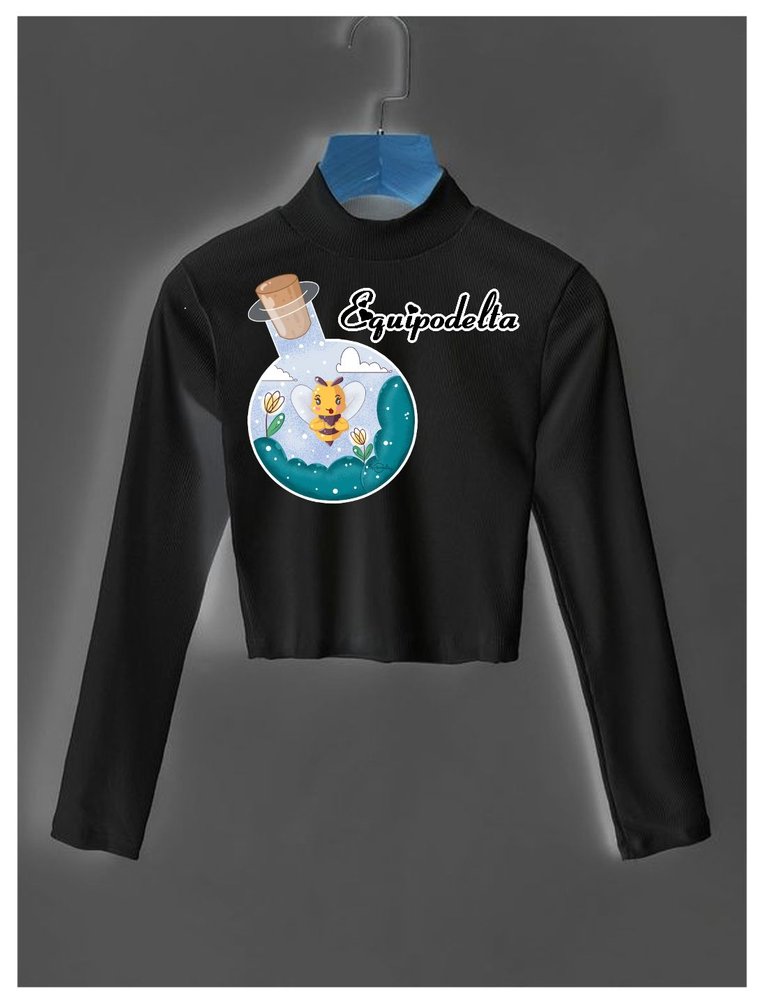 We do what we can in the sketch showing an idea of what we are going to do, at first I wanted to draw the little bee from the side, but then I changed my mind and drew it from the front, this complicated me a little bit the wings. To make her body I used a lot of chibi body shapes.
For the background I used the pencil and spray brushes, adjusted the opacity and erased the corners to make the lines neater.

Hacemos lo que se pueda en el boceto mostrando una idea de lo que vamos hacer, al principio quise dibujar la abejita de lado, pero luego cambié de idea y la dibujé de frente, esto me complicó un poco las alas. Para hacer su cuerpo me ayudé mucho de las formas de un cuerpo chibi.
Para el fondo usé los pinceles lápiz y pulverización, ajusté de opacidad y borré las esquinas para dejar las líneas más prolijas.



I hid the spray layer to be able to continue filling the design with color and work with little lineart and based on this I decided to make squiggly flowers to which I will apply color going out of the lines.
The next step was to add color to the bottle, taking care of the transparencies of the upper part where the cork is, for this we simply fill with color and adjust the opacity, this will generate transparencies. I apply the base color of the bee and the details of the flowers in digital watercolor.

Oculte la capa de pulverización para poder seguir rellenando de color el diseño y trabajar con escaso lineart y en base a esto decidí hacer flores garabateadas a las que aplicaré color saliéndome de las líneas.
En siguiente paso fue agregar color a la botella, cuidando las transparencias de la parte superior donde se encuentra el corcho, para ello simplemente rellenamos de color y ajustamos la opacidad, esto va a generar transparencias. Aplico el color base de la abeja y los detalles de las flores en acuarela digital.



It has been a few steps that have led me to the culmination of this design. As the clouds were getting lost with the background I decided to apply lineart, then coloring the bushes with the spray details.
To finish the shading of the little bee, where you have to take special care to show the hands and the shadows as they go.
That's all dear, I hope you learned new things with me today, it's a pleasure as always to share.

Han sido pocos los pasos que me han llevado a la culminación de este diseño. Como las nubes se perdían con el fondo decidí aplicar lineart, luego coloreado de los arbustos con los detalles en pulverización.
Para finalizar el sombreado de la abejita, donde hay que tener especial cuidado de mostrar las manitos y las sombras como van.
Es todo queridos, espero aprendieran cosas nuevas hoy conmigo, es un placer como siempre compartir.



Time Lapse: 3 hours.
Program: MediBang Paint Pro.
Graphics tablet: Huion (Usb Pen Tablet). Model 420.
Pinceles Medibang: Lápiz, Pulverización, Lápiz (Áspero 2), Pincel (tinta), Aerógrafo, Acuarela.

PNG Format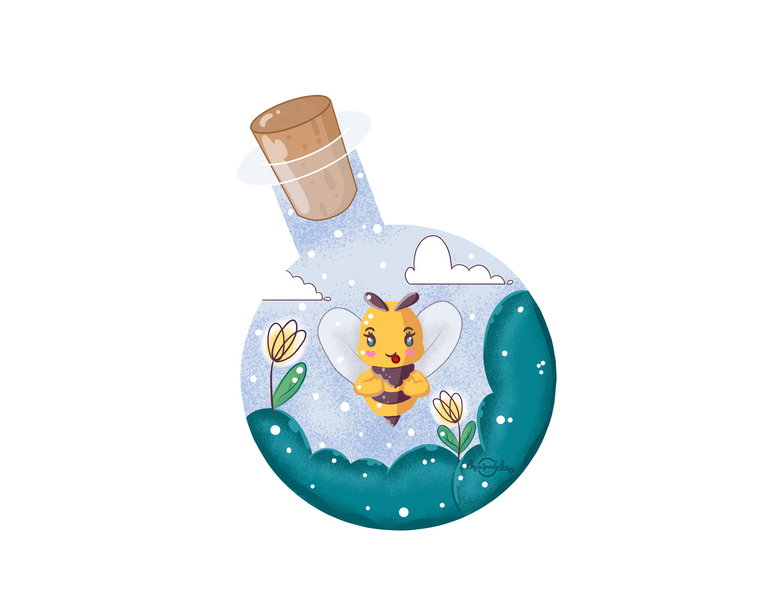 Always try to make your actions and words as sweet as honey to bring happiness and treasure those moments forever.
Procura siempre que tus acciones y palabras sean dulces como la miel para brindar felicidad y atesorar esos momentos por siempre.

I'm a contributor of royalty-free images
Soy contribuyente de imágenes libres de derechos de autor



Hacks, DIY, Crafts, handmade arts Community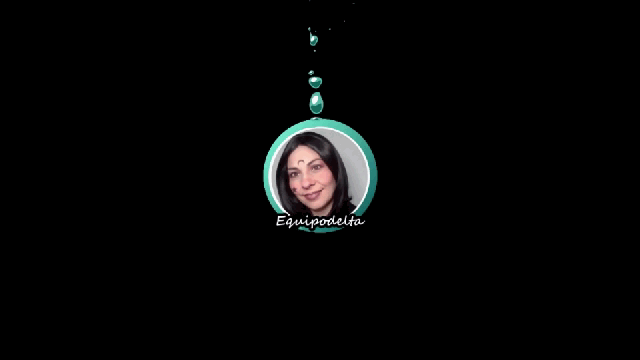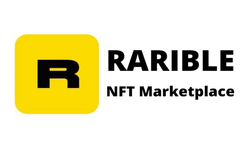 ---
---