First visual Character presentation | Roadmap + more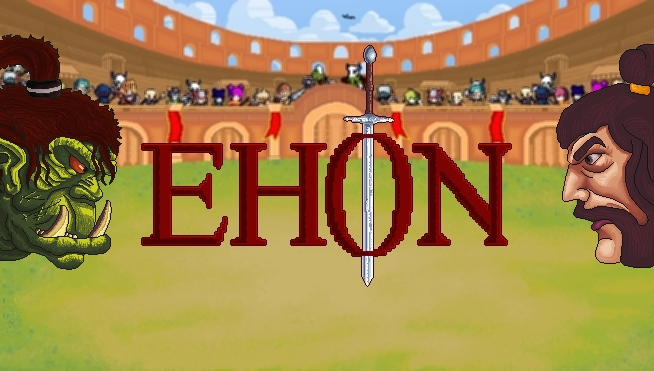 Today we (finally) introduce you to a big part of our project, like the soon available characters and their future uses.
But before we go into deeper details, we first got something for your eyes, because we've been torturing you long enough regarding the visuals. 😄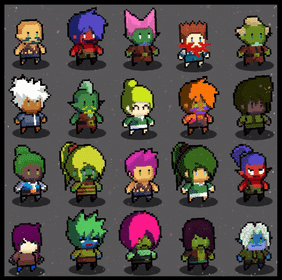 Yes, we already got a few animations ready, but they are not perfectly set/timed so far. 🙂
Shown Assets are not final!
As you can see, the characters are rendered in 2D, they generate themselves based on self-created assets, which are randomly combined with each other. Female characters with a full beard will exist only with a very low probability. For them, the information of the beard is used in a different way.
With thousands of different assets such as beards, eyes, hairstyles and other visual options, diversity is given.
Here you can also get an insight into other assets we are currently working on. Damage models (see Human Archer) as well as animations of the weapons, such as the Morning Star's chain, are of course also planned.
Shown Assets are not final!
NFT properties:
However, the NFT's we create will not only be able to multiply, you will ultimately be able to use them in a selection of games where they form the basis of the player's character. This could be for example a soldier in an army or a forester in the forest.
To keep the NFT's as universal as possible, we have provided them with as much information as possible, which can be interpreted depending on the application.
We don't want to bore you with endless details, just this: We have used 98% of the possible properties for appearance and the genes of the characters. To make this possible we had to encode the original information, so today this property is only 20% of the original size.
Roughly speaking, the characters contain a name, status values, skills, classes, appearance and genes.
Character airdrops / Voting tool:
Staking will be activated today, to receive a character token you must have staked 100 EGOV per desired character at the time of the snapshot (12/19/2021 23:00).
To participate in the Christmas airdrop, you must have 100 EGOV staked or 500 EGOV liquid in your Wallet.
We are currently working on the finalization of the voting tool, so that we can start with the first votes and the corresponding airdrops by the end of this month at the latest.
We will announce more details before the release. Ahead: There will be a minimum amount of EGOV, which you must have staked for airdrop participations.
The Tavern:
In the last post we briefly mentioned towards the end, that you will be able to mate males and females together in order to "generate a new NFT". This will take place in the Tavern and will initially generate as wide a variety of characters as possible via a purely random selection of looks and stats - so you will have the opportunity to generate a very strong character with just one date in the Early Phase of the "Tavern".
The Taverns early phase will be limited to 25000 possibly generated characters.
Regardless of whether or not the maximum number of characters will be reached in the Pre-Pairing Phase, we will switch to the actual mechanism and its model in Q1 2022 (by March 22nd at the latest) - here the characters will no longer be generated at random, but will follow a certain pattern that will determine, among other things, the genetics of the characters.
The offspring of your NFT's is not directly adult, it needs some time to reach this status in order to be able to reproduce. Among other things, the time for this will be determined by a vote.
Holders with a stake of at least 500 EGOV will receive a 20% discount on the creation of new character NFTs.
Character Usecase and more
We could do it like many other projects and give you something purely visual with stats on it, but let's be honest, what would you get out of it besides having a character you can trade?
Isn't it much more interesting to be able to use these characters in many ways?
As mentioned before, we've given the NFTs as many different interpretable parameters as possible, which allows us to develop or even combine several game concepts based on them.
Whether it's a strategy game, a dungeon crawler, a simulation or even a racing game, there are no limits regarding creativity.
This is not just possible for our team, but for the entire Ehon-Community. We provide you with the possibility to develop your own concept and to realize it with our help, respectively with our infrastructure.
From creating your own assets, bringing in ideas or even whole worlds of your own, everything will be possible.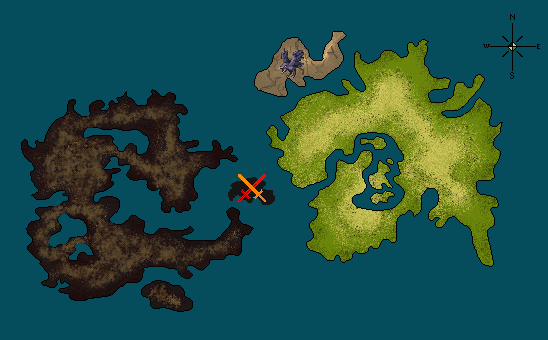 Furthermore, we are very interested in integrating already existing or soon to be created NFT's and tokens of other origin into our world. What this will look like, you will find out in the near future.
Finally, here is the long-awaited roadmap, which will expand with the start of the votes, so this is not a final version, but you can get an idea of our plans to date.
Roadmap
Q4 2021
Sell Order of 580000 EGOV at a price of 0.042 Hive (DONE).
We will not offer any more EGOV until the release of the first game concept!
Detailed presentation of the Tavern (mating).
Detailed presentation of the characters (Numbers/Data).
enable EGOV staking.
2000 Remaining NFT tokens in order to create characters will be released to the market ( 12/22/2021).
Airdrop of tokens (12/23/2021) which can be burned for the final NFT's (characters) (snapshot: 12/19/2021 11pm).
You need 100 EGOV staked in order to get 1 character token airdropped!
24.12 Christmas airdrop for token holders.
You need 100 EGOV staked or 500 EGOV in your wallet in order to participate in the Christmas Airdrop!
Implementation of the voting system.
Discord Server Opening.
Q1 2022
You can burn your character token to get a character NFT.
Implementation of the tavern (mating system).
Implementation of the market.
Q2 2022
Presentation of first major game concept.
Q3 - Q4 2022
Release of the first playable version (concept Q2).
TBA
Airdrop of Weapon Packs.
Asset creation by Users.
Market fee participation for content creators.
NFT Interpreter (A tool that turns the information contained in NFT's into values that can be used in a game).
AND WAY MORE!
Info:
Check out this post if you should be interested in the background story of Ehon.
If you have any questions regarding our statements, please do not hesitate to ask us.
Stay tuned for further updates
---
---