Bluesky Update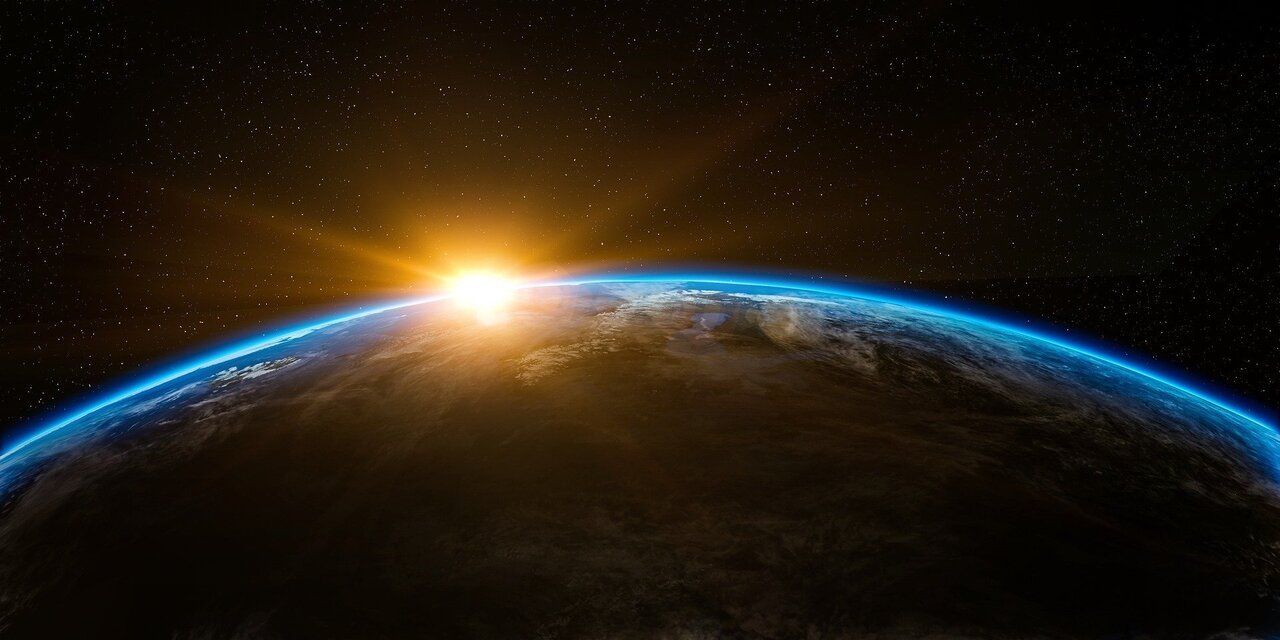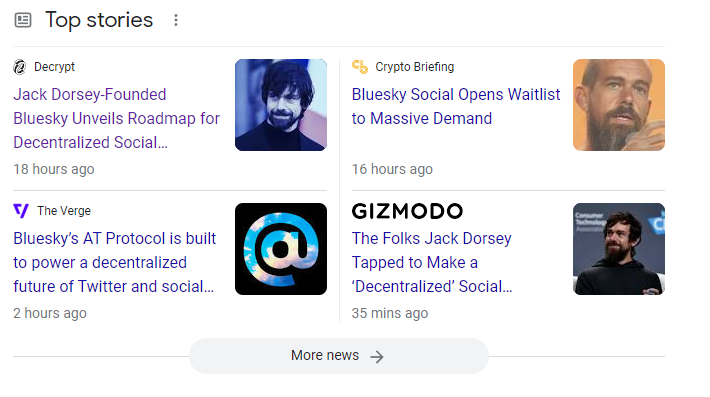 For those of you who have been living under a rock for the past few years, Project Bluesky is Jack Dorsey's (Twitter's founder) vision of what decentralized social media should look like. I actually haven't heard anything about the project in quite some time. If I'm being honest I assumed it would never even launch. Perhaps that assessment is still correct, but we did get a big update yesterday. Because Hive is also viewed by most as "decentralized social media" it's definitely worth paying attention to. Is this 'competition'? Is this a 'Hive killer"?
Those who frequent my blog already know the answers to these questions. It is literally impossible for open source code to compete. This is a cooperative atmosphere that constantly has competition projected onto it wrongfully by venture capitalists who know nothing else. Hard to teach someone something when their job depends on not understanding it.
Again, it would be good for everyone if Bluesky was a massive success. There's a very high likelihood that Hive devs would be able to integrate our own network into theirs should it prove to have any value. Open source code is open source. Anything of value can be cloned to create more value on our own platform.
The real value of crypto is community and community building. Anyone can clone Bitcoin's code; you can't clone the network. Same with Hive. What are the chances that Bluesky launches and Hive bleeds users? Virtually zero chance of that happening. We'd almost certainly gain users. First of all, both of these networks have completely different functions (long form vs short form). All of the Facebook vs MySpace rants are out of their element. That's not how this works. Either Bluesky will be a valuable addition to the cryptoverse, or it will be largely worthless.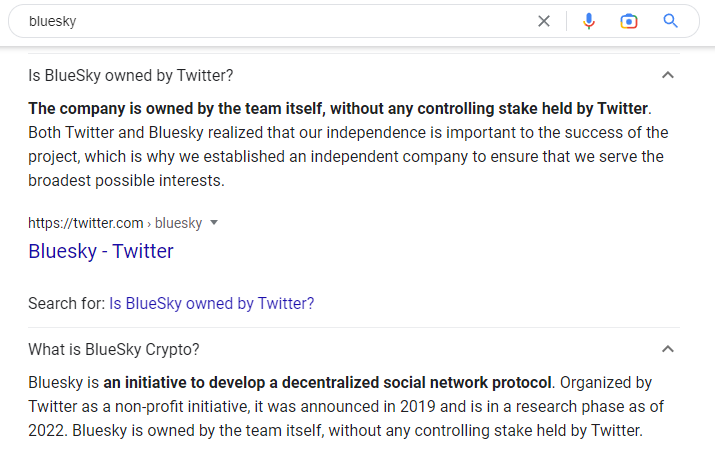 Owned by the team itself.
This sounds very decentralized.
If you come right out of the gate and say "Don't worry this isn't owned by Twitter, it's owned by the Bluesky dev team..." Yeah, that's great it's not owned by Twitter, but you just gave away that it isn't owned by the community. So right out of the gate with the most basic Google search we see that the language to describe the project doesn't even mesh up with what crypto is all about.
To be fair to Bluesky:
EVERY network starts out centralized. Decentralization happens after the fact. Bitcoin was 100% premined by Nakamoto. Ethereum was 100% premined by the Ethereum Foundation. Steem was highly ninjamined by Steemit Incorporated. Decentralization is a process that takes years, so if Bluesky says today that they are owned by the dev team, there's nothing wrong with that as long as they have some kind of plan to incorporate community ownership down the road. More importantly than the plan, is the execution of the thing. Decentralization is never guaranteed to happen. More often than not networks tend to get more centralized if the proper incentives don't fall into their favor.
Incentives on Bitcoin equated to POW mining.
Mining was a cool way you could get Bitcoin without actually having to pay money to get it. People were mining 50 BTC block rewards on their laptop. Of course at the time that Bitcoin was largely worthless and it many cases worth less than the energy to mine it, which is still true today in many situations. However, that same BTC is worth a million dollars today. That's what we call exponential adoption rates.
Ethereum also had mining, and then it created the ERC-20 standard which let anyone create their own token. All of this led to decentralization, but ETH is still struggling and will continue to struggle to avoid capture from the regulators. Be warned.
The great thing about POW is that it separates governance from who owns the tokens. Premines mattered a lot less on POW ETH than they did on POS ETH. Now we will see what happens.
Getting back on topic.
Meh let's just crank out these 4 articles one by one started with Decrypt.
The group, formed within Twitter, is building a decentralized protocol that limits corporate and governmental influence on social media platforms.
The AT Protocol, as a decentralized network, functions independently of the will of any single company. That independence, Bluesky believes, will allow users of social networks built atop the protocol to both protect their private data and avoid corporate algorithms that often promote controversy to keep users hooked.
"It can't have an advertising model," Dorsey wrote to Musk. Doing so would give governments and corporations an access point to control discourse, Dorsey elaborated. "If it has a centralized entity behind [it], it will be attacked."
Alright so the Decrypt article was largely worthless compared to the first one I read yesterday. This is all very vague and it's hard to get a solid idea of what is actually going on here. Seems to be a theme.
An "advertising model" is obviously fully WEB2, so saying it can't have an advertising model is the most basic-bitch thing one could possibly say. WEB3 can only have an advertising model on the individual frontend that hosts content (Peakd, Hive.Blog, LEOfinance, Ecency, ETC). But even then, how many ads to we see on WEB3? Not many, because ads are annoying and not what this is all about. Obviously if a frontend shoves ads down the users the users can just leave for another frontend that doesn't have ads.
I get a feeling there's going to be more information in the other articles so let's move onto Gizmodo.
Developers at Bluesky say their protocol allows for customizable social algorithms, but it remains unclear how much control users will actually have.
Wow, right out of the gate.
Refreshing to see that yeah we are getting this update but also it's completely vaporware marketing at this point. Nothing is actually said about how it actually works, only how it "should" work. Theory and practice are two different things.
What's perhaps most interesting and actually tenable in today's social media ecosystem is the promise that the AT Protocol will let users control their own algorithms. Bluesky claims its new "algorithmic choice" allows users to "have control over their experience." What this supposedly means is that users can dictate how much of certain content they wish to receive and from where.
And if there is one thing we know about users is that they are all super advanced and willing to do all this work free of charge just so they can create their own experience! Perhaps this sarcasm is unfounded, but I can't help being skeptical (for reasons that may not be revealed until the final post).
It also begs the question of whether a decentralized system will be able to perform any kind of content moderation if users post hate speech, misinformation, or threats of violence. In their post, Bluesky makes no mention of how user posts will be handled on their mainline app.
Ah, they said the thing.
On a decentralized platform owned by the community, guess who's in charge of moderating the platform? The community. On Hive we accomplish this with downvotes (poorly). How will they accomplish this on Bluesky? I'm struggling to come up with an answer to that question considering what we know about the platform, which to be fair is very little.
And despite Bluesky's ideals, it isn't clear how this new system will avoid the same problem inherent in other so-called "decentralized" platforms existing elsewhere in the blockchain space. The biggest problem for a platform which purports to be operating without government or corporate intervention is who gets to decide when they require changes to the protocol. Decentralized Autonomous Organizations, or DAOs, have run into this problem multiple times when the original developers behind a decentralized finance project make unilateral decisions about how they implement changes to a network. Sometimes, these devs simply override the will of the community.
Pretty important paragraph there.
Hive being ignored, once again.
We don't seem to have this problem.
Like, at all.
But the rest of it is simply a case of wait and see.
Indeed, theverge is next
Okay so right off the bat the title seems pretty misleading... is this really "for Twitter"? Sounds wrong.
The AT Protocol is the real news for Bluesky. The whole idea behind the project was to separate social apps and social networks — to let people use the same back end and data but build and use their own apps on top of it. "It will allow [Twitter] to access and contribute to a much larger corpus of public conversation,
Hm, interesting.
So like Hive, Bluesky is supposed to be a backend that frontends can plug in to with an API. This backend is decentralized, so theoretically it can't be manipulated by a centralized agent. We shall see, eh?
The AT Protocol website is still fairly sparse, but it offers three reasons the decentralized future of social might be the right one: "federated social," which allows users to use many apps on top of one service; "algorithmic choice," which lets them decide how that information is presented; and "portable accounts," meaning you could move your stuff from one app to another without losing your content or social graph. Bluesky's blog post also mentioned performance as a possible future upside, saying, "We've made it a priority to build for fast loading at large scales."
Oh so just... exactly Hive then, without the proper incentives?
Hm!
As Dorsey said when the project launched, "The work must be done transparently in the open, not owned by any single private corporation, furthering the open & decentralized principles of the internet."
But I thought the project was owned by the dev team though.
Again, many red flags with all of this.
cryptobriefing.com
Despite earlier expectations, today's announcement did not announce any cryptocurrency or blockchain.
Here is the article I originally read yesterday.
Funny how we have to read four reports before the last one explicitly points out that there is no token or blockchain. I probably should have started with this post, but it's a solid anchor for the end of our story.
Bluesky's earliest surveys considered blockchain social networks such as Steemit and Peepeth alongside non-blockchain protocols such as ActivityPub and XMPP. In 2021, former Zcash developer Jay Graber was hired to head the project. That same year, Dorsey responded positively to the suggestion of integrating Lightning Network into Bluesky.
Though blockchain appears absent from the final product, Bluesky will likely appeal to the crypto community due to shared values of decentralization and user control.
Irrelevant!
Open source development has been a thing since before the Internet. Ultimately, it fails to scale because its based on altruism and expecting the community to create & run infrastructure for free. That can only last for so long before the product crumbles from a lack of sustainability.
Even in the case of Lightning Network Bitcoin integration... doesn't really matter because no inflation is being allocated to all the infrastructure that this kind of platform requires. It's highly likely that something like this will simply be funded and controlled by billionaires through the veil of vague 'decentralization'. That's exactly how CZ and Binance do it. Not the worst idea honestly, but we'll see how it all plays out.
We already tried this.
We already attempted to scale up open source tech without the financial incentives required to do so. It does not work. The "blockchain not Bitcoin" argument has long since been debunked, but that's precisely what Bluesky appears to be doing (even in the case of LN integration). Without inflation being allocated to the infrastructure, there is no way for the platform to sustain itself in a profitable way. We already know this from 50 years of experience. Again, Jack seems to just not "get it".
All these billionaires running around think they know how it should work, but in most cases they are only factoring half of the requirements to building an open and decentralized network. Again, this is to be expected, and would actually be weird if not the case. When you live your entire life inside the bubble of corporate capitalism, your brain gets wired a certain way. Unwiring it is difficult (if not impossible).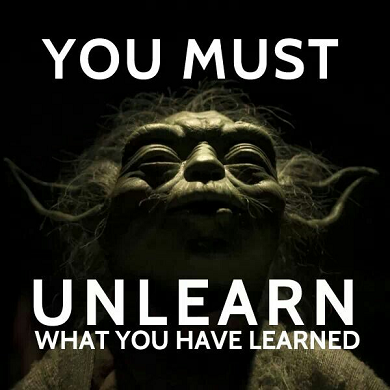 He is too old to begin the training.
I honestly think that the only reason I understand crypto so well is that I've never had a career. I've never accepted the corporate ladder of how things are done. I've rejected the way society works on every level, waiting for something better to come along. Well, something better came along, and these billionaires know it, but they don't completely understand why, which is the reason why they will habitually get these implementations wrong.
Conclusion
I hope Bluesky is a smashing success. That would be fantastic. Truly. More useful open source code out in the world can only benefit mankind, and Hive/Bitcoin as well. I am not coming at this from a biased competitive viewpoint where Bluesky has to fail otherwise Hive is doomed. Quite the opposite. I wish them all the best.
But given the very limited information we have (after three God Damn years of waiting)... I mean... seriously though. How could this possibly be a winner? We already know decentralized infrastructure doesn't work without the monetary incentive. Jack shies away from building a token because it feels "scammy" or whatever game he is playing over there (CBDC?). Yeah, well... that's great... so what incentive does anyone have to participate? Sure, the users have an incentive to get free service (which won't be free because micro charges on the Lightning Network to eliminate bots), but no one has any incentive to run nodes unless they do a traditional advertising model. Data collecting/selling isn't even an option because all of the data is public. Who's going to buy public data that anyone can access?
In summation, I hope it all turns out perfectly, but that is a massively unexpected scenario. Billionaires who made their fortune within the legacy economy simply do not understand a world in which they are no longer in charge. The only thing Bluesky is attempting to achieve is the aversion of regulatory/corporate capture. The chance that they get the incentives right is highly unlikely, if not impossible, given this new information. Decentralization is an afterthought, and it shows.
Posted Using LeoFinance Beta
---
---