My Hive and Daily Activities | Close to 1,800 LEO staked for LPUD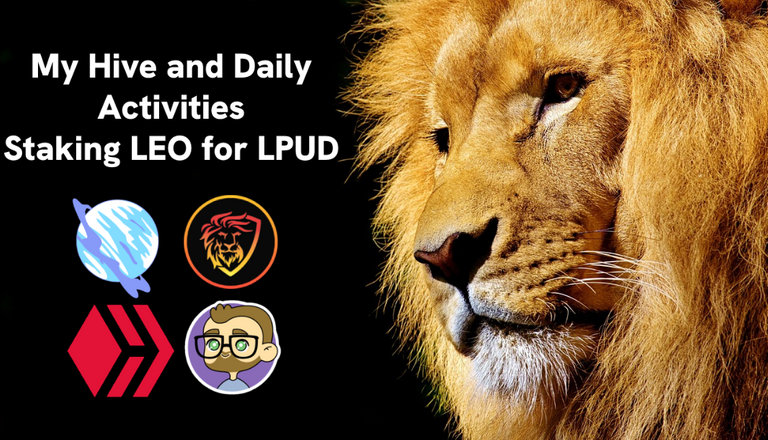 The last few days have been full of work and activities in Hive and in my daily life. I've been using threads and playing Hive games. I've also been watching the market closely. It's been a crazy ride with ups and downs. I haven't posted as much as I would like, but I am active in Hive daily. I'm greatly enjoying my life, and we are preparing for the future.
My Hive Activities
Curation with Aliento
One of the things I do every day is curate content. As you may know, I'm part of the leadership of @aliento, a curation project and witness in Hive. I curate some posts daily, but community leaders and moderators nominate most. In Aliento, we support many types of communities. Some topics are sports, music, motherhood, gaming, food, and more. It's a manual job that has to be done daily and with a time limit. We vote on the posts with aliento, then with @theycallmedan, and sometimes with other accounts.
Aliento is a project that has evolved, and we will keep growing. The @OCD incubation program inspired us, but we have added our personal touch. We also have cool activities on our Discord server. Soon we will share a very important update.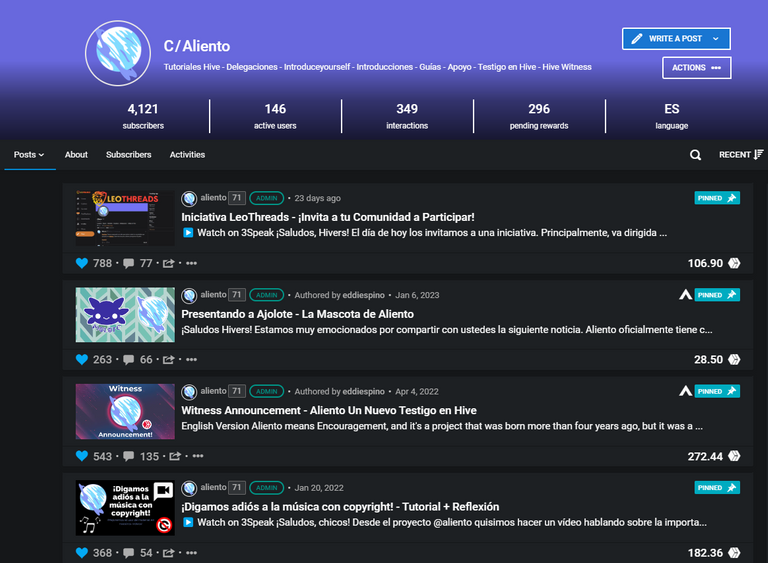 3Speak
I'm part of the 3Speak team and help with many activities. I help with the curation, and I also help to create content. We have four meetings weekly, two on Tuesdays and two on Thursdays. The 3Speak team is based all over the world. We have developers in the US, Europe, India, and Asia. That's why we have two meetings on these days. The early meeting is for the team that is in the eastern part of the world, and the other meeting is for the team that is in the western part. It's great to be part of this team. I have learned a lot. It has been a great opportunity to grow.
3Speak has a very interesting curation system, it's not perfect, but it's helpful and allows most creators to earn some upvotes. There is a curation panel where I log in at least twice daily and can filter videos. Good videos can earn an automatic vote from 3Speak, depending on the number of views and comments. Spam videos or videos that have copyright won't have the same eligibility. I also manually curate some of the videos myself.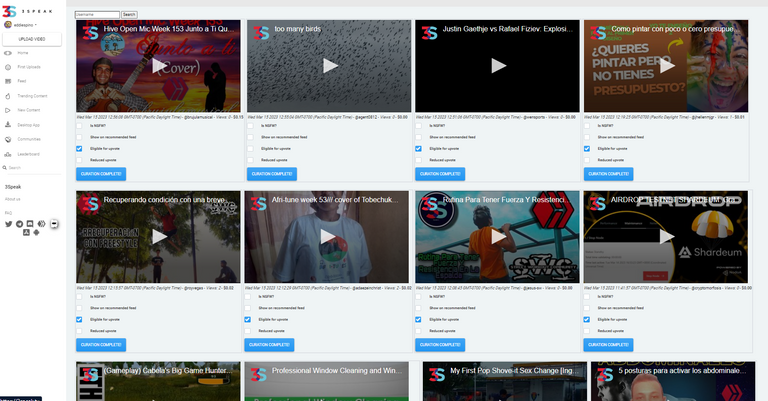 HiveCreators
I'm also part of @hivecreators. This project helps Hive in many ways. Our team specializes in different areas, including design, marketing, copywriting, translations, planning, social media, development, event planning, and more. There have been challenges, but the overall experience has been great. For me, it's great to be part of this. Here, I have also learned a lot.

Hive Games
I've been playing mostly two Hive games daily. One is @Splinterlands, and the other is @Terracore. I'm also claiming my GLX rewards daily, but this game is still not ready to be played. In @Splinterlands, I was attempting to reach first place on the Silver League leaderboard, but I got to a place where I was only earning about 3 rating points per win and was very far from the top 100, so I decided to advance to the Gold League. It was worth it because I was able to earn more chests.

@Terrcore is a brand-new Hive game that is still in alpha. It's fun and addictive, it's a simple browser game, but it has something that makes it special. The game is evolving, and more people are joining. The token is called SCRAP; you can mine it within the game. You can also attack other players and steal their unclaimed scrap. You can't steal SCRAP when it has been claimed because that is in their wallet. You can improve your attack and defenses to be able to attack more users and to be able to be less likely to receive an attack.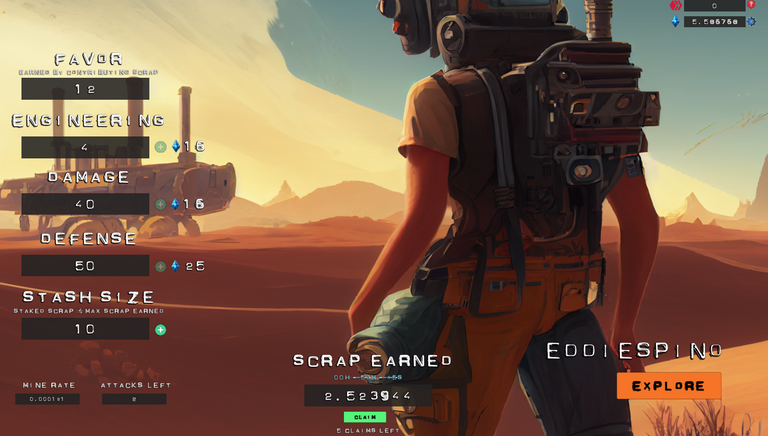 ---
My daily life activities
Preparing to be a parent
This is something huge, it's my priority, and I'm working very hard on Hive to prepare for this. My wife is almost four months pregnant, and we are starting to have a lot of expenses. Mainly the expenses of the Birth of the baby. We have the @usagifund, where we save HP and HBD for the baby's expenses. We also have to save a lot for basic things. Fortnuelty, we have the support of the family, and they will gift us many of these basic things.
I'm excited and nervous at the same time. I know this will change my life, it is a great challenge for us, but we are very happy.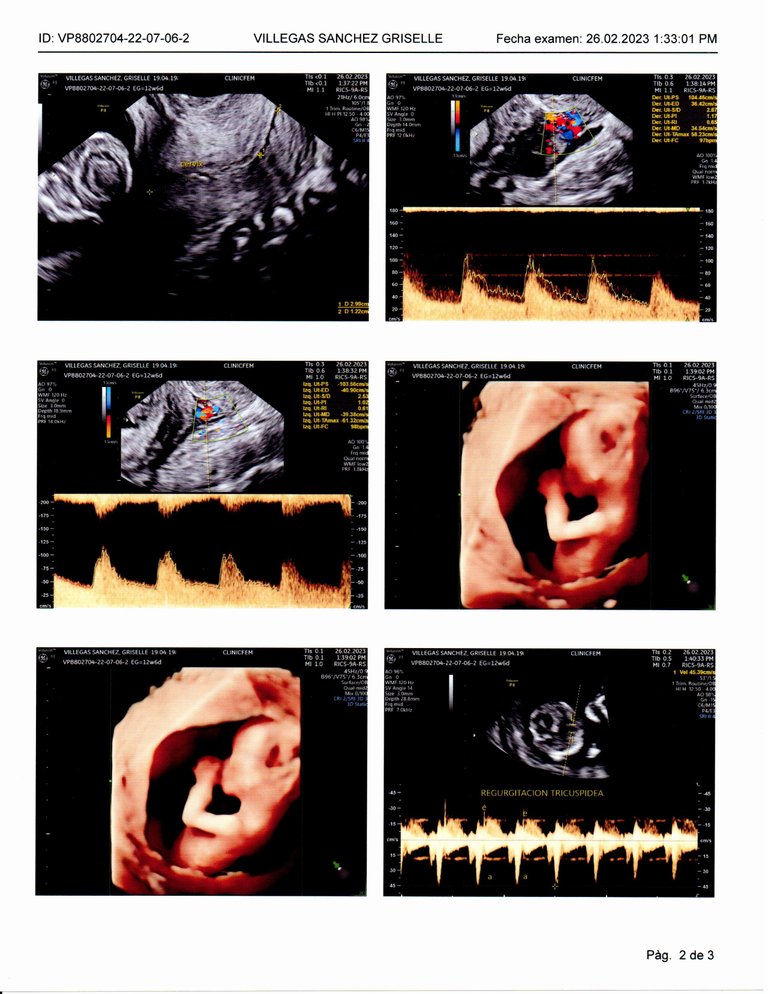 Maintenance and management
Part of my daily activities is the management of the condominium where I live. It's a small property with five houses. I live in one of them and am the only neighbor here full-time. We used to have a gardener, but we had to let him go for different reasons. We also had a pool guy, but we had to let him go. Santos, my dad, and I are in charge of these activities. Santos cuts the grass, and he also waters the planta and grass. I add the chemicals to the pool, and my dad comes to clean it every Thursday.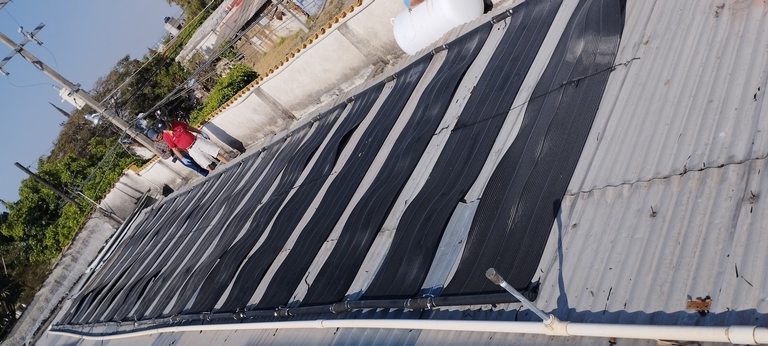 The goal is to hire someone else this year to take care of this. We don't know if it will be one person or maybe a company that handles this. I'm also responsible for paying all the bills and hiring someone when we need to fix something. My dad sometimes helps fix things, but there are more complex things, and we need help from a specialist. So I think having a company that helps with this would be better because a neighbor has not paid his maintenance fee in more than a year.
We need to meet with all the neighbors and see what we can do to change this neighbor and what he owes all of us. There should be a way where we could force him to do it, maybe seize his house or something. We will think of something.
Gaming
I may not share much about this in Hive, but I play video games during my free time. One of the games I'm playing is Fallout Shelter. This is a fun game inspired by the Fallout games. You have to manage a vault in a post-apocalyptic era, I think I'll make a video about this game soon. I also played both part one and part two of The Last of Us, they are both great games. I haven't shared gameplay because it would be spoilers for people watching the show.
There are a bunch of games that are still pending to play. Last week I started to play The Legend of Dragoon, a game launched in 2000 for PlayStation One. Playing it now, I can admit that it's not the best game, but It brings back many memories. You know, nostalgia sells.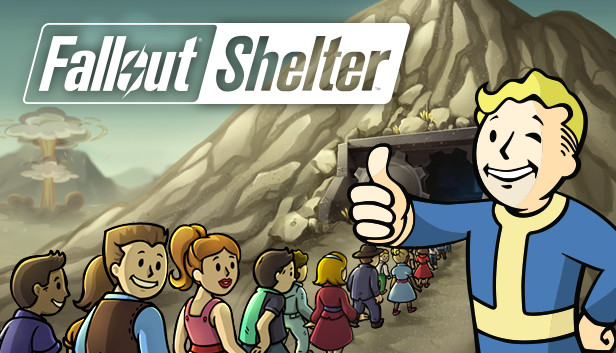 Source
---
Leo Power Up Day | LPUD
Today I also want to share my #LPUD. This is the second time I have joined, and I decided to power up some of my curation earnings and bought some LEO in the market. Let's go!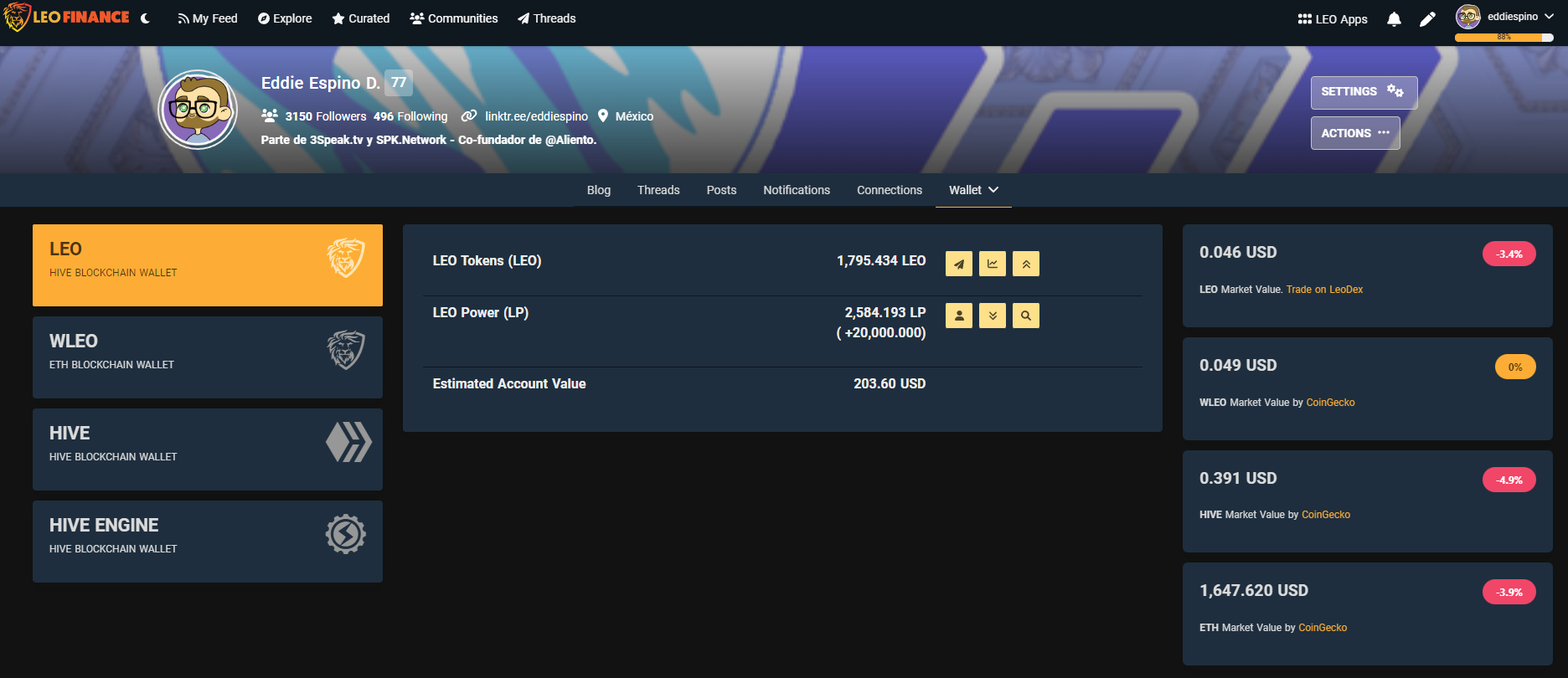 I powered up 1,795.434 LEO (A little over $80).
Now I have 4,379.627 Leo Power. Close to being a Dolphin in LEO?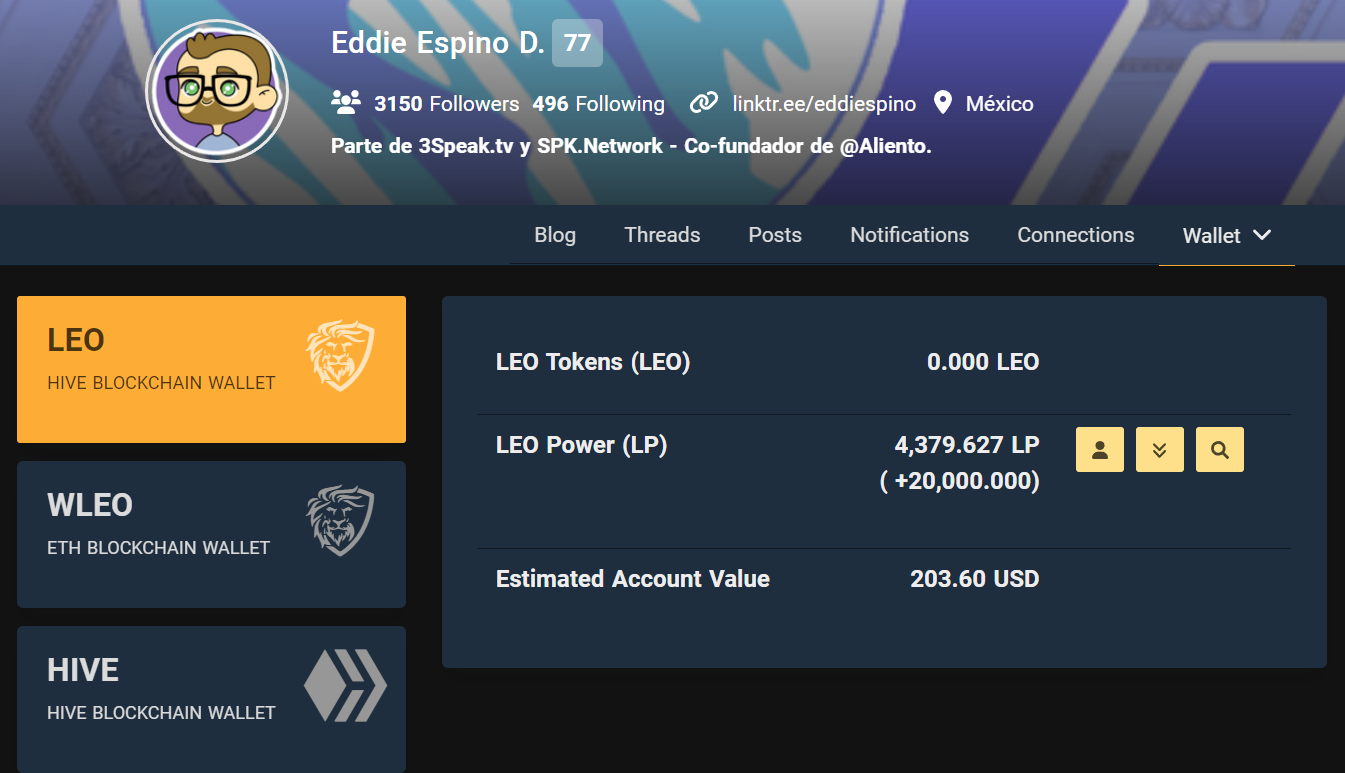 I also have a delegation of 20K LP. I won this because I ended on 7th place in the CREW3 contest that started last month. On @eddieespino, I also have 25K LP that I mostly use to curate in #threads.
I want to thank @taskmaster4450, @jongolson, and @anomadsoul for inspiring me to be more active here. Thank you for all!
---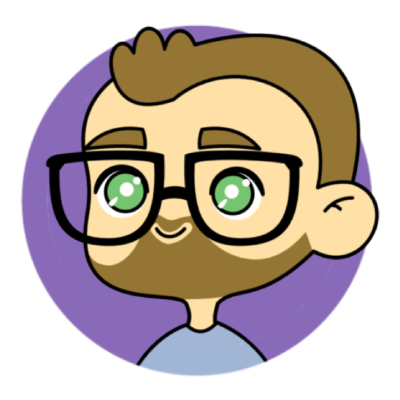 ---
Cover Image Source edited with https://www.photopea.com/
Posted Using LeoFinance Beta
---
---