dCity - new meta and new bonuses - Cartel Operator shows you how
Hello to all the CARTEL members big and small, we continue to operate as a small dCity, but the rewards are rolling in, and we now have over 150k SIM and 35 HIVE in the wallet. I am working on a fittingly ruthless way to upgrade our city with the income we have already earned, but that is for another update.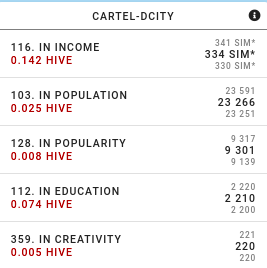 Today what I want to focus on is the new updates and their results, see my previous post about the changes to citizen mining.
The current dCity meta is largely based on the tax rebate mechanisms, the higher tax rebate you have the better you can rank on the INCOME ladder. INCOME is currently taking in over 46% of the reward pool.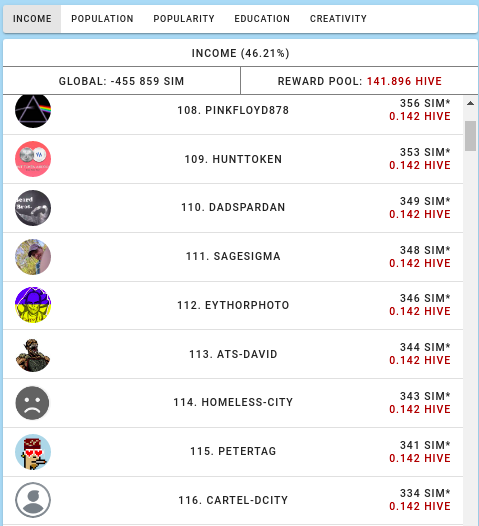 The https://dcity.io/ranking site is the right place to check your city, here we can see that we need 70 more INCOME (tax rebate) to boost our INCOME rank, 167 education to boost our rank there, 104 creativity to move up to top 300, and only 768 population to move up to top 100.
All of these calculations can change as the reward voting switches and other cities change their stats as well. Its a real time competition!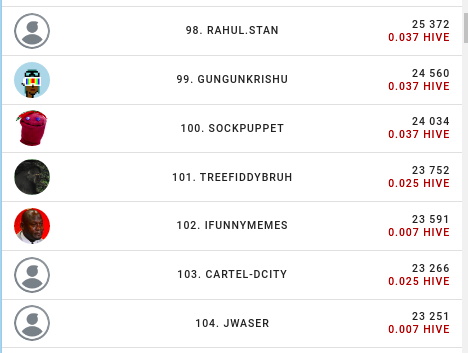 Upcoming PVP
Anyone who has read the most recent game update probably realized that PvP is coming to dCity. Its not all that clear exactly how it will work, but @gerber has been expanding on these roadmap ideas in the discord (to the SIMmillionaires).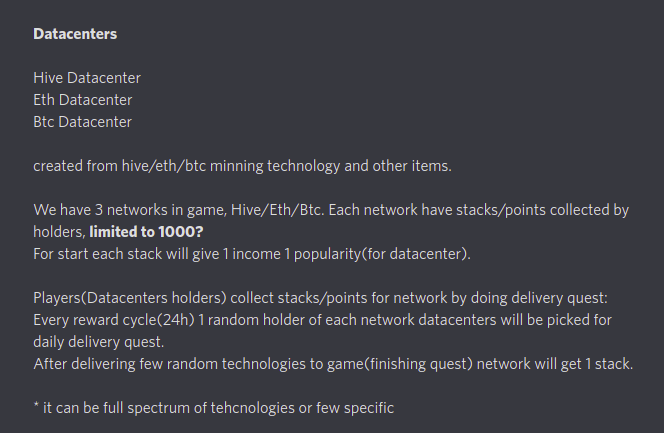 All the details are still being worked out, but it looks very much like a 'game within a game' that is going to keep dCity interesting for a long time to come.
Another interesting point, is that these processes look like they will be eating up tech cards, which we have all been mining for a while.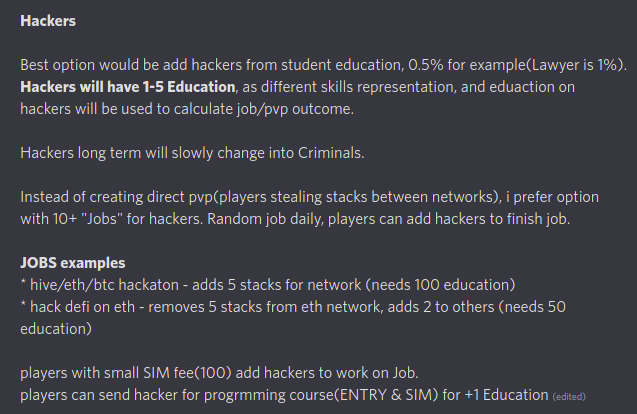 Along with Datacenters and Hackers, there will also be Religions(Faiths) and Regions. I think its likely that we will want to team up as a CARTEL and make sure we can get the most out of these fun new mechanics.
More on that as the future updates start becoming live.
For now, I have tested 'sending my hackers to programming course', by paying 1000 ENTRY tokens for each course, and now have some of the top hackers in the game on my personal account. So its clear that @gerber is working hard to implement these new changes step by step.

Hackers can be obtained by paying off student(debt), and I checked our @cartel-dcity and we have 31 students ready to graduate - you can see this in CITY -> DASHBOARD -> STUDENT DEBT section.

I went ahead and paid (20 sim each) to graduate them, and waited to see what sort of graduates we get. Its a good time to remember that the cost of education has increased (10 -> 20), and will continue to increase 10 sim per month moving forward.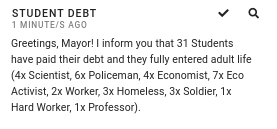 Not bad, not great. The soldiers are probably the best, each give 0.1 war shares, and we have been having a lot of great wars lately. The professor will help us graduate more students, and the Policemen are going to be important to keep crime low, especially since first edition Police Stations are so expensive now.
All in all we lost 3 tax rebate, but gained 7 education and 3 war shares, and 12 income from the economists.
I'll be back with another update soon, there is a lot going on with this game, seems like more than in a long while!
If you have any questions for me to address, leave them in the comments! For this post, I will only be upvoting comments that include a question to be addressed in a future CARTEL DCITY post.
Freedom and Friendship!
---
---