Social wedding photography // Narrating with photographs a wonderful love story 📸 by: @davidsuarezms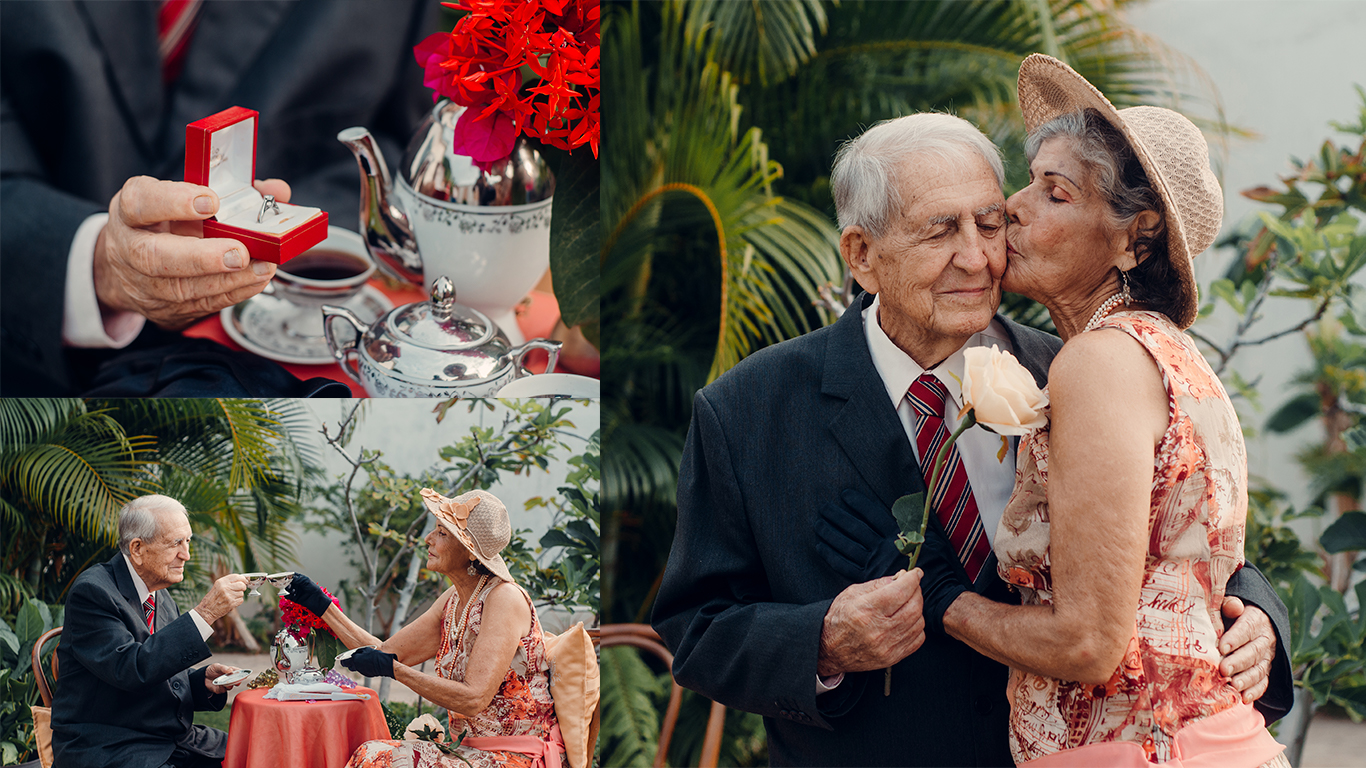 Hola amigos || Hello friends ❤️
Hello friends gamers, video game lovers, how are you all, I hope you are doing great and making the most of this year's gaming season. I'm great here bringing you more new content about games, I'm a game lover, although currently my time does not give me to enjoy so much for my personal things, I still make every effort to enjoy new releases as far as my computer can withstand, I've been thinking about upgrading my components, the next generation surely can not play comfortably. Today I bring you a review and gameplay of a wonderful game that has not been mentioned as much as other games or other deliveries and that was promising when it was announced, I'm not a fan of zombie games, there are few like Resident Evil that I like, but honestly this the few people who have played it have given both good and bad opinions, and I wanted to check how good it was, I'm talking about Days Gone, an open woHello friends, how are you? Lovers of photography and art, I hope you are very well, all active and with much enthusiasm to continue capturing wonderful moments, as you know, I love taking pictures of all kinds, I love photography, I do my best to bring you here many new photos, I love to tell stories and that fills me with excitement to show you this content that I had been preparing with my life partner, of their grandparents who are 57 years of marriage, it makes me excited because it is incredible how many years they have been together and loving each other like never before, we wanted to do something nice that they could remember until the end of their days as a couple, such a beautiful couple they are, I have been fascinated by these results, they are not the best, but for me they are incredible, I hope you enjoy these photos of their anniversary of grandparents Norghe and Pedro, they have earned my love and affection and also I am already part of their family, these photos are something that motivate me to continue taking more photos of this style and tell more stories, the pure essence of photography that we love so much here ❤️❤️❤️:
Hola amigos que tal están?, Amantes de la fotografía y el arte, espero estén muy bien, activos todos y con mucho entusiasmo para seguir capturando momentos maravillosos, como ya saben, me encanta tomar fotos de todo tipo, amo la fotografía, hago mi mejor esfuerzo para traerles por acá muchas fotos nuevas, amo mucho contar historias y por eso me llena de emoción en mostrarles este contenido que había venido preparando con mi compañera de vida, de sus abuelos que cumplen 57 años de casados, me hace ilusión ya que es increíble la cantidad de años que llevan juntos y amándose como nunca, quisimos hacer algo bonito que pudieran recordar hasta el final de sus días como pareja, tan hermosa pareja que son, me ha n fascinado estos resultados, no son los mejores, pero para mi son increíbles, de todo corazón espero disfruten estas fotos de su aniversario de los abuelos Norghe y Pedro, que se han ganado mi amor y cariño y que además ya soy parte de su familia, estas fotos son algo que me motivan seguir tomando mas fotos de este estilo y contar mas historias, la esencia pura de la fotografía que tanto amamos aca: ❤️❤️❤️: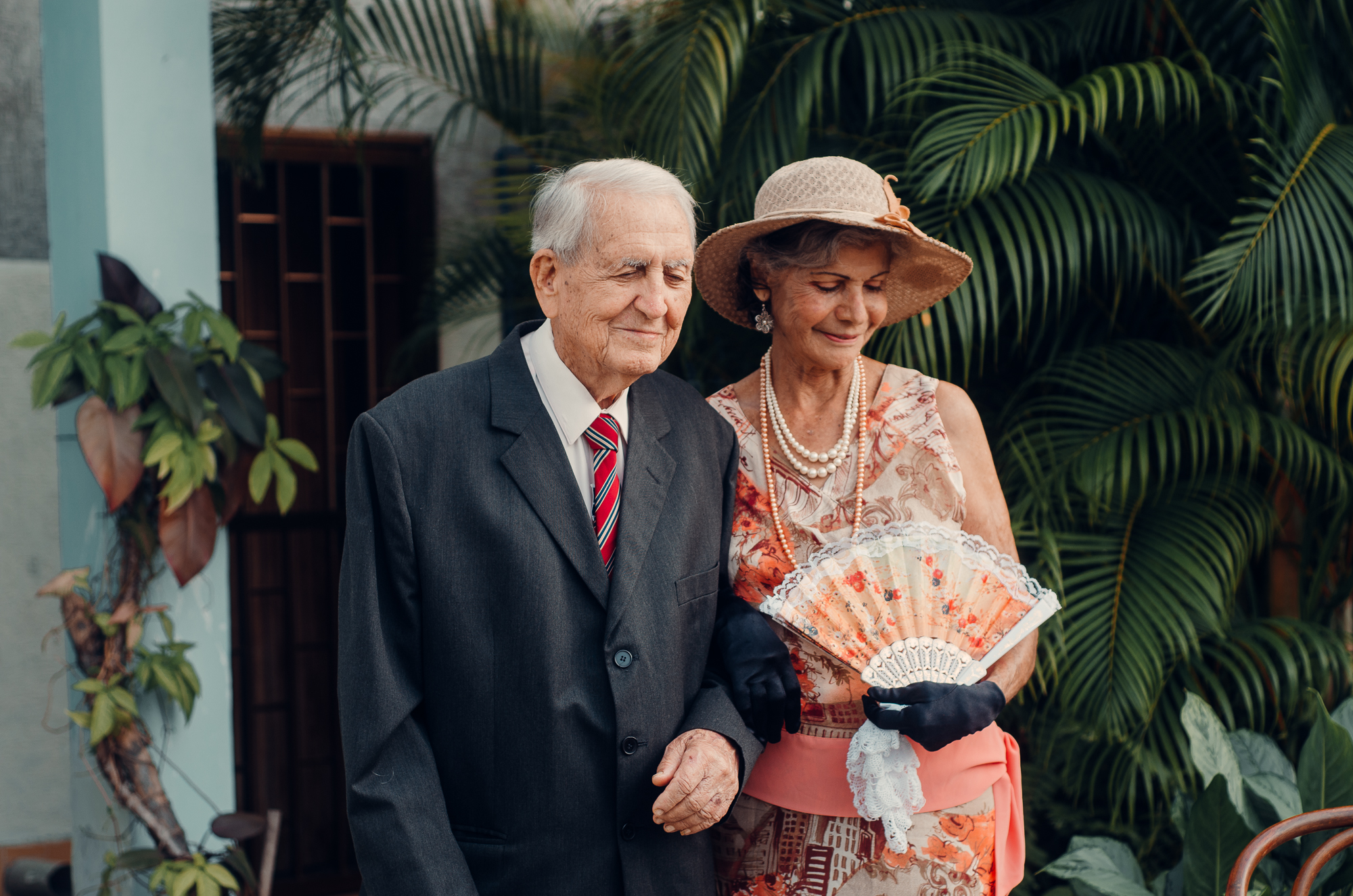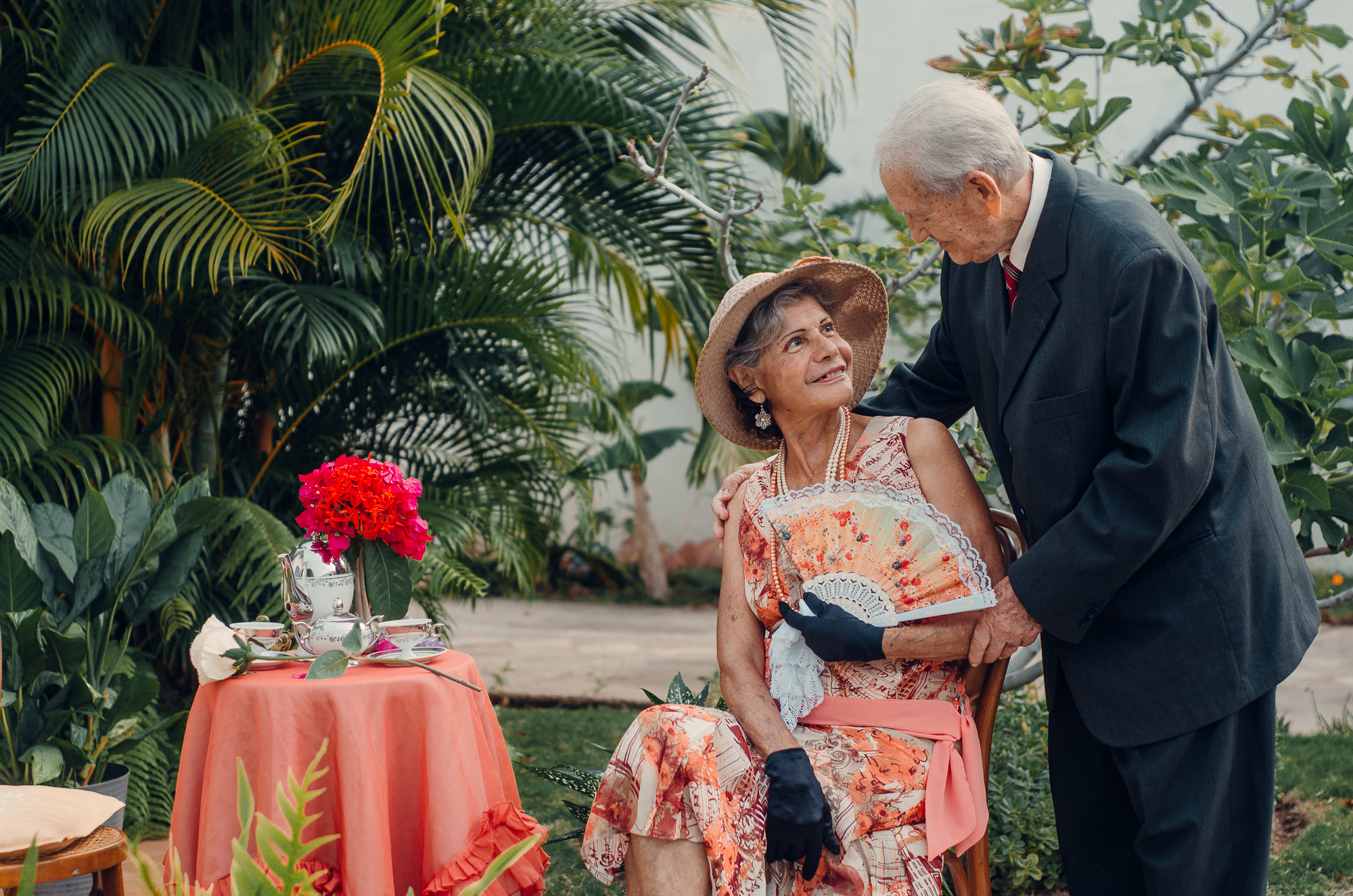 Having the honor to take these pictures to a couple of 57 years of marriage, is something indescribable, it is a wonderful feeling, where you learn to trust in true love if it exists and if it is possible, sometimes we tend to think that it is not, but like this there are many proofs in the world of true love, something warm and beautiful that can last a lifetime.
Tener el honor para tomar estas fotos a una pareja de 57 años de casados, es algo indescriptible, es una sensación maravillosa, en donde aprendes a confiar en el verdadero amor si existe y si es posible, a veces solemos pensar en que no lo es, pero como esta hay muchas pruebas en el mundo del verdadero amor, algo cálido y bonito que puede perdurar para toda la vida.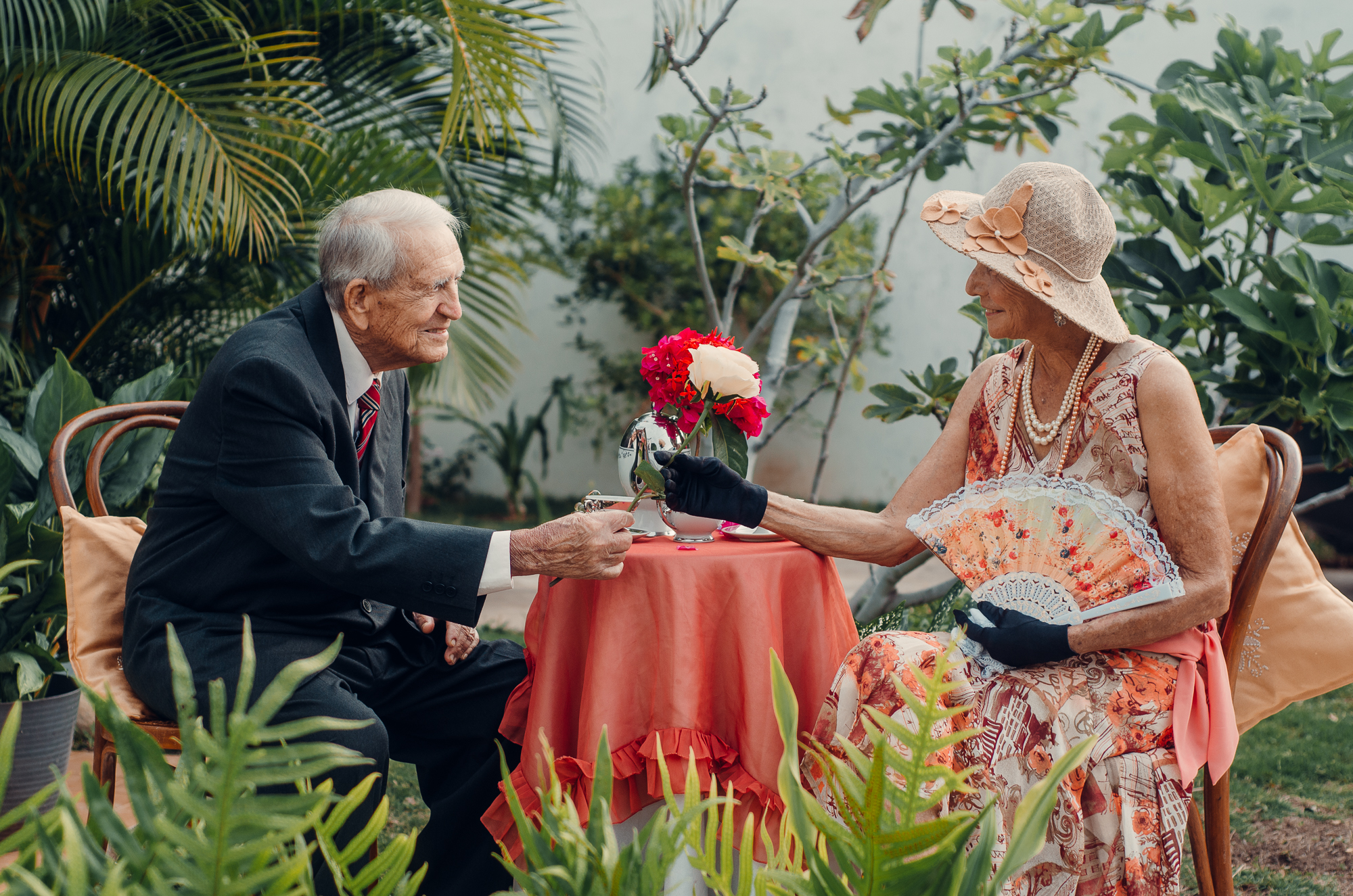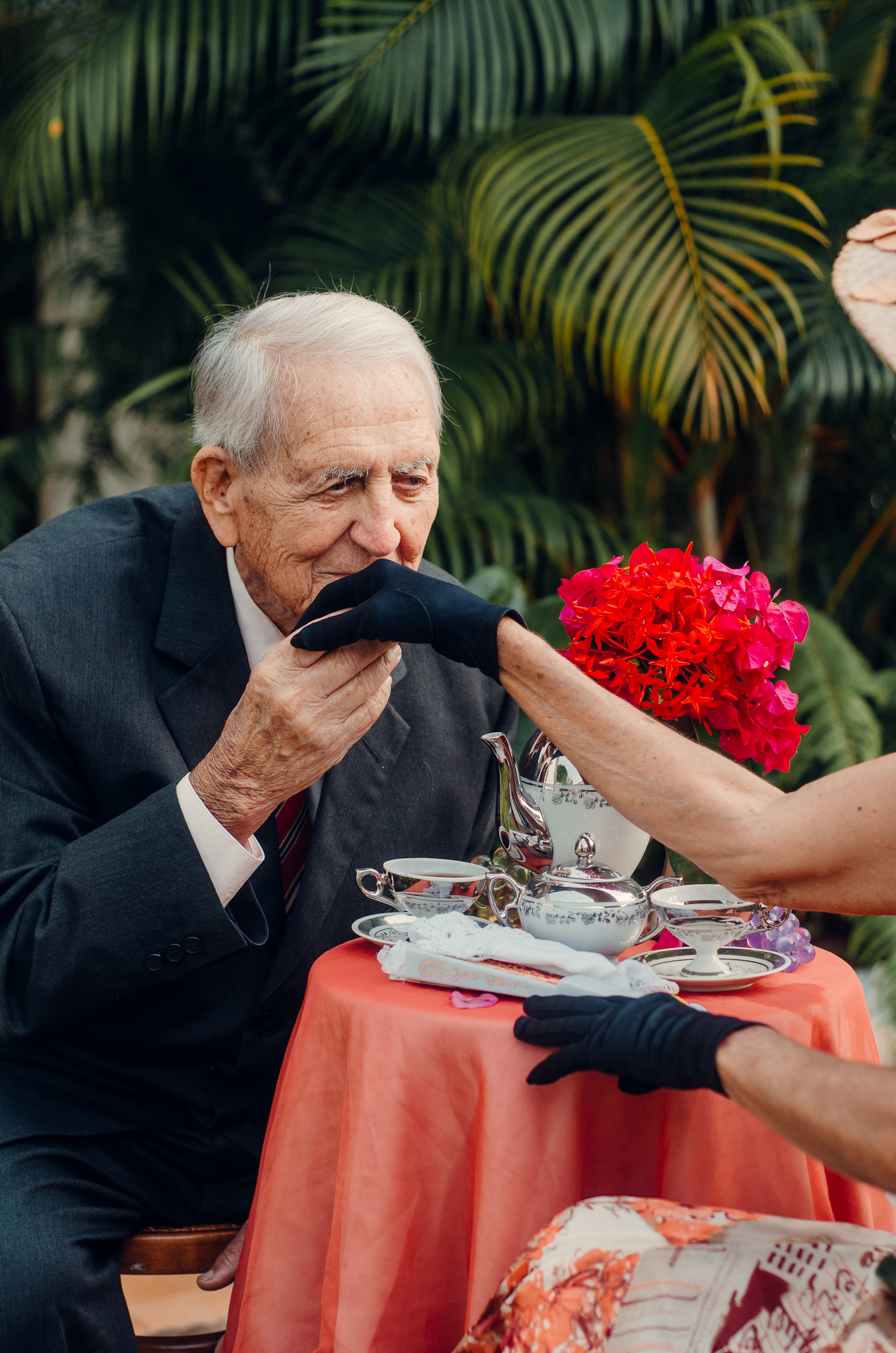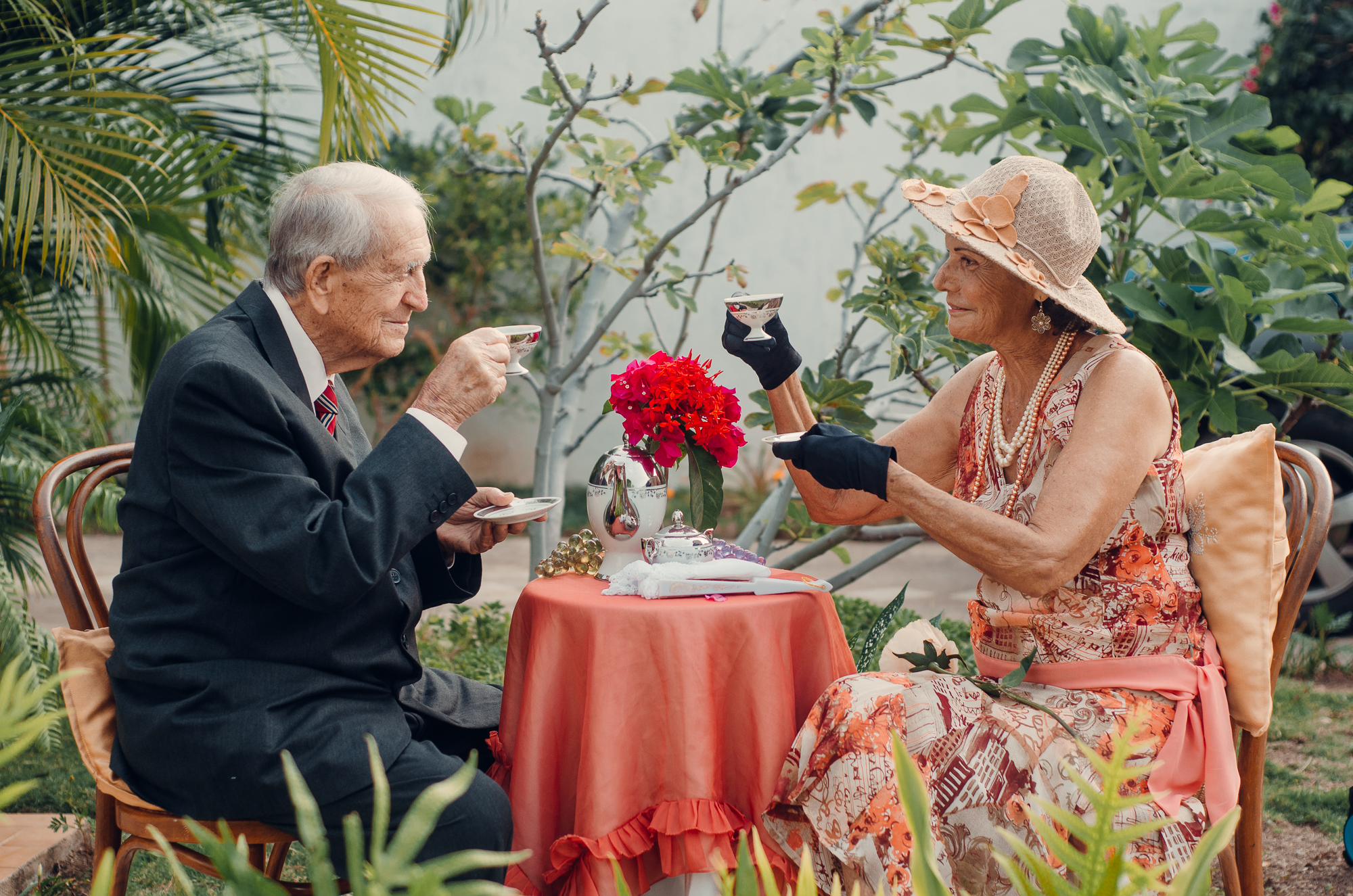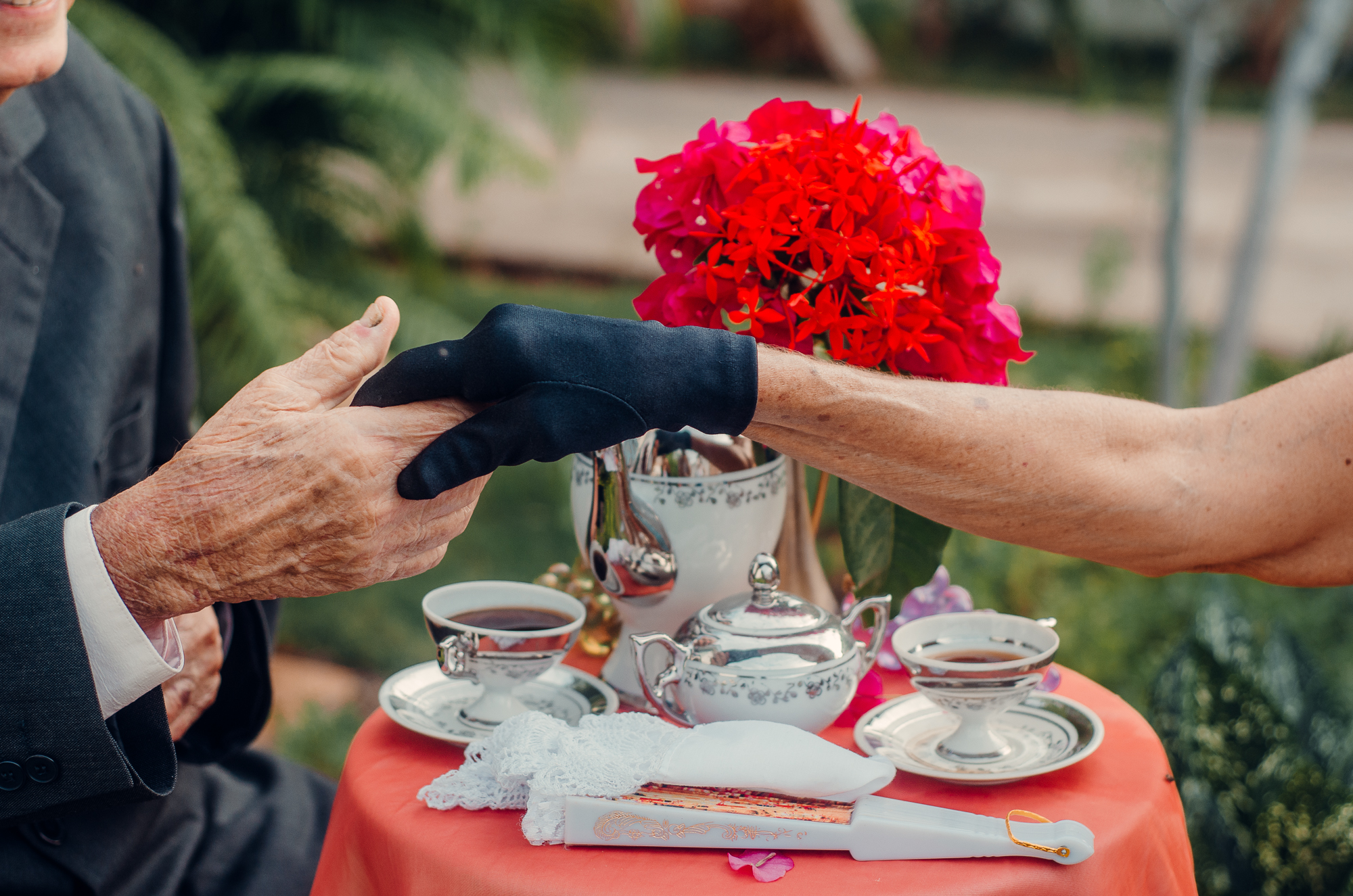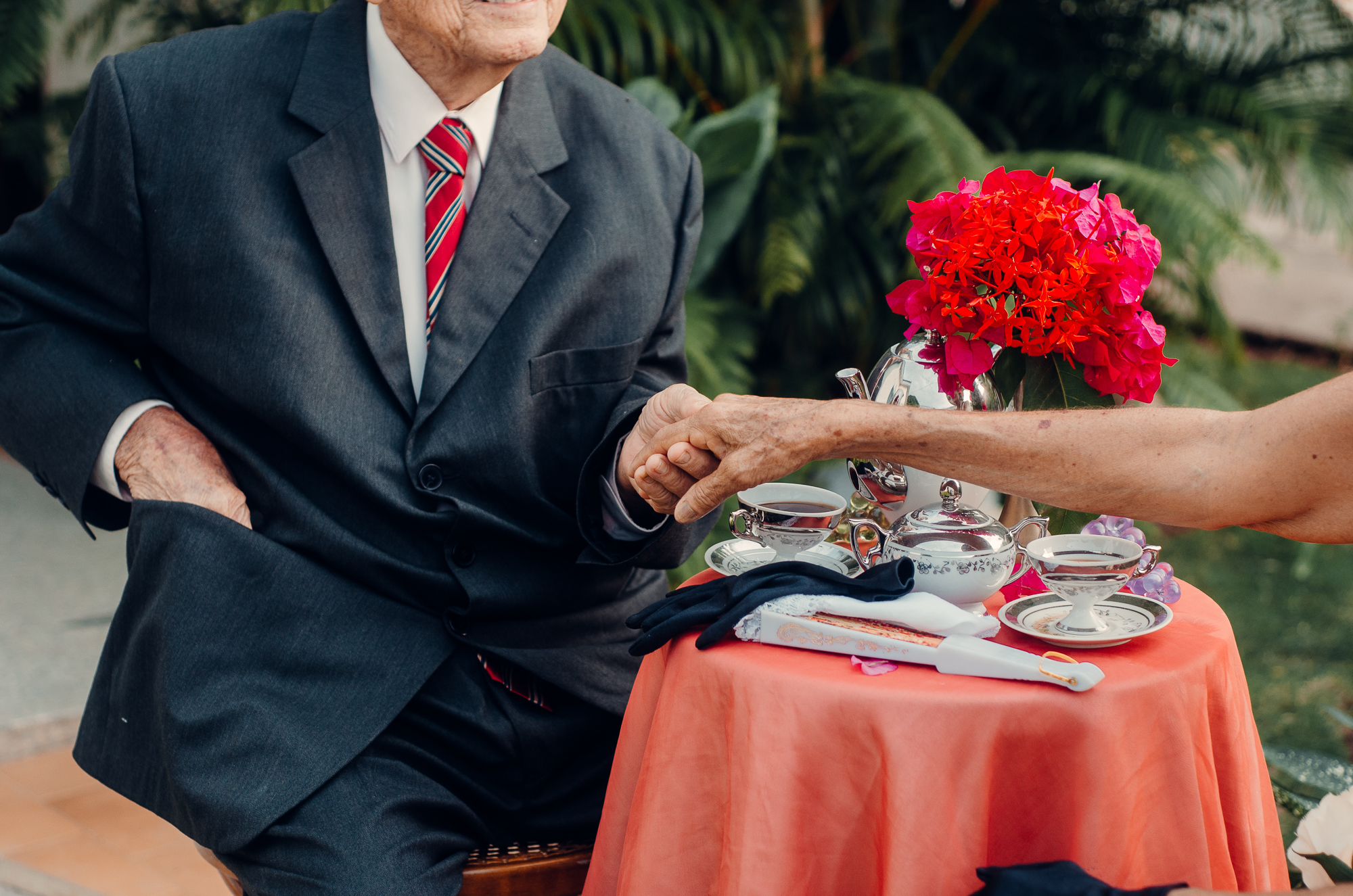 To take these photos we recreated a wonderful and perfect date that reminds us of their younger love, their times to remember, those days of love where life sparkled with incredible anecdotes, we offered a nice afternoon of coffee and tea and a beautiful rose, and to commemorate the most precious moment of every couple, when they ask for marriage, from the beginning to a warm and cozy end of a beautiful couple, just seeing them made me feel happy to be capturing beautiful pictures, how they laughed, how they gave each other affection, how they flirted as if it was really one of their first dates, like 57 years ago when that love was being born and growing even more, to be able to transmit every moment and that they were so beautiful, is a relief for me, because it is something that they will treasure and will remain for history, life is ephemeral, but it is beautifully incredible when it comes to love.
Para realizar estas fotos recreamos una cita maravillosa y perfecta que tanto hace recordar su amor mas joven, sus tiempos para recordar, aquellos días de enamorados en donde la vida relucía de anécdotas increíbles, le ofrecimos una bonita tarde de café y te y una hermosa rosa, y para conmemorar el momento mas preciado de toda pareja, cuando se pide matrimonio, desde el inicio hasta un cálido y acogedor final de una hermosa pareja, tan solo de verlos me hacia sentir feliz de estar capturando bellas fotos, como reían, como se daban cariño, como coqueteaban como si fuese realmente una de sus primeras citas, como hace 57 años en el que ese amor estaba naciendo y creciendo aun mas, el poder transmitir cada momento y que quedaran asi de bonitos, es un alivio para mi, porque es algo que atesoraran y quedaran para la historia, la vida es efímera, pero es hermosamente increíble cuando se trata de amor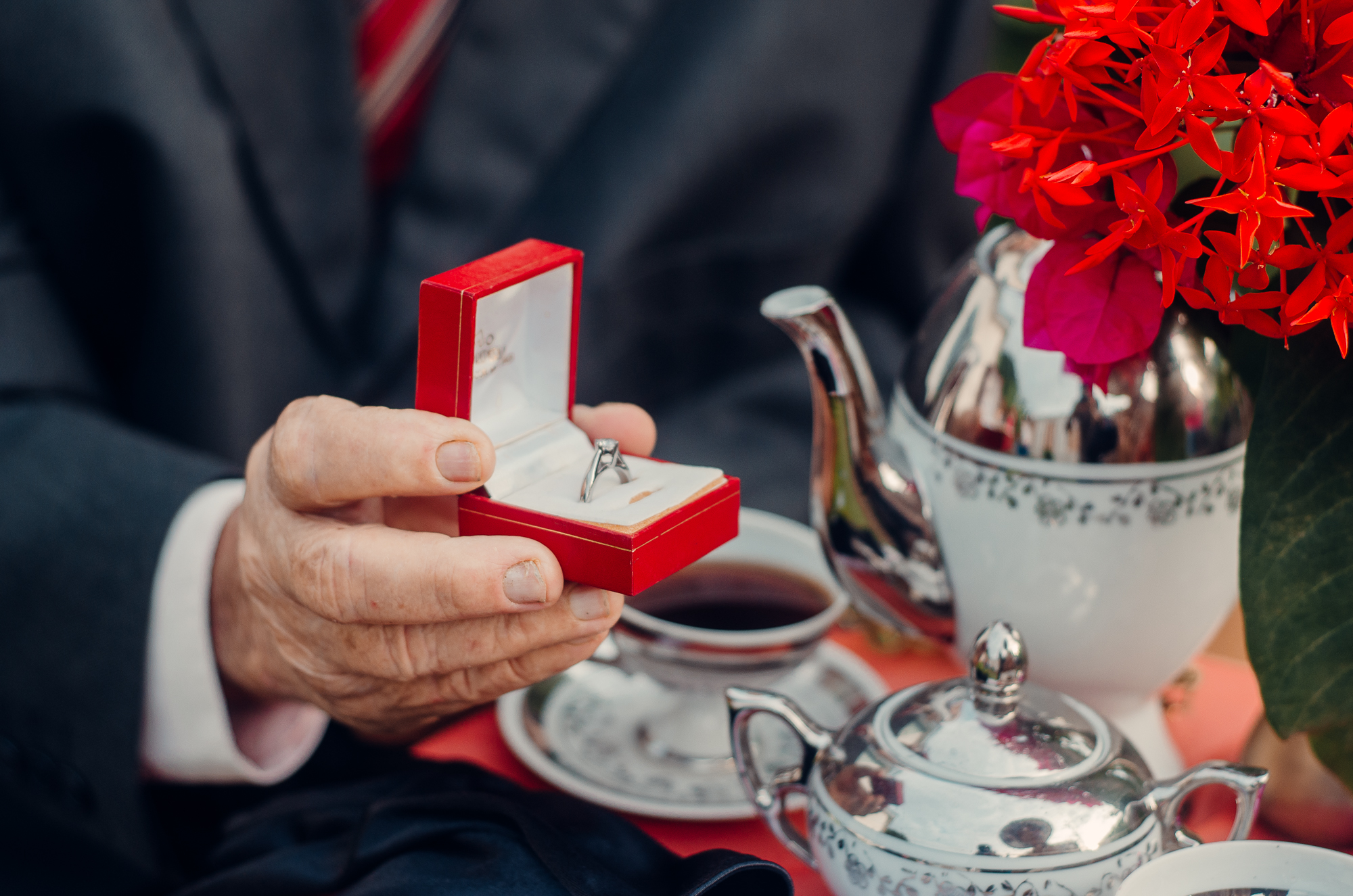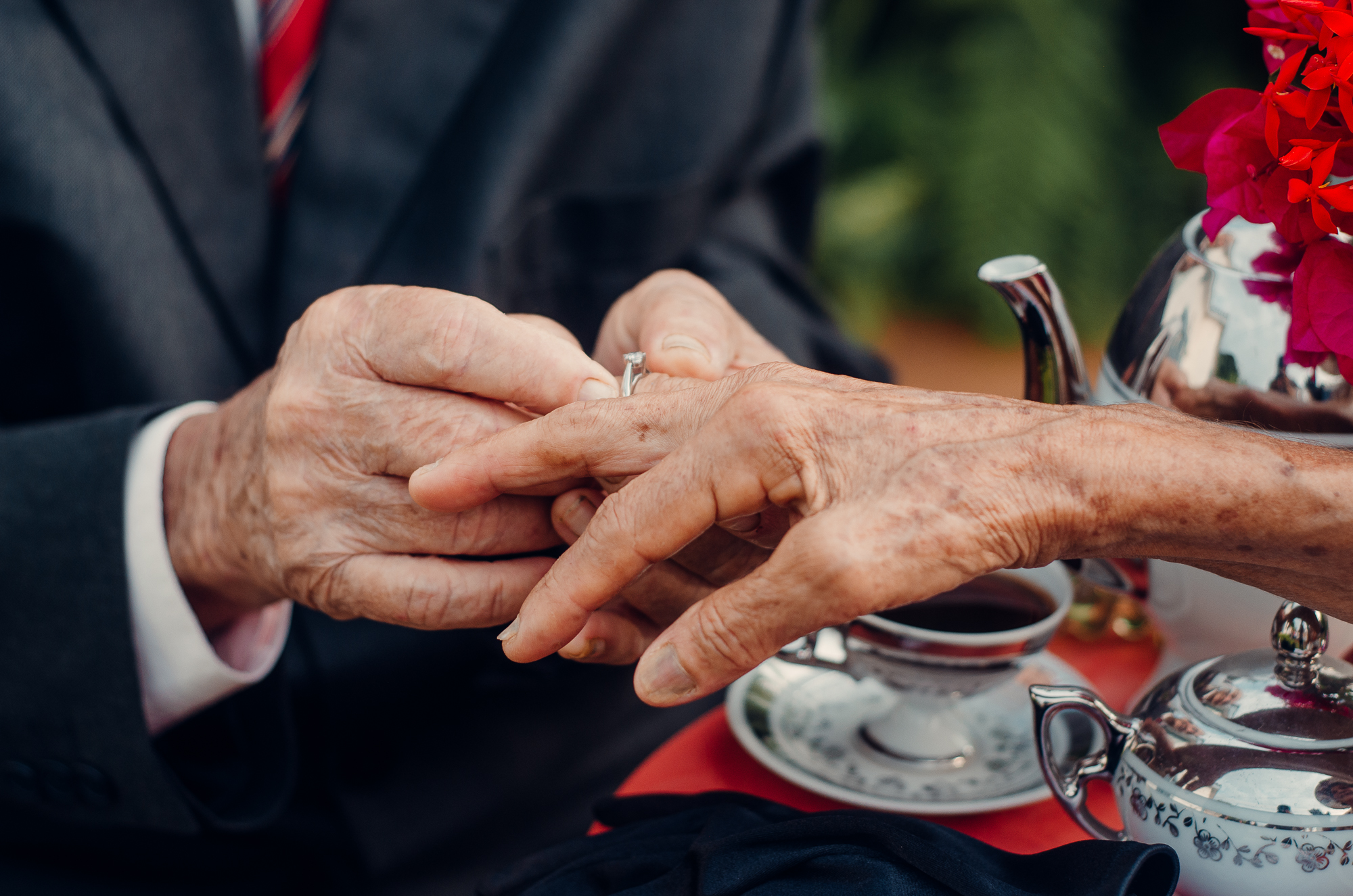 When taking this kind of photos you have to take care of every detail that makes a well told story worth remembering, something they will treasure, it fills me with happiness to see them enjoy what could be their only photo shoot, and to be able to have been the one of honor, is something great to tell them.
Al hacer este tipo de fotos hay que cuidar cada detalle que haga relucir una historia bien contada que valga la pena de recordar, algo que atesoren mucho, me llena de felicidad verlos disfrutar lo que podría ser su única sesión de fotos, y poder haber sido yo el del honor, es algo genial para contarles.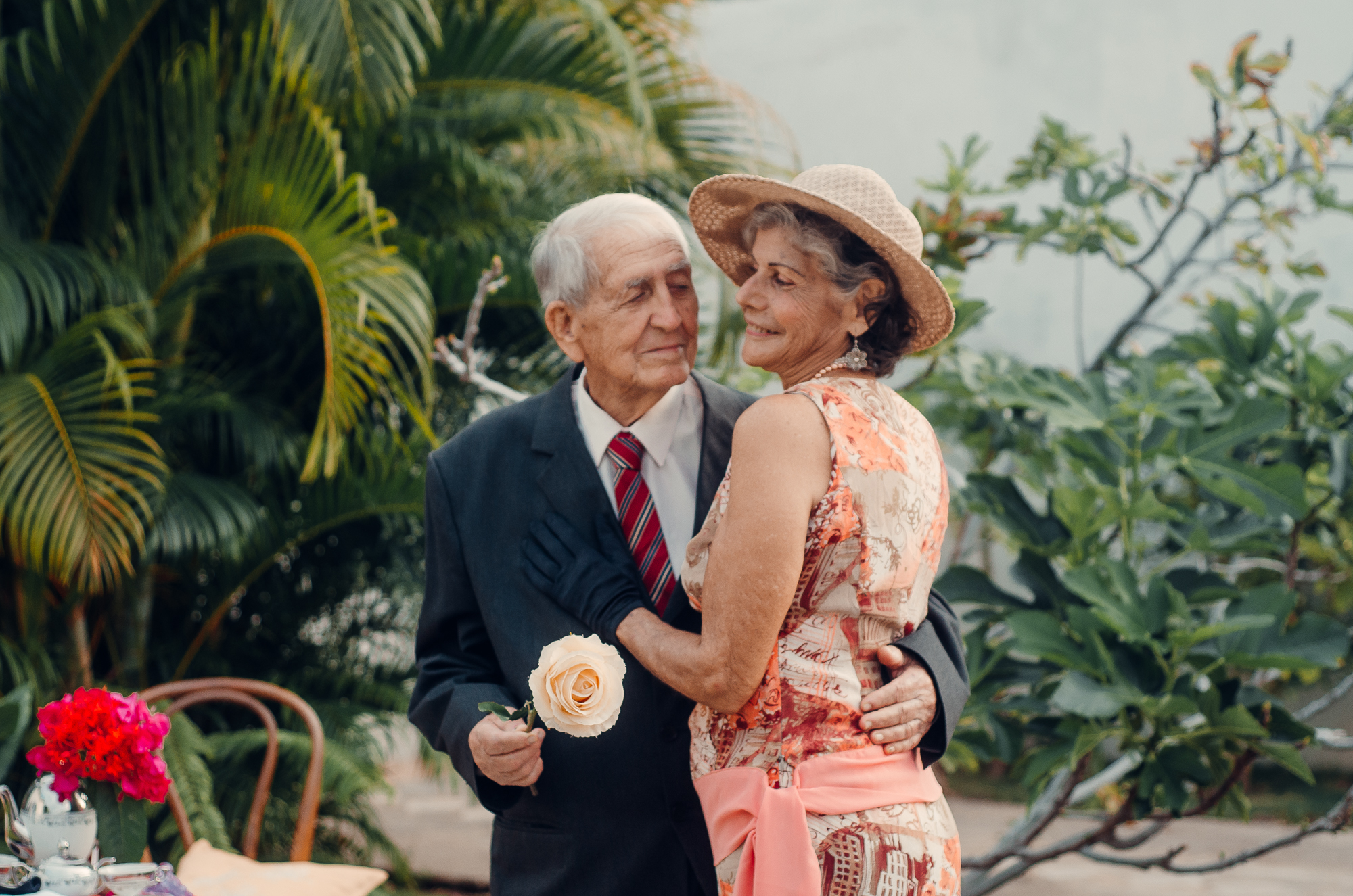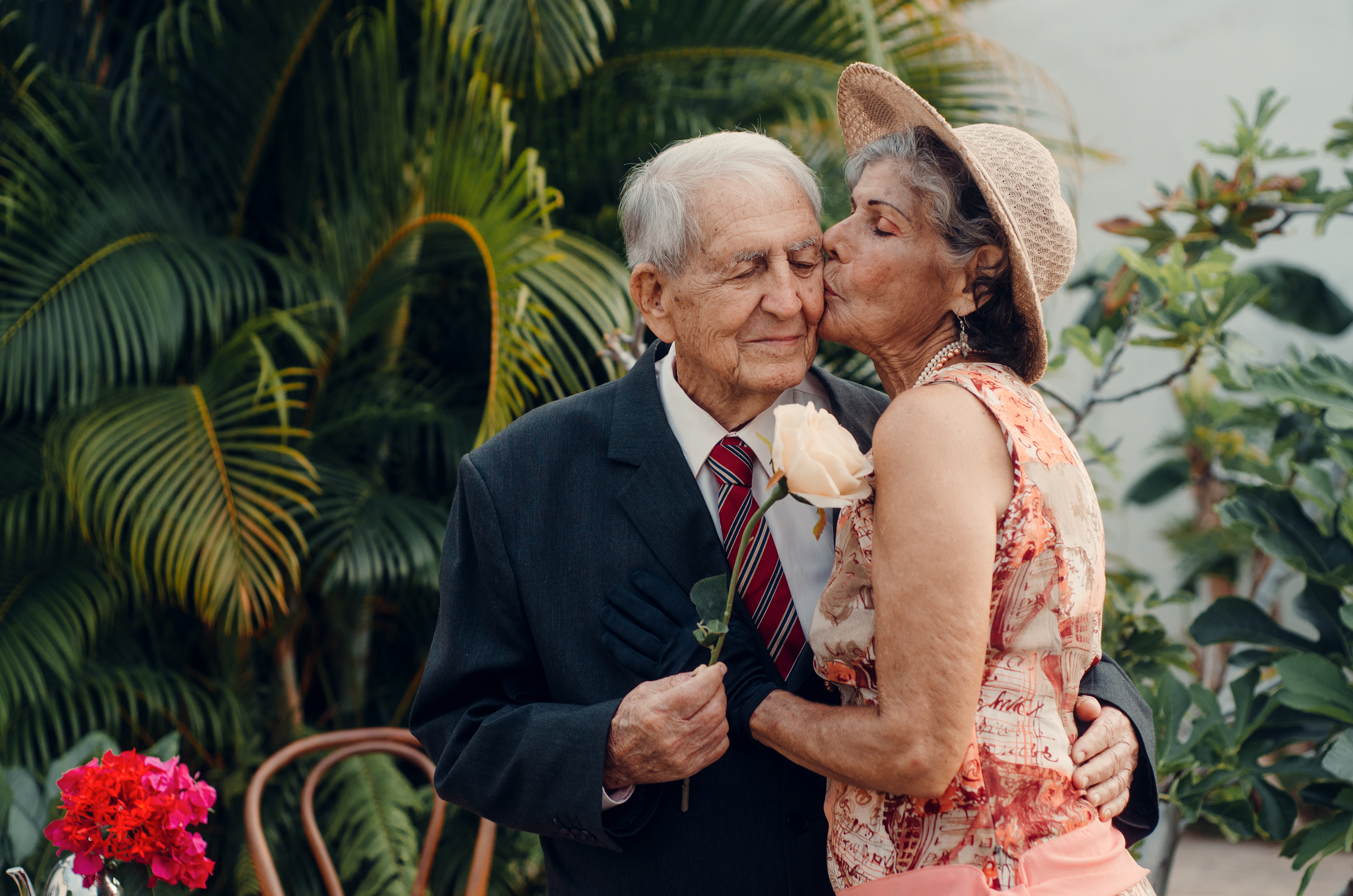 In these photos I used my faithful 50mm analog lens, and my Nikon D5100, the analog touch gives a vintage feel to the session that I really liked, I have no other equipment, and it was the one I had, I loved its quality and it was a calm session for that reason, it felt good to use it, really very comfortable and rewarding. I sincerely hope you liked these results, they are photos that will last a lifetime, they are very happy with these results that express all the love they feel for each other, as a photographer, I think there is no better experience than to tell such beautiful stories, I hope you liked these pictures, see you soon with more photos, a hug beautiful people, see you soon, take care!
En estas fotos use mi fiel lente 50mm analógico, y mi Nikon D5100, el toque analógico le da una sensación mas vintage a la sesión que me ha gustado mucho, no tengo mas equipos, y era con el que contaba, me encanto su calidad y era una sesión calmada por eso, me sentó bien usarlo, realmente muy cómodo y gratificante. Espero de corazón les hayan gustado estos resultados, son fotos que perduraran para toda la vida, ellos están muy felices con estos resultados que expresan todo el amor que sienten el uno al otro, como fotógrafo, creo que no hay experiencia mejor que contar historias tan bonitas, espero hayan sido de su agrado estas fotografias, nos veremos pronto con mas fotos, un abrazo gente hermosa, nos vemos pronto, cuidense!!




❤❤❤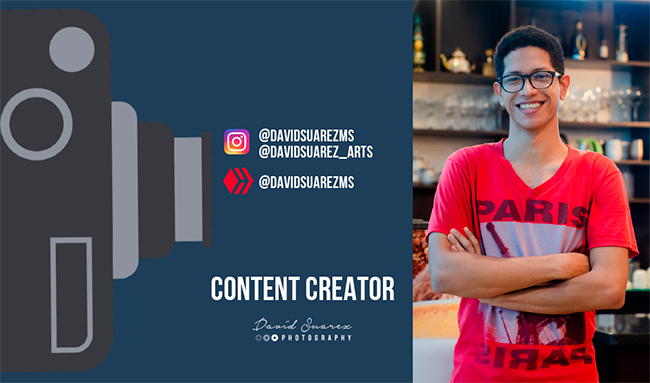 Don't forget to leave me a comment or follow me if you liked my content, greetings and thank you very much for the love of the arts! ♡♥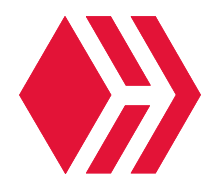 ---
---