North Stream destroyed: was it the USA?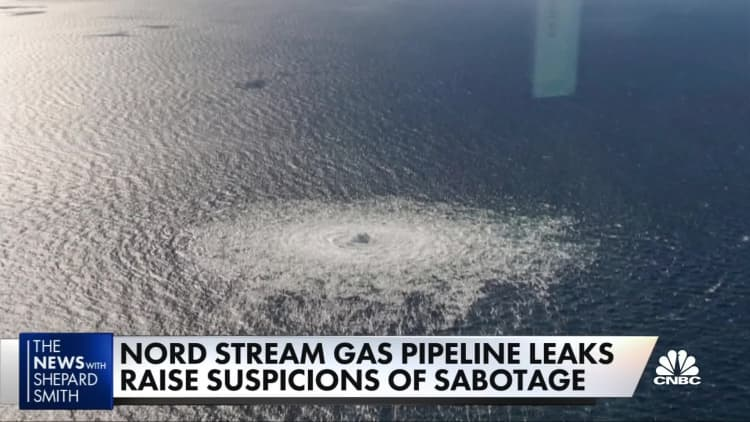 Source image
The crime story continues on the Nord Stream gas pipeline. The structure was in fact heavily damaged in three parts and it will take years to be reactivated again.
No one among the authorities and experts believes this is a simple accident, but all are convinced that the damage was caused intentionally. More than 24 hours after the event, new elements are added that tip the balance of guilt decidedly towards the west.
Gazprom had already completely interrupted gas flows to Germany for weeks, thus making an act of sabotage completely unjustified. Then came a tweet. "Thank you United States", accompanied by the image of the damage done to the Nord Stream gas pipeline.
https://twitter.com/radeksikorski/status/1574800653724966915
It was not just any conspiracy theorist on the net who chirped, but Radek Sikorski, Polish MEP and head of the European Union United States delegation in Strasbourg. He is a character very close to the United States, having worked for the Wall Street Journal, for CNN and for Fox News, but also for Harvard University.
By thanking the United States in this way, Sikorski is as if he were clearly attributing the authorship of the act of sabotage. It does not end here.
Because by consulting the Vessel Finder portal, it is possible to notice a movement that could be suspicious: it is a detachment of US Navy ships, led by the USS Kearsarge assault ship. This expedition was located in the Baltic Sea about 30 kilometers from the place where the sabotage of North Stream took place.
Of course, it is not proof, however the past teaches that such an act of sabotage is easily achievable. In fact, in 2015 the Swedish military authorities had found a drone equipped with an explosive charge right near Line 2 of the North Stream offshore pipeline system. In that case, Sweden had been able to block the act of sabotage, however it was a demonstration of how easily the infrastructure was attacked.
By a strange twist of fate, in the same hours in which the attack on the Nord Stream took place, rendering the pipeline unusable for the next few years, a new infrastructure was inaugurated in a very close area. The leaders of Poland, Norway and Denmark have in fact kicked off the new Baltic Pipe.
This is a new gas pipeline that will transport the raw material from Norway, crossing Denmark and the Baltic Sea, to Poland.
In all this the most tragicomic part is played by the British newspaper The Guardian, which in a long editorial accuses Russia of having sabotaged the North Stream, saying at the same time that there is no evidence to support this thesis. The fact is that someone has deliberately destroyed a strategic infrastructure for Europe, someone who has every interest, political and economic, for the old continent to detach itself from Moscow as soon as possible.
References:
https://www.aa.com.tr/en/economy/former-polish-foreign-minister-thanks-us-for-damaging-nord-stream-pipeline/2696530
https://www.washingtonpost.com/politics/2022/09/28/tucker-carlson-nord-stream/
https://www.pipeline-journal.net/news/explosive-laden-drone-found-near-nord-stream-pipeline


BLOGGING
GEOPOLITICS | ENVIRONMENT | WAR | ECONOMICS | SOCIETY | GAMING

CURRENTLY PLAYING



IF YOU SIGN UP ON THIS GAMES WITH MY REF LINK CONTACT ME FOR HELP

---
---