Africa: 92 million children exploited for work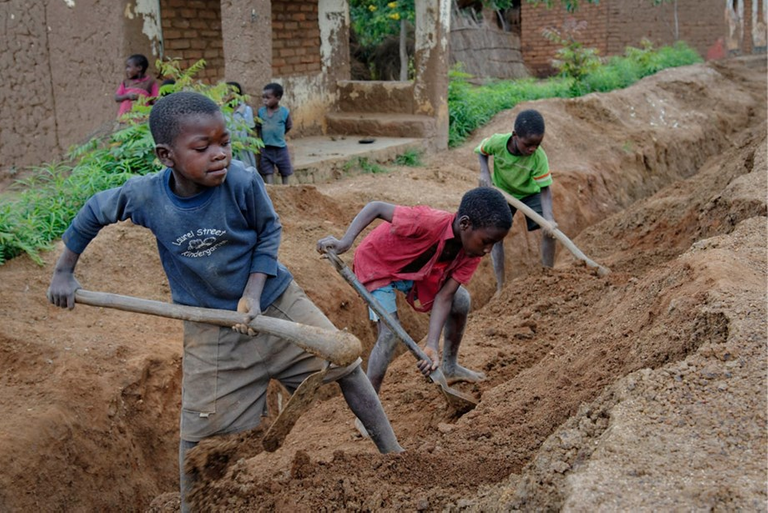 Source image
The International Labor Organization (ILO), a United Nations agency, has denounced the high rates of child labor in Africa, in a context of growing poverty. ILO national director for Tanzania, Burundi, Kenya, Rwanda and Uganda, Wellington Chibebe, told reporters in Nairobi, Kenya, that Africa has some 92 million out of 160 million child laborers worldwide.
Africa stands out as the region with the highest prevalence and the largest number of individuals working in child labor.
Chibebe noted that child labor is a predominantly rural and agricultural phenomenon, while child domestic workers are more common in urban areas.
Chibebe stressed that while many parts of the world successfully tackled the problem of child labor before the outbreak of the Covid-19 pandemic, in Africa the incidence has continued to increase.
According to him, child labor rates have increased on the continent since 2012 and the Covid-19 pandemic has exacerbated the situation. To say, in 2016 the ILO estimated that 72.1 million African children were involved in child labor and 31.5 million in dangerous jobs.
For example, the situation is bad in Kenya, where data from the Kenya National Bureau of Statistics shows that 8.5 percent of children, 1.3 million, are involved in child labor. The highest child labor rates, over 30%, are in arid and semi-arid land counties.
Here, many boys are sent to herd cattle or to collect sand, while the girls get married early or do housework. The COVID-19 pandemic is also having an impact: in April 2020, about 1.72 million people in Kenya have lost their jobs since the pandemic began. With this significant loss of income, an increasing number of families can resort to sending their children to work. Many go to work in landfills.
The scenes of children rummaging through the rubbish of the mountains of garbage that cover endless surfaces of kilometers and kilometers, in search of materials and objects to resell to earn food, belong to everyday life.
The ILO official indicated universal social protection as one of the tools to prevent and end child labor on the continent. It urged African governments to do internal research on existing programs and initiatives to counter this phenomenon and review their strategy to ensure effective efforts to end child labor.
References:
https://www.ilo.org/africa/areas-of-work/child-labour/lang--en/index.htm#:~:text=Africa%20has%20the%20largest%20number,to%20have%20stalled%20in%20Africa.
http://www.china.org.cn/world/Off_the_Wire/2022-09/16/content_78422875.htm
https://www.farsnews.ir/en/news/14010229000476/UN-Reprs-Over-60mln-Children-Wrldwide-in-Child-Labr
https://www.globalslaveryindex.org/


BLOGGING
GEOPOLITICS | ENVIRONMENT | WAR | ECONOMICS | SOCIETY | GAMING

CURRENTLY PLAYING



IF YOU SIGN UP ON THIS GAMES WITH MY REF LINK CONTACT ME FOR HELP

---
---