Ya se definieron casi todos los clasificados en CONMEBOL y una victoria inesperada en las eliminatorias de la UEFA. / Almost all the CONMEBOL qualifiers have been decided and a surprise in the UEFA qualifiers.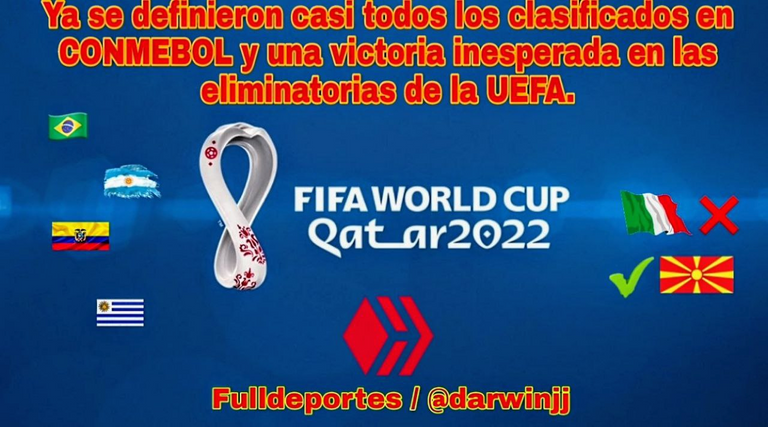 Las imágenes, los diseños y las letras han sido creados en PicsArt / Images, designs and lettering were created in PicsArt. Imagen de fondo/ Background image --> Fuente/Source: IMG1

---
Hola amigos bienvenidos. / Hello friends welcome.
---
Esta última jornada de las eliminatorias a la copa del mundo nos han dejado algunas sorpresas y también situaciones difíciles o cuestionables, hace un par de días les hablé sobre los posibles clasificados y las probabilidades según la combinación de resultados; actualmente en Conmebol ya conocemos a la mayoría de los clasificados directos, aunque se debe definir el quinto clasificado, posición que ahora mismo ocupa Perú, pero tiene al acecho a Colombia y Chile, en el caso de que Perú falle en su próximo partido, esto le daría oportunidades a Colombia o Chile de clasificar.
This last day of the World Cup qualifiers has left us with some surprises and also difficult or questionable situations, a couple of days ago I spoke about the possible qualifiers and the probabilities according to the combination of results; currently in CONMEBOL we already know most of the direct qualifiers, although the fifth qualifier must be defined, a position that is currently occupied by Peru, but has Colombia and Chile lurking, in the event that Peru fails in its next match, this would give Colombia or Chile a chance to qualify.
---
Como les mencione anteriormente esta jornada 17 presento una jugada que fue bastante cerrada y difícil de interpretar, tanto por los árbitros y demás observadores del deporte rey, en esa jugada las imágenes no son 100% claras, desde algunos ángulos parece gol y desde otros no, lo que si es cierto es que la victoria de Uruguay lo clasifico de manera directa, mientras tanto Perú debe esperar hasta última jornada parar cerrar su clasificación. Lo ocurrido en el partido enciende la polémica del uso del VAR y que tan efectivo es, lo que si está claro es que el futbol continúa siendo un deporte lleno de errores humanos que afecta las decisiones del juego.
As I mentioned earlier, this matchday 17 presented a play that was quite close and difficult to interpret, both by referees and other observers of the game, in that play the images are not 100% clear, from some angles it looks like a goal and from others not, what is certain is that the victory of Uruguay classified it directly, while Peru must wait until the last day to close its classification. What happened in the match sparks controversy over the use of VAR and how effective it is, what is clear is that football continues to be a sport full of human error that affects the decisions of the game.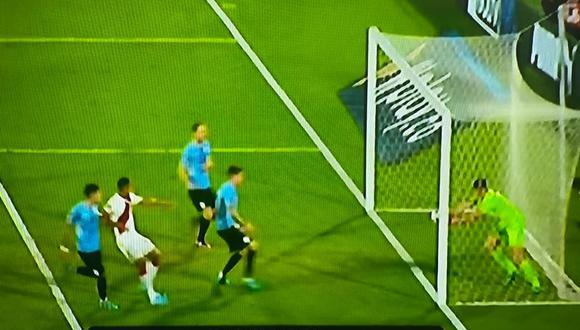 Fuente/Source: gestion.pe
---
La única forma que tiene Perú de clasificar sin contratiempos es superar a Paraguay, esta última selección está eliminada, pero no es un rival en el que hay que confiarse, ya que el orgullo y la honra también es importante, además de que viene de una victoria ante Ecuador, pero algo seguro es que Perú no quiere depender de nadie y tratara mostrar el buen juego que practica en su propia casa.
The only way for Peru to qualify without setbacks is to overcome Paraguay, this last team is eliminated, but it is not an opponent to be confident, as pride and honour is also important, besides coming from a victory over Ecuador, but one thing is for sure is that Peru does not want to depend on anyone and will surely show the good game they play at home.

---
Eliminatorias de la UEFA: Italia eliminado; Portugal y Gales ganan. / UEFA qualifiers: Italy eliminated; Portugal and Wales win.
---
Por otro lado, en el repechaje de la UEFA la gran sorpresa fue la eliminación de Italia, donde Italia fue superior en el juego y las estadísticas lo confirman, pero nunca marco, es decir, no logro concretar sus jugadas y ocasiones de cara al arco; mientras que Macedonia del Norte aprovecho un saque de su arquero que después pudo convertir en gol con un gran disparo desde fuera del área, es increíble todo lo que paso, pero el futbol se trata de eso de saber aprovechar cada oportunidad y ser acertado, sin duda esto forma parte de la historia del futbol, ya que nuevamente Italia no estará en la copa del mundo.
On the other hand, in the UEFA qualifying round the big surprise was the elimination of Italy, where Italy was superior in the game and the statistics confirm it, but never scored, that is, they failed to finish their moves and chances to score; while North Macedonia took advantage of an aerial ball from their goalkeeper that then could become a goal with a great shot from outside the area, it is incredible everything that happened, but football is knowing how to take every opportunity and succeed, no doubt this is part of the history of football, because again Italy will not be in the World Cup.
---
Mientras tanto, Portugal si se impuso a Turquía, una realidad es que ambas selecciones tenían fallos en sus defensas, pero los portugueses fueron quienes marcaron más goles en el transcurso de los 90 minutos, donde ganaron con un marcador de 3 a 1; Gales también fue otra selección que cumplió con el objetivo y todo gracias a un buen partido de Gareth Bale; volviendo a la semifinal C, hay que mencionar que ahora Portugal se medirá ante Macedonia del Norte, lo cual será una final para ambas selecciones y quien gane saboreara su pase al mundial.
Meanwhile, Portugal did beat Turkey, a reality is that both teams had flaws in their defences, but the Portuguese were the ones who scored more goals in the course of the 90 minutes, where they won with a score of 3 to 1; Wales was also another team that met the goal and all thanks to a good game of Gareth Bale; returning to the semi-final C, it should be mentioned that now Portugal will be measured against North Macedonia, which will be a final for both teams and whoever wins will achieve their pass to the World Cup.

---
Eliminatorias Conmebol: Perú, Colombia y Chile, lucharán por el quinto puesto al repechaje. / Conmebol qualifiers: Peru, Colombia and Chile will fight for the fifth place in the play-offs.
---
En las eliminatorias Sudamericanas, Chile que tiene 19 puntos enfrentara a Uruguay, Colombia jugara contra Venezuela y como ya mencione Perú jugara contra Paraguay, en el caso de que Perú pierda o empate, pone en riesgo su quinto lugar, así que todos darán los mejor de sí mismo en esta última jornada; desde mi punto de vista Chile la tiene difícil si Uruguay sale a jugar con seriedad y con un nivel aceptable, ya que los Uruguayos tienen a su favor ya estar clasificada y esto puede ser motivo para confiarse y cuidar a sus jugadores, la ventaja de Chile es que juega en casa.
In the South American qualifiers, Chile who have 19 points will face Uruguay, Colombia will play against Venezuela and as I mentioned Peru will play against Paraguay, in the case of Peru losing or drawing, it puts at risk their fifth place, so everyone will give their best in this last matchday; from my point of view Chile has it difficult if Uruguay comes out to play seriously and with an acceptable level, as the Uruguayans have in their favour to be already qualified and this can be a reason to trust and take care of their players, the advantage of Chile is that they play at home.
---

Fuenter/Source:. Edited in Gimp.
La otra selección con la posibilidad de clasificar es Colombia, uno de los factores a favor es que no tiene un diferencial negativo de goles y tiene 20 puntos, así que si Chile o Perú pierden, tan solo con un empate de Colombia con Venezuela le permitiría empatar con Perú que tiene 21 puntos, pero al no tener goles negativos esto le favorecería a Colombia, pero también hay que recordar que Venezuela tiene una motivación extra cuando enfrenta a Colombia y más aún al jugar en casa, en el CTE Cachamay donde anteriormente ha sacado buenos resultados ante los Colombianos, la Vinotinto continúa dándole forma a la selección con Pekerman y Colombia recupero algunas piezas que fueron claves en la goleada ante Bolivia.
The other team with a chance of qualifying is Colombia, one of the factors in their favour is that they have no negative goal difference and have 20 points, so if Chile or Peru lose, only a draw for Colombia against Venezuela would allow them to tie with Peru who have 21 points, but as they have no negative goals this would favour Colombia, but it should also be remembered that Venezuela has extra motivation when facing Colombia and even more so when playing at home, in the CTE Cachamay where they have already had good results against the Colombians, the Vinotinto are still shaping the team with Pekerman and Colombia recovered some key players who were important in the victory against Bolivia.
---
Perspectiva de la Jornada 18 y los clasificados. / Matchday 18 outlook and qualifiers.
---
Así que esta última jornada será muy importante en las aspiraciones de estas 3 selecciones con posibilidades, como los son Perú, Chile y Colombia, el partido clave es el de Perú que no debe perder y todo se mantendrá igual, pero no hay confiarse de Paraguay, si bien sabemos que Paraguay no está en su mejor momento, pero viene de ganar a una selección de Ecuador que tampoco se opuso mucho en el juego. Lo que está claro es que Brasil, Argentina, Ecuador y Uruguay están clasificados, así que la última solo definirá el último clasificado.
So this last day will be very important in the aspirations of these 3 teams with possibilities, as are Peru, Chile and Colombia, the key match is Peru that should not lose and everything will remain the same, but we must not trust Paraguay, although we know that Paraguay is not at its best, but comes from beating a selection of Ecuador that did not oppose much in the game. What is clear is that Brazil, Argentina, Ecuador and Uruguay are qualified, so the last one will only define the last qualifier.
---

---
De esta manera me despido, espero cumplir con las expectativas y ser del agrado de quienes leen esta publicación.
In this way I say goodbye, I hope to meet the expectations and be to the liking of those who read this publication.
---
---
Written in Spanish and translated with www.DeepL.com/Translator (free version)
Las imágenes, los diseños y las letras han sido creados en PicsArt / Images, designs and lettering were created in PicsArt.
Imagen de fondo/ Background image --> Fuente/Source: IMG1

---
---